On February 11th, the top event coordinators of the Gulf Coast are joining forces to bring you a unifying event at Soul Kitchen in Mobile, Alabama!
---
In an industry saturated with competition it is a beautiful day when music promoters and event coordinators can put their egos aside and come together with one unified goal; To throw one of the biggest electronic dance music celebrations that the Gulf Coast has seen to date. At the end of the day, it's all about the music and paying attention to the needs of our beautiful rave community. Down here in the south, nobody knows the scene better than the forward thinking and success driven group that includes Trapezoid Entertainment, Future Astronaut Co., Pass The Good Entertainment, Invazzion Entertainment, and O-Zone Entertainment so it is without question that a unifying event would be written in the stars. That event is 'The Union'!
For years, this colorful hodgepodge of music driven maniacs has helped to water the seeds of dance music growth in a region begging for some EDM attention. With events like Trapezoid Entertainment's 'Spring Beats', Future Astronaut Co. hosting Champagne Drip (Mad Decent) At Soul Kitchen, Pass The Good's 5th annual 'Pass the Good Benefit at Vortex Spring', Invazzion Entertainment's 'Resolution', and O-Zone Entertainment's 'Bassgiving', these guys are turning the heat up a notch, revealing to all who attend why they are the present and future of dance music entertainment.
Check out our review of Pass the Good's 5th annual 'Pass The Good Benefit at Vortex Spring' right here!
Check out our review of Trapezoid Entertainment's 'Spring Beats' right here!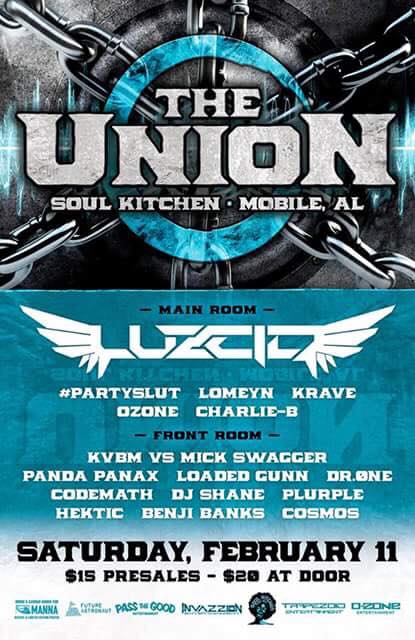 On February 11, 2017, history will be made as the doors open for the event dubbed 'The Union' and for 5 glorious hours, the massive Soul Kitchen music venue will spark to life with state of the art lighting and visuals and beats saturated with heavy bass and energized melodies running the EDM gamut. With 2 rooms to choose from, special event giveaways, and a lineup that includes music makers both part of and outside the event promoters elite circle and a very special headlining performance by Houston's own LUZCID, 'The Union' is an event that you are not going to want to miss.
The Union at Soul Kitchen Lineup:
Main Room:
LUZCID
#PARTYSLUT
Lomeyn
Krave
Ozone
Charlie-B
Front Room:
KVBM vs Mick Swagger
Panda Panax
Loaded Gunn
DrOne
Codemath
DJ Shane
Plurple
Hektic
Benji Banks
Cosmos
Loving this lineup? Check out #PARTYSLUT's Artist Spotlight right here!
---
Get to know LUZCID, 'The Union's Headlining Artist! 
LUZCID's music is a sonic odyssey. A series of auditory adventures in which the participants completely escape time and space. He meticulously eludes genres in order to welcome a variety of enthusiasts to gather and celebrate the rewards of community. Luzcid hopes music can become a platform in which the peoples of the world can reconnect and begin to restore our home to a place in which we all enjoy living.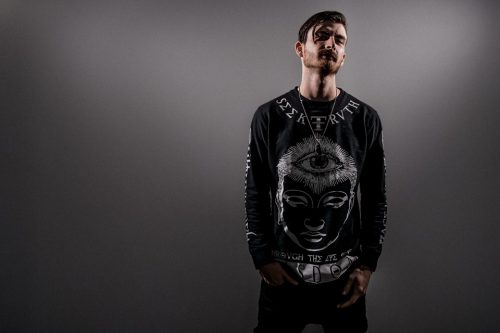 He has already performed in almost every major US city and continues to spread his wings across the music community. Although his production stands proudly on its own, Luzcid has proven he is one of those acts you need to experience live to get the full picture. He uses ableton live to weld a sonic quilt of sensationally hefty hip-hoppy psychedelic bass music. His song with Bassnectar "Science Fiction" is a splendid illustration of Luzcid's ability to collaborate and conceive a fierce beauty with one of EDM's most revered artists.
Stream Luzcid – "Hypnagogia Mixtape" on SoundCloud:
---
'The Union' Event Details:
When: Saturday, February 11, 2017 from 9:00pm – 2am CST
Where: Soul Kitchen 219 Dauphin St., Mobile, Alabama 36602
Headlining Artist: LUZCID
Ages: 18+
RSVP on Facebook: HERE
Price: $15 presale $20 at the door. Purchase tickets by clicking here!
---
Follow 'The Union's Event Coordinators on social media:
Trapezoid Entertainment:
Future Astronaut Co.:
Pass The Good:
Invazzion Entertainment:
O-Zone Entertainment: