Insomniac Events has announced a brand new stage with the release of tickets for Beyond Wonderland SoCal!
---
Beyond Wonderland SoCal continues to announce good news for its attendees. First and foremost, the festival is back at its original home – the NOS Event Center. – in San Bernardino, CA From there, this year's edition of Beyond Wonderland will have an entirely new theme. Headliners will be taken "Under The Sea" in March, and in Insomniac fashion, they are unveiling entirely new production elements too! Join Alice, as she travels through the key portal to the ethereal Endless Sea and is joined by her headliner companions on the journey.
The festival is set to take place March 24th & 25th and will feature five expansive stages and a sixth new stage. Don't fret, as fan favorite stages The Queen's Domain, The Outer Realm, Cheshire Cove, Upside-Down House, and of course the Boombox Art Car will be returning to Beyond Wonderland this year. The newest addition, dubbed 'The Aquarium', follows the brand new Beyond theme this year. Not much more has been announced about this festival, and the lineup is surely coming soon, but it's surely one where Insomniac delivers!
Check out our Beyond Wonderland SoCal review from 2016 HERE!
Tickets for Beyond Wonderland start at $149 (+fees) for GA, while VIP tickets will run you $249 (+fees) if you're looking for a more enhanced experience. Shuttle passes are also a new addition for this edition of Beyond. I think it's a great idea to have a shuttle going to and from the festival. This ensures that attendees are getting home safely.
Tickets and shuttle passes for the 18+ event are on sale now and you can purchase them HERE. 
Update: Single Day Tickets are now on sale. GA will run you $99 per day, and VIP will run you $159 per day! 
Beyond Wonderland SoCal 2017 Daily Lineups: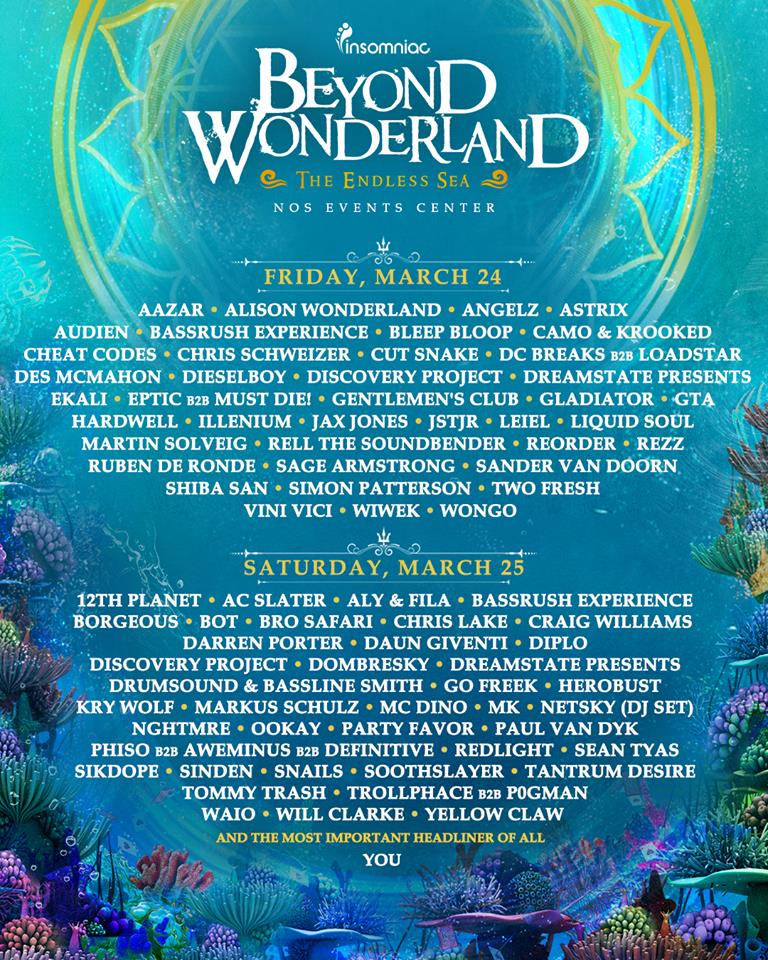 Get amped for Beyond Wonderland SoCal 2017's new theme with this teaser:
---
Follow Beyond Wonderland SoCal on Social Media: