The Keeping The Rave Alive Tour featuring Kutski and Da Tweekaz has added a stop to Minneapolis on February 17 at The Loft!
---
Coming all the way over from the UK, Kutski will be joined by Da Tweekaz to bring his hard dance sounds to fans in the Midwest. This edition of Keeping The Rave Alive presents Neon Nation is a collaboration with Hard Dance Minnesota  Put on your neon flashy clothes, kandi, and take your best shuffling moves to The Loft in Minneapolis on February 17th. Kutski always impresses me with his Freestyle Sessions where he shows off his technical skills, which you can check out here!
Keeping The Rave Alive has been sweeping the globe over the past 4 years, uniting true hard music lovers who don't want to be pigeonholed in their love for the harder styles and instead embrace all forms in one, appreciating musical diversity which at this time has never been greater.

Lead by the pioneer of this global movement, hailing from UK shores, this true scene legend works tirelessly to break down the barriers of musical genres and stereotypes and spread the love of hard music worldwide. His name is Kutski and this year he will bring all the nations of the harder styles together, shining bright in 4 fluorescent colours, a Neon Nation brought to you by Keeping The Rave Alive!
Presale tickets start at $20, while tickets at the door will run $25. VIP tickets include a Meet & Greet and a signed poster for only $35. Buy your tickets here.
---
Keeping The Rave Alive presents Neon Nation – Event Poster: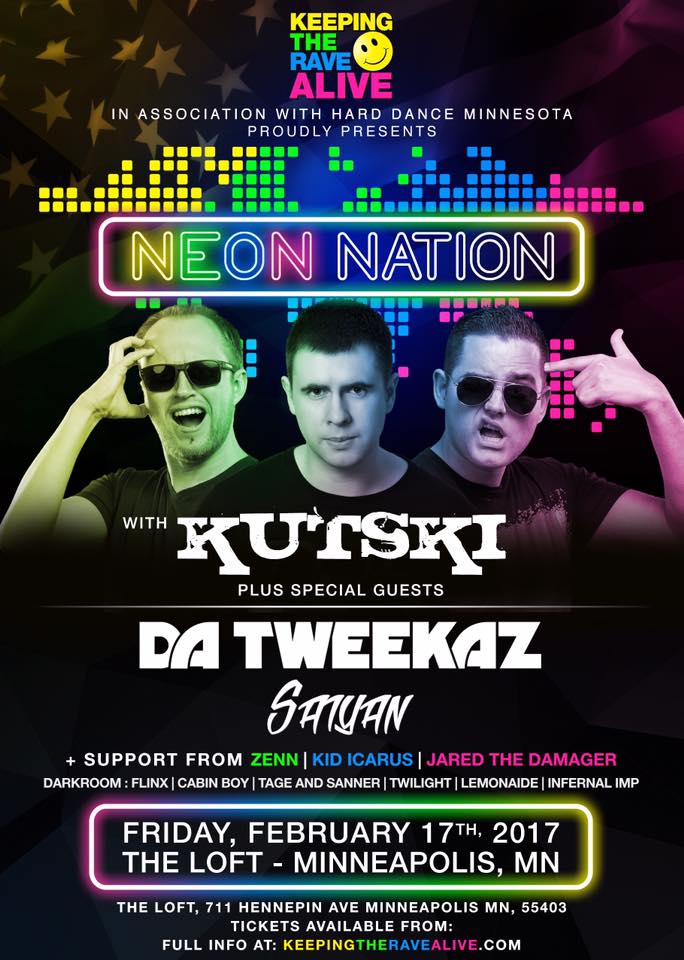 ---
Keeping The Rave Alive presents Neon Nation – Minneapolis Event Information:
When: Friday, February 17th, 2017
Where: The Loft, 711 Hennepin Ave. Minneapolis, MN 55403
Ages: 18+
Tickets: HERE
Facebook Event Page: HERE
---
Get a feel for Kutski by listening to an episode of Keeping The Rave Alive:
---
About Kutski:
It's very rare in this day and age to find pioneers who work hard day in day out to constantly push the boundaries of harder music. The true saviour of rave and master of the harder styles, Kutski aptly fits this title and is without a doubt the most exciting crossover talent to emerge from the UK in the past decade! With his infamous technical ability and incredible musical versatility it's not difficult to see why he has earned the tag 'The People's Favourite', voted the UK's No.1 Hard Dance DJ in the DJ Mag Top 100 DJs poll and scooping up awards for 'Best UK Hard DJ' for 3 years running in the Hard Dance Awards as well as best Hard Dance DJ and podcast/radio show in the Hardcore Heaven Awards
About Da Tweekaz:
Da Tweekaz, also known as Kenth Kvien and Marcus Nordli, are a Norwegian Hardstyle duo signed to Dirty Workz. Down to earth guys, with a passion for Hardstyle and Hard Dance in general, they give every crowd a moment to remember. When not behind the decks or in the studio, you can probably catch them partying in the front with their fans. Behind the decks their energy is unlike any other. Sunglasses on, smiles from ear to ear and fists pumping to each beat, they're a true spark to energize any party. From the personal setting of a club to the vast and immense setting of a festival, they bring their unique style to the table with an undying passion.
---
Connect with Kutski on Social Media: