Last year, Insomniac revealed much sought after additions for their annual New Year's Eve celebration, Countdown, to get fans hyped for the end of the year celebration. The announcement that the event was returning to the NOS Events Center in San Bernardino also brought news that the third edition Countdown would expand to a massive, two-day event. Later came the announcement of a lineup that was heavy on the house and bass side of the electronic music spectrum. The three stages: Resolution, Infinity, and Quantum, each featured their own flavors of fresh names and of course some more experienced DJs too. I simply could not wait to attend.
Big name artists like RL Grime and Seven Lions played epic sets on Friday, and Zedd and Valentino Khan on Saturday drew massive crowds that leaked out of their respective stages as attendees danced 2016 away. Of course, rising stars like Bonnie X Clyde also made a huge impression on fans in attendance, as well as myself and my friends. On New Year's Eve itself NGHTMRE, who I look at as an artist with longevity like Flux Pavilion, led an ecstatic countdown to 2017 at the Infinity Stage with a crowd full of bass lovers. I honestly couldn't have asked for a better set from him, and while sharing this experience I gained more respect and love for his diversity as both a DJ and producer.
Check out our featured interview with Bonnie X Clyde HERE!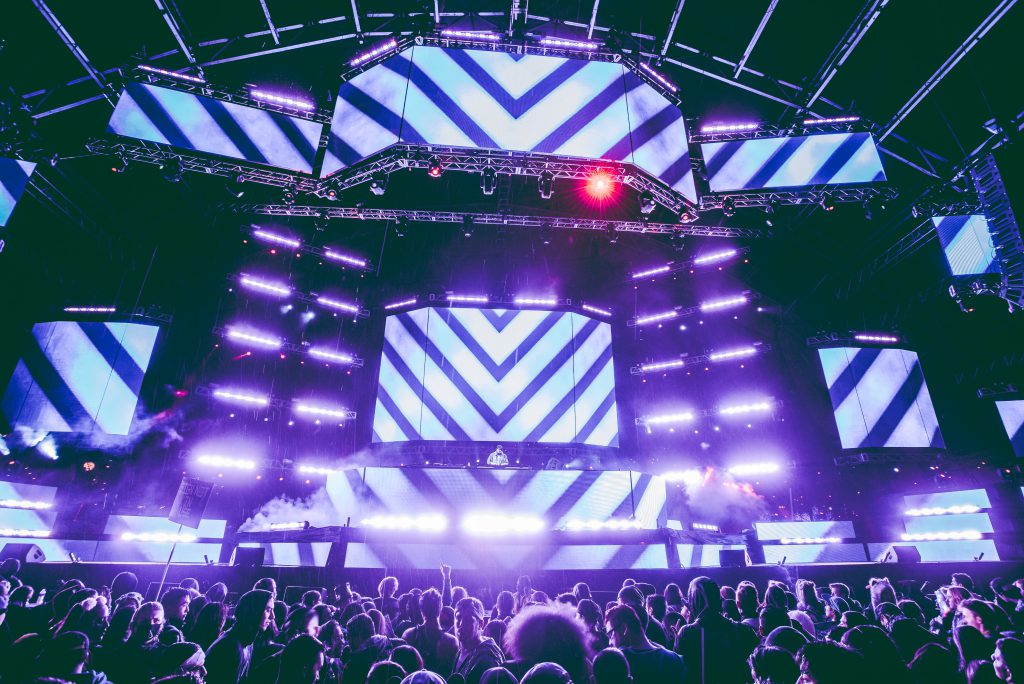 Countdown was on and resolutions were almost in reach!
Traveling to San Bernardino was surprisingly smooth for a SoCal Friday afternoon. I didn't expect the normal amount of eastbound traffic, so it was well under a 2-hour drive from West LA. It was the Saturday drive that really got slowed by the onset of rain and traffic in the afternoon. Driving home was not an option for New Year's Eve, but Friday's drive back after the event was easy enough. My pro tip for events is always leaving a few minutes before a festival ends, as it can really save you potential trouble in the parking lots! In some cases, the parking situation is dealt with well, but we've all experienced problems and seen the memes that reflect the all too frustrating reality of departing the event.
My friends and I were kept properly updated with info about parking lots and the weather conditions, all thanks to Insomniac's Countdown App. It made finding open parking lots easy, and I was walking towards the entrance of the event quicker than ever before. Ravers could hear the music from blocks away, calling us closer to what would be an awesome West Coast festival to welcome in 2017. I vividly remember the feeling I had when joining the huge wave of attendees with my squad on Saturday. As soon as attendees entered the grounds, they were greeted with a view of the now iconic lake that signifies home to many. Insomniac's Staff handed out festival maps and lineups at the gates with some cheer, making important spots easy to find too.
Our crew rode out to the event around a dozen people strong, and it even included a friend who was attending her very first massive rave. I could tell this weekend would be unique, as I'm usually used to going to festivals with less than five people who each do their own thing for the bulk of the time. This experience was much different because you can really feel the love at a good event get amplified within a great immediate group of friends. When you dance and sing along together to some of your favorite tunes, it's almost as if your troubles melt away. Additionally, there was nothing more satisfying than counting down with friends and making new ones literally moments into the new year.
Let's take a look inside the the venue…
Walking around the grounds of the festival was a pretty easy-going experience. Crowds stayed manageable, only growing dense after huge sets at the Resolution and Infinity stages. Despite some occasional rain, being underneath massive tents meant the weather wasn't too intense to handle. Attendees seemed to be very prepared for the most part, sporting the usual raver attire beneath a coat, sweater, or jacket to help stay warm and dry. One of the biggest reliefs for the weather provided by Insomniac was the Warming Tent, as well as several standing heating lamps spread around the venue.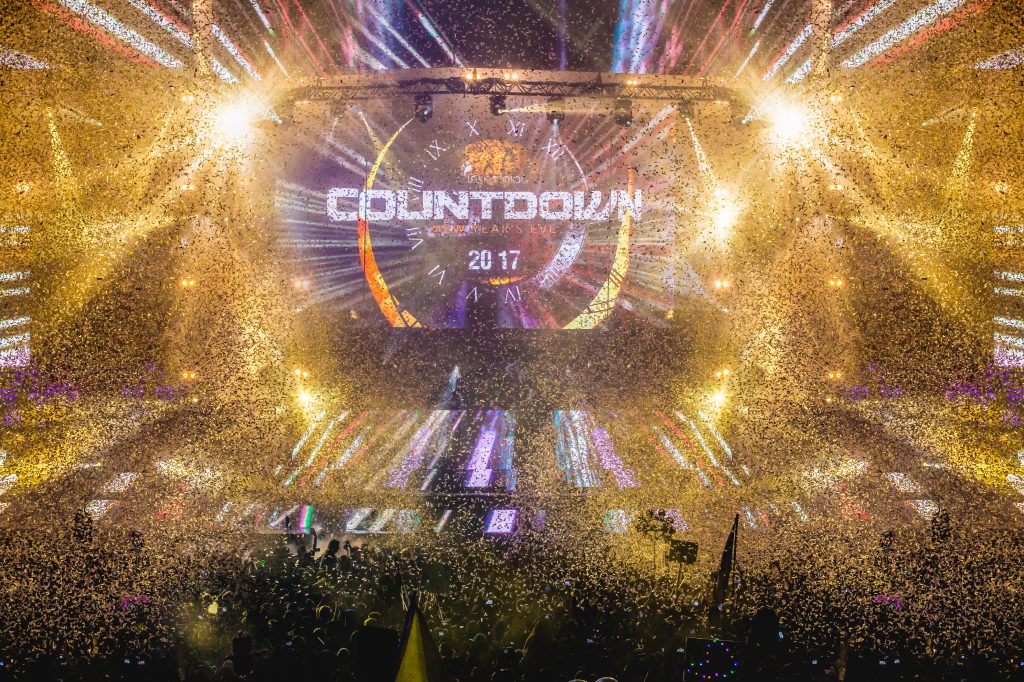 I did notice a couple of big puddles that formed by the end of the first night at the Infinity stage, and a few more outside along the walking paths. However, we all made sure to stay around the perimeter and warn anybody who was coming towards it to watch their step. The PLUR vibes were incredibly real for me at this year's Countdown, and it made bouncing & rocking to the music that much more enjoyable.
The close friend of mine who made this her first rave was thoroughly encouraged by everybody we came across. Letting others know that it was her first rave was a cool part to play, and it made it that much more fun to be around people. She took well to the compliments on her bee antennae headband and gold outfit she donned on the first day, and was even gifted her first kandi cuffs from other ravers too! The music and the community at Insomniac Events are an enchanting combination that will surely keep her coming back for more.
Musical moments stood out above the rest on the Infinity Stage…
The Infinity Stage was my favorite place to be all weekend because of the fun mix of forward-thinkers who were all definitely trying to party. The perfect balance of grimy, positive, energetic, and hype vibes were all over the Infinity stage, Making it my favorite over the past two years. Similar to a blend of genres at the cosmicMEADOW or 7UP Stage at EDC Las Vegas, it tends to represent less typical EDM performances. Individuals who are pushing the boundaries of music show up here, and the stage is an excellent feature of any New Year's event.
Whether it was future bass, trap, house, dancehall, or even pop hits, these genres were all blended at the Infinity Stage where the possible track selection was endless. Speaking on behalf of the music lovers who have an appreciation for the newer sounds, that stage is the place to play for up and coming innovators of the scene. Next year's choices will be pretty crucial in maintaining the high-quality party that is taking over New Year's Eve in Southern California.
Surprises were in store in my quest to the Quantum Stage…
The Quantum stage was surprising to me as it was not located inside the Damus Building, a decision I think that might have been partially made to prevent a very wet floor inside. Fortunately, I could clearly hear the bass being played, with the help of some nice stacks along the sides of the tent. I don't think Valentino Khan would've been quite as fun as it was without the bass boost. This is really only because there were groups 15 feet outside of the tent dancing as if they were in the front row! I spent most of my time at the Quantum Stage on Friday but elected to miss the countdown to the new year on Saturday. After hearing Ghastly's set, though, I expect that the Quantum stage had San Holo and Zomboy providing one hell of a job dropping off the last hour.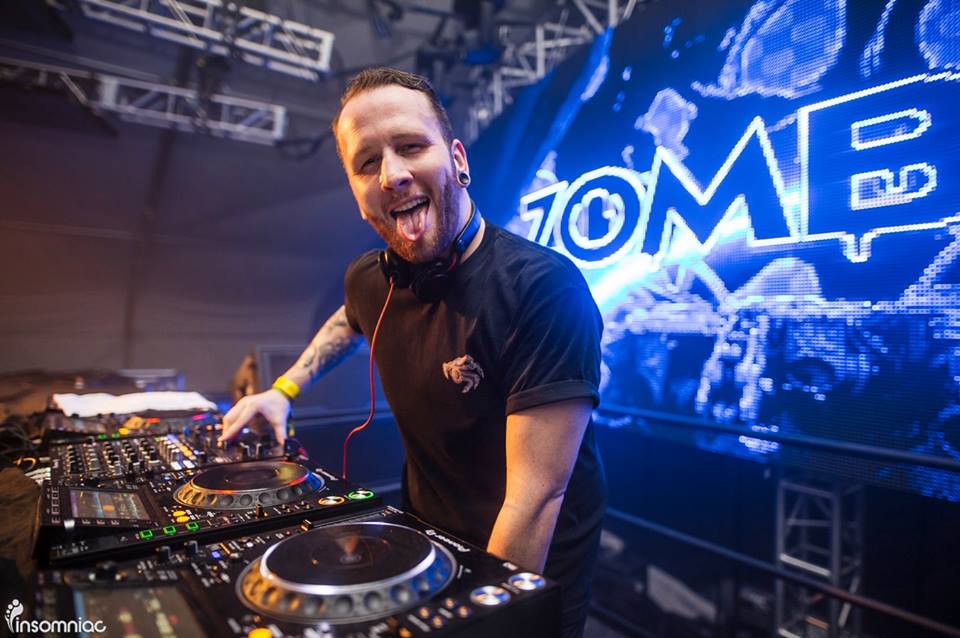 The resolution stage was massive and was most welcoming from the back entrance. When we got into the tent the first night, it was clear that people were eagerly ready for The Chainsmokers. Hundreds of visual tiles and cannons that were shooting confetti made the setup really spectacular. I've always found the main stage to be the easiest place to enjoy from the back versus anywhere else because it makes for easy exit. Splitting my time there was me at my most disciplined considering the big names and amazing undercard who performed. Though I didn't stay here for the New Year's countdown, some friends' Snapchat stories showed the front row of Alesso at midnight. Fans bounced and danced hard all night through Zedd's set until the show was completely finished.
Counting down my top five acts at Countdown!
Most of the acts that I saw at Countdown were ones I haven't seen before. With a couple of exceptions, the talent I experienced on New Year's weekend was without expectations. That being said, my top experiences were the ones that were the most cathartic for ending the year 2016 and that really surprised me the most. Time also played a significant factor, particularly in me not being able to catch much of Diplo's set. I did hear a lot of tracks that were included in my pre-event playlists, which felt cool to see in front of me just like I had prepared to. There were plenty of other performers that had great sets, it was incredibly difficult to pick only 5 of them! Other great acts I saw for a shorter amount of time included: Ghastly, Baauer, Valentino Khan, W&W, Deorro, Kill the Noise, Kill Frenzy and JOYRYDE. All things considered, here are my top 5 picks from Countdown 2016:
#5 – Troyboi
The wonky trap world of London's Troyboi was really well received by the crowd at the Infinity stage. It was my first time getting to see him since I missed catching an early set at HARD in 2015. I would finally witness one of my favorite discoveries of early 2015; I had caught wind of him building one of my first SoundCloud playlists. It felt great to go from listening with my car's CD player to a full tent of bass. I made my way to the back right of the correct tent after misguiding my friends to the Quantum stage.
In the tent the crowd was dense, but there was room to get by lots of head bobbing to trap. A couple of times he went in for way upbeat energy for a solid festival performance. Towards the end, we bounced to "Drop It Like It's Hot" and Flume's "Holdin' On". I really liked to see his consistency through over 40 minutes of mixing. Before long, I needed to make a bathroom trip before it was time for NGHTMRE to hit the stage. He made sure to share the love and respect to So Cal, and the response from the crowd was happily getting what they came for.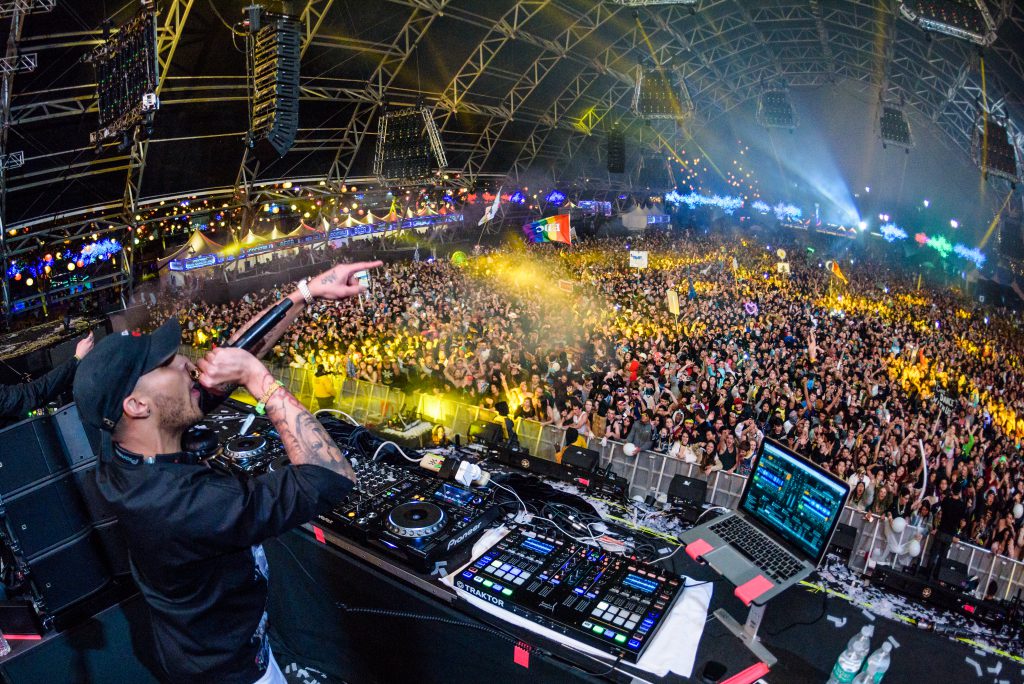 #4 – The Chainsmokers
Andrew Taggert and Alex Pall, aka The Chainsmokers, really made 2016 big. They held down the surge of 2015's "Roses" and their newest hit "Closer". These tracks definitely played at festivals all over during 2016. Their DJ skills have always been respected in my book, even when "Selfie" was being played everywhere in 2014. At Hard Summer 2014, their set was remarkable, and they're a great time! At Coachella 2016, they held down a proper EDM set. Coachella's electronic acts always have a sort of reputation for EDM to uphold its presence on the polo fields. All year long they've toured, including a special rising duo ARMNHMR, and graced lineups.
At Countdown, they played everything from "Roses" to WAVEDASH's "Bang," which got several plays over the weekend. Skrillex's greater influence via OWSLA was incredibly apparent at this year's Countdown celebration. The Chainsmokers have been staying up on what's hot since the top of 2016. They even reached back to our teen years and played some Panic! At the Disco during their set Friday night.
#3 – A-Trak
A-Trak is a legend of DJing with a skill set that is unmatched by almost every other on the planet. His pull as a musical influence shines through his own works and his awesome scratch vids. His classic background as a vinyl DJ is unique to the way he represents EDM. He did justice at Air + Style Los Angeles last year, and his ability to play to a crowd is phenomenal. During his Countdown set, he did epic scratch-work on Ookay's "Thief" like on his Facebook page. He gets so into his sessions, even playing remixes of his own stuff.
He is the type of DJ that you can always trust to deliver as a great crowd reader. My favorite moment of his set was a top 3 moment of the entire weekend for me. He played Gesaffelstein's remix of his own "Big Bad Wolf" (as Duck Sauce). It was nostalgic to hear a song from A-Trak's duo project that was also one of the first EDM songs I've heard.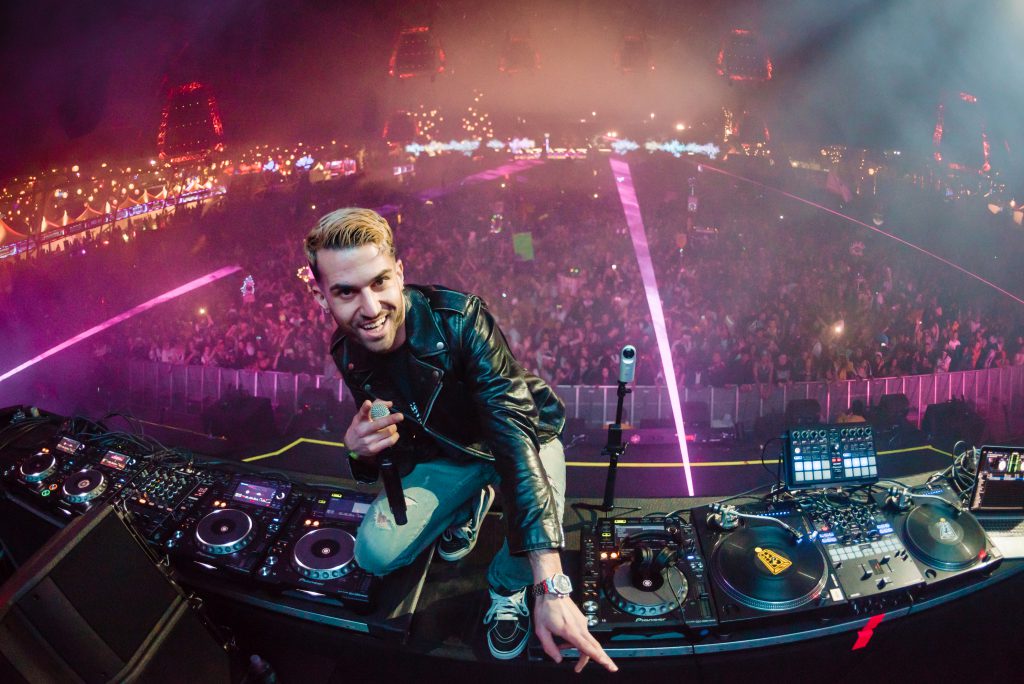 #2 – RL Grime
Also representing the city of Angels is trap king RL Grime. He had been around as Clockwork before fully making the transition to making trap music under a now more well-known alias. I've seen him play an amazing set as Clockwork before, don't get me wrong, but nothing compares to the vibe of an RL Grime set. I MEAN NOTHING. He won't just run the trap, this dude can make you dance like you're listening to Boys Noize or Mija, then seamlessly turn back to bangers.
I needed no further convincing to see him after his name appeared on the lineup for Countdown this year. However, the 2016 edition of his yearly Halloween mix series reeled me in so damn hard. He's keen on showcasing LA bass music from quickly growing innovators like Alexander Lewis and Hex Cougar. When his vibe reaches down under, he mixes tracks from Oski (Australia) and Quix (New Zealand). It just goes to show that RL is finding the best music to play from everywhere on Earth, and making it work with hits from Kendrick, Desiigner, Travis Scott and 21 Savage. If you missed this one, I'm truly sorry for you; just don't let it happen again!
#1 – NGHTMRE
What makes NGHTMRE stand out since his sharp rise to fame is his headstrong sound as an artist. When you heard that iconic metallic "snare" in late 2014, you knew he was on the track. Pushing took him from working with Slander to collaborating with the legendary Flosstradamus for "Lighters Up". He encompassed himself into music so much in 2015 and rose out of the festival trap era with a crazy strong skill set. NGHTMRE's biggest lunge towards fame arrived after releasing his remix of "Dum Dee Dum" by Keys N Krates. Achieving status as a qualified DJ was fleshed out following his guest mix on Diplo & Friends. In the past year, NGHTMRE stretched his sound by releasing an impressive EP earlier this year. A few singles were released weekly in the spring, leaving new fans eager for his presence on the festival circuit.
The selection of tracks was flawless in this performance, taking us through a journey that felt like the turning over of 2016. He didn't just play his own music: he honored music in a way that I will remember and cherish for the rest of my life. Of course, plenty of Skrillex is enough to make me smile and call a set worthy, but NGHTMRE's reach was humongous!  Playing tracks from artists like Zomboy to W&W, and Nero to Dillon Francis, the amount of quality tracks in his performance was righteous. What made this NGHTMRE set such a grand New Year's celebration was also the inclusion of Journey, and Red Hot Chili Peppers right after midnight. It was a cleansing start to 2017. The glow in the crowd at the Infinity stage carried on until he was finished.
Happy 2017 and see you all at next year's Countdown!
---
Connect with Countdown 2016 on Social Media:
Website | Facebook | Twitter | Instagram | YouTube
Photo Credit: Insomniac Events