Baauer and Stööki Sound brought an unbelievable show to Bassmnt in San Diego over this past weekend!
---
If you did not attend this past Friday's show at Bassmnt San Diego then you really missed out. Insomniac Presents and Bassmnt provided a double header of Baauer and Stööki Sound and it was arguably one of the best shows I have attended there.
The minute I approached the venue, I knew it was going to be a crowded night – the line was far around the corner. People from ages 18 through their late 20's were in attendance and ready for a fantastic evening, you could really sense the energy even before the headliners came on. The night started off around 9PM with some opening DJs. Stööki Sound came on around 11:30pm, so this two-hour gap was an opportune time to just walk around. I've been to this venue plenty of times before, but I had a lively conversation with someone on security there. He told me that the venue will probably hit capacity tonight, which is right around 1200 people.
Stööki Sound took the stage promptly at 11:30pm and began playing an array of trap and hip-hop songs. Their set was high energy and impressive! Along with that, was their impressive stage presence. While the duo takes turns behind the decks, Jelacee acts as the main emcee of the group. He did a great job of hyping the crowd up, but without being too excessive on the mic. DJ Lukey provided superb mixing. Jelacee is featured on a few Stööki Sound songs and in turn, he took to the stage to perform them live while DJ Lukey mixed them in. Anytime a DJ can incorporate live elements into their show it goes over well with the crowd. This was no exception. There was even a point where Jelacee went deep into the crowd and rapped some lyrics! Overall, Stööki Sound provided a show full of pure and raw energy.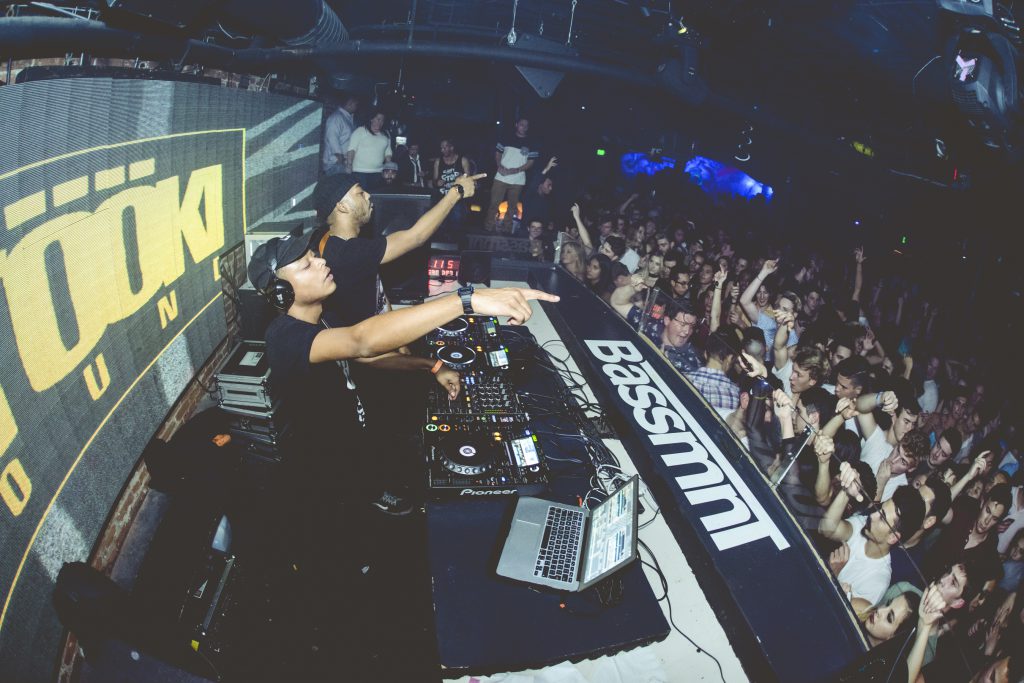 Baauer came on shortly after Stööki Sound and fed off the energy that was previously left by them. Beginning his set with a VIP version of his song with Just Blaze and Jay-Z, 'Higher,' the 27-year old producer brought a thrilling show. He played just about every genre of music – from trap to hip-hop and twerk to moombahton, there was little to be desired by attendees. I've never seen Baauer before, but what impressed me the most was his mixing ability. It was flawless and he really built up songs and kept the crowd on their toes the entire time. If you are at a festival or Baauer comes to your city I would highly recommend you check him out, even if you don't know a lot of his music.
The night wrapped up around 1:45am and it was still packed as ever. You could sense the overall satisfaction in the air as people left the venue. Aside from the amazing performances I witnessed tonight, I was also thoroughly impressed with Bassmnt San Diego's staff. Everyone that I came into contact with was extremely nice and helpful. Further, they did a great job of keeping the crowd in control and not letting things get too out of hand. If you're ever in San Diego I would recommend checking out this venue!
---
Follow Baauer on Social Media
Website | Facebook | Twitter | Instagram | SoundCloud
Follow Stööki Sound on Social Media:
Website | Facebook | Twitter | Instagram | SoundCloud
Follow Bassmnt San Diego on Social Media:
Website | Facebook | Twitter  | Instagram
Featured Photo Credit: Jennica Abrams