House of Yes will soon host 'Let Them Eat Cake', a French revolution-themed dance party featuring Totally Enormous Extinct Dinosaurs on December 3rd, 2016.
---
House of Yes is becoming increasingly acclaimed for its unique take on NYC nightlife. Back in September, they wowed us with their showing of the acclaimed "Ketamine: The Musical" as well as their Love Muscle: Pre-Playa Art Extravaganza to follow, where we learned that a typical evening at House of Yes usually includes a combination of theatrical performance and DJs spinning everything from indie rock to dance pop and disco. They are bringing a fantastic night to electronic music fans once again in New York with 'Let Them Eat Cake' featuring Totally Enormous Extinct Dinosaurs and Dimitri From Paris!
Purchase tickets for the evening by clicking HERE!
Known for his fun, upbeat and genre blending dance pop and for never taking himself too seriously, Totally Enormous Extinct Dinosaurs will be taking the stage at House of Yes for his only NYC stop on his North American Tour. As TEED often gets creative on stage with costumes and headpieces while seamlessly combining multiple dance genres together, this event is the perfect match for some funky electro pop from TEED.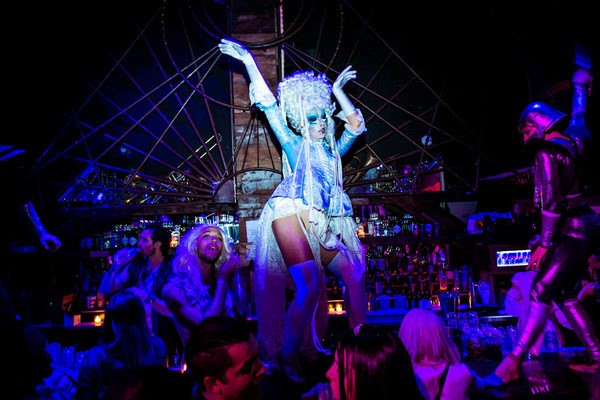 Curating events with creative concepts, House Of Yes! will be teaming up with NYC art crew Treetops, an art collective with just 15 volunteers. The theme of this evening is a French Revolution Dance Party! Get ready to party like it's 1799, aristocratic costumes encouraged! Prepare for aerial ballroom dancing, and engaging and interactive nightlife with a beautiful Fire Organ as the centerpiece of the venue. The event is set to take place Saturday, December 3rd.
Treetops also selected Dmitri From Paris to grace the decks with some classic disco. Often called "the best disco DJ in the world", Dmitri From Paris has wowed fans on the decks for many years; throughout his career, he has produced remixes for legendary artists like Bjork, James Brown and Michael Jackson.
This interactive 18th-century dance party with both classic electronic music and contemporary dance pop is not one you should miss if you're in New York. Get your tickets to Treetops: Let Them Eat Cake below!
---
Treetops: Let Them Eat Cake! Information:
Date: Saturday, December 3, 2016
Ages: 21+
Hours: 10PM – 5AM
Venue Address: House of Yes – 2 Wyckoff Ave, Brooklyn, New York
---
Full DJ Line Up:
---
About House of Yes:
House of Yes opened its third iteration in Bushwick at the beginning of 2016 to become a beacon of NYC nightlife after shuttering its doors too soon in East Williamsburg three years ago. Original partners Anya Sapozhnikova and Kae Burke, teamed up with Ilan Telmont and Justin Ahiyon to build out the best venue ever with a little help from their friends, seeding a Kickstarter campaign for $92,340 (original goal: $60,000). The space includes an art-deco restaurant parlor, a spectacularly decorated warehouse-sized performance space, a courtyard with kitschy repurposed decor, and a clandestine mini-club. House of Yes is now the home of circus spectacles, immersive cinema, burlesque and cabaret shows, aerial extravaganzas, nightlife parties, morning raves, brunch, BBQs, and bubble baths, all with superior sound and exemplary service. Each night is specially curated to create an immersive experience with music, theatrics, and performances to titillate the senses and expand your mind, unlike any other venue in Brooklyn right now.
---
Connect with Totally Enormous Extinct Dinosaurs
Website | Facebook | Twitter | Instagram | SoundCloud | YouTube
Connect with House of Yes