Groove Cruise is the OG of the "Festival On A Ship" genre. This year they set sail on a 5-day journey with 120 hours of non-stop music to Cabo San Lucas, Mexico. Read on for my take on the experience of a lifetime onboard Groove Cruise Cabo, and don't forget to book your spot on Groove Cruise Miami 2017 setting sail to Grand Turk in January!
We've released dozens of articles for Groove Cruise Cabo, catch up with all of them by clicking here! We're not done either, stay tuned for interviews from some of your favorite artists that were on the ship like Gareth Emery, Chocolate Puma, Shaun Frank and more!
---
Groove Cruise Cabo 2016 Review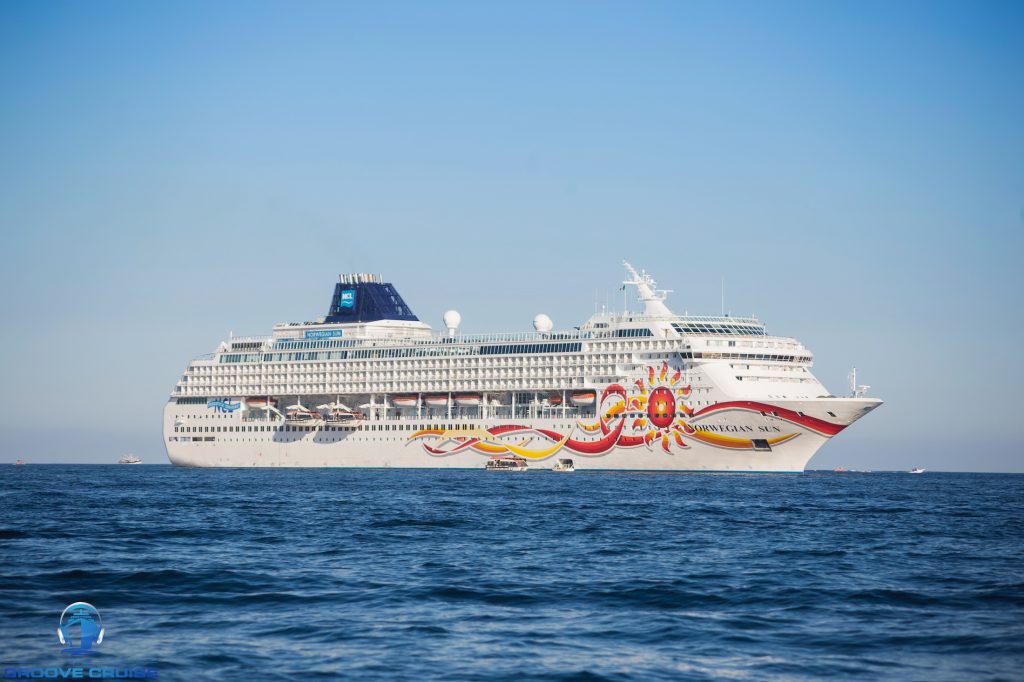 Boarding & Embarkation
It was 8AM as my phone lit up and started blaring the ever so familiar tone of my alarm. After being out late the previous night I groaned as was tradition in the mornings, I was warm and still sleepy and didn't want to get out of bed. It was October 28th and the feeling of not wanting to get out of bed soon faded as I came to that realization. I had looked forward to this day for months, after weeks of hard work, stress, and anticipation. Today was the day that I boarded a cruise ship and set sail for Cabo San Lucas, Mexico onboard the Norwegian Sun as part of the music festival so aptly entitled Groove Cruise Cabo.
After rubbing my eyes and stretching to try to mitigate some of my sleep deprivation, I got out of bed, showered, and finished packing some small last-minute items that had been used the night prior. It was 65 degrees and sunny in San Diego, a city to which it was my first time visiting but definitely not my last. It was a short drive around the water to the other side of the city where the cruise ship terminal is located. The whole drive I sat in anticipation, as I looked out the car window I could see the massive ship from the entire city. 10 minutes later we arrived at the terminal, as I unloaded my bags and made my way to the security checkpoints a sense of relief came over me as the time was finally here.
Going through border security was an interesting experience, I showed them my passport and made it through the first of four checkpoints to get onto the ship. The 2nd checkpoint was slightly different, as I put my bags through the scanner, I walked through the metal detector to look over at my bags and see all 3 of them being pulled aside for additional screening. Just as a forewarning to those going on a cruise, large metal objects like flasks, powder packets like Pedialyte, and a bag full of nothing but electronics looks pretty interesting on an x-ray scanner and will grant you the unique opportunity of getting to talk to US Customs & Border Protection for a few minutes as they go through anything and everything in your luggage.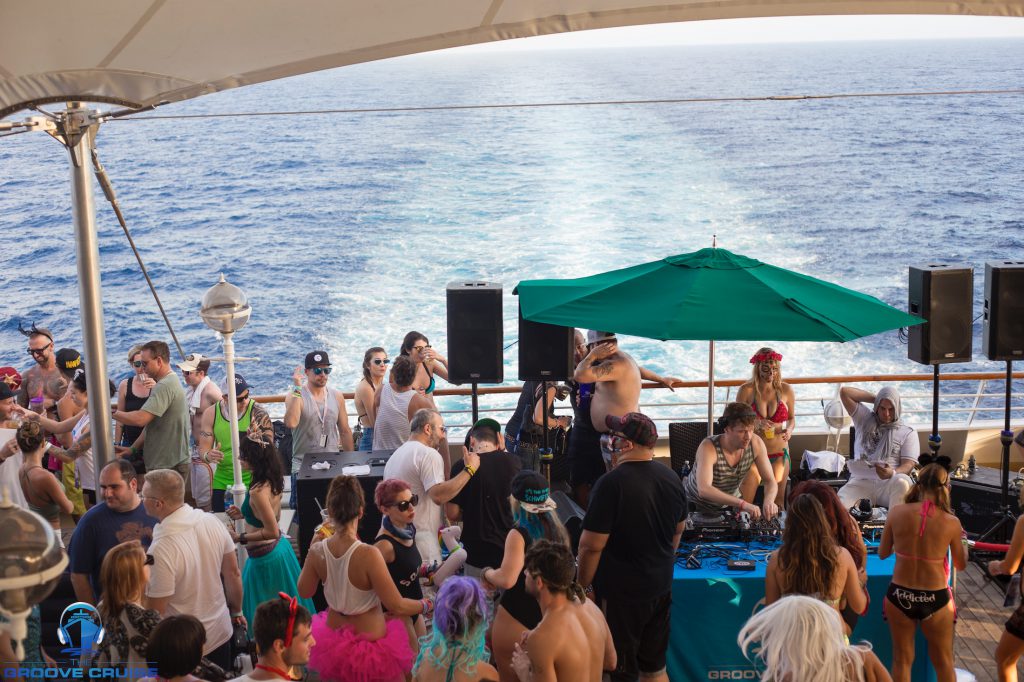 After a minor heart attack and few second guesses of whether you're a terrorist or not we proceeded to the check-in counter. Check in was relatively painless, an ID check, swipe your credit card, get your room key and you're good to go. While waiting for a group of us to all get checked in I bumped into my roommate and got to exchanging pleasantries and introductions. After all of us got checked in, we made our way as a group to the 3rd checkpoint which was another x-ray scanner, oh joy I thought to myself. I put my bags through the scanner and watched as all 3 of them got pulled aside for additional screening for a second time. This time no heart attack came as I already had the same experience previously. Border security went through my bags again and I was on my way shortly after. We waited for a few minutes as we went through the 4th security checkpoint where everyone's bags were being checked by hand with no x-ray.
A longer process than I anticipated, but after roughly 45 minutes of time and a few snags, we were finally on the metal gangway making our way up to the ship. It was 11:50 AM, everyone had their luggage and was excited but our staterooms were not quite ready yet. As a group we found the closest bar to the entrance of the ship, set our luggage down, got drinks and started exchanging stories and talking as a group getting to know everyone we'd be seeing countless times over the next 5 days. After an hour we settled down to lunch, met some new people, heard some stories and became more accustomed to ship life. We walked around the ship, learned the layout, checked out each venue, watched the stages get setup and were taking in the sights and making new friends.
The Experience & Themes On Groove Cruise Cabo
Soon after lunch and touring the ship our Staterooms were ready and we could finally go drop off our luggage. Groove Cruise offers a unique experience with day and night themes for each day of the cruise. The theme for the morning/boarding of Friday was "Identity", allowing people to show off themselves and their own unique style. The first day I rocked my Captain's Hat as many do, as well as our EDM Identity flag. As I walked through the ship many people stopped me to ask to see the flag and what it represented or where it was from.
The themes provide an avenue of expression that is available at many other festivals, but no one does it quite like this. These are themes that are officially set and almost everyone participates. Throughout the days as you walk the ship you see everyone's take on the theme and it provides an excellent avenue to break the ice with strangers by complimenting their costumes and asking them about it. The night theme for the first day was "Shine The F*** Up" which provided me with a fun opportunity to wear a glowing stick figure costume I had bought for a Halloween in year's prior. Other themes included "Baby Blue & Pink Party", "You Celebrity", "Groove Cruise 3000 (Futuristic)", "Halloween on the High Seas", "Devil & Angel Pool Party", and "Arabian Nights".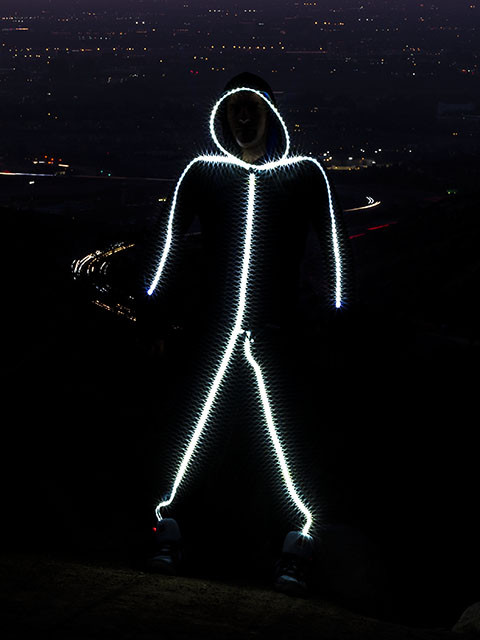 But costumes aren't the only thing that Groove Cruise Cabo offered to attendees that made it special. Whet Travel has taken music festivals and elevated them to a level unseen before. They've combined all the things you know and love from music festivals and events like the friendship & family aspect, PLUR, the best artists, pool parties, and made them better. They've taken the things you dread about attending a festival like worrying about a hotel room, or not eating/hydrating enough, not being accessible, or too spread out, and made them convenient and available to all. You're the captain, you steer the ship, and for over a decade they've listened to your feedback and have only gotten better.
Destination: Cabo San Lucas
Arriving in Cabo was a surreal experience. One moment you're on the stern of the ship dancing the morning away and as you look to your side you see yourself passing the world famous Arch of Cabo San Lucas. You feel the warmth of the sun beat down on your skin as you remember you probably should be putting sunscreen on yourself. Soon you hear the loud-speaker turn on and the ever reminiscent voice of Whet Travel's founder Jason Beukema come over and say "Gooooood Morning Groove Cruisers!". As the minutes go by you listen and hear how to get ashore and get eager to get to the tender boat to make your way onto land and into a small portion of the Mexican Riviera.
You make your way back to your room, change into your outfit for the day, making sure to bring sunscreen, sunglasses, a swim suit, comfortable shoes, and good vibes along with you. As you board the tender boat you feel the waves beat against the side of the ship that you may not have noticed being on a ship that is almost as long as the Eiffel Tower is tall. The small boat lackadaisically makes it way into the dock area of Cabo. You get off and see numerous signs for $1 tequila shots, see the infamous Señor Frog's, and even a Fat Tuesday that brings back memories to me of every EDC Week for the past 6 years. You purchase a bit more alcohol than you probably should, and board a bus to your first venue of the day to dance the night away on a beach in the Mexican sun.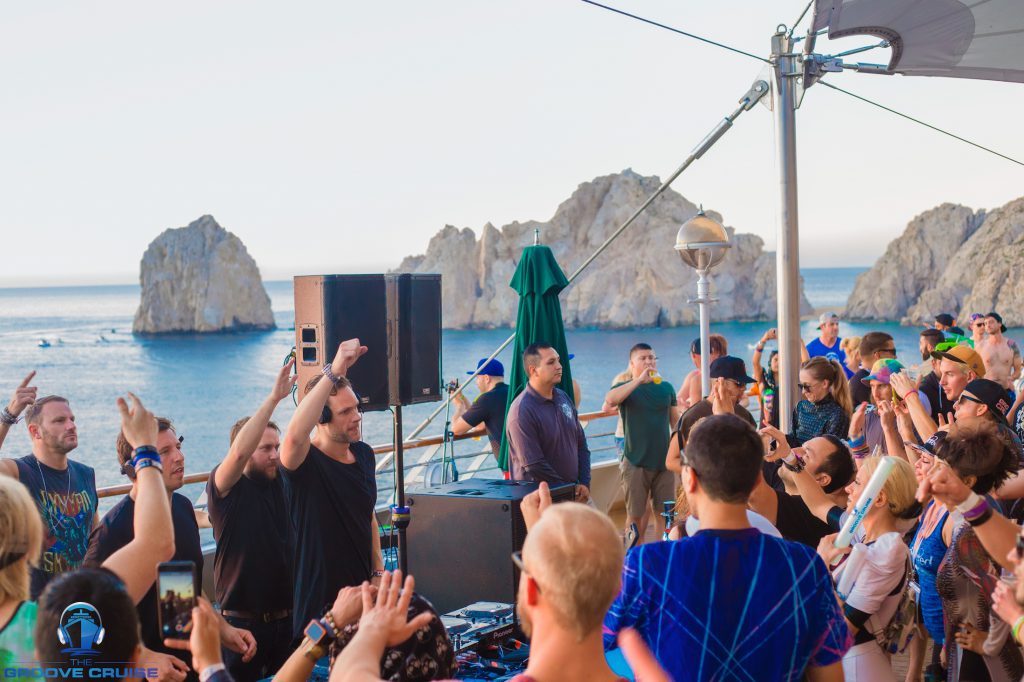 The day in Cabo was divided into 3 distinctive parties, two at ME Cabo, and one at Breathless. As the bus made its way to the world-class ME Cabo resort you finish your drink and wonder what awaits you in the hours to come. You disembark the bus, walk into a line, get your event wristband, and progress into a massive foyer that looks over the venue with a massive two-story pool, swim up bar, as well as a restaurant and kitchen, with the beach and cruise ship in the background as house music blares over the stereo and your feet instinctively start moving to the beat. The first party of the day was the daytime party at ME. Highlights of it included music from ScottyBoy, Croatia Squad, Jonas Blue, and Robin Schulz.
As you're partying it up you will quickly find yourself swimming in the pool, meeting and talking to people who you haven't met before, and dancing to the music. A scene that is reminiscent and bring back memories of luxurious Las Vegas pool parties. You're enjoying the fact that you have cell service again for the first time in two days. You're catching up with what you may have missed back home, and trying to reach friends that are onboard Groove Cruise so you can catch up with how their last two days have been and make plans for the next two. As the hours go by, the day carries on and slowly fades to night. It becomes darker, and a bit more minimalistic. As the house turns to techno, and the crowd thins out the experience becomes more close-knit and intimate.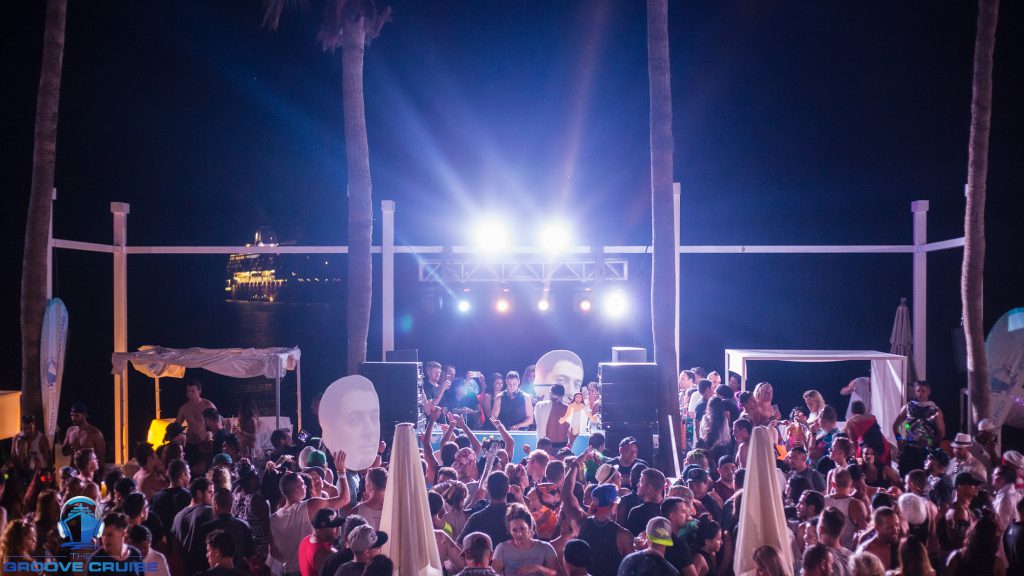 The night progresses from the daytime ME to the nighttime. With highlighted sets from Denney, Shaded (Live), Dubfire, and SIAN. As ME winds down, the after party starts to take shape. You slowly make your way back to the bus shuttle. You go back towards the docks and head over to Breathless, a nightclub on the shores of Cabo to start dancing into the wee hours of the morning. The techno morphs back into house, and takes small detours into more mainstream and groovy beats. Sets at Breathless were highlighted by Lavelle Dupree, Shaun Frank, Lost Kings, and Dean Mason. As the last night turns into the early morning your feet and legs start to tell you that it's time for you to be done. You slowly make your way back to the docks and onto a tender boat. You get back to the cruise ship, pass through security, and sleepily if not still slightly drunk make your way back to your room, if you can remember what number you're in.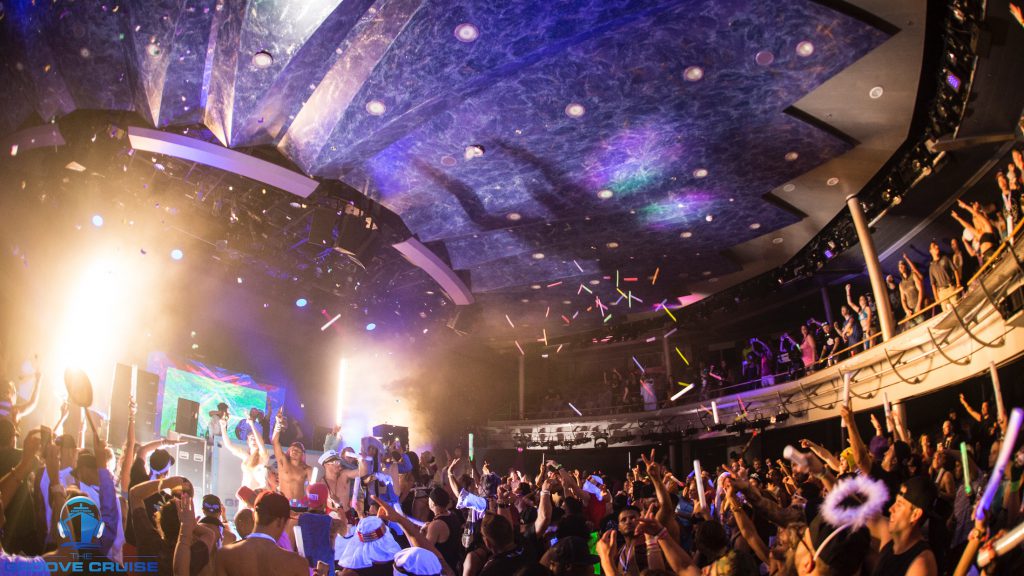 Groove Cruise Cabo Pros & Cons
Groove Cruise provides a unique experience but may not be for everyone. Let's go over what works and what doesn't. Keep in mind this is my experience and may not be applicable to everyone but it should help give you some insight and help you decide if you should embark on this journey.
Pros
Rooming: You have a designated room, it's near by, and no hotel concerns. It's 4PM, you just got started for the day, you wanted to catch a set from one of your favorite DJs but you were up late last night and are still tired. So you wake up, catch the set, and want to go take a nap. At a regular festival this isn't necessarily possible, you'd have to leave the festival for the day, wasting your entire ticket in the process, make your way back to your hotel and go to sleep. On Groove Cruise, your room is a short walk and elevator ride away. You can come and go as you please, and only catch the sets you want to see.
Cleanliness: We've all experienced it. You walk into a festival, there's probably no permanent bathrooms in the venue, trash cans are few and far between, as the ground is littered with water bottles and wrappers of various things. You make your way to the distinctly smelling corner, with hundreds of portapotties lined up near each other. You walk into one, it's a mess, and you're not quite sure if you walk out of there disease free. On Groove Cruise, none of that is an issue. Plenty of bathrooms are available and maintained and clean all the time, there's showers available in your room and actual sinks to wash your hands in.
Food: I don't know about you, but on festival days, there's always a question about what you'll eat and when, or if you'll be able to eat at all. There may be small booth setup selling hot dogs, burgers, pizza, etc. Or maybe the promoter went all out and got local food trucks to attend the event and you get to treat yourself to a $15 personal pizza and a $4 drink. On Groove Cruise that is a thing of the past. Food is available 24/7. And you don't have to get just greasy, quickly prepared, questionable food. They have a variety of restaurants to patronize and pick from. Contemporary, American, Mexican, Sushi, Steak, all of it is available to you. It wasn't uncommon to see a dozen people walking around at each set with an ice cream cone in their hand.
Artist Selection: Whet Travel has been in the business for 12 years. They know the market, they have the experience, and they know how to pick a lineup. The lineup is star studded with both huge names in the industry as well as talented up and comers who you may not have necessarily heard of, but know how to throw down.
Cost: We've all been there before. November comes around, EDC dates get announced, and tickets go on sale. You have to put down $450 for the ticket, you have to book your hotel for another $1000, your flight is $400, you have to account for food, transportation to and from the venue, alcohol, EDC Week parties. It all starts to add up. The week after you check your credit card statement or budget and see you spent $3000 for 5 days of entertainment and your wallet silently weeps. On Groove Cruise that issue is heavily mitigated. The cheapest cabin on Groove Cruise Cabo was under $900. That includes your 5 day cruise, your cabin with bathroom including a shower, with all the food you can eat, free entry to the beach parties, and more. The only thing you pay on top is your own alcohol, and amenities like WiFi, and a daily cruise ship fee (under $70 for the 5 days).
Outside World Disconnect: You're in the middle of the ocean, there's not really an internet connection. WiFi was available but it was pricey ($150 for 5 days). It's a unique experience to attend a festival and see people dancing and not worrying about the cell phone going off in their pocket. You see more people experiencing it through their eyes and not their phone screen.
Friendships, Family, & PLUR: This exists at other festivals but it seems to take on another meaning on Groove Cruise. For months you were in the Facebook groups, talking to people you may not have known, sharing stories, laughing, and bonding. Once you're on the ship you meet up, exchange numbers, as you leave you hug, say your goodbyes and promise to keep in touch. Shortly there after you look back on the memories or pictures you may have taken and you realize you've made friends that will last a lifetime.
Sunsets & Sunrises: If you've never seen a sunset or sunrise on the high seas, you're missing out on an experience. Those fleeting moments in time were something special as the sky goes from blue to orange to red to purple to black all across the sky. The colors were mesmerizing and breathtaking to experience.
Constant Music & Variety: From the moment you board, to the moment you disembark, there was 120 hours straight of music going, usually with multiple stages or areas going at once. You had variety, you had choice, and it was constantly available. From Techno, to Trance, to House and back again, you could usually find something to groove to at any time of the day or night.
Artist Interaction: The artists are on the boat with you. They're not getting off their set and going back to a 5 star hotel or their lavish mansion in Beverly Hills. You'll run into Pierce Fulton and say hi in the hallway, or you'll see Chocolate Puma eating pasta in the dining hall with everyone else. The cruise features an older average attendee than most festivals (The average age on Groove Cruise is >30), everyone is respectful and understands the artists are people too, careful not to crowd or fanboy too hard. And the artists couldn't be more chill or nice about the situation, they were happy to talk to, take pictures, and interact with fans throughout the event.
Cons
Outside World Disconnect: You'll notice that this is both a pro and a con for me. For some this may not be a con. If you're like me however, you're almost constantly attached to a computer, phone, or other mobile device. I only last 2 hours being out of cell service range before I caved and spent $150 on the WiFi, which was both extremely slow, prone to disconnects, and costly.
Confined Spaces: While the ship seems massive at first, there's a lot of things packed into a small space, rooms felt cramped at times, at first it was great that everything was close in proximity, but after a few days it starts to get claustrophobic feeling like there's nowhere to go to stretch your legs so speak.
Don't Rock The Boat: You're on a giant boat in the middle of the ocean, It's unpredictable and prone to weather. Luckily I'm not prone to motion sickness and brought medication just in case but I ran into multiple people who felt seasick on the first day and didn't enjoy it quite as much. You lay in your bed at night and can feel the sway of the ocean back and forth and wish it would stop, just for a few minutes so you can fall asleep.
Artist Selection: Another bullet point that is featured on both the pros and the cons list. While the lineup was star-studded and curated extremely well, it may not be for everyone. As someone who is more of a bass music connoisseur myself, I felt slightly out-of-place on a ship that was primarily House, Trance, and Techno.
Stage Design: Don't be fooled, while this festival can hang with the best of them and takes some of the best things and makes them better, this isn't TomorrowLand or Electric Daisy Carnival. Whet Travel does the best they can with the space, and time constraints they have, but if you're one who likes to go to massives and marvel at the engineering and artistic design of stages, this event may not be for you.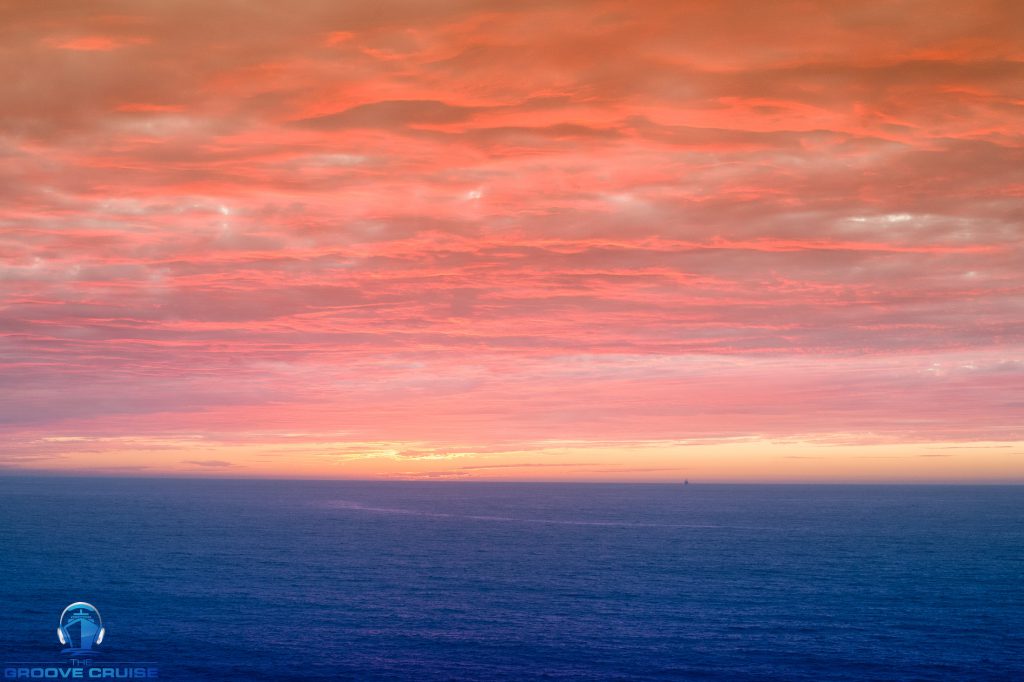 Conclusion
Groove Cruise was an experience unlike any other that I've had before in my life. One that I'm very grateful to have been able to take part in. The Pro list is long, and the Con list is short and easily overcome for most. If you like the music, don't skip on Groove Cruise. The journey was something I will never forget and can't recommend enough. Even if you don't like the music, give it a chance. The lineup was not something I would have chosen myself but I went into it with an open mind and found enjoyment in listening to artists I had never heard of or thought I would ever like.
At the end of the day, this festival provided memories that will stick with me for years to come. I made friends that will last a lifetime that I will keep in touch with and attend even more events with in the future. We came, we sailed, we laughed, we danced, we cried. At the end of the day, Groove Cruise was amazing, incredible, irreplaceable, magical, and unique. It's an event unlike any other, and an experience that I wouldn't trade for the world. I'm extremely grateful for the experience I got to have, and would like to give special thanks for Whet Travel/Groove Cruise for having me on board. If you have the opportunity, do not miss out on this once in a lifetime journey.
---
Catch up with Groove Cruise on Social Media: