Armin van Buuren has released additional dates for his Armin Only Embrace tour, two of which are in California!
---
Taking the Armin Only Embrace World Tour to locations such as Amsterdam, Dubai, Poland, Spain and Beijing, Armin van Buuren has future show dates slated for Australia, Ukraine, Beijing and more. The latest dates he released include two California locations as well a one in Germany. Featuring a solo performance by Armin van Buuren himself, he will be accompanied by live performances, dance acts, striking visuals, special effects, and plenty of new tracks from his Embrace album. Expect to see support from the likes of internationally acclaimed artists such as Betsy Larkin, Mr. Probz, Kensington, Angel Taylor, Eric Vloeimans and Cimo Fränkel too!
Tickets on sale Thursday, November 10 at 10 AM PT!
Click HERE to purchase tickets!
Armin Only Embrace World Tour – California Dates: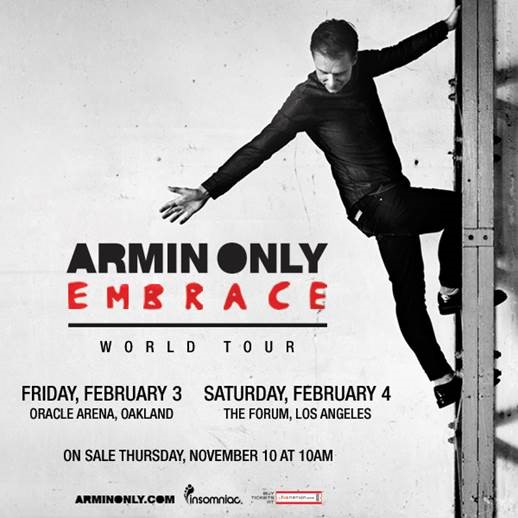 Armin van Buuren is one of the artists that brought me to electronic music and I look forward to seeing his massive solo show. Though he has ventured away from his trance roots, Armin remains an important staple in the history of electronic, and specifically trance, music. My first electronic event was in 2009 where I saw van Buuren in a club in Houston, Texas and it completely changed my relationship with the music. Through listening to various tracks of his for years, I was instantly hooked after finally seeing him live! For this, and many other reasons, he holds a special place in my heart.
Earlier this year, I watched his short documentary "This Was Intense." I was in awe of the amazing set production and Cirque du Soleil feel; I told myself that the next time an Armin Only production came around, I would make sure to see it! I'm excited to see what Armin has in store for his fans!
Stream Armin van Buuren – Club Embrace on SoundCloud:
Listen to Armin Van Buuren's weekly podcast, A State of Trance, live on di.fm/trance every Thursday starting at 1:00 PM CST.
---
Follow Armin van Buuren on Social Media:
Facebook | Twitter | Instagram | SoundCloud
Follow Armin Only on Social Media: