I remember finally getting off work on Saturday, October 15, 2016. I rushed home, changed out of my scrubs, and started to mentally prepare for the epic night that was ahead of me. Clothes, shoes, snacks, kandi, water, cash, ID, tickets, and a full tank of gas…check, check, and check! I could hardly contain my excitement as I donned my sparkly gold shoes and grabbed my leather jacket on the way out of my apartment. Avalon Hollywood may be a long 2.5 hour drive away, but it was going to be worth it! It was finally Coldharbour Recordings Night and nothing was going to get in my way of dancing in trance heaven!
Well…I thought so at least until fast forward a few hours and Daisy, my sweet Prius, is suddenly blinking and dinging a cacophony of protesting remarks after about half an hour of driving. My boyfriend and I pulled off on to an exit on the outskirts of San Diego and decided to take a breather. In an effort to repel a potentially disastrous situation and keep our spirits high, we started blasting some of our favorite tracks from the artists we couldn't wait to see later that night. Our playlist included classics like "Apache" by Fisherman & Hawkins, "Take Me Away" by 4 Strings, "Don't Give Up" by Chicane and "Palermo" by Grube & Hovsepian. After about half an hour of shuffling, singing, and pretending to be mechanics in a gas station parking lot, we had stabilized our vehicle and were back on the road again!
Two hours flew by and before we knew it, we were finding free parking on one of the neighboring streets near Avalon Hollywood. Score! There was still a steady stream of people entering Avalon by the time we arrived, a fact that greatly assuaged my deep seeded Fear Of Missing Out. There must be something special about trance nights at clubs because everyone I interacted with outside and at the entryway of Avalon was extremely kind! I was able to strike up a conversation with fellow trance-lovers in line while we waited for our IDs to be checked as well as the Avalon staff members who took extra time to make sure we were taken care of. It might not sound like a lot, but to someone who had just driven 3 hours to experience a venue performance, little niceties made a huge difference in boosting morale!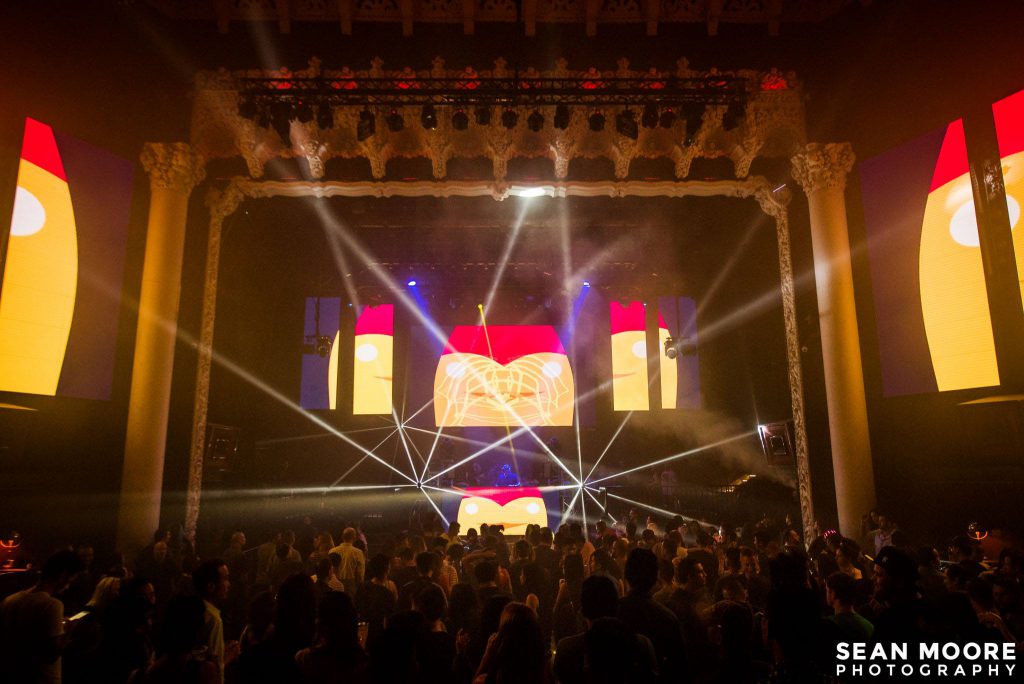 Avalon Hollywood never ceases to impress me. I could feel the positive energy in the air from the moment I stepped into the main hall.
People were buzzing all about, grabbing drinks, taking bathroom breaks, and dancing to the awesome progressive house DJ who had set up shop near the main entryway. My boyfriend and I headed towards the cascade of bright blue and purple lights peaking around a corner that would lead to the main dance floor. I felt a rush of joy as we stepped into the vibrant glow of the laser light show in the big room. The bass was pumping, the melodies were flowing, and my body was already starting to move to the beat. We had made it!
I had never attended a Coldharbour Recordings Night before so I gladly went into the event without any expectations. I could definitely feel a difference that night as compared to other nights at Avalon. The crowd was moving and dancing together, strangers were becoming friends all around me, and there was a general air of respect and love for whichever artist happened to be on stage. Unlike the audience at other Avalon events, I noticed how the majority of the audience at Coldharbour Recordings Night knew the lyrics to just about every song played and was generally appreciative of each artist's performance. That deep sense of gratitude and bliss was infectious – I couldn't help but jump right onto the dance floor the minute I got there!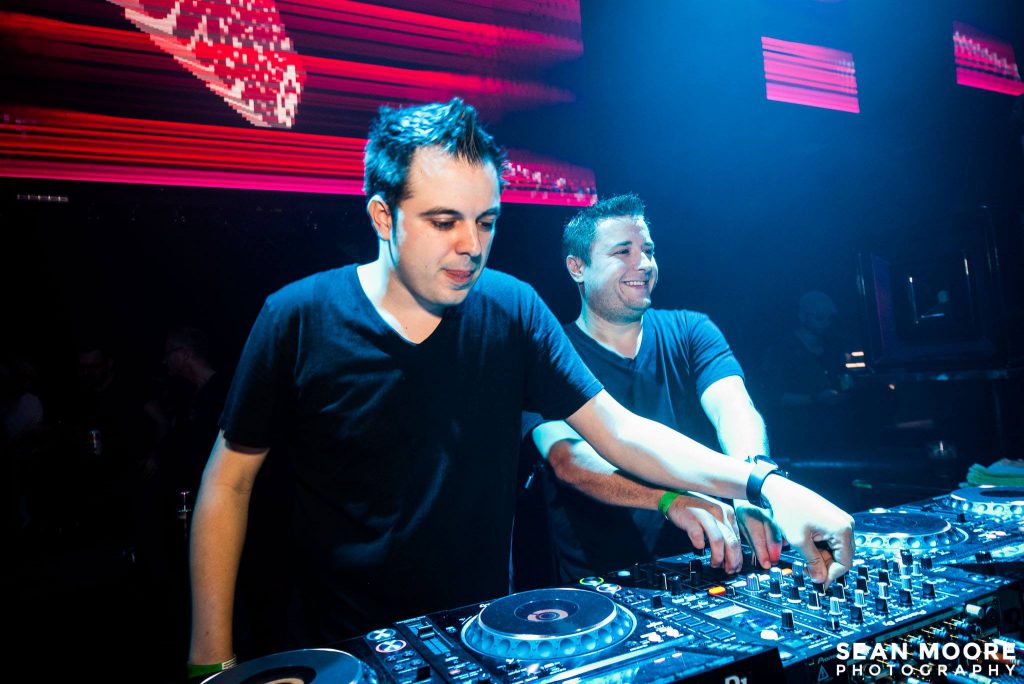 Soon enough, Grube & Hovsepian's set came to a close and one of my long time favorite artists, Chicane, came on to the decks. That moment was unreal! Chicane has created music since the 90s and I couldn't believe that such a huge trance legend was playing right before my very eyes! The roar of the audience's cheers kept growing louder as he moved through his adventurous progressive trance and electro set. Listening to Chicane's set inspired me to move through the crowd and really get into the set.
During Coldharbour Recordings Night I truly began to appreciate Avalon for its incredible architecture, lighting system, and overall performance atmosphere.
It's the perfect place for all night trance shows! This event was Chicane's Los Angeles debut. I was almost concerned that Avalon might be too small or not cool enough or something for someone who has traveled the world innumerable times to perform his legendary music. Chicane owned that stage! It didn't matter if you were in the audience dancing to his melodies or right behind him hoping for a picture, everyone could feel his mastery. Chicane's performance was powerful and artistic – so much so that I was in awe of his genuine excitement and continued joy to perform.
Around 2am, Fisherman & Hawkins took over the stage with a seamless transition to big room and progressive trance.
I noticed that it didn't matter who was on stage or what genre they were playing, Avalon's audience tonight had no plans on going home early! Within seconds, the entire crowd was bouncing and dancing along to a melodic and euphoric trance journey. By the time 2:30am came around, we decided to take a quick bathroom break. The progressive house DJ who had been set up near the bathrooms was gone but I could hear a familiar thumping from the second floor. We followed the beats up the stairs and found ourselves immersed in a full on deep house dance party! Avalon's patio and upper room was completely moving and grooving and we couldn't help but join in! The deep house room felt like another world…certainly like a completely different club altogether. The flashing green and yellow lights, swiveling disco ball, and metronome like beats were captivating. Everyone was moving to the same rhythm with wide smiles, lost in the music as if under a magical spell cast by the talented DJ. For a second, I forgot that we were there for Coldharbour Recordings Night!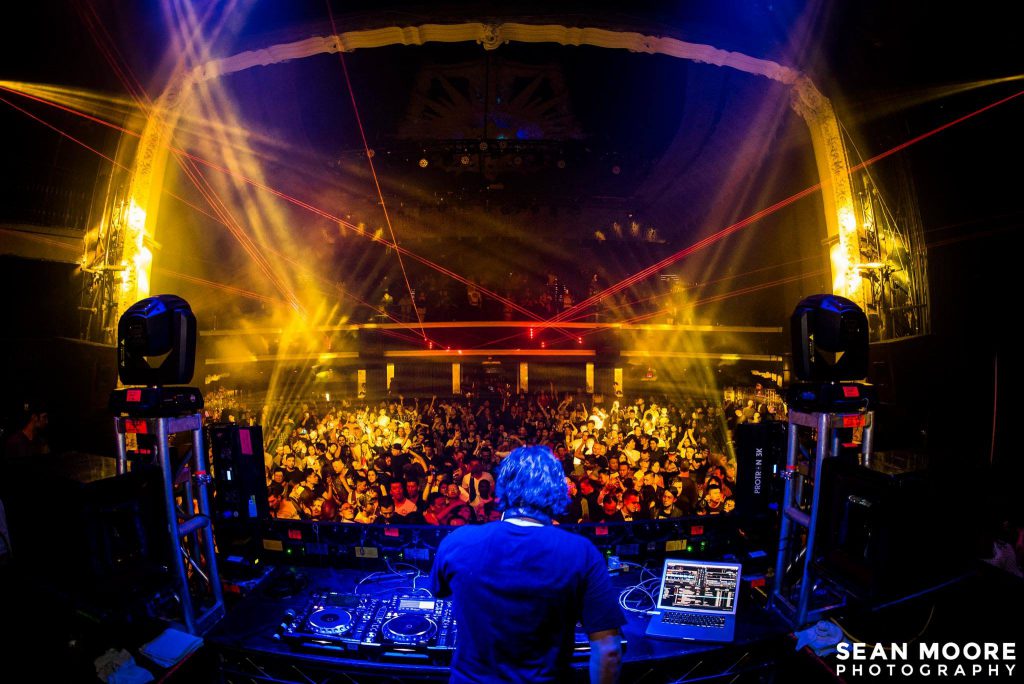 After getting our house groove on, we headed downstairs to dive back into cosmic trance bliss.
The audience was still going strong to the powerful soaring melodies and incredibly vibrant light shows. I had to take a moment to stop and check my phone a few times to make sure I was reading the time correctly. It was 3:30am already and 4 Strings was performing! We rushed to the middle of the main room, threw our hands up into the air, and swayed and danced along with the music. Coldharbour Recordings Night was coming to a close! Then, amidst the mental chaos of life outside Avalon, of adult responsibilities like paying bills and working the very next day, I found a profound sense of peace. It's a feeling that has a knack for finding me when I need it most, and I can gladly say that although trance music usually initiates this lovely feeling, it was the specific joy of experiencing my favorite Coldharbour artists at Avalon that was responsible this time around.
Coldharbour Recordings Night was something special. Seeing the artists up close and personal helped me appreciate the art of performing so much more. I realized how much work it is to be creating music, entertaining the crowd, mixing, mingling, smiling, and taking pictures with the fans all while being on cue with the lights, colors, dancers, and confetti (just to name a few)! Even better, I loved just how much camaraderie I witnessed and experienced – from different artists hanging out and bonding with regular everyday people over the joy of music to fellow Coldharbour fans making connections and taking care of one another. Singing along and dancing to some of my favorite songs all night was truly the icing on the cake! Coldharbour Recordings Night at Avalon left me with this warm, fuzzy feeling inside and reminded me why I love EDM events so much in the first place…peace, connection, understanding, and love.
---
Connect with Coldharbour Recordings on Social Media:
Website | Facebook | Twitter | Instagram | SoundCloud