Aaron Bruno of AWOLNATION talks "Run", touring, and electronic elements being interlaced in the rock genre.
---
AWOLNATION has been a hit ever since the release of the song "Sail," receiving a lot of radio play and rising through the ranks to become a Billboard Hot 100 Hit. The group premiered with a surprising electronic component and pushed a fresh, West Coast rock sound with dark synths. Since this release they have made a name for themselves in the alternative rock market. The band also highlighted themselves with the releases "Not Your Fault" and "Kill Your Heroes". Most recently, the group released a string of new remixes for their track "Run" which was also the title of the album that featured tracks "I Am" and "Woman Woman." A year after the release of the original album, they added an alternate version named "Run Beautiful Things." The music video released for "Run Beautiful Things" has great imagery, when you watch the music video it feels like a it's making a statement.
Fast forward to September 9th, when AWOLNATION released a nine track EP consisting of remixes of "Run". The EP features great remixes from artists like Highsociety, Mike D, Dan The Automator, Kill The Noise, Steve Aoki, Robokid, Like, Goshfather and Jinco, and Unlimited Gravity. Each song on the remix EP has it's own individual feel to it, bringing the track to a different level. The Steve Aoki version has a nostalgic feel, and Kill The Noise brought it to new bass heavy heights that make you want to chant along with. You can catch AWOLNATION on the final dates of their 'Make America Rage Again' tour that is currently closing out. We had a chance to talk to Aaron Bruno of AWOLNATION to chat about the tour, The Run Remixes EP, and his view of the current rock scene.
AWOLNATION – 'Make America Rage Again' Remaining Tour Dates:
Oct 14 Las Vegas, NV Mandalay Bay Event Center
Oct 15 Chula Vista, CA Sleep Train Amphitheatre
Stream AWOLNATION – Run (Remixes) EP on SoundCloud:
---
Can you tell us the back story behind "Run (Beautiful Things)"?
Enough people wanted to do remixes and they were people I really liked a lot. Some of which were people I looked up to coming up, so we thought it was a opportunity to put that group of remixes together and release it.
What are some of your favorite remixes on the EP?
Well, I love the Danny The Automator remix, because I like Dan a lot and he's a friend. Just to have Del The Funky Homosapien rap on anything I've been a part of is just an absolute honor. I really like the Steve Aoki remix, I think he did a great job he added a bit fifties core profession underneath the song. And then of course just the Mike B remix, just to be involved with the Beastie Boys in any way is a dream come true. I really like all of them for different reasons.
When you're in the studio recording do you have any specific habits or foods you crave?
You know, tequila mostly, I guess would be the thing I crave. We got into a bad kind of habit where I would be counting down to the last-minute where I would have some sort of cold pressed fresh juice that has a bit of a bite to it mixed with tequila or what we call a "Baja Fah", which is your favorite Mexican beer of choice mixed with tequila on the rim with a splash of lime. So yeah that's what I would crave most.
How has the 'Make America Rage Again Tour' been going so far and what have been some of your favorite shows or stops on tour?
The tour has been great. You know we all loved Rage Against The Machine so much growing up so it's great to hear hair those riffs live every night and I'm a massive Public Enemy fan. The vocals are so great and we've gotten to know everybody in that camp so it's been a nice family circus vibe every day. We've been lucky enough to play some great venues from Barclays Center to The Forum, to all sorts of various beautiful amphitheaters throughout the country, so it's been pretty great.
Do you see a difference in the vibe between the current tour you're on and the last one you did with Fall Out Boy?
Well yeah absolutely it's a very different vibe. The Fall Out Boy tour was much more of a young female audience I would say, and this tour is a lot more dudes and older but I also require a few ladies in the house.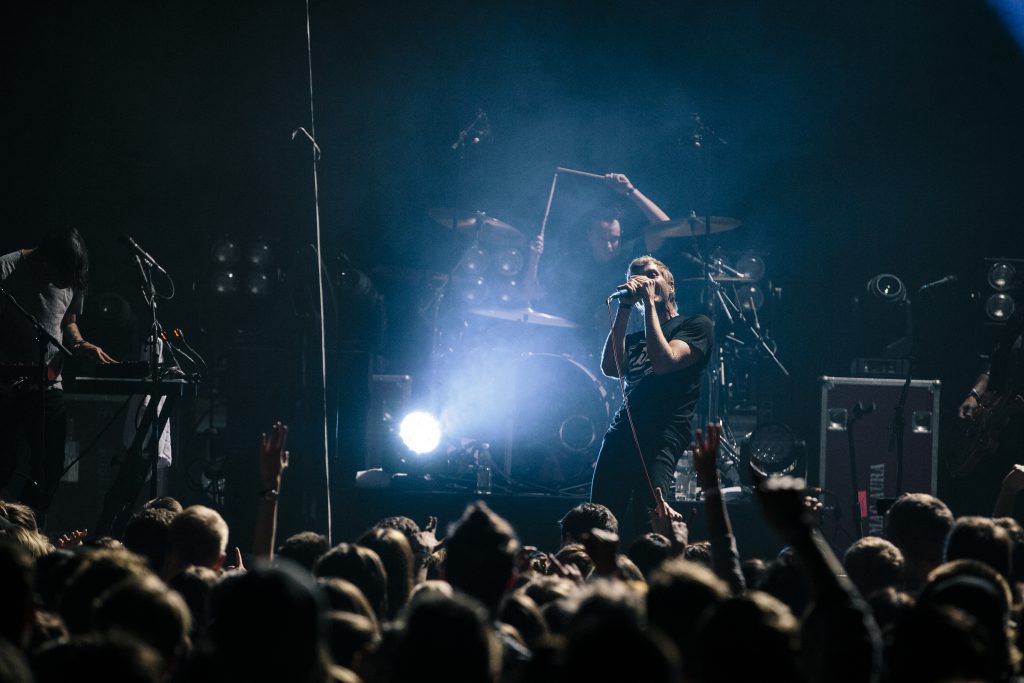 Do you think having an electric component makes you unique in the current rock scene?
I think it did. It did make us unique when it first came out in 2011 and now everyone has caught up to that, almost every single band has an electronic element to them now. So it started that way, but everyone has caught up to that at this point I think it's going to be more unique to not have electronic elements moving forward.
What are some artists that inspired you to have this electronic element in your sound?
That first Justice record 'Genesis' was very impactful to me it kind of blew my mind. That was the first time to me I realized that electronic music, mostly bass music, could be equally powerful to hard rock or metal and the low-end was undeniable. Of course Prodigy that came out when I was in high school and I overlooked. When I went back to it, it had that same kind of power.
You push positivity within your music and sound. Do you ever struggle to stay positive at a live show?
Yeah sure, but I think people can get to a positive place through a struggle. You know, even if it's an uphill battle at a show and that doesn't matter who you are that's gonna happen every once in a while. If you can show a relatable frustration maybe someone in the crowd can pick that up and apply it somehow apply it to their day-to-day life and I always try to remind myself how lucky we are to be able to play music together. You know if woke up on the wrong on the wrong side of the bed you got to get it together for 45 minutes to an hour.
What has been the most emotional interaction you've had with a fan following a live show?
That would be impossible, to pick one moment. Mostly any time someone has been affected by the music in any way and it's helped their lives be better, or helped them through a hard time that's the best for sure.
How do you plan to keep moving forward with upcoming music and festivals?
I never know which festivals we're playing till they come up and we get that opportunity. We have two more dates on our tour in Las Vegas and San Diego, so I'm looking forward to those. As far as moving forward musically, I just want to make a better record than the last one.
---
Connect with AWOLNATION on Social Media:
Website | Facebook | Twitter | Instagram | SoundCloud