KAABOO has quickly turned into a great festival for fans of all types of art and music.
We arrived at our friend's Tessa's place around 1030am. She lives in Encinitas so it was a short 7 mile drive to the venue for KAABOO. She had just come back from a Costco run for the weekend's festivities, but I couldn't stay long as check in for media would be starting soon. I dropped my things off and was on my way in an Uber. The Uber driver explained there was a single drop off point and that dropping off anywhere else would earn him a ticket. I had heard the story before, it's become a common practice for festivals to designate a single drop off and pick up location for Uber and Lyft.
I got checked in quickly and made my way to the entrance. As I entered through the metal detectors I was faced immediately with two giant gateways covered in KAABOO branding. As I passed through them it was like entering an entirely new world. There was not a lot of empty space in sight. Booths lined the main walkway and intermittently were giant murals, some still works in progress for the weekend.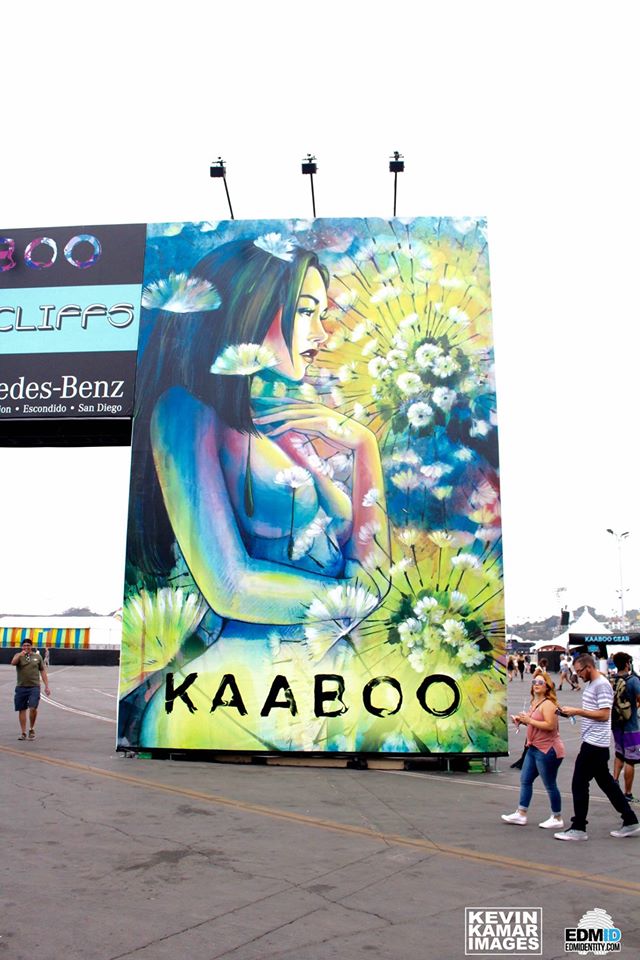 Walking through the front gates was like entering a different world…Their beach vibes could not have been more on point.
I made my way over to the Grandview stage for Finish Ticket. When facing the stage there was a clear divide. Each side was different as the left was covered in green turf while the right was covered in sand. The left side was the VIP (Hang Five and Hang Ten) while the right side was General Admission (Hang Loose). Sometime during the set beach balls were released into the crowd. The beach vibe was strong and the sunny weather along with the side view of the ocean all worked together to create an extremely relaxed atmosphere.
The food was delicious and had me wanting to try everything…
I wandered to see the other stages as I waited for my other friends to arrive, and I have never received so many free samples at a festival. From kettle chips to ice samples and assorted teas this kind of swag is unheard of at most events. It wasn't long before my group was reunited for Sugar Ray, and then of course we had to stay for Ecosmith, Grouplove, and Fall Out Boy! The food and art were amazing, between sets there was always a 30-40 minute gap which was a nice time to explore. We had to grab food from the Gouda Boys, who I had the opportunity of meeting at Dancefestopia the weekend before, and even made friends with a few girls from Phoenix. They were just in town for the weekend and were extremely excited to see Fallout Boy with us.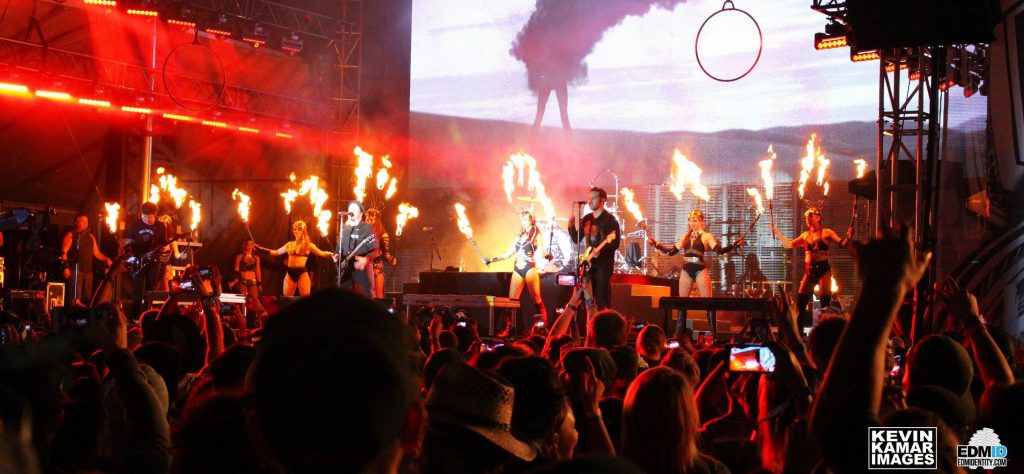 Fall Out Boy brought the party and the fire – that set was lit!
Fall Out Boy did not disappoint. Their pyrotechnics were incredibly mesmerizing and even I had forgotten how many classics I grew up listening to. We later heard that the fireworks and pyro could be seen by Jimmy Buffet at the main stage and that he made a couple of comments about how much fun they must be having. There was a point where Ryan said, "what are they going to do for their encore, they've played everything?" he was of course wrong, when they announced they would forego their usual "leave the stage and return for an encore due to the noise curfew" and played two more songs! As the set came to a close it was time to continue to turn up in the Encore warehouse. Matoma would be a nice tropical house addition to the beach vibe we had been immersed in already.
As we neared the walkway path, the crowd suddenly became condensed. Now waddling through the crowd, slowly but surely we emerged on the other side and floating directly into a barricaded line. It didn't take long for us to get inside the building and become buried in the crowd. Little did we know what would transpire the next night. We reunited with our new friends from Phoenix as we enjoyed a solid set from Matoma. The crowd was extremely varied in age but overall friendly. Before we knew it, it was time to head out and await the second day.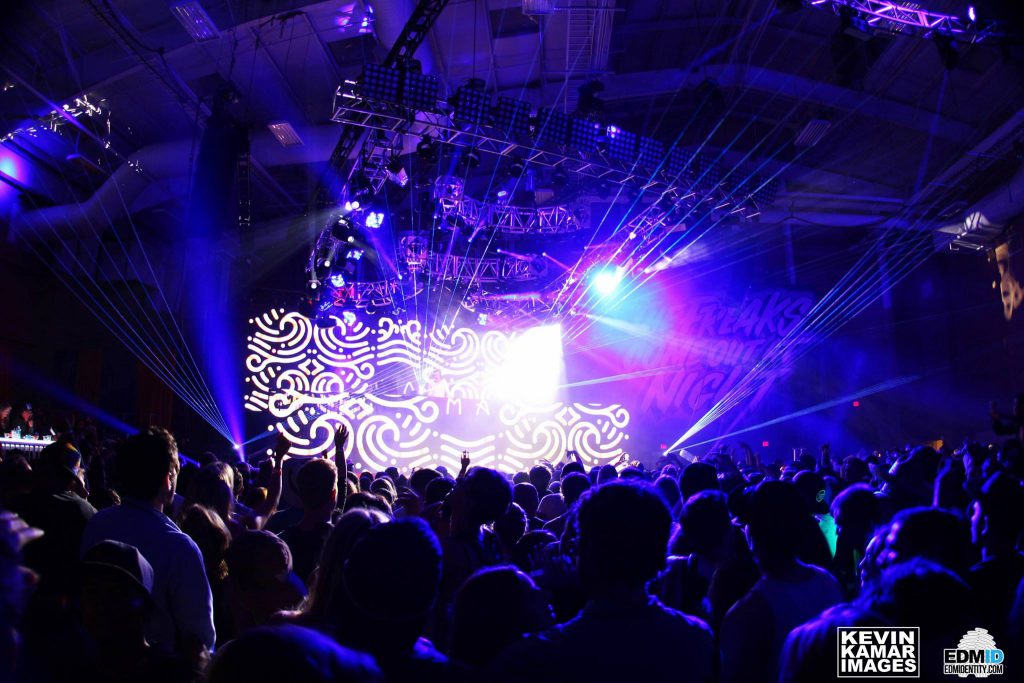 The second day was looking to be a beautiful day for a festival…
The second day of KAABOO came quickly. We again arrived shortly after gates had opened and just in time to indulge in more food booths. Once our stomachs were satisfied we headed to the Artist Lounge to document record painting, a program that was sponsored by San Diego Letters. The concept was that you get a keepsake record to decorate with nice typography, a unique piece of art to take home. We also saw the words "San Diego" lying against the fence. When we asked about it, we learned that Steve Aoki (who was performing later that day) always holds up letters of the city he is in and that they had been commissioned to provide these unique letters for him. Almost Monday stopped by to decorate the records and told us to stop by their set later that afternoon.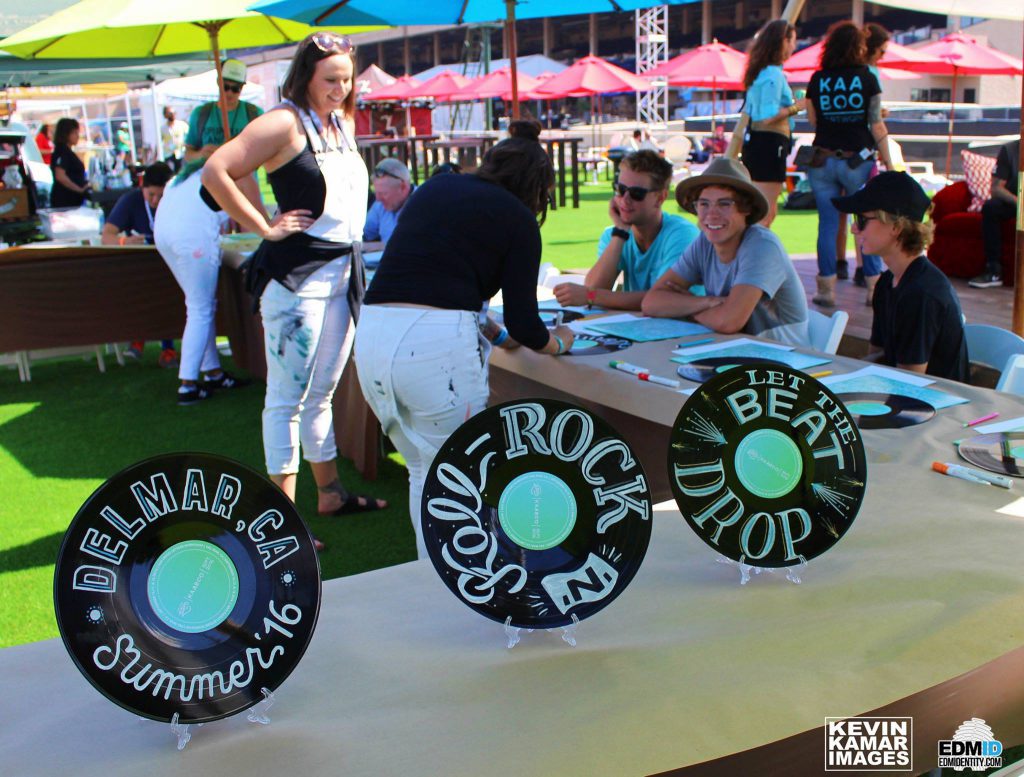 Quite suddenly, we realized that the event was getting pretty crowded…
We left the Artist Lounge to watch Third Eye Blind and some of Lenny Kravitz before heading back to Grandview for Capital Cities and of course The Chainsmokers. All of the music from these sets was amazing and The Chainsmokers were very interactive with the crowd. Their visuals were amazing and they even threw fake roses into the crowd when they played "Roses". From the VIP viewing area we could see some people across the way had camped out for the set since Flo Rida more than 5 hours before. The entire area was packed, and although we had elbow room in VIP we could tell that the attendees in GA were basically on top of each other.
As soon as The Chainsmokers ended we made our way down the single pathway back to Encore to try to catch Ludacris and Steve Aoki. Incoming messages from our friends told us that some of them had already left after Aerosmith because the crowds were too overwhelming. They said that they had gotten stuck for 30 minutes just trying to leave the Goo Goo Dolls set and that it was a mess.
It reminded me of fish swimming in a stream, people were just completely on top of each other…
My group had hit a roadblock of people. The lines and barricades that existed yesterday were gone, and now people were all trying to funnel into the warehouse without any type of order. We decided that moving farther away from the warehouse was the best idea, but even after we had hit the edge we realized we were stuck. Traffic wasn't even moving slowly, there were moments where my feet were no longer even touching the ground. Twenty minutes turned into thirty which turned into 40. At one point the girl next to me said, "guys, Ludacris is good, but not this good."
To our right we saw the medical tent area full of police officers, who told us not to come into the area unless we had an emergency. Finally, we were able to escape the crowd after 45 minutes. By this time we decided we would just call it a night and leave, so we found a spot away from the crowd to wait for our friends who could give us a ride home. For those of you wondering, the Uber charge was up to 50 dollars for around 7 miles.
That was when the nightmare began…
When Michelle finally got off work we were ready to head back to the car. It had now been two hours since we were in that sea of people, so imagine our surprise when we return and the situation had not improved. We were discussing whether we should try to push past the crowd to get to her car, and that's when the nightmare of a scene began. Right in front of us a girl fell out of the crowd, her face was deep red and tears were flowing down. Her friends began yelling that pepper spray had just been used. We were stunned as I had never attended an event where they had to use pepper spray, let alone in a sea of people who had not apparently moved in two hours! More people started pouring out of the crowd, and we could hear crying and a few screams before the sirens began. Deciding this was no longer a safe place to be we decided to go around the crowd. Heading through the back ways of the venue we saw four police cars barrel down the track and pull off to the side. They immediately exited their cars decked out in full riot gear, complete with bean bag shotgun. Was this really necessary? Around this time the helicopter above started announcing that attendees should go back to their cars as well. Later from our friends who were in the thick of the crowd, we would learn that they also tased a man, but that they actually missed the first time and hit a girl in the hand too. They described it as a war zone. The tased man had injured one of their friends and they had to hobble off to the side. They described a scene where they were helping flush a girls eyes after the pepper spray and people were frantically trying to figure out what direction to run. I'm still in shock that this happened the way it went down.
We made it back to our car and pulled up the GPS. For seven miles out the main exit, Google estimated it would take 35+ minutes. We were stunned, how was that possible? Of course we wouldn't learn until the morning about the hit and run that had taken place outside the venue causing traffic delays of up to 3 hours for some attendees. All I could hope for was that the following day would be better.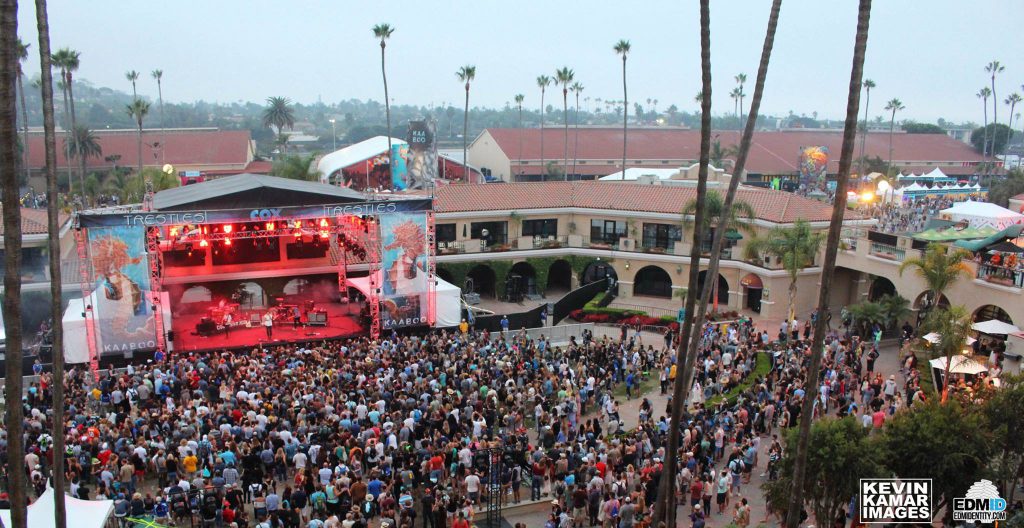 A new day, a fresh start, the final day of KAABOO 2016
The last day was off to a slower start for us. After yesterday's experience we weren't sure what to expect. Arriving shortly after noon, the place was clearly more empty than the previous day although it was still early. I did take note of the way they had restructured the pathway from the Grand View stage to the Encore stage, even though nothing was happening at Encore. They had opened a much wider section of the path and created a clear divide for traffic going to and from that stage. These changes would have had a bigger impact had they been made the first day. In an exploring mood, we took our time to enjoy the Artwork and Palate building. It was a wide variety of gourmet food complemented by various art installations and hanging pieces. We sampled a variety of foods that were not your typical festival fare and also enjoyed being able to not only experience the unique art but interact with some of the artists as well. By the time we left the exhibit it was almost time to see Garfunkel and Oates at the Humor Me stage. There wasn't much of a wait before we were listening to their opening act – the guys from Buzzfeed who entertained us with their lyrical genius and comedy. I've known about Garfunkel and Oates since they started on YouTube but seeing them perform live in such an impromptu way was captivating and hilarious. At one point Erica (Oates) dropped her guitar pic inside the guitar, and while she was trying to get it out an audience member walked up and gave her a new one. There were some really great vibes from the crowd at that performance.
Aside from music and food, the art and comedy were captivating…
After our comical experience we went out to wander more. We took photos at multiple photo booths to create keepsake memories and enjoyed sets by Atlas Genius, Cypress Hill, Cold War Kids and beginning to wrap up our night with Rebelution. As the time neared for Jack Johnson to close out the night we prepared ourselves for the end of this festival weekend. There was definitely a smaller crowd than the second day but still a good presence for the final headliner.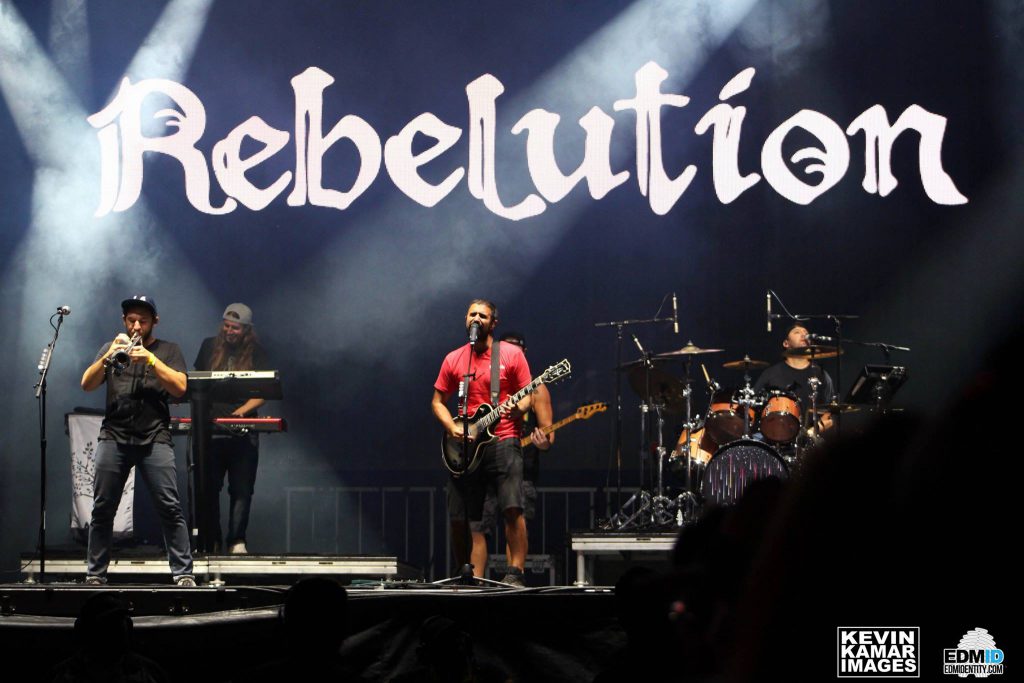 Overall, this was a good "mix-perience" for me…
KAABOO tautes itself as a mix-perience like no other and I have to admit I have not attended a festival anything quite like KAABOO. This is not the same as other festivals where they collectively focus on personal experience, sharing and taking care of each other. This is the kind of festival that allows you to indulge and focus on yourself. If you're looking for a getaway to simply enjoy beach vibes, great music, and spend that hard-earned cash on building your own experience, this is the kind of festival you've been waiting for. The second day of KAABOO was an anomaly created by frustrated and deadlocked attendees and while a great learning experience for the event organizers, it should not be a complete disenfranchisement. The whole situation was grossly mishandled, and although we heard multiple people saying they would not attend again, I think that a festival still in its infancy, trying to grow as rapidly as they are, deserves a second chance. A chance to prove that they can learn from this event. As long as KAABOO uses this as a growing moment then I could easily see myself returning next year.
Click HERE to check out the full album of photos on Facebook!
---
Connect with KAABOO 2016 on Social Media: