Are you tuning into #ABGT200 today? Stream it live below!
---
Today is the celebration of 200 episodes of Above & Beyond's weekly broadcast, Group Therapy, and they have definitely brought an amazing lineup for #ABGT200! It is crazy to imagine that we have already reached the 200th episode in this series, as it seems like only yesterday that Above & Beyond was still using the Trance Around The World (TATW) moniker. Every fifty episodes have been celebrated by a live performance around the world. #ABGT50 came to us live from Alexandra Palace in London, #ABGT100 took us to Madison Square Garden in New York City, #ABGT150 dipped to the Southern Hemisphere with a stunning show in Sydney, and now we are here at #ABGT200 at the Ziggo Dome in Amsterdam!
Stream Above & Beyond Live at Ziggo Dome, Amsterdam #ABGT200 on YouTube:
You can access the live chat for the event by clicking HERE! Access the live tracklisting HERE on 1001Tracklists!
#ABGT200 SET TIMES (CEST / Amsterdam time)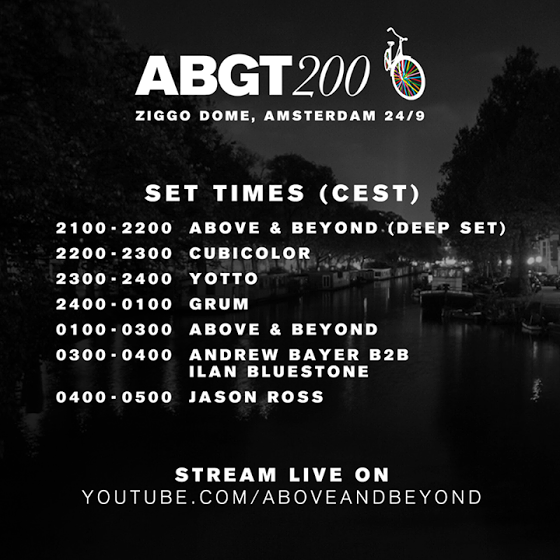 2100 – 2200 Above & Beyond (Deep Set)
2200 – 2300 Cubicolor
2300 – 0000 Yotto
0000 – 0100 Grum
0100 – 0300 Above & Beyond
0300 – 0400 Andrew Bayer B2B ilan Bluestone
0400 – 0500 Jason Ross
---
Connect with Above & Beyond on Social Media:
Website | Facebook | Twitter | Instagram | SoundCloud | YouTube