We're proud to present our first interview of many to come featuring artists performing on the Therapy Thursday stage, Netsky!
Boris Daenen was born in Edegem, Belgium and is better known by his producer name, Netsky. He's been producing for the better part of 7 years. Initially signing his first record deal with Hospital Records in 2009, he released a self-titled album in 2010. Since that time he's gone on to release not only two additional albums. Including one this past June entitled "3". But also he's also remixed songs for huge artists like Swedish House Mafia, Madeon, Jessie J, Rusko, Jack Ü and many more.
This artist holds a special place in my heart as being probably my favorite Drum and Bass producer in the world. We sat down the with the musical genius that is Netsky this past week to pick his brain and get his take on things. Read on through the interview as he talks about travelling, his move away from Drum and Bass, live shows vs DJ sets, inspirations and more! We'd like to give a special thanks to V2 Presents/Therapy Thursdays for facilitating this interview. Be sure to catch him blowing the roof off of SKY SLC for this week's installment of Therapy Thursdays!
Tickets are available to see Netsky at Therapy Thursdays, purchase them by clicking here. 
Want to catch up on the action? Join the Facebook Event Page by clicking here.
Want to win tickets to see Netsky? Check out our Event Preview article for more info.
---
You recently traveled to Rio for the Olympics, supporting the Belgian Olympic team playing a few sets for the opening parties down there and such. What was that like, and what was your favorite part of Rio or of that trip?
It was really great. They invited me to come watch a lot of the games that Belgium was competing in. We went to the stadium and saw a lot of the athletes perform. I think we saw 3 or 4 different events. There was this one after party in the Belgium Olympic house in the Olympic Village, and they wanted me to do a DJ set there with all the athletes and the hockey team players who had just won silver medals. I met all of them the day before. It was a really good atmosphere. The whole campaign was pretty fun. In the beginning they sent me to the training camp for the Belgian athletes, to do sports and compete with them in their professional sport. That was absolutely hilarious and really fun. That showed how incredible they are. If you swim next to a professional Olympic swimmer, obviously you appreciate what they do when you look at them [on TV], but if you try to compete with them, that's when you feel that they're like 10,000 times faster than you. The whole trip was incredible. It was super fun to go to Rio as well. It is an incredible city. It has everything, the city is beautiful, it's got a nightlife scene, and it has amazing food. It has everything you would need, it checks all the boxes.
Your third album "3" branched out into other aspects of dance music and wasn't strictly Drum and Bass. What was the reasoning for branching out and moving away from being a strictly Drum and Bass producer?
The one thing I've been trying to do this last year, especially with the new album, is to kind of move away from the real "Drum and Bass" only core. I want to explore all these new genres. I still love playing Drum and Bass and I love it as a genre, but I don't think I need to stick to the scene or industry around that one specific genre. I want to play Drum and Bass in clubs where people wouldn't expect to hear it. Which is a lot more fun. For me, especially in America, it seems to work a lot better that way, rather than just playing a local Drum and Bass night. I just love so many other genres of music as well. I want to play songs that I can't away with playing at a Drum and Bass night! 
Is there one thing in particular that kind of sparked that desire to branch out into other styles and genres of music?
I think musically I'm very much attracted to kind of energetic, musical bouncy music. Drum and Bass is an example of that. Musically I was a massive fan of Drum and Bass, but I don't think I've been a fan of what Drum and Bass used to represent back in the 90s. I'm trying to say this in the right words, because I still have respect for a lot of old school Drum and Bass DJs. They were a huge inspiration to me and I love them. But I really like positivity, and I like to be in a club where people aren't just screaming their face off with a backpack on their back, not talking to anybody, not being very social. I like being positive, I like clubs where there are 50% girls and 50% guys, where there's a nice atmosphere, where people are going on dates and there's love in the air. Rather than being in a small, sweaty basement in London with loads of boys all drunk. It's kind of that scene that made me want to explore different styles of electronic music. And I'm just interested in it musically as well.
You're someone who puts on shows not only as a DJ but also in kind of a live aspect with keyboards, drums, live vocals, etc… Which one do you enjoy more?
I'd say the live show. The live set is built with three areas on stage for the musicians. There's the drummer on stage left, I'm in the middle with a keyboard, and there's an extra keyboard player on the right. I only play keys, I used to play the drums when I was a kid. Now I just love playing leads, I love kind of rocky, guitar leads, but we play them on keyboards and keytars, it's definitely [playing] keys for me, that's my favorite.
The one thing I love about the live show is that we utilize a lot more space on stage, and have a lot more freedom to bring a visual experience. We're not just limited to shouting "Put your hands up." and just being that little kind of white dot in the middle of a massive mainstage.
What do you feel is the biggest Pro and biggest Con of a live show, and the biggest Pro and Con of a DJ set?
The one thing I love about the live show is that we utilize a lot more space on stage, and have a lot more freedom to bring a visual experience. We're not just limited to shouting "Put your hands up." and just being that little kind of white dot in the middle of a massive mainstage. With the band I feel like we can really work towards a proper show. We can take each song and give it its own life. That's what I love about playing live. You can get a lot more creative with tour shows than with a DJ set. What I love about DJing is the freedom you get. You can play whatever you want. Whatever direction, you play a song for a minute or for three minutes if you feel like. I just love having that freedom, looking at a crowd and just choosing tracks on the fly. With a band it's a lot harder because you have to be in harmony with other musicians.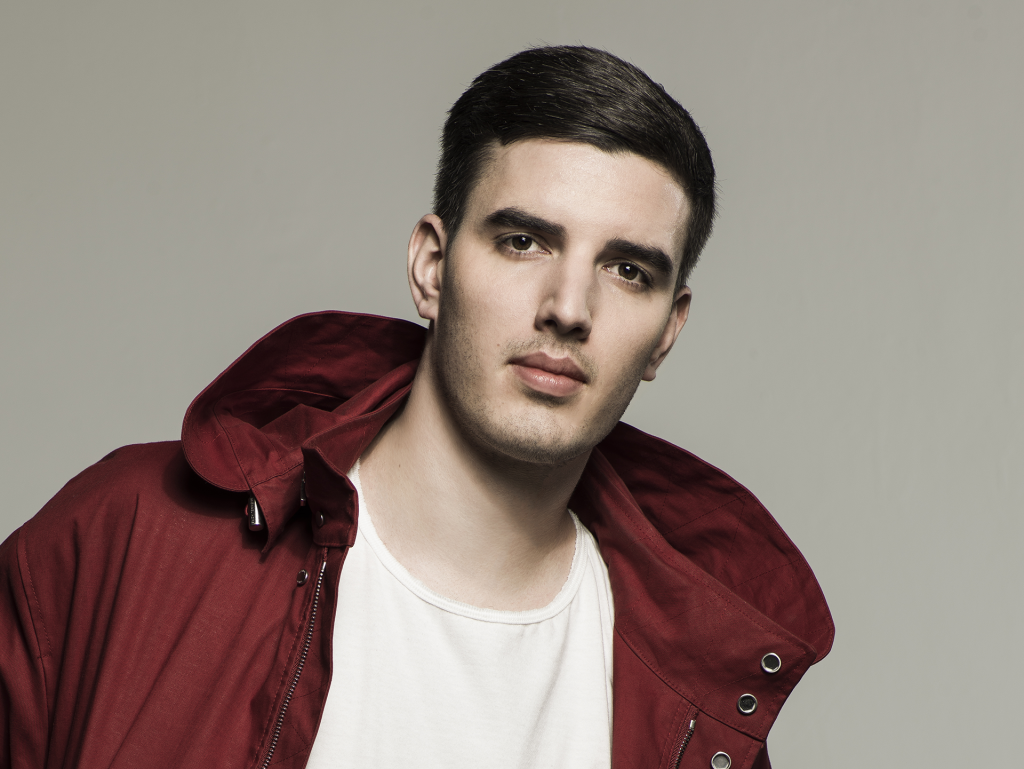 As time has gone on, you can see a very prevalent growth in your production and in your live shows. What's one thing you want to add to your live show that you don't currently have?
I think personally, I want to become a better musician. I want to start to learn the keytar and incorporate more instruments on stage, and a bit more movement. The one thing that I think we can improve on as a band is getting a bit less static. We're so used to electronic music, and we're so busy on keyboards. I think visually it would be really nice for either me or the keyboard player to go to the front at some point. Maybe take a guitar with us. I want a bit more movement on stage basically. I'm going to work on that a little bit.
What we see with a lot of DJs is an "Ableton Live Show." Live shows have instruments, it's important that you have live musicians and that 90% of the elements are being played live. A lot of these so called "live sets" are just a DJ set with controllers I think.
We see a lot of producers moving towards a more live or instrument focused show. People like Flume, Porter Robinson, The Glitch Mob, etc… We know DJ sets will almost never go away if only for the convenience. But is a more live oriented show something you think the dance music scene will transition more to in the coming years?
What we see with a lot of DJs is an "Ableton Live Show." Live shows have instruments, it's important that you have live musicians and that 90% of the elements are being played live. A lot of these so called "live sets" are just a DJ set with controllers I think. I don't mean that disrespectfully in any way, it's just not a live band, it's an Ableton set. Those can be really cool because it adds the opportunity to think of a light show, and a visual show to show off the musical side. That's really interesting as it brings more to the user experience which is the most important part of any show I would say. Looking at the future, I think it will become even bigger. More and more DJs are going to go to a bigger show standard, rather than just a DJ set.
Drum and Bass fans are some of the most passionate fans in dance music, and you've received quite a bit of hate from fans who want "Old Netsky" back. How do you feel about that?
It's interesting, I think that might one of the aspects of the Drum and Bass scene that I wasn't connecting with. The shortsightedness sometimes. I don't want piss off any fans so I'm choosing my words carefully again. It's everybody's right to not like a certain style or a certain song. It seems that like Drum and Bass is a very passionate genre, there's a lot of passionate fans who want to protect that release, and they really believe in the genre as if it's kind of a church sometimes. Which is crazy, but it's beautiful as well because it's a very strong foundation that the Drum and Bass scene has worldwide. Part of that is just because the fans are so passionate and into the music. You can look at it in two ways, I like to think that they just like the genre so much that they forget to listen to it before hating it. I really don't mind that much.
You've stated that the theme for "3" was to create an album of all the genres that you would burn to a CD 10 – 12 years ago. If you had to pick 3 favorite songs, from a different genre what would they be and why?
Oh man this is a hard question right after a festival gig. I think songwriter-wise, the person I love the most is probably Elton John. He's probably one of the most incredible songwriters, but that doesn't really reflect in my production. I've met a lot of songwriters that share the same love for Elton John. I can tell by the style of writing that he influences so many people around the world. He's definitely in my Top 3, I think "Rocket Man" is probably one of my all-time favorite songs. So Elton John definitely. "I Wanna Be Your Lover" by Prince has always been one of my favorite Prince songs. It kind of inspired me back in the day to start making House music. That was one of the first tracks that really spoke to me as a producer. I wanted to start making funky and repetitive melodies. Which led to electronic music in a way for me. That's another song that is definitely on my list. And then I think Bob Marley "Three Little Birds", which is my funeral song. That's a song that's very, very big to me. It's a song that my dad used to play to me a lot when I was a kid. And I want it to be played at my funeral because it's one of the most positive sounding songs and melodies. I absolutely love it.
The first track from "3" is "Thunder" with Emeli Sandé. You mentioned in another interview that she is one of your favorite female vocalists from the UK if not the world. Can you talk about how that collaboration came about and what was it like working with her?
Emeli is one of my favorite artists that I've ever worked with. She's such a gentle, nice person. She got along with the whole band and everybody in the studio, she's incredible and I love her for that. How it came about was actually pretty funny. It wasn't a corporate or major label deal where they got Emeli in contact with me or the other way around. It was Emeli's manager's nephew. And Emeli is managed by a best friend. So Emeli's best friend's nephew, is a massive fan and always came to shows of mine, back in the day, in London. And Emeli had sung this chorus in a session, and she was playing it at dinner and this nephew just spoke to her and said "Look this has to be produced by a Drum and Bass producer. This has be produced by this guy called Netsky. You should really check him out. Or just send it to him and see what he does with it." So she just sent me that chorus, and I started working a beat around it. She really like the energy around it. Two or three days later we meet up in London and spent like 3 days in the studio to write the verses and record everything together. The song was done after two weeks I think. It was a very quick process and really nice.
Do you feel like an amazing vocal track takes a track to a level that is unreachable by a song without?
Yeah I think so. Not every time, there's so many instrumental songs that can bring the same emotions that any lyrical song can do in my eyes. But in electronic music, if you work with the right vocalist, and produce it right, and the song works. I think you can easily achieve magic, and it's a lot harder to that just instrumentally. So it definitely helps.

What is it about vocals that you think does that? Do you think that the fans maybe resonate or connect with the lyrics more?
It depends on how you look at what works. If you look at pop success for example, it's easy. On the radio, they need a formula where people can sing along to it for example. Obviously it goes a lot deeper, I don't think radio success is the end game for any track. I think the human mouth is one of the most beautiful instruments in the world. You can really make something sound human again instead of all programmed and computerized. Psychologically it's the easiest instrument to relate to I guess. Having a story that is broad enough to speak to millions of people in completely different situations, I think that's magic. Once you make a song that is clever, that can speak to hundreds of different situations and can speak to someone personally while it's not written for them. That's what I love about lyrics sometimes.
If you could go back in time before you made your first album, and give young Netsky one piece of production advice, what would it be?
I think if I could speak to younger me, I'd say "Don't stress out. Just relax and don't stress out too much about trying to get the perfect production, or the perfect mix, or the perfect sound." I think people relate to songs in a completely different way than producers do. I think when I was younger, say 5-6 years ago, I was really trying to impress all my producer friends. Rather than making music for people that just want to listen to music. Which caused a lot of stress in the studio. I think it's more important to make music for the people that actually listen to your music. Rather than all your colleagues trying to impress them. I'd tell myself not to try and impress my friends.
I'm sure you're aware that you're an inspiration to many people nowadays. If you could tell all the people inspired by you one thing, what would it be?
It's incredible, sometimes it's easy to forget about it when you're touring or working in the studio. It's easy to forget about the really cool stories where people get through a rough period in life, or they meet their boyfriend at a gig, or they're trying to reach a goal and they use your music to reach it. When you hear stories like that, it really matters. It's important to just take time to read those kinds of messages. I thumb through them every day on social media. It's easy to not look at them and not necessarily take them for granted, but just to not take time to go through them. There's some incredible stories there, it just really gives you energy and shows that music can do something good. It's a universal language and that's a really powerful message. It gives me energy.
Thanks so much for the interview and taking the time out to share your stories and that information.
Definitely. Thank you very much for all the questions, it was fun to talk about it.
---
Connect with Netsky on Social Media:
Website | Facebook | Twitter | Instagram | SoundCloud
Connect with V2 Presents on Social Media:
Website | Facebook | Twitter | Instagram 
Connect with Therapy Thursdays on Social Media: