Are you ready for some fun in the sun this weekend at Sundown Music Festival 2016?
On September 17th and 18th, Huntington State Beach will turn into an electronic music lover's playground as Sundown Music Festival 2016 takes over for the weekend. Having a prime location is just one thing that sets this festival apart from others, as they boast a solid lineup featuring a good variety of genres, and plenty of fun things for attendees to participate in. Oh, did I mention this festival is 21+? Definitely a bonus for many who are looking for a more mature party. Expanding to 60 artists this year and multiple stages, this festival is sure to have someone up your alley. Whether you love the deep sounds of techno, heavy bass grumbles, or some house music to mellow your weekend, this lineup sure has it all.
Check out Grant's Top Pick's for this weekend HERE!
Haven't bought a ticket yet? Don't worry tickets are still available here.
---
Sundown Music Festival 2016 Essential Information:
Dates: Saturday, September 17 – Sunday, September 18, 2016
Festival Hours: 11am – 9pm
Venue Address: Huntington State Beach, PCH and Brookhurst, Huntington Beach, CA
---
Sundown Music Festival 2016 Set Times:
Download your own copy of the Set Times and Map HERE!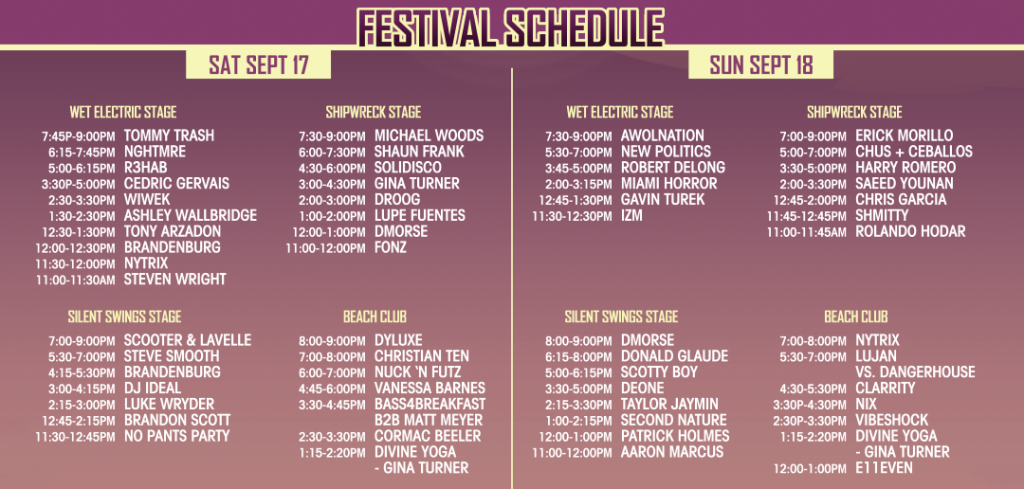 ---
Sundown Music Festival 2016 Map:
---
Parking Info and Public Transportation:
Address: Huntington State Beach, PCH and Brookhurst, Huntington Beach, CA
There is parking right at the beach in the State Beach parking lot. Please note that it is summer and parking sells out quickly! California State Parks determine daily parking rates. Typically, parking is $15 to $20 per vehicle.
Attendees are highly encouraged to ride bikes, carpool, take uber or a taxi service to the event.
---
Reminder to Mind Your Belongings:
Unfortunately, this festival season, many people have reported pickpockets, bag slashings, and theft of wallets, smartphones, purses and other valuables during. While this small number of bad apples in the bunch doesn't define an entire crowd, there are opportunistic people who come to these events to take advantage of unsuspecting party goers and it's important to be mindful of your valuables while at Sundown Music Festival.
Pay attention to who's around you and what's going on around you. Keep your wallet and phone in your front pocket(s) if you can. Treat your phone the same way you would treat cash; don't set it down on a table or bar and look away. If a friend isn't standing behind you in a crowd, be careful of your backpack or purse, and don't put valuables in a pocket that could easily be unzipped by someone behind in a crowded spot without you realizing.
---
Be Prepared For The Weather:
MAKE SURE TO WEAR YOUR SUNSCREEN!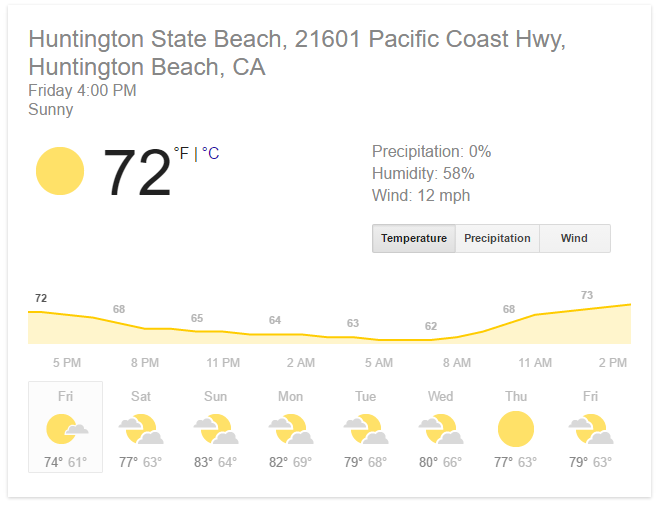 ---
Acceptable Items:
YES Beach Towels
YES Beach Chairs (Must be no taller than 32")
YES Sunscreen (Must be in a 8oz or less bottle)
YES Small Bags, Single Compartment Backpacks and Purses (maximum 12"×12")
YES Fanny Packs
YES Cell Phones
YES Sunglasses
YES Hats
YES Lighters
YES sealed Packs of Cigarettes
YES Sealed/Wrapped Tampons
YES Sealed Chapstick and Lipgloss
YES Non-Professional Flash/Still Cameras
YES Earplugs
YES Flags/Banners or Handmade Signs (No corporate/company branded and no hard poles)
YES Handheld Camera Devices (e.g., Sony Action Cam, GoPro. Must be 6" in size or less)
YES GoPro extendable poles
YES Smiles, Energy, Positive Attitudes and Good Vibes
Prohibited Items:
NO Umbrellas
NO Drugs or Drug Paraphernalia
NO Outside Food or Beverages (Including Alcohol, Water and Candy)
NO Frisbees
NO Tents
NO Drones
NO Fireworks/Explosives
NO LED Gloves or LED Microlights used for Light Shows
NO Pacifiers or Masks of any kind (Dust Masks, Character Masks, Gas Masks, etc…)
NO Glass, Cans, Cups or Coolers
NO Weapons of any Kind (Includes Pocket Knives, Pepper Spray, Fireworks, etc.)
NO E-Cigs
NO Open Packs of Cigarettes or Unsealed Tampons (Upon Entry)
NO Professional Recording Equipment – Photo, Video, or Audio (No Detachable Lenses,Tripods, Big Zooms or Commercial Use Rigs)
NO Massagers
NO Laser Pointers
NO Eyedrops
NO Camelbaks
NO Glass, Cans, Cups or Coolers
NO Markers, Pens or Spray Paint
NO Large Chains or Spiked Jewelry
NO Stickers, Flyers
NO Oversized Backpacks
NO Stuffed Animals or Dolls
NO Pets
---
Connect with Sundown Music Festival 2016 on Social Media: