Life is Beautiful continues to show the world why it is such a dynamic and unique festival. It unites world-renowned musical (and non-musical) artists, chefs, and inspirational speakers/leaders on the streets of Downtown Las Vegas, and, for the first year ever, will also host a comedy stage called THE KINDHOUSE. THE KINDHOUSE will be located inside Place on 7th and will showcase popular comedic acts, DJ performances, spa services, a lounge and bar, food trucks and more! It will be the perfect place for attendees to catch a break from the sun while listening to jokes and refueling with some delicious grub.
Life Is Beautiful 2016 – Comedy Lineup: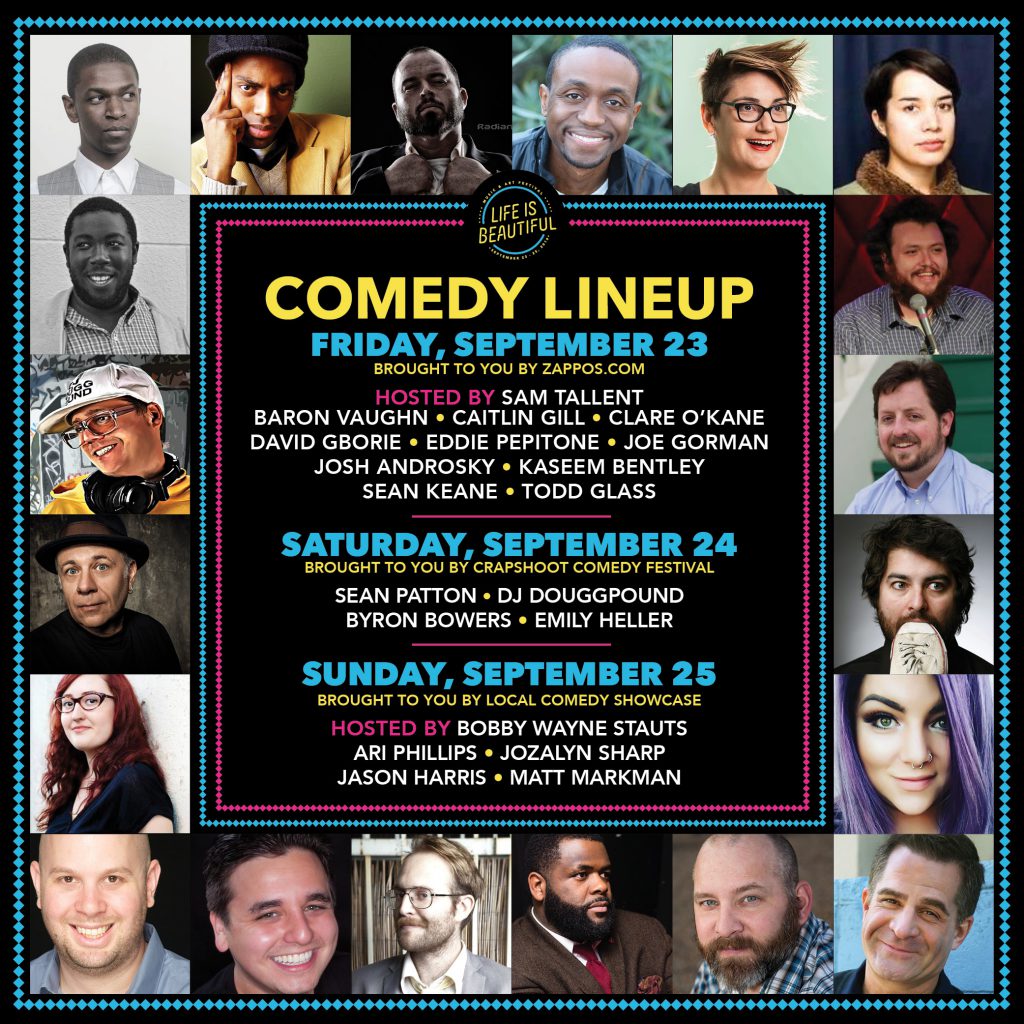 Ryan Doherty, chief experience officer for Life is Beautiful said:
We have music, art, learning, theatrical performances and now comedy for our fans to explore. The addition of the comedy lineup allows us to offer something new for our festival goers and continue to create an all-encompassing experience for our attendees.
Friday's entertainment will be sponsored by Zappos and hosted by Sam Tallent. Acts will begin at 2:30 P.M and run until 8:00 P.M. featuring performances by comedic masterminds Joe Gorman, Clare O'Kabe, Eddie Pepitone, Sean Keane, David Gborie, Todd Glass, Josh Androsky, Caitlin Gill, Kaseem Bently and Baron Vaughn. Saturday will be presented by Crapshoot Comedy and will include three showcase style performances at 5:30, 7:30 and 9:30 PM. lead by comedic stars, DJ Douggpound, Byron Bowers, Sean Patton and Emily Heller. Sunday will be hosted by comedian Bobby Wayne Stauts and feature local Las Vegas comedians. There will be two shows, at 4 and 7 p.m., and will feature Ari Phillips, Matt Markman, Jozalyn Sharp and Jason Harris.
Life is Beautiful will fill the streets of Downtown Las Vegas Sept. 23-25. Three-day and single-day tickets are still available for Life is Beautiful Music & Art Festival here. For highlights from last year's festival, check out the Life is Beautiful 2015 Recap video. For more information on Life is Beautiful Music & Arts Festival, please visit their website.
Check out the daily musical line ups here! Not sure what to expect? Check out Zach's 2015 Life is Beautiful Experience!
---
Connect with Life is Beautiful on Social Media: