We all know the real reason you're going to Bali this month, but here are some amazing things to do outside of Ultra Beach Bali 2016 that you shouldn't miss!
Ultra Beach Bali 2016 takes place at Potato Head Beach Club in Seminyak, a beach town in South Bali known for being the capital of high-end spas and boutique shopping. If you're down to travel a little further out, you will be able to experience a number of unique places Bali has to offer.
---
Visit the Sacred Monkey Forest Sanctuary
The Sacred Monkey Forest Sanctuary is located in the uplands of Bali in a craft town called Ubud. Here at the sanctuary you will be able to get up close and personal with a number of friendly monkeys. Unlike the monkeys in other towns namely Uluwatu, the monkeys in Ubud are safe. We highly suggest purchasing a bundle of bananas while you're there as it is the best way to interact with the monkeys. There are a number of workers at the sanctuary as well that will show you the best way to feed the monkeys. As a precaution make sure to keep all your valuables zipped away as sometimes loose items may be snatched. Overall this a great day trip and place to shop for little souvenirs.

Ride the slides at Waterbom Bali, #2 Best Waterpark In The World
For those seeking a place to cool off or decompress, Waterbom Bali would be ideal. Whether you choose to relax in the lazy river or take a plunge down one of their many slides, you'll for sure be able to beat the heat here.
Explore the Many Temples of Bali
There are so many amazing temples in Bali to visit that sometimes it may be hard to choose. One thing to remember when visiting these temples is that you need to be respectful of the culture. So if you do plan to visit any temples, be ready to wear a sarong and cover your shoulders. A sarong is essentially a patterned cloth that ties into a long skirt, you will see tons of ladies selling them outside and all around Bali. They are around $7 USD or 100K IDR to buy your own and they're a necessity. We suggest visiting at least one water temple as they are gorgeous, namely Pura Ulun Danu Bratan.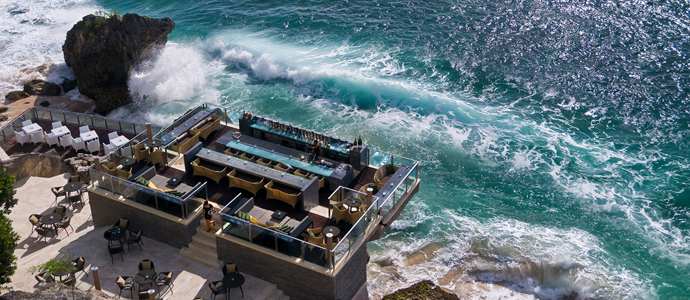 Get a Drink at Rock Bar at AYANA Resort and Spa
Located in Jimbaran, Rock Bar is one of the most iconic bars to drink at as it sits atop a cliff edge. We highly suggest watching the sunset here and spending the day at their sandy beaches. Maybe you could take a few surfing lessons while you're there as its a great beach for first timers.
Scuba Dive or Snorkel in the Gorgeous Indian Ocean
If you plan to travel outside Bali, we recommend visiting the islands of Gili T and Gili Air as they host a number of snorkeling trips that will take you to 3 different locations. It's around $7 USD or 100K to do this and that includes your mask, snorkel, and fin rental as well. It's definitely worth the money and you'll most likely see a turtle or two.
---
About ULTRA Worldwide:
Choosing to follow a unique and creative vision and a wholly organic growth focused on its true love for music, artists and fans alike, the ULTRA and ULTRA Worldwide™ brands represent not only the world's biggest and most successful remaining INDEPENDENT electronic music festival brand, but also the most international festival brand in the world. Event organizers continue to transport the unrivaled experience from the Miami flagship festival to an ever-growing number of destinations and Ultranauts all over the globe.
Over the past eighteen years, thousands of the world's most iconic DJs, producers and live acts have mesmerized audiences with awe-inspiring sets at ULTRA festivals in ARGENTINA, BALI, BRAZIL, CHILE, CROATIA, IBIZA, JAPAN, KOREA, SOUTH AFRICA and of course MIAMI, as well as ROAD TO ULTRA® events in BOLIVIA, CHILE, COLOMBIA, JAPAN, KOREA, MACAU, PARAGUAY, PERU, THE PHILIPPINES, PUERTO RICO, SINGAPORE, TAIWAN, THAILAND and the USA. Each new global edition has been founded on the same successful recipe that has been perfected over eighteen years in Miami, combining the most diverse electronic talent with the most technologically advanced, large-scale festival productions in the world.
The ULTRA brands have pioneered the live stream experience with 'ULTRA LIVE' (bringing the festival online to over 20 million unique viewers globally) and the audio broadcasting platform 'UMF RADIO' (syndicated to FM Radio in over 62 countries and reaching more than 22 million listeners weekly). Also UMF FILMS' collaboration with FINAL KID has seen some of the most visually breathtaking festival aftermovies in the music space, including a feature-length documentary exploring the explosion of dance music, entitled CAN U FEEL IT™, which was premiered on the red carpet at the Klipsch Amphitheater in Miami in 2012 and was exhibited in over 500 theaters across the Unites States.
2016 will see the ULTRA and ULTRA WORLDWIDE™ brands continue to push the boundaries even further, bringing an unparalleled combination of cutting edge productions and the world's best electronic acts back to previous strongholds and new frontiers across the globe. With a brand new edition of ULTRA Brasil® confirmed to take place in Rio de Janeiro on October 14-15, 2016, ULTRA Singapore™ becoming a full-scale two-day festival on September 10-11 and with ROAD TO ULTRA® entering Hong Kong later this year, the ULTRA brand has now united TWENTY COUNTRIES across FIVE CONTINENTS worldwide.
---
Connect with ULTRA Worldwide on Social Media:
Website | Facebook | Twitter | Instagram | YouTube | Mixcloud