Taking place on the beautiful Randall's Island Park with a well-stacked lineup containing all genres of dance music to please, Electric Zoo: Wild Island is bringing three days of great music to the Big Apple to carry festival season into September. Single, Two Day, and Three Day GA tickets, as well as VIP and Platinum passes for those looking for a more cushy and comfortable experience, are still available here.
Head spinning from Electric Zoo's star studded lineup? Not sure who to see? Check out my top artists you have to see!
---
Electric Zoo 2016 Essential Info:
Will Call Open: 2 PM on Friday, September 2nd; 12 PM on Saturday and Sunday, Septeber 3rd & 4th
Doors Open: 3 PM on Friday, September 2nd; 1 PM on Saturday and Sunday, Septeber 3rd & 4th
Location: Randall's Island Park (1 Randalls Island Park, New York, NY 10035)
Age Restrictions: 18+ for GA Attendees, 21+ for VIP or Platinum Ticket Holders
Facebook Event Page: Click Here
Acceptable Forms of Identification for Entry
Any U.S. government issued driver's license or identification card provided that it contains a photograph and date of birth.
 A U.S. or foreign government issued passport containing a photograph and date of birth.
Valid United States Military identification card.
Unacceptable Forms of Identification for Entry
NO

 School ID

NO

Consular ID

NO

Birth certificates

NO

 Expired ID

NO

 Licenses from a foreign country

NO

Photocopies of any ID
---
Transportation Information:
No matter where you're coming from, there are plenty of options to get you to and from Electric Zoo safely and conveniently.
Ferries
For those located in Manhattan, Electric Zoo is providing a ferry service to transport you to and from Randall's Island while taking in a beautiful view of NYC along the East River. Ferries will be running every 30 minutes starting at 2:30 PM on Friday and 12:30 PM on Saturday and Sunday. Ferries depart from and return to the East 35th Street Ferry Landing, located at the intersection of 35th Street and FDR Drive. You will need a ferry pass, available HERE priced at $25 for a single day, or $55 for the entire weekend.
Shuttles
Electric Zoo is offering a direct shuttle pickup and drop off from The Output Nightclub in Brooklyn (74 Wythe Ave, Brooklyn, NY 11249) in Williamsburg. Brooklyn shuttles will run continuously throughout the festival each day from open to close; shuttle passes are available HERE and priced at $25 for a single day, $60 for the entire weekend.
MTA Subway / Buses
You can get to Randall's Island inexpensively by using New York City's public subways and busses in two very easy steps. First, you will need a MetroCard for use on the busses and trains, available for purchase at most subway stations. Note: a $1 fee applies when purchasing a new MetroCard, and the fares are as follows: a single ride on the trains is $2.75 (which includes transfers between trains), a single ride on the Express Busses is $6.50 (or $3.75 if transferring from a train).
For those who plan to utilize public transportation all three days of the festival, purchasing an unlimited one week MetroCard ($31) may be the most cost effective option. For more information and fares at a glance, check out MTA's website.
Getting to Randall's Island via Subway & Buses:
– Take a 4, 5, or 6 train to 125th Street Stop
($2.75 for single ride from any subway stop)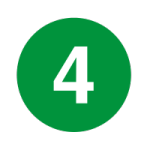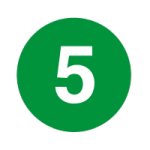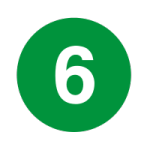 – Walk to East 125th street & Lexington Avenue and take the X80 Express Bus to Randall's Island Park.
($6.50 single ride, $3.75 if coming from Subway using MetroCard)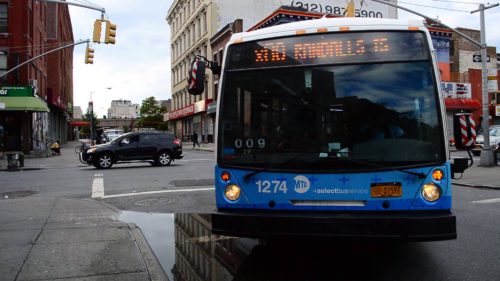 Need help? Here's a high resolution subway map of all five boroughs.
iTransNYC for iOS devices and MyTransit NYC for Android devices can help you plan your trip step by step.
---
Electric Zoo 2016 Do's and Don'ts:
Make sure to bring the following items with you to the event:
Your ticket
Photo ID (see acceptable forms above)
Festive and comfortable clothing and shoes (sandals and flip-flops strongly discouraged for comfort and safety reasons; heat, humidity and rain are possibilities, dress festively yet mindfully!)
Smiles, good vibes and a positive attitude
Acceptable Items:
Small bags, single compartment backpacks, & purses (Empty String Bags OK)
Cash and Cards
Non-Professional Flash/Still Cameras (GoPros OK; attachments such as sticks, selfie sticks or monopods are not allowed)
Small Blanket/Towel
Sealed packs of Cigarettes
Sealed/Unwrapped Chapstick
Sealed/Unwrapped Tampons
Earplugs
CamelBaks (must be empty upon entry)
Prohibited Items:
Illegal Substances / Paraphernalia
Weapons of any kind
Backpacks larger than 12″W x 12″H x 16″L
Oversized Purses
Professional Cameras (ex. Nikon/Canon SLR)
Laser Pointers, Pens or Glowsticks
Walkie Talkies
Glass bottles, glass containers, cans, canteens, flasks or other containers of liquid (empty clear plastic water bottles up to 1 liter in capacity will be allowed)
Outside Food, Candy, or Beverages
Open Cigarette Packs, Tampons, or ChapStick (Sealed Upon Entry OK)
Bicycles, scooters, or personal motorized vehicles
Musical Instruments
Sleeping Bags or Chairs
E-Cigarettes
Pets (Except service animals with current rabies certification. Guide dogs do need their own access pass. Email [email protected] to request a pass for your guide dog)
Umbrellas
Frisbees
Squirt guns, misters or spray bottles
Deodorant/Cosmetics/Perfume in bottles or sprays larger than 3oz/90ml
Any item deemed dangerous will not be allowed.
---
Set Times & Mobile App
The set times by day and by stage have been available for some time now, but an interactive schedule planner is now available on Electric Zoo's website to help you plan each day out.
We apologize in advance for the small image that they provided for set times. We recommend using their online planner or the app downloadable below.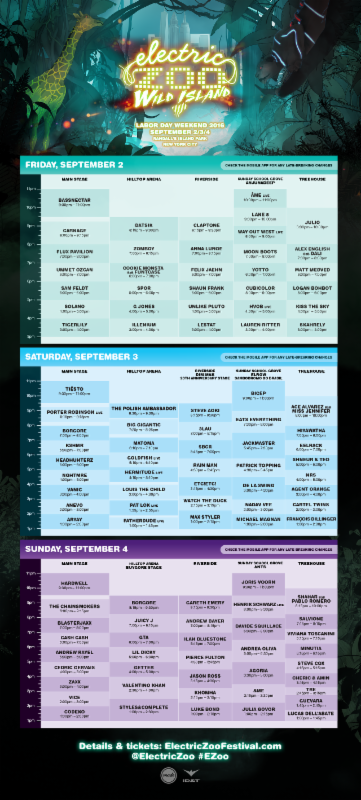 Electric Zoo has also released a mobile app for iOS (click here) and Android (click here) devices. This app allows you to plan your schedule, refer to the festival map easily, and receive push notifications about food, travel, activities and secret sets.
---
Festival Map
The map of Wild Island is here!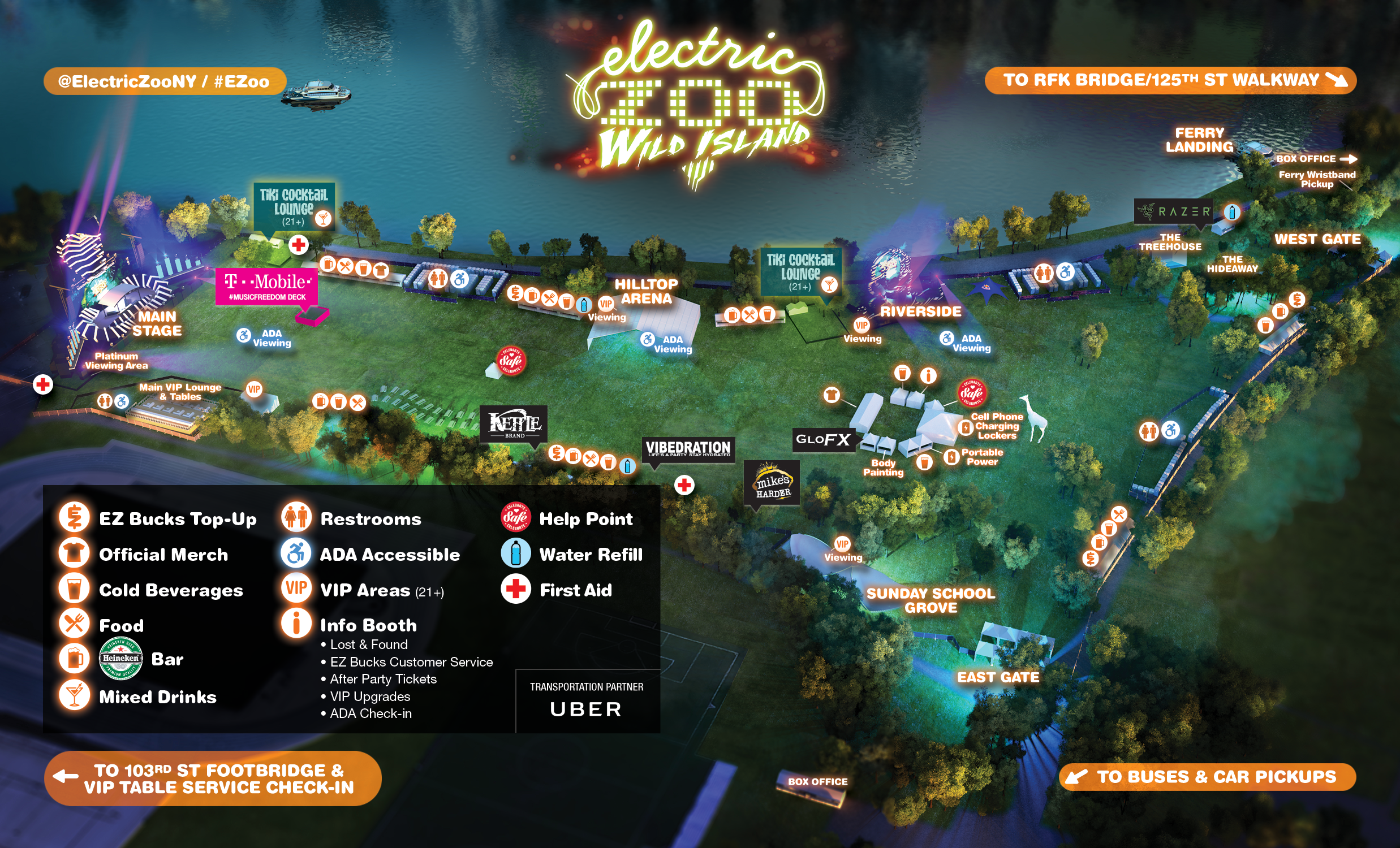 Take notes of the locations of the stages, with the main stage stationed at the west side of the venue, the Hilltop Arena and Riverside Stages in between the main stage and the Treehouse Stage and box office, and the Sunday School stage tucked at the southern end of the venue. There are three water refill stations as well, one located adjacent to the Hilltop Arena, another across from Hilltop Arena next to the Vibedration booth, food and drink vendors, and a third station near the Treehouse stage on the east side of the venue near the box office.
Don't forget to check out one of two tiki cocktail lounges, located near the main and Riverside stages.
In the center of the venue, lockers, cell phone charging stations, merchandise, and food and drinks are available. Need a locker? Get one here.
---
Mind Your Belongings & Prepare For Inclement Weather
Unfortunately, many people have reported pickpockets, bag slashings, and theft of wallets, smartphones, purses and other valuables during this festival season. While this small number of bad apples in the bunch doesn't define an entire crowd, there are opportunistic people who come to these events to take advantage of unsuspecting party goers and it's important to be mindful of your valuables while at Electric Zoo.
Pay attention to who's around you and what's going on around you. Keep your wallet and phone in your front pocket(s) if you can. Treat your phone the same way you would treat cash; don't set it down on a table or bar and look away. If a friend isn't standing behind you in a crowd, be careful of your backpack or purse, and don't put valuables in a pocket that could easily be unzipped by someone behind in a crowded spot without you realizing.
Additionally, New York City is known for inclement weather during the summer months, even towards the end of the season in late August/September. Electric Zoo was put to a halt in 2014 due to a flash flood warning, and New York City has been hit with excessive heat and humidity this summer with temperatures reaching the high 90s with a heat index of up to 113˚, meaning it feels much hotter outside than the temperature may read. While hydration and rest are essential at any festival or event, with the current heat advisory in effect, this MUST be a priority for all attendees!
Rain, heat, and excessive humidity are all things you need to prepare for, which means dress festively, but accordingly!
---
Live Event Coverage:
Be sure to follow EDM Identity on Instagram and Facebook for LIVE event coverage of Electric Zoo 2016, and if you catch us at the event, don't be afraid to say hi!
---
Connect with Electric Zoo on Social Media: