Nocturnal Wonderland 2016 Set Times, Guidelines, Camping Info, & More!
Nocturnal Wonderland 2016 is finally here. This Thursday night, campers will start filling San Manuel Amphitheatre in preparation for the 3-day, Labor Day Weekend festival. The campground will be full of activities including arts and crafts, yoga, star gazing, and of course access to the water park. After you've enjoyed all the great amenities, there are three full days of music ranging in genres from hard-style to deep house, techno, and of course trance.
Camping festivals always seem to make people a little more stressed out making sure they are as prepared as possible. In light of that, I have compiled a list of essentials that should make you feel a little more prepared for the upcoming adventure. Remember to look for us and come say hi!
---
Essential Information:
Dates: September 1, 2, 3, 4, 2016
Camping Ground Opening Times: 6:00 pm Thursday Sept 1 with closing time at 5:00 pm Sunday the 4th
Show times: Friday-Sunday: 4PM – 2AM
Venue Address: San Manuel Amphitheater & Grounds, 2575 Glen Helen Parkway, San Bernardino, CA 92407
WILL CALL HOURS
ACCEPTABLE FORMS OF ID
Any US government-issued driver's license or ID card containing a photograph and date of birth
US or foreign government-issued passport containing a photograph and date of birth
Foreign government-issued driver's license/ID with color photocopy of passport (Not valid for 21+ wristband. To purchase alcohol or enter VIP areas, a physical passport or US ID will be required.)
UNACCEPTABLE FORMS OF ID
NO school ID
NO consular ID
NO birth certificates
NO photocopies of any ID
---
Nocturnal Wonderland 2016 Lineup:
---
Nocturnal Wonderland 2016 Festival Maps:
---
Parking Info and Shuttle Schedule:
Be sure to come early and carpool if possible. Then, simply follow the directions of parking staff to park in the lots adjacent to the venue. Some quick tips for remembering your car are to take a note of the lot and any signs you are nearby, and of course take some pictures on your way in so that you can recognize it on your way back. There is absolutely NO WALKING on Glen Helen, this is for everyone's safety. Please follow the designated pedestrian routes from the lots to the venue and back. There will be designated areas for Uber drop off and pick-up.
These activities will not be allowed in the parking lot:
Tailgating
Camping/sleeping in your vehicle
Buying/selling tickets
Vandalism
Loitering or other illegal behavior
Drinking alcohol
Illegal drug use
SHUTTLES
The shuttle departure location (Doubletree by Hilton Ontario Hotel) is within walking distance from all of the festival's partner hotels. Attendees may use it regardless of which hotel they are staying at. Return transportation begins loading at midnight and will run until 3am to take attendees back to their hotel.
---
Camping Information:
Just like the festival itself, the campground is 18+. There will be no single-day camping passes available and only one camping pass must be purchased per car. Attendees will receive their camping wristband upon entry, and every person must be present in order to receive the wristband. They will not give you extra wristbands.
---
Reminder to Mind Your Belongings:
Unfortunately, this festival season, many people have reported pickpockets, bag slashings, and theft of wallets, smartphones, purses and other valuables during. While this small number of bad apples in the bunch doesn't define an entire crowd, there are opportunistic people who come to these events to take advantage of unsuspecting party goers and it's important to be mindful of your valuables while at Nocturnal.
Pay attention to who's around you and what's going on around you. Keep your wallet and phone in your front pocket(s) if you can. Treat your phone the same way you would treat cash; don't set it down on a table or bar and look away. If a friend isn't standing behind you in a crowd, be careful of your backpack or purse, and don't put valuables in a pocket that could easily be unzipped by someone behind in a crowded spot without you realizing.
And above all, DO NOT LEAVE VALUABLES VISIBLE IN YOUR TENT OR RV/Car UNATTENDED! If it means something to you keep it on your person at all times or lock it hidden inside your vehicle if you can!
---
Be Prepared For The Weather:
It has been a dry and hot past few months for San Bernadino County. Remember to stay hydrated throughout the duration of the weekend and remember that it will be hot during the day, but will cool down quickly at night. Portable hand-held fans with spritzers are a must have item for camping festivals and I would highly suggest picking up a couple. Also, stock up on bottles of water to keep at your camp site. There will also be free water filling stations all over the grounds and a general store to restock your coolers.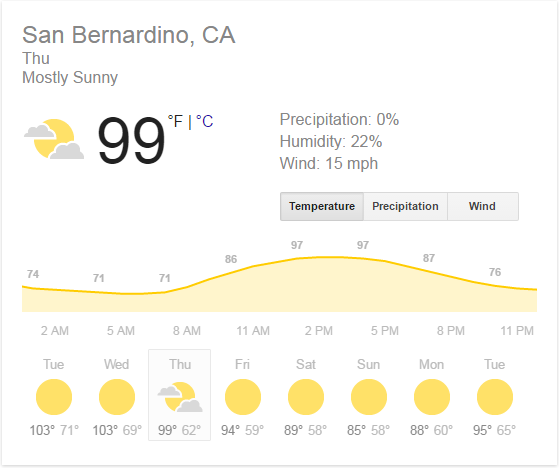 TIP
Put dry ice in the bottom of your cooler, and then regular ice on top. Tt will keep everything frozen longer.
Be sure to bring a hoodie or heavy blanket at night, even a thin hoodie to bring inside the venue can be useful.
---
Acceptable Items:
| | |
| --- | --- |
| · Small bags, single compartment backpacks, plush backpacks, & purses (maximum 12″×12″) | · Single-use/disposable E-cigs or vapes that do not have refillable liquid chambers |
| · Official Insomniac water bottles—must be empty upon entry | · Sealed packs of gum |
| · CamelBaks with no more than two main compartments and one smaller compartment (EMPTY) | · Prescription medication (must show physician's prescription & consult with a safety officer) |
| · Cell phones | · Hula hoops (including led hoops) |
| · Powder makeup and sealed tampons | · Inflatables (must be deflated upon entry) |
| · Sunglasses & hats | · Fanny Packs |
| · Non-professional flash/still cameras, handheld video devices under 6″, and GoPro poles | · Festival totems or decorated pool noodles (see TOTEM GUIDELINES below) |
| · Lighters and sealed packs of cigarettes | · Earplugs |
| · Sealed lip balm & gloss | · Glowsticks & glowing/illuminated costumes or jewelry |
| · Flags/banners or handmade signs (no corporate/company branded & no hard flag poles) | |
Prohibited Items:
· Illegal substances
· Large chains or spiked jewelry
· Drugs or drug paraphernalia
· Stickers, flyers
· Pets
· Balls or Frisbees
· Massagers
· Tents, large umbrellas, chairs or blankets
· Laser pointers and air horns
· Bota bags
· LED gloves or LED microlights used for light shows
· Large purses, bags or backpack (over 12″×12″)
· Pacifiers, dust masks or gas masks
· Stuffed animals or dolls
· Eye drops (available inside festival at the general store)
· Open packs of cigarettes (upon entry)
· Over-the-counter medication
· Outside food or beverages (including alcohol and candy)
· Liquid makeup or unsealed tampons (upon entry)
---
Stream the Nocturnal Wonderland official trailer:
Check out my Nocturnal Wonderland experience from 2015:
---
Follow Nocturnal Wonderland 2016 on Social Media: