Imagine Music Festival 2016 Set Times, Guidelines, Camping Info, Shuttle Info, & More!
Imagine Music Festival 2016 is quickly approaching and when August 26 arrives the Atlanta Motor Speedway will be transformed into an aquatic rave paradise! With dancing water fountains, captivating 3D images, 7 stages, gorgeous performers whose number one goal is to lure you into their world of water fantasy, sexy go go dancers, art, workshops, interactive classes, hidden and surprise "pop up" stages w/ surprise guest performances, a silent disco, insane VIP services, and a lineup to die for, Imagine Music Festival is breaking boundaries and raising the bar very high.
Hopefully by now you have purchased your ticket and are anxiously awaiting for your adventure to begin. In the mean time I have compiled a list of essential Imagine Music Festival information to make your journey a little more smooth and reduce some of those pre-fest jitters.
---
Imagine Music Festival 2016 Essential Information:
Dates: August 26, 27, and 28, 2016
Camping Ground Opening Times: 10:00 am Friday August 26 with closing time at 2:00 pm Monday the 29th
Show times: Friday: 3PM – 3AM Saturday: Saturday 12PM –  3AM Sunday: Sunday 12PM – 3AM
Venue Address: Atlanta Motor Speedway, 1500 Tara Pl, Hampton, GA 30228
WILL CALL HOURS 
Friday 8/26: 10AM – 12AM
Saturday 8/27: 10AM – 12 AM
Sunday 8.28: 10AM – 10PM

Your festival wristband, camping wristband and parking pass will be given to you at the TOLLBOOTH prior to entering the Main Festival site. You will need to show your Eventbrite Tickets prior to receiving your bands.
---
Imagine Music Festival 2016 Lineup: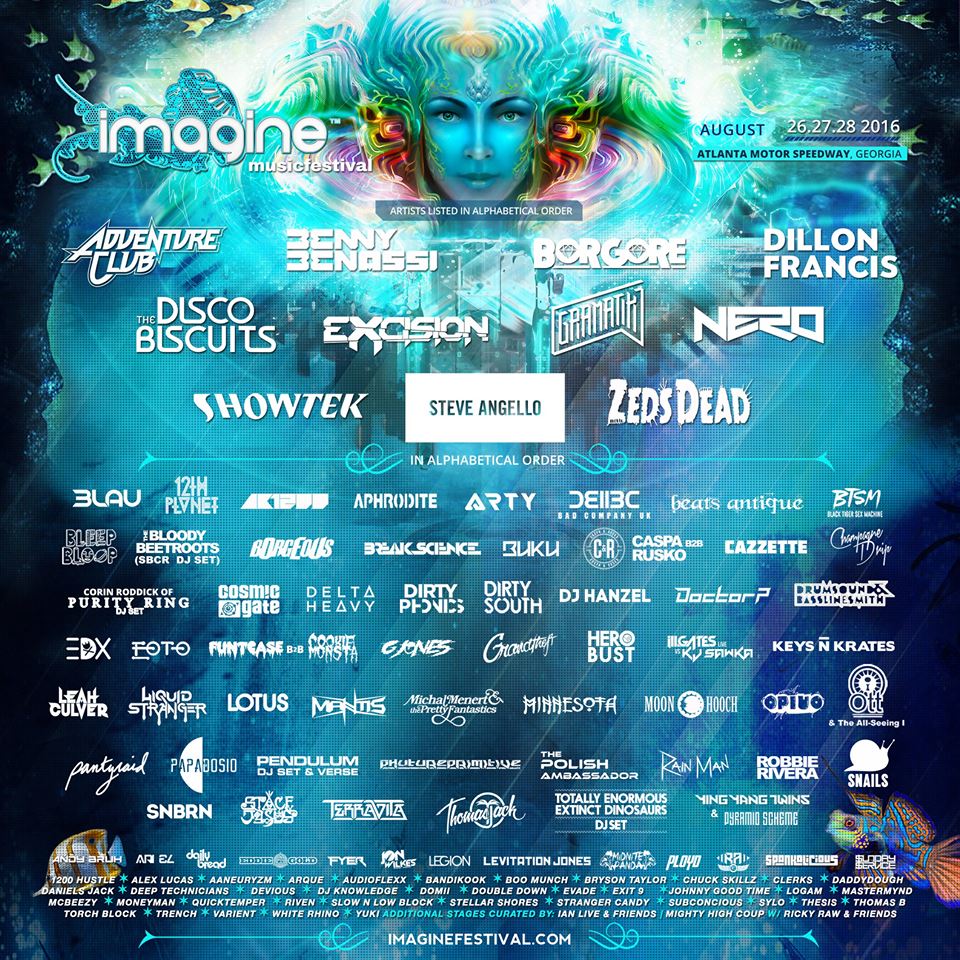 ---
Imagine Music Festival 2016 Official Set Times: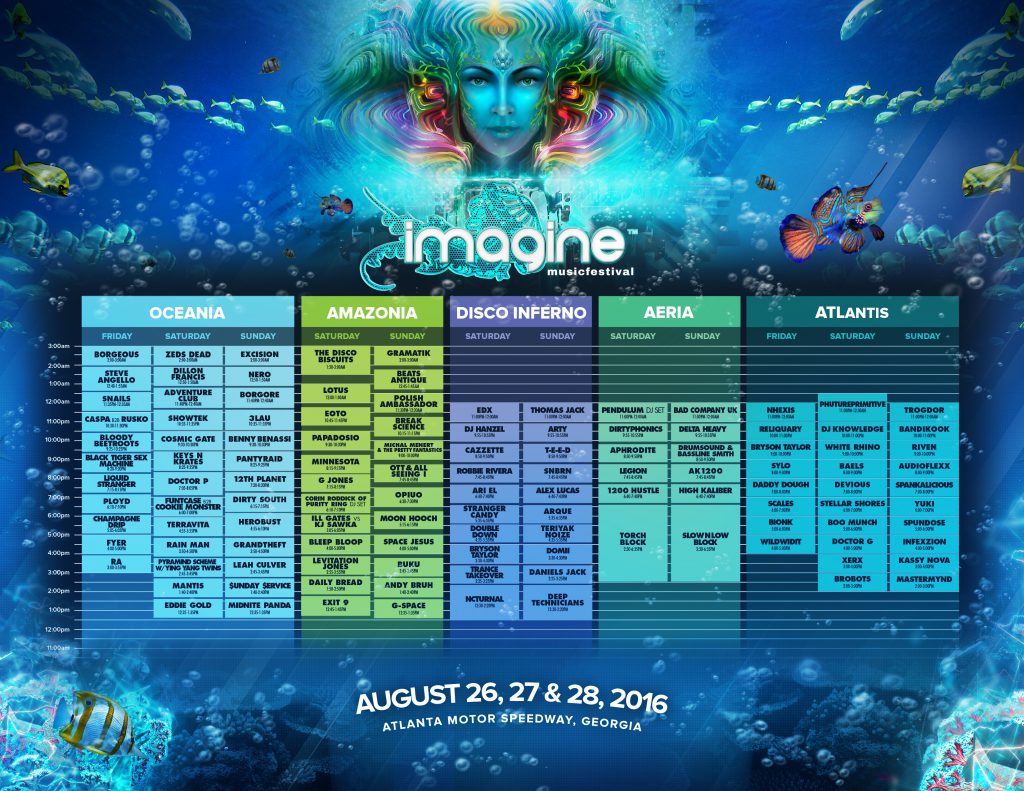 ---
Imagine Music Festival 2016 Festival Maps: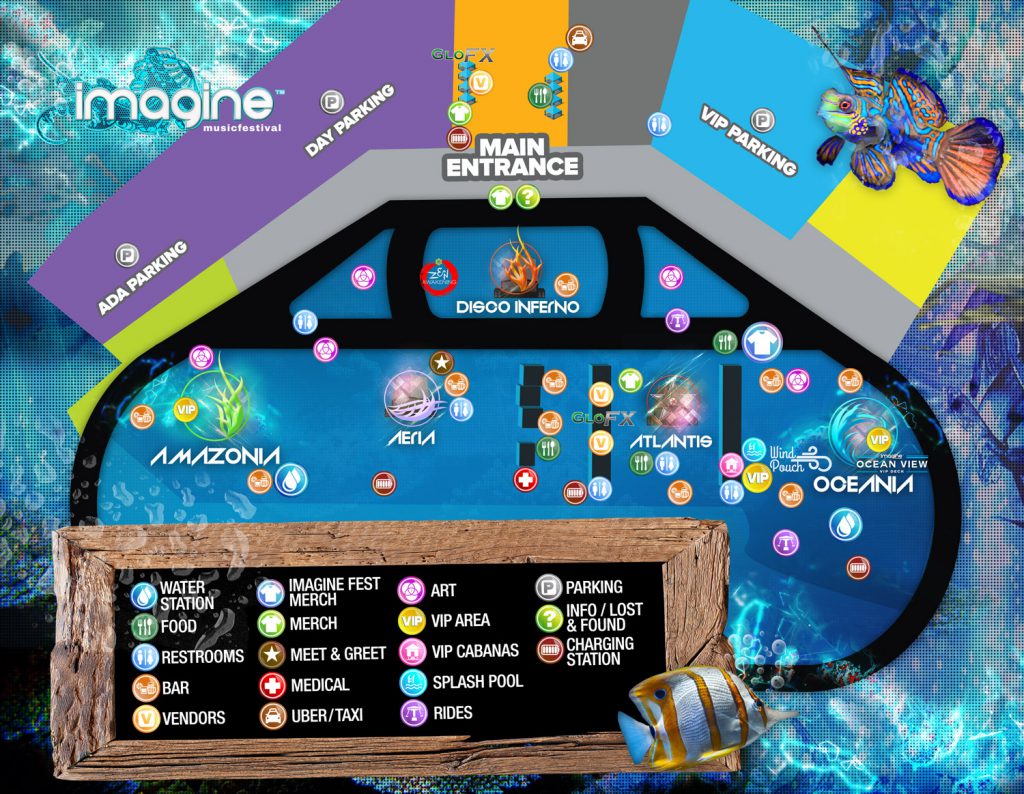 ---
Imagine Music Festival 2016 Parking Info and Shuttle Schedule:
Every car, truck, SUV, mini van or other standard vehicle will need a PARKING PASS in order to park at Imagine Festival 2016. GA Camping and VIP Camping passes include parking. However, vehicles parked in the camping grounds must remain parked throughout the weekend. If you plan on coming and going you must park in the Day Parking Lot and purchase a PARKING PASS. You only need to purchase one parking pass per vehicle (not per person). We encourage you to save money and reduce your carbon footprint by carpooling.
NOTE: If you are not camping, do not need your car for the weekend, or are parking just for the day, you MUST have a Parking Pass to park on-site. Upon arrival, use Speedway Blvd Entrance, enter the Tollbooth and follow signs to the Day Parking Lot.
There will be a separate Tollbooth lane for Pick up/Drop Off, Taxis and Uber, Hotel Shuttles and buses– Vehicles that are NOT parking do NOT need a parking pass.
DAY PARKING VEHICLES
Day parkers must enter through Speedway BLVD entrance and enter the Tollbooths for vehicle search. Our staff will direct you to the Day Parking Lot. . If you are arriving for the first time, you will receive a parking decal after your parking pass has been scanned. When leaving the Day Parking Lot, follow signs for exit. Please note that because of all the inbound traffic on Friday, it may take a little longer for day parkers to exit on those days so be patient.
TOLLBOOTH #1: GA CAMPING, DAY PARKING, PICK UP/DROP OFF
Located off Speedway BLVD
GA Camping, Day Parking vehicles, and Pick Up/Drop Off vehicles will enter Tollbooth #1 on Speedway Blvd.
We highly encourage you to purchase your tickets in advance. If you do not have a Parking Pass or Camping Pass. Use the Speedway Blvd Entrance and enter Tollbooth #1. Please follow signs for appropriate lane to purchase passes.
TOLLBOOTH #2: VIP CAMPING, VIP Parking and RVs
VIP Camping, VIP Parking and RVs will be directed to the Main Entrance and will enter Tollbooth #2.
Turn in at Atlanta Motor Speedway Main Entrance
Uber, Taxis & Pick up/drop off: Pick up/drop off traffic must turn on Speedway Blvd.  Follow signs for Pick up & Drop Off. You will need to enter a designated lane at the Tollbooths.
All buses should follow signs for Pick up/Drop off.
A shuttle will be running continuously between the Hilton Garden Inn and Comfort Suites in McDonough, Georgia. Shuttle passes now available here!
---
Imagine Music Festival 2016 Camping Info:
All General Admission Camping and VIP Camping Passes include parking for your vehicle at your campsite. Once you park your car, it will need to remain parked in the campgrounds for the remainder of the weekend. If you plan on going in and out of the festival, you will need to purchase a Day Parking Pass and park your vehicle in the Day Parking Lot.
You are welcome to bring an RV to Imagine Festival. All RV passes includes hook ups. Read more info in our RV section below.
If you want to enter the campgrounds or camp, you must purchase BOTH a camping pass and festival ticket.
If you would like to camp together, you will need to arrive together at the same time as your group.
One camping pass required per person camping. You must have a camping pass to enter the campgrounds, even if you are not camping.
One RV pass required per RV – Each individual in the RV must have either a GA Camping Pass or VIP Camping Pass in addition.
One parking pass required per vehicle parking in the Day Parking Lot.
Camping, Parking and RV Passes ARE NOT festival tickets. Festival tickets are sold separately HERE. You must have BOTH a festival ticket and camping pass to enter the campgrounds. You can purchase your camping pass HERE!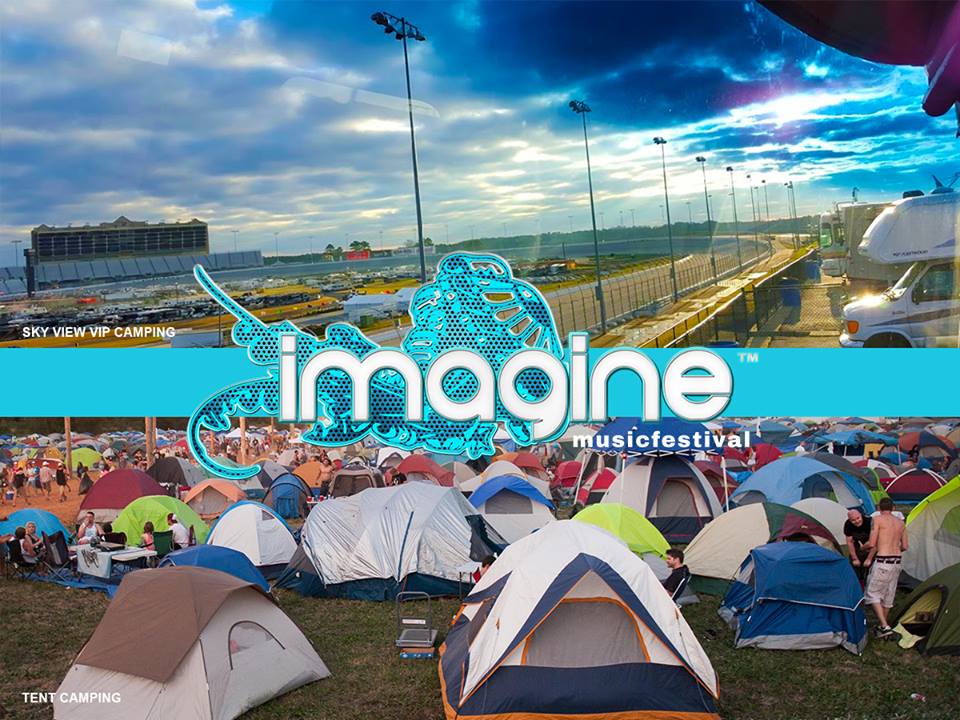 ---
Reminder to Mind Your Belongings:
Unfortunately, many people have reported pickpockets, bag slashings, and theft of wallets, smartphones, purses and other valuables during this festival season. While this small number of bad apples in the bunch doesn't define an entire crowd, there are opportunistic people who come to these events to take advantage of unsuspecting party goers and it's important to be mindful of your valuables while at Imagine Music Festival.
Pay attention to who's around you and what's going on around you. Keep your wallet and phone in your front pocket(s) if you can. Treat your phone the same way you would treat cash; don't set it down on a table or bar and look away. If a friend isn't standing behind you in a crowd, be careful of your backpack or purse, and don't put valuables in a pocket that could easily be unzipped by someone behind in a crowded spot without you realizing.
And above all, DO NOT LEAVE VALUABLES IN YOUR TENT OR RV UNATTENDED! If it means something to you keep it on your person at all times!
---
Be Prepared For The Weather:
Atlanta in August! Need I say more? It's going to be hot and it's going to be humid, and honestly it will probably rain at some point or another. It is of the utmost importance to stay hydrated throughout the duration of the weekend and pack according to the forecast. Portable hand-held fans with spritzers are a must have item for camping festivals and I would highly suggest picking up a couple. Also, stock up on bottles of water to keep at your camp site (But remember to recycle! Take your plastic bottles with you when you leave the grounds on the 29th). There will also be free water filling stations all over the grounds and an ICE truck to restock your coolers. If rain is in the forecast then toss an umbrella or a rain poncho in your bag so you can continue partying even through a little rain storm!
The forecast is projecting sunny/partly cloudy skies with temperatures ranging from 68 Low-86 High. I will update the forecast as the event gets closer.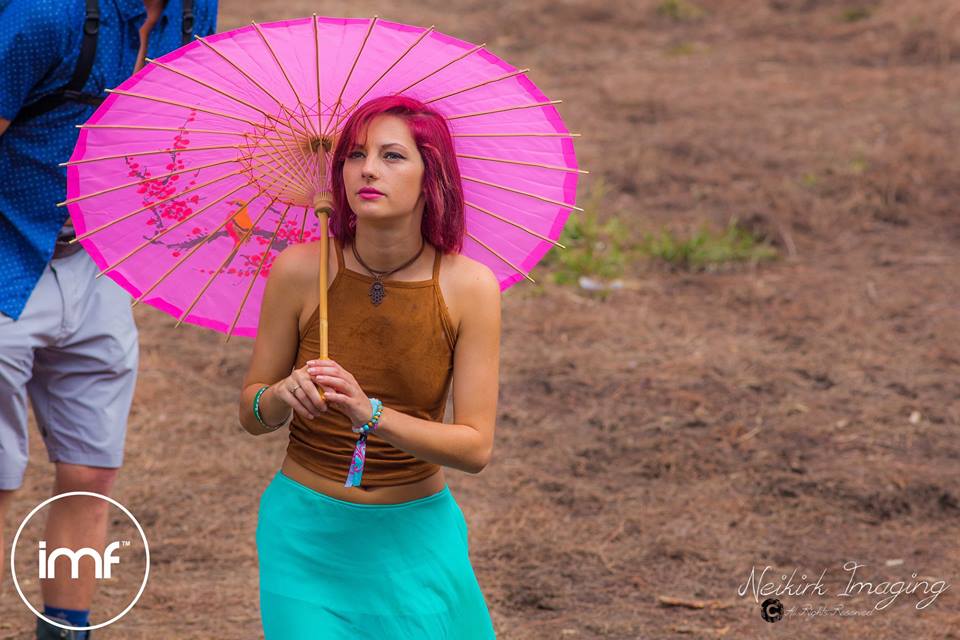 ---
Imagine Music Festival 2016 Do's and Don'ts:
What You Can Bring Through The Tollbooths:
Rain gear
Camping gear (tent, tarp, sleeping bags, etc.)
Your favorite hoodie
Extra shoes/sneakers
Mud boots (in case it rains)
Bug spray
Sunscreen (lots of it)
A hat for shade
A bandanna
Sunglasses
Aluminum or stainless steel container (or two!) for water
Biodegradable plastic bags for trash (Help keep our beautiful site clean)
Toilet paper (you never know)
Lantern / flashlight / headlamp (AND extra batteries!)
Flag or balloon to identify your campsite
Extra set of keys to keep with you at all times (avoid keeping keys in your car!)
YOU DON'T NEED IT TO SURVIVE, BUT YOU'LL BE HAPPY YOU HAVE IT:
Small luggage lock for your tent (please don't bring any valuables – if you must, keep them locked out of view in your vehicle) or rent one of our lockers.
soaps, detergents and shampoos
Smokers – bring an ashtray! Every butt you throw on the ground, someone has to pick up!
Blanket (for sitting)
Earplugs (for sleeping)
ALL THE ESSENTIALS WILL BE AVAILABLE TO PURCHASE FROM ONE OF OUR MANY VENDORS, SO DON'T STRESS IF YOU FORGOT SOMETHING!
What You Can't Bring Through The Tollbooths:
These items are not allowed under any circumstances (Remember, we search every vehicle):
Glass containers of any kind (this includes wine bottles, drinking glasses, pickle jars and test tubes)
No kegs are allowed into the festival. We will seize ALL "excessive" amounts of alcohol. "Excessive" means anything over 2 cases of beer, one 1.75 liter of hard liquor, and 2 boxes of wine per person. No outside alcohol is allowed into the Imagine Festival Grounds
Weapons of any kind (even slingshots)
Drones
Fireworks
Illegal substances
Bicycles or scooters or personal motorized vehicles (including, but not limited to: golf carts, ATVs, motor scooters, powered skateboards and airboats)
Professional photography equipment or cameras with detachable lenses longer than 2 inches (point-and-shoot cameras without additional lenses are OK)
Pets (even really, really small ones)
Box trucks or trailers (a camping trailer is OK, but it is considered an RV which requires an RV pass)
Charcoal or propane (unless you have a portable grill, if you do, you may bring up to 40 lbs. of charcoal and a small container of propane)
Gasoline (unless you have a generator)
Gas-powered generators (larger than 4KW)
Laser pens or similar focused-light devices
Vending of any kind is not allowed (Sharing yes, selling, no. You know the difference.)
NO OPEN FIRES OF ANY KIND WILL BE ALLOWED.
Prohibited Items Inside The Festival:
These items are not allowed under any circumstances
Illegal substances
Drugs or drug paraphernalia
Pets
Massagers
Laser pointers and air horns
Eye drops
Over-the-counter medication
Glass, cans, cups or coolers
Markers, pens or spray paint
Stickers, flyers
Balls or Frisbees
Tents, large umbrellas, chairs or blankets
Large purses, bags or backpack (over 12″×12″)
Outside food or beverages (including alcohol and candy)
Weapons of any kind (includes pocket knives, pepper spray, fireworks, etc.)
Professional photo, video, or audio recording equipment (no detachable lenses, tripods, big zooms or commercial-use rigs)
And there you have it! I will continue to update this essentials list with maps and more information as it is revealed. So what are you waiting for?! Pick up your Imagine Music Festival tickets HERE and then prepare yourself to be submerged into an aquatic fairytale that will satisfy all of your electronic dance music desires!
---
Check out the trailer for Imagine Music Festival 2016 on YouTube:
---
Follow Imagine Music Festival 2016 on Social Media: