The 5th Annual Pass The Good benefit event plans are once again under way! With a "give it back to the community" mentality, this event is certainly one to add to your list of summer plans. Brought to you by Pass The Good Entertainment, Capital Crown, Sweet Science Radio, and Zen Awakening, Pass The Good's goal is to raise money for Manna Food Pantries which is responsible for feeding over 42,000 Gulf Coast locals every year! This is not just any event. This is an event with a true purpose. One that was put together to aid the community and make a difference through the music, good vibes, and helpful hearts. Yes, Pass The Good will run for 3 days hosting some of the best talent from the Gulf Coast region and beyond, all with the goal to help end hunger in our community. So, if you want to be part of something that pays it forward, grab yourself a ticket, pack your bags, and head over to Ponce de Leon, Florida at the end of next month for a weekend full of music and fun!
"Pass The Good Entertainment was founded in early 2010 when we discovered our passion for LIVE music, but mostly EDM. The feeling of everyone coming together, to forget about their troubles to enjoy an amazing event with friends and strangers, no matter what background to all embrace each others company. We don't put on shows, we put on experiences. Our goal is to make each and everyone who attends impressed with the production and talent being brought in for that special occasion."

– Pass The Good Entertainment 
Pass The Good Benefit 2016 Lineup: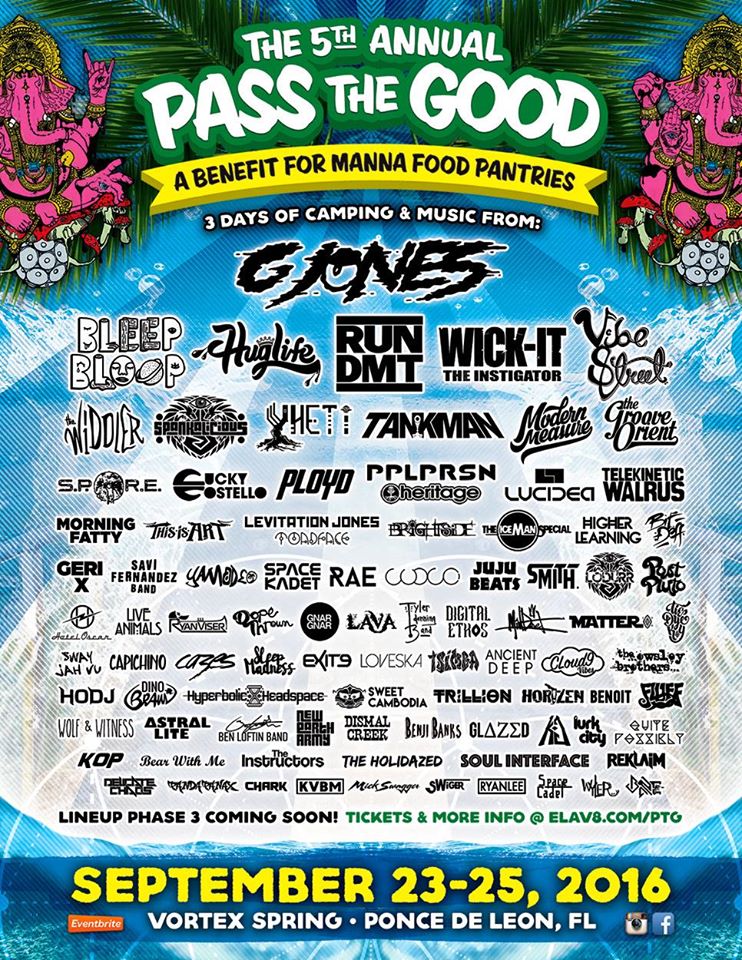 5th Annual Pass The Good Benefit Event Information:
What: 5th Annual Pass The Good Benefit
When: Friday, September 23, 2016 at 12:00 PM – Monday, September 26, 2016 at 12:00 PM (CDT)
Time: 9pm to Midnight
Where: Vortex Spring – 1517 Vortex Springs Lane, Ponce de Leon, FL 32455
Tickets: HERE Tickets start at $125.00 with camping options beginning at $30.00. VIP camping options are available.
RSVP On Facebook: HERE
Event Map and VIP Package Information: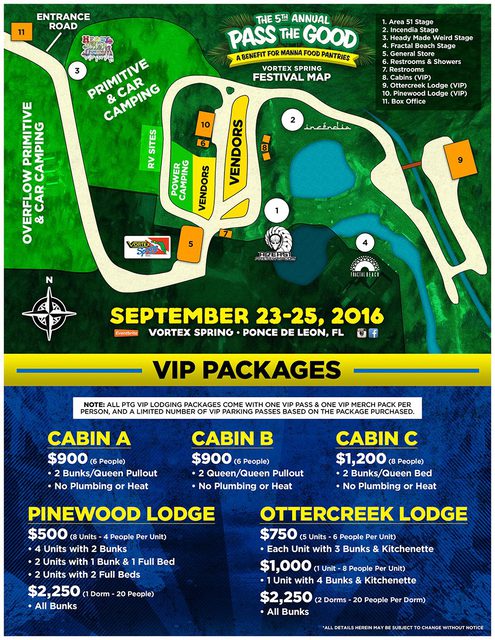 Pass The Good Rules and Regulations:
Follow all rules and instructions from staff at all times
NO Glass
NO Drugs or NO2 Tanks
NO Weapons
NO Unauthorized Vending
ALL Sales are final / No refunds or exchanges
BE NICE OR GO HOME!
LEAVE NO TRACE

Leave the spring and campgrounds the way you found it! Please help clean up the beautiful land if someone left a mess.
---
About Manna Food Pantries:
Manna Food Pantries is a local, nonprofit organization that serves the communities of Escambia & Santa Rosa counties. Their mission is manifested through offering emergency food assistance, servicing the food-related needs of vulnerable groups of individuals, and encouraging the entire community to get involved and help in the fight to end hunger in our communities. They believe that every man, woman, and child should live free from hunger and be treated with respect and dignity.
About 5th Annual Pass The Good Benefit Event:
This year Pass The Good finds it's new home in Ponce de Leon at Vortex Springs. Boasting 420 acres of nature trails and a spring that pumps out 28 million gallons of crystal clear water daily at a year round temperature of 68 degrees, Pass The Good will be your home for both leisure and excitement. This year they will be implementing new ways to amp up the awesomeness with sunrise and sunset yoga, couples massage workshops, art installations, and a live virtual reality painting in 3d that will be broadcasted through a wall projector so attendees can watch the painters work their magic! Add to that a killer lineup of music that runs the gammat and a camp ground that oozes comfort and you have the perfect set up for a magical escape from reality. Now, this is only a taste of what Pass The Good has planned and for the full experience you just simply have to be there!
---
Connect with Pass The Good Entertainment on Social Media: