I'm a festival junkie. I've been to a multitude of festivals throughout four countries, and not to sound like someone who can't have fun but… I have high expectations. That's why I was shocked when Digital Dreams 2016 impressed me.
---
Digital Dreams 2016 genuinely impressed me in a way I never thought was possible from what many would consider a "local" event. Let's get this straight; Digital Dreams is no longer a small local festival. It's no EDC or Ultra, but it's grown up into something special that Canadians are proud to call their own..

2016 marked Digital Dream's fifth year. Put on by Live Nation and Toronto's promo giant Ink Entertainment, the festival has certainly had it's share of growing pains. In 2015, DD was sold by its original owner Embrace Presents and taken over by Ink. 2015 was not kind to Toronto's festivals, as both DD and Ink's other massive, Veld, were cancelled due to summer storms. Many vowed to never return after what was viewed by the community as a series of poor judgement calls – many did not have high expectations for Digital Dreams' 2016 return.
I attended DD in both 2013 and 2014, their 2nd and 3rd year, after being lucky enough to win tickets both years. I can't say that 2013 was anything extraordinary – I had a good time, but certainly nothing note-worthy. 2014's festival felt like a massive upgrade, where the experience really started to come together into something special. I wasn't able to make it to DD in Ink's first year of ownership, but I'd followed along closely through many friends who attended, and the overall consensus was that Ink had dropped the ball. This was Ink's Year of Redemption.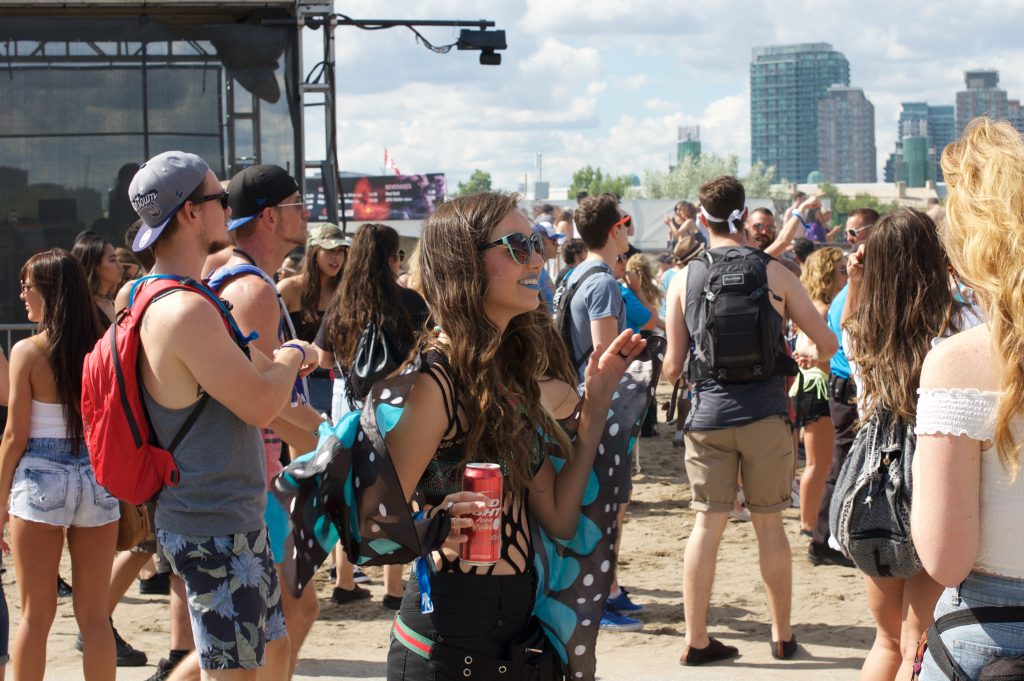 We arrived a little later than intended, worried that we'd be stuck in an hour-long line like some other festivals. Instead, we were through will call and security in under 5 minutes. The second day was the same; a deceiving, long line but a quick entrance. Security seemed to be reasonable and had no issue letting us in with some candy, fruit, and water. This is a welcome change from other local festivals that have tarnished themselves with wait times of 3 hours or more, who throw out everything down to the last piece of kandi and open pack of gum. We opted for a locker, which was also a quick process, and proved convenient for charging phones and storing sweaters and snacks.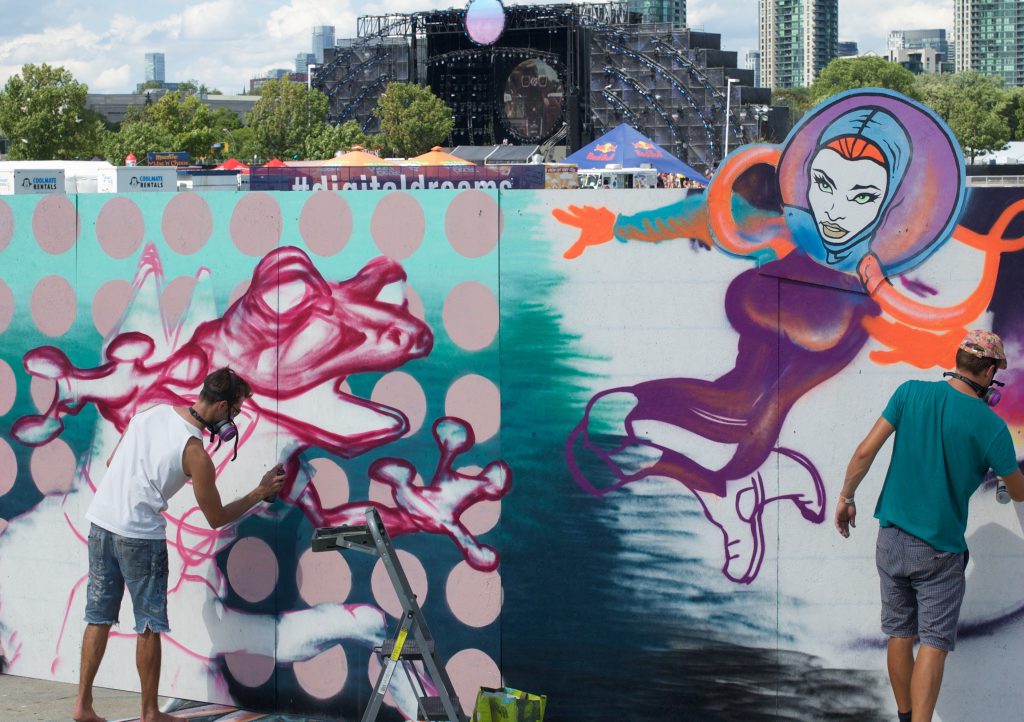 The festival was noticeably more diverse than previous years on my first walk around the venue. There isn't much for massives around Toronto; those that show up are generally short-lived and are nothing more than a stage or two. There is often no decor or activities or even music outside of the main stage to make it feel like an adventure; what most of us seek in addition to the music. This year, DD had a variety of activities on hand to keep attendees occupied if they drifted away from the stages. Bubble soccer games, inflatable obstacle courses, bouncy castles, kandi stations, and mural painting added a new aspect to the festival that gave attendees something unique to experience while seeing their favourite DJs.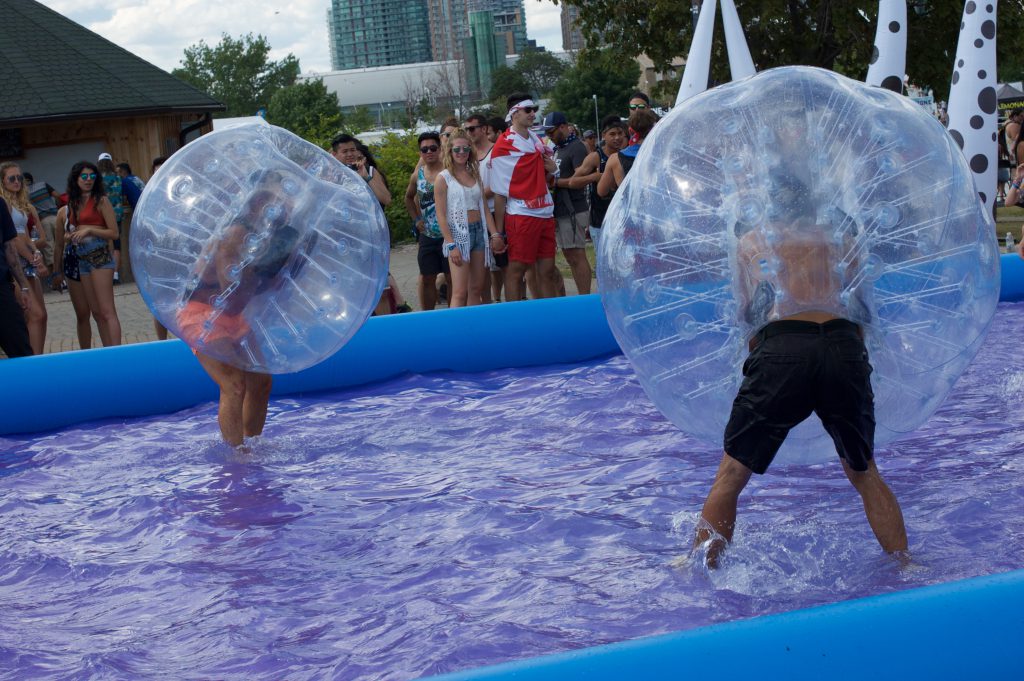 The massive Dreams main stage which boasted acts from the likes of Armin, Above and Beyond, and Seven Lions, was reminiscent of something you'd see at Ultra, but on a slightly smaller scale. While main stage appeals to the masses, Toronto's real love is techno and house; it's rare to find a city which puts as much focus on these genres as Toronto. On a standard weekend, names like Nicole Moudaber, Pleasurekraft, or Cajmere can sell out a venue in record time. Thankfully Ink knows its audience, and Digital Dreams' second stage, Echo Beach, was home to two full days of house and techno, with headline sets from UMEK, Danny Tenaglia, and MK. Echo Beach is extraordinary in the fact that it's true to its name – Echo Beach is actually a beach. It isn't uncommon to find house fans with their shoes off, burying their feet in the sand or building sandcastles in Toronto's hot mid-day sun.
Sound quality was the biggest complaint among attendees. Even with the sheer number of shows I attend, sound quality isn't something I'm particularly skilled at distinguishing. Even I noticed the sound bleed between the Dreams stage and Echo Beach, despite them being several hundred meters apart and parallel to each other. The bass stage was especially muffled for me, and my favourite sets weren't nearly as impressive when bass was the only thing I could hear. The overall quality did seem to improve the second day, and most people agreed it was better than the first. The bleed was still quite noticeable though, even on the far side of each stage.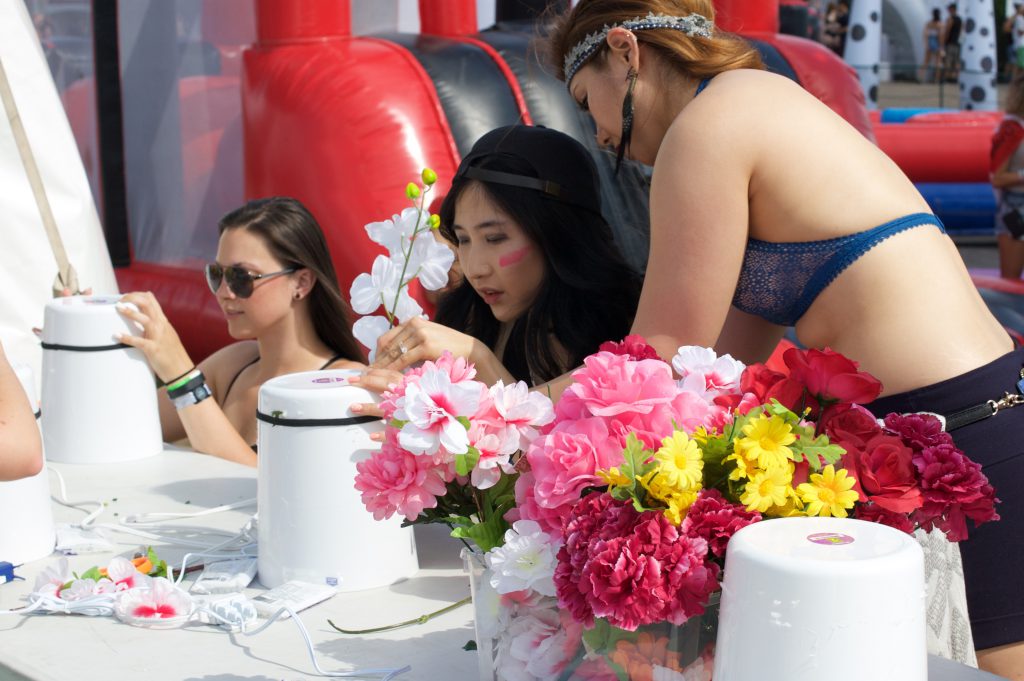 In addition to the planned decor, Digital Dreams is lucky enough to be situated on an island in Lake Ontario, nestled between downtown and Toronto's Billy Bishop airport. Moving between Dreams stage on the mainland and Echo Beach on the island means crossing a bridge over the harbour, which gives attendees a stunning view of main stage on the water with a cityscape backdrop. Planes can be seen swooping over the event at low altitude as they approach the airport on the adjacent island.

I only wish they'd bring back the fourth stage of 2014 – set directly on the beach, tall ships would regularly pass by, full of  sailors hoping to catch a few minutes of the festival without a ticket. It's a much missed element that brought something surreal to the atmosphere.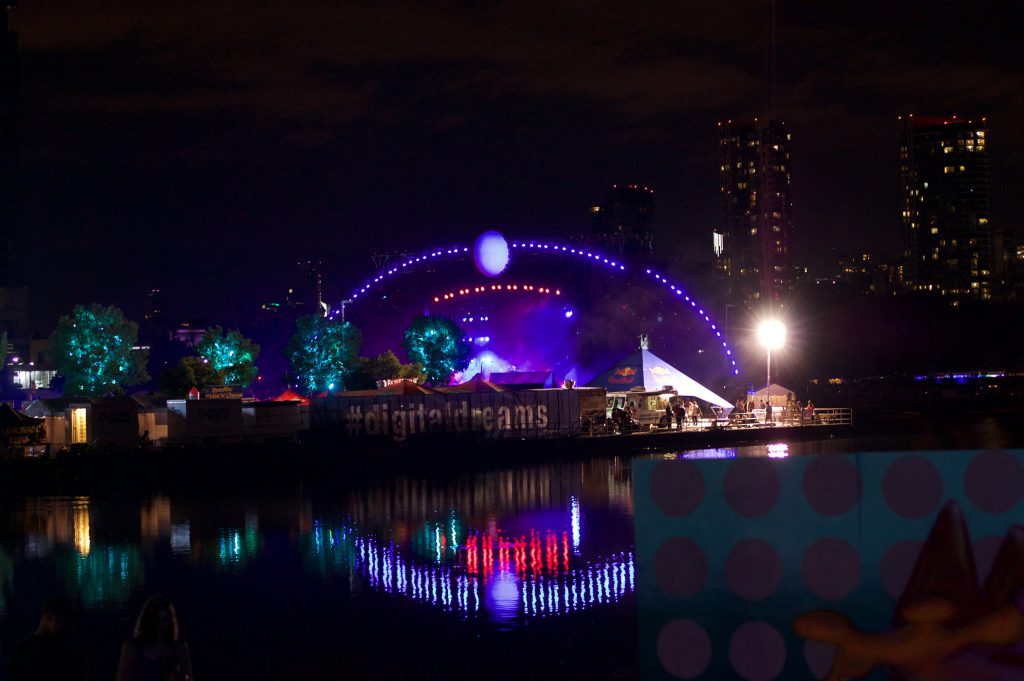 When festivals are upwards of 10 hours long, easy access to food is extremely important. Digital Dreams nailed this aspect of the festival; some of the city's best food trucks were on hand to vend everything from soft serve ice cream to poutine, beaver tails (how Canadian), tacos, and shawarma. Most trucks and stands were in a central vendor area, but some were spread throughout the grounds so that food was always nearby. Service was speedy, and lines were never longer than a handful of people.

Free filtered water was plentiful, with water stations throughout the venue and near every stage. I never encountered a line of more than 2 or 3 people, and then only during the hottest part of the day at the water stations closest to the main stage. Definitely welcome on hot and humid Toronto summer days like the average Canada Day weekend in Toronto. We were all able to bring a sealed or empty water bottle inside the venue both days with no issues – I must have refilled it a dozen times because of the heat.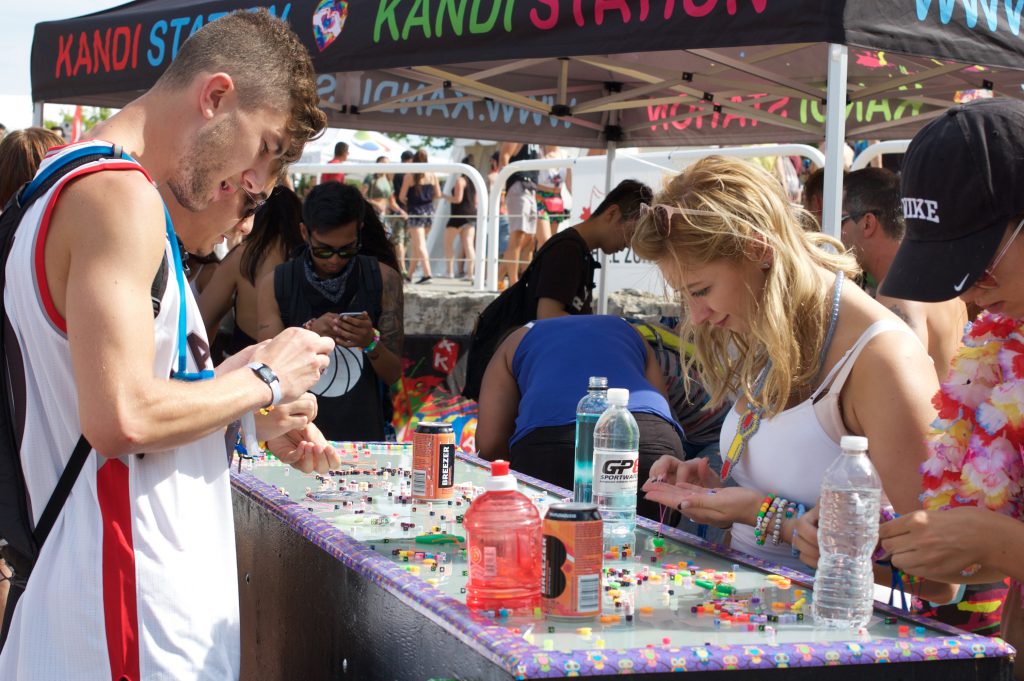 Digital Dreams 2016 used the cashless system that many other festivals are using these days, but with a twist – there was no need to preload your bracelet with cash. You hooked it up directly to your credit card without the festival holding money on the bracelet itself. Almost all vendors I encountered accepted either cash or cashless, and many accepted credit cards as well. Since I picked up my bracelet at will call, I didn't bother to attach it to my credit card, and had no problem finding vendors to take cash or card all weekend.
The only exceptions I found were the bars which only accepted credit or wristband, but no cash. There were beer carts through the crowd, but those only accepted cash and had limited offerings. While I do like the cashless system, it was nice to have the option of just paying cash or using plastic, though a bit annoying when not all vendors accepted all types of payment, forcing you to pay through multiple mediums.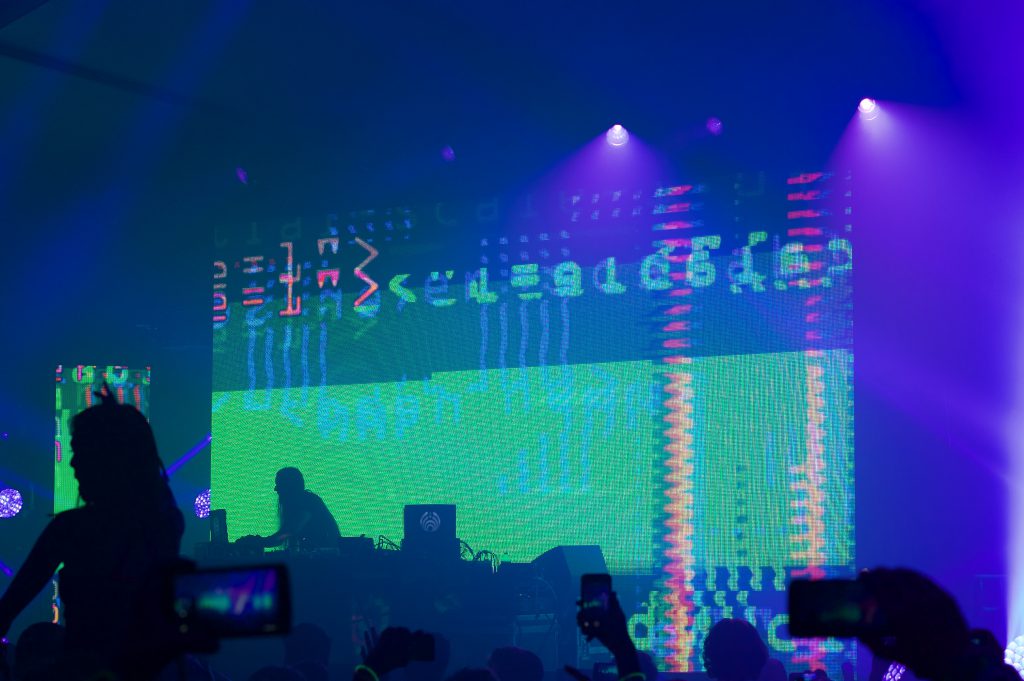 One complaint from me was the lack of sports drinks available. Canada gets hot during the summer. It gets REALLY hot, and extremely humid, which makes it even worse. This was a problem for me in 2014 – I couldn't drink water fast enough to replenish my body. Even my shorts were completely drenched in sweat by mid afternoon. Despite my futile attempt to stay hydrated, I got far too dehydrated and ended up in the bushes, throwing up all the water I tried to drink. Me and my friends hunted for some sports drink to try to get me going again, but found nothing. We had to go to the medical tent to ask for Gatorade or something with electrolytes (shockingly, the medics couldn't understand why water wasn't good enough, and what I could possibly need Gatorade for if there was water… but that's another story). I ended up buying a $9 milkshake (not ideal) and sitting out half my day before I could walk without throwing up or passing out.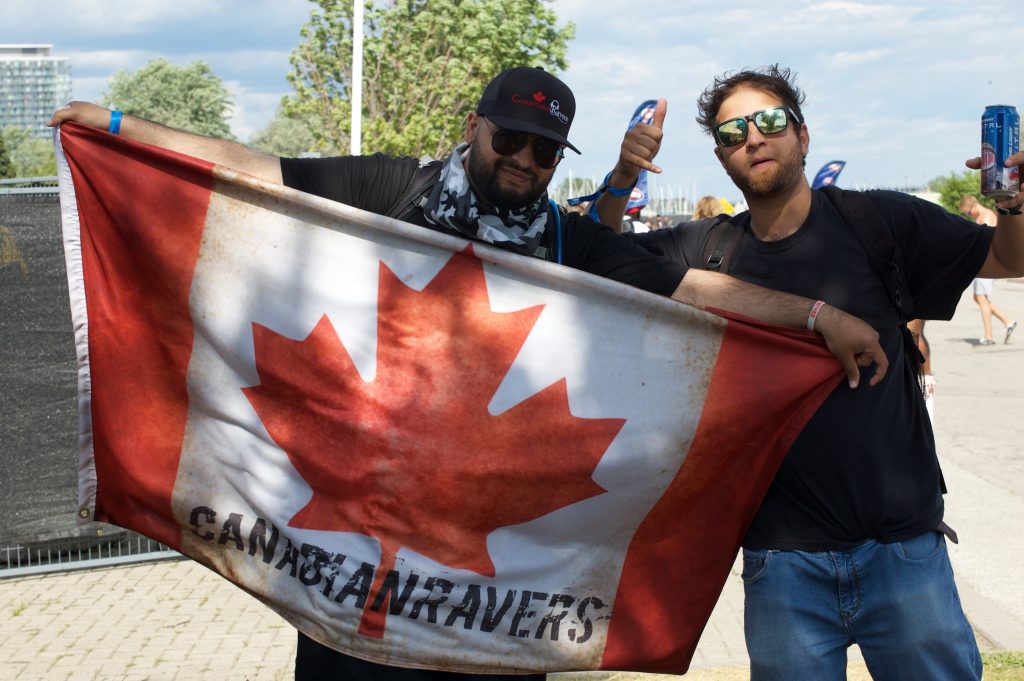 I was really hoping the festival would have made sports drink available at bars, but bars were limited to alcohol, bottled water, and red bull. There were two booths selling electrolyte freezies, but unless you knew what they were, it wasn't exactly obvious. I really hope this is something they consider adding to their menu in the future.
Even after my 2014 run in with the medics, I do applaud DD for having medical outposts stationed at each stage, marked clearly and easy to find. Medics were also easy to find roaming the crowd. Thankfully we didn't need them this time.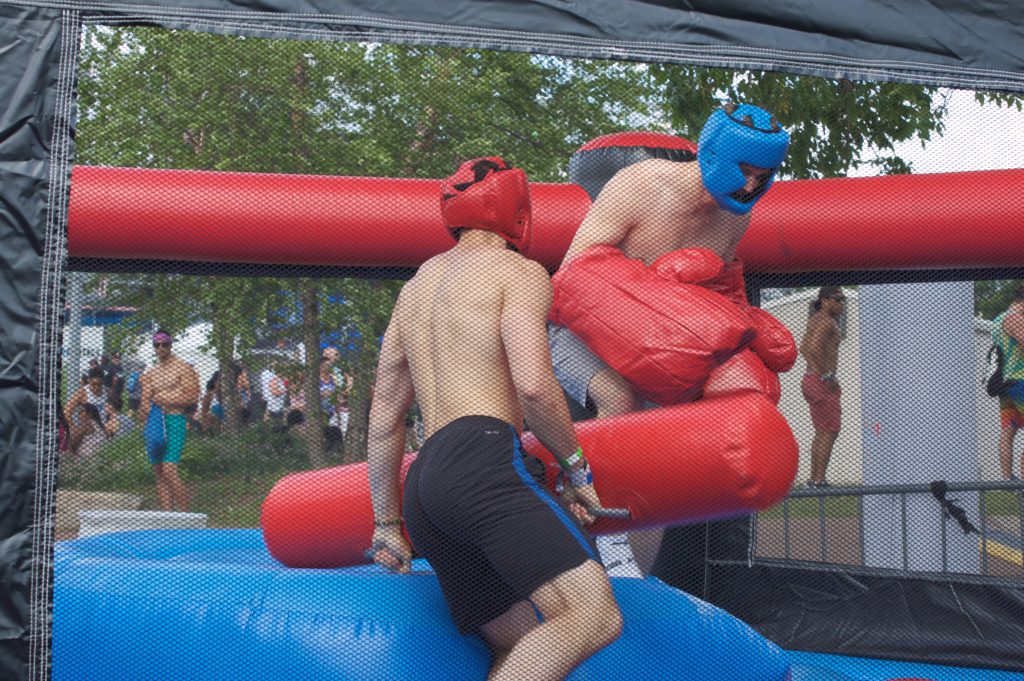 Echo Beach's medical tent also had a neighbour; Toronto's TRIP! Project. Similar to DanceSafe or Zendo Project, TRIP sends teams to festivals and clubs throughout Toronto, where they set up booths full of information on various drugs, testing, and sex and drug safety, and hand out supplies such as condoms, lube, earplugs, and straws. They're happy to lend an ear or answer questions for anyone in need of information or who may be having anxiety regarding substances they've consumed. Even when TRIP isn't formally allowed to set up a booth, their volunteers can often be found in the crowd, quietly slipping info and supply packets into attendees hands or leaving the packets in club bathrooms. With so many other festivals shutting down info and testing booths like these, it's nice to see them welcomed by DD, and able to advertise their presence.

Overall, I experienced nothing but good vibes from the attendees, and was impressed at how smooth the festival ran. We didn't have any major hiccups in our weekend whatsoever. The upgrades to water, stages, decor, and activities, along with the variety of music, made this festival a weekend to remember.
---
Photos Courtesy of Kelly Jean, @plur_fairy on Instagram.
Connect with Digital Dreams 2016 on Social Media: