Life Is Beautiful 2016 is partnering with the M Modern Gallery's Crime On Canvas Exhibit!
For the first time, the Life is Beautiful Music & Arts Festival will be partnering with M Modern Gallery to bring an amazing exhibit to life. The exhibition titled, "Crime on Canvas" will be a hosted for three days inside The Western Hotel and Casino. Attendees of Life is Beautiful will have the exclusive opportunity to both view and purchase original works and rare prints by more than 80 artists from all over the world.
More than 90 percent of the pieces for this installment of Crime on Canvas will be new original works created specifically for this Life is Beautiful group art exhibition. We wanted to create an experience that showcases the influence music and art have on each other. By bringing in these incredible artists from all around the world, we're not only doing that, but we are exposing attendees to the only exhibition that will ever feature all of these artists at once

– Jay Nailor, owner of M Modern Gallery and curator of Crime on Canvas
A little more about Crime on Canvas…
The exhibit will host dark and eerie pieces from artists whose showcased pieces will fully encompass this genre. The talented displays will include pieces from: Shag, the world-famous illustrator who created album covers for Smash Mouth, Nancy Sinatra, Pixies and more; Elisabeth Anisimow, the nine-year-old artist featured on an upcoming episode of Nickelodeon's "All in With Cam Newton"; Shepard Fairey known for his iconic Obama campaign poster; Colin Christian known for his latex costume worn by Miley Cyrus, and many more.
Art enthusiasts will have two opportunities to purchase pieces that will range from $100 to $50,000. The Shag Store and M Mordern Store will both be places you'll want to stop by. Check the full lineup below!
If you're still looking for tickets, never fear, you can buy them here starting at $285 + fees for 3-day GA or $655 + fees for VIP.
Life Is Beautiful Crime On Canvas Exhibition Lineup: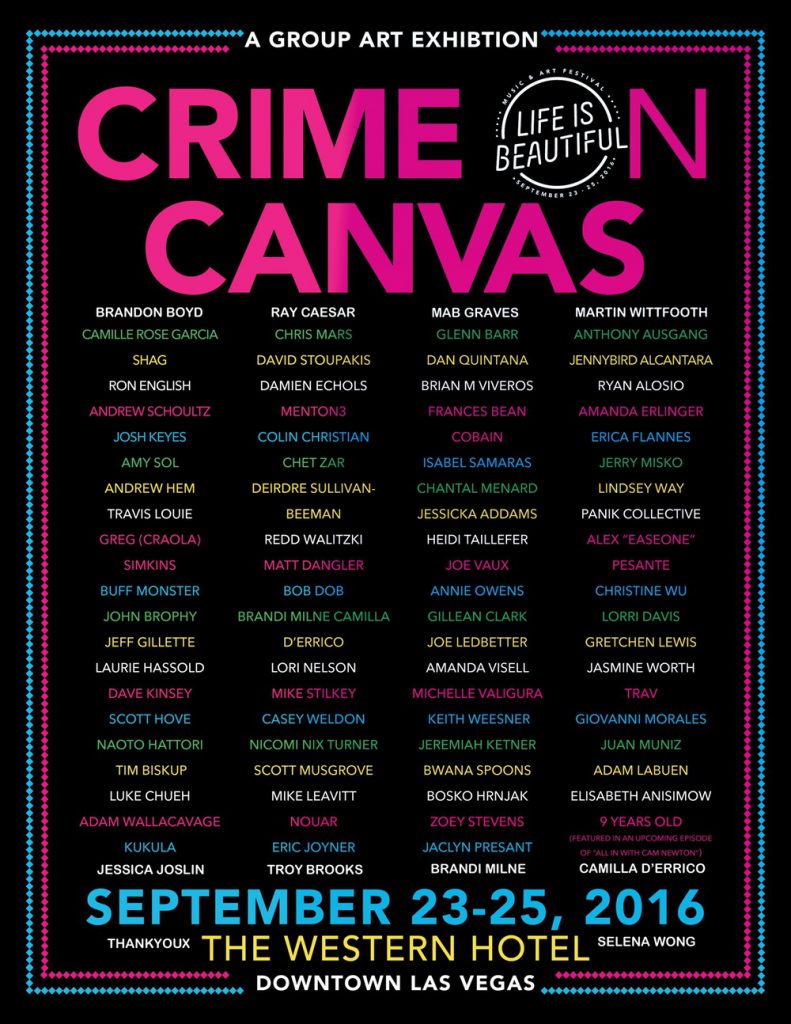 ---
Follow Life Is Beautiful 2016 on Social Media: