For the past 42 years Pride festivals, events, and parades have existed in various places all over this country. Since 1974, in honor of the 1969 Stonewall Rebellion, San Diego has been a part of this growing tradition. Primarily through the Music Festival ticket and beverage sales, sponsorship and exhibitor fees San Diego Pride has distributed over $2 million dollars to the advancement of its mission – to foster pride in and respect for all LGBT people locally, nationally, and globally. This weekend's activities are stacked and they're also a great way to show your support and love for our LGBT communities!
Friday
What: Spirit of Stonewall Rally
When: 6PM – 7PM
Where: Marston Pt. (Balboa Dr & 8th Dr)
Description: The rally is a time to recognize and honor leaders who are working hard to preserve our gains and meet the many challenges still facing our community. This year there will be a number of speakers who will be discussing various topics which includes Secretary of the Army, Eric Fanning.
Social Media: Facebook | Awards | Speakers
Following the parade the Hillcrest Business Association and San Diego Pride will be having a Block Party! Be sure to grab your tickets here.
---
Saturday – Parade
Saturday will begin with the annual San Diego Pride Parade at 11am at the intersection of Normal St and University Ave. A few contingents you should look for are:
Military Contingent – RSVP
The military contingent will be led by Secretary of the Army, Eric Fanning, and is always a crowd pleasing contingent for parade goers.
Pride Youth Marching Band – RSVP
Since its inclusion within the festival the Pride Youth Marching band has grown substantially! We recruit many LGBTQA students within the Southern California region and they perform at the intersection of Normal St & University Ave at 10:30am.
Orlando Contingent – RSVP
In tribute to the 49 lives lost, the Orlando contingent will have signs portraying the names, ages and photos of those lost in Orlando

Otherwise you can see the full parade lineup here.
Every year, at the end of our Parade, everyone is welcome to join together, march with us, and carry the Pride Flag through our community to our Pride Festival. In light of the tragic events in Orlando, we again invite all attendees to take part in this annual tradition that this year will demonstrate our resolve, our solidarity, and our love. Bring your friends, family, and signs of support. Let's make this the biggest and best Pride San Diego has ever seen.
---
Saturday – San Diego Pride Music Festival 2016
We were excited when they first announced Ke$ha as a headliner, but now they've added some very loved EDM artists like Paul Oakenfold, Pierce Fulton, Bright Lights, Sam Sparro, Cazztek and more!
When: July 16 & 17
Where: Balboa Park
Time: 11AM – 10PM / 11AM – 8PM
Tickets: Click here to buy tickets
San Diego Pride Music Festival 2016 Lineup: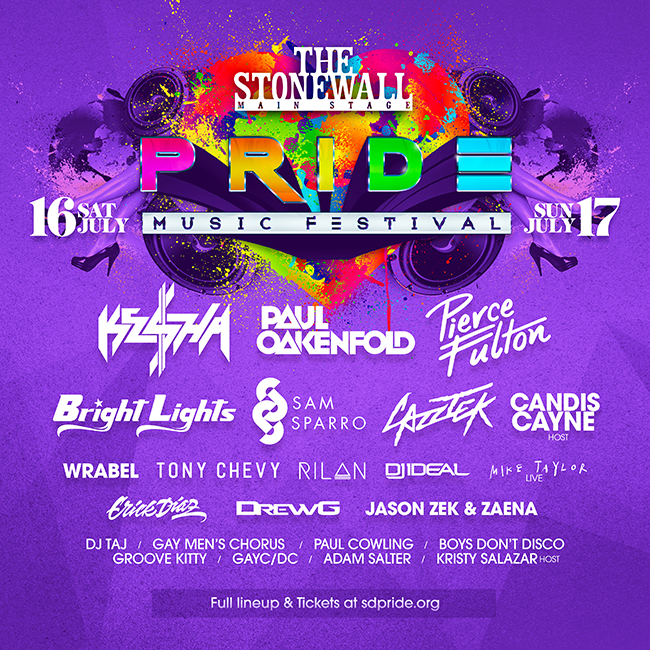 The set times can be found here.
Free Rainbow Zone: New this year is the free rainbow zone which is just outside the music festival and does not require a ticket into the festival. There are live DJ's, community resources, a youth zone, family picnic and many other free resources and events.
This weekend is jam-packed with fun activities, good music, and amazing food and we hope to see you there!
---
Connect with San Diego Pride Music Festival 2016 on Social Media:
Website | Festival Website | Pride Facebook | Festival Facebook | Pride Twitter | Pride Instagram | Festival Instagram