In anticipation of this fall's Electric Zoo New York, ID&T provided us with Bounce Boat, an evening on the beautiful Cornucopia Majesty (which is 40,000 square feet and can accommodate up to 1,000 people) setting sail along NYC's east river. This particular evening featured Sander van Doorn and departed from Pier 36.

The GA, VIP, and table packages were very reasonably priced, and I was lucky enough to get an email with a special buy one get one deal with my ticket purchase since I will be attending Electric Zoo, so I was able to bring a friend and my boyfriend along. These ticket prices and table packages were at least a third of the price of what any nightclub in Manhattan would charge.
There was light rain during boarding, which unfortunately turned into a short-lived, but very heavy downpour while attendees were still boarding the ship. I was very glad we arrived early and boarded before this happened and to be inside while I watched people outside get soaked. I felt very sorry for those who got caught up in that, it must have been a total bummer.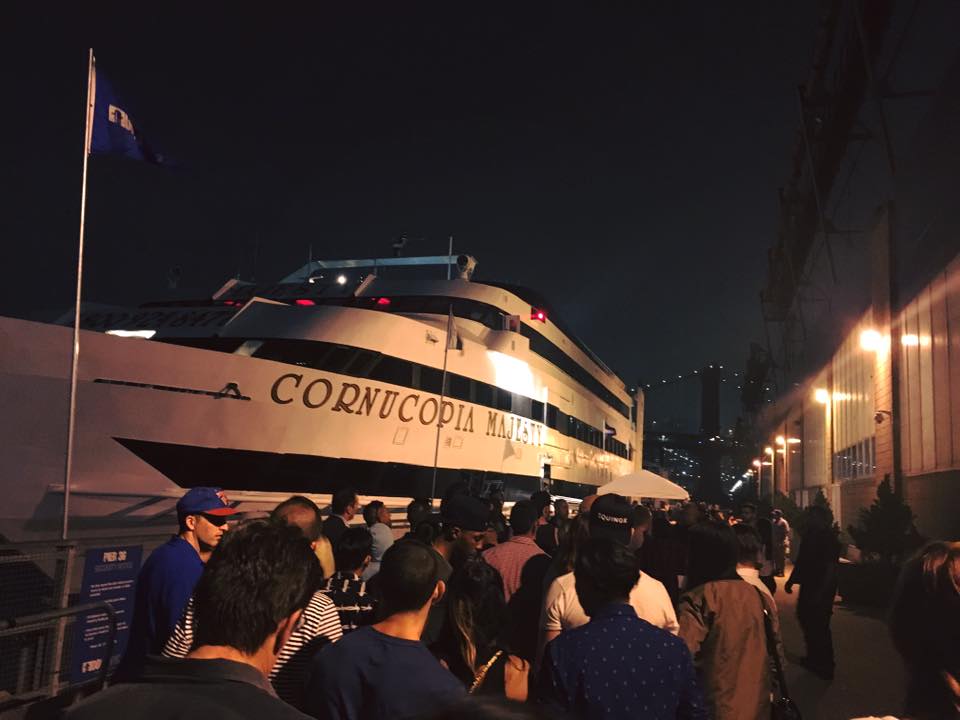 Opening DJs Anden, and a few others eased the crowd into the evening and got the party started, starting with deep house which became more progressive as the night went on leading up to Sander van Doorn's set.
We upgraded to a VIP table and that was definitely the right call. We had a comfortable couch overlooking the dance floor with a perfect view. Shoutout to our host Carissa also, she made sure to take care of us and our mixers were replaced in a timely manner, our trash was removed for us, and we were given fresh ice a few times. Hookah was also available for an additional charge, which was pretty cool.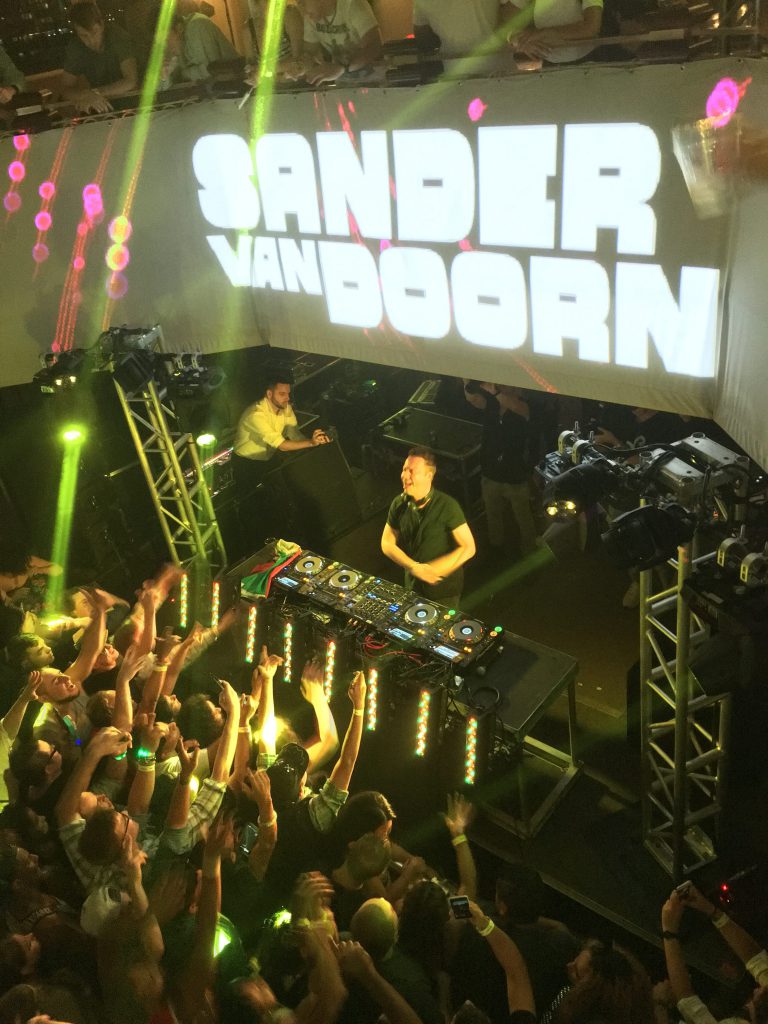 The GA tickets were definitely oversold for the size of the boat. It looked like people were packed like sardines and the bars were crowded. By contrast, the VIP area had plenty of room to move around, and amenities such as private restrooms and bars, and two levels that were exclusive to VIP ticket holders, one of which sold food. Security kept a tight ship (pun intended) throughout the evening. Still subject to New York State and federal laws along the river, misbehavior was not tolerated for even a moment on the boat. People who smoked on the dance floor were removed immediately (although I'm not sure where they were taken, it's not like they could be kicked off the boat) and people trying to sneak into the VIP area were ejected right away.
I went outside quite a few times to get some fresh air and was met with beautiful views of New York City and the Manhattan and Brooklyn Bridges.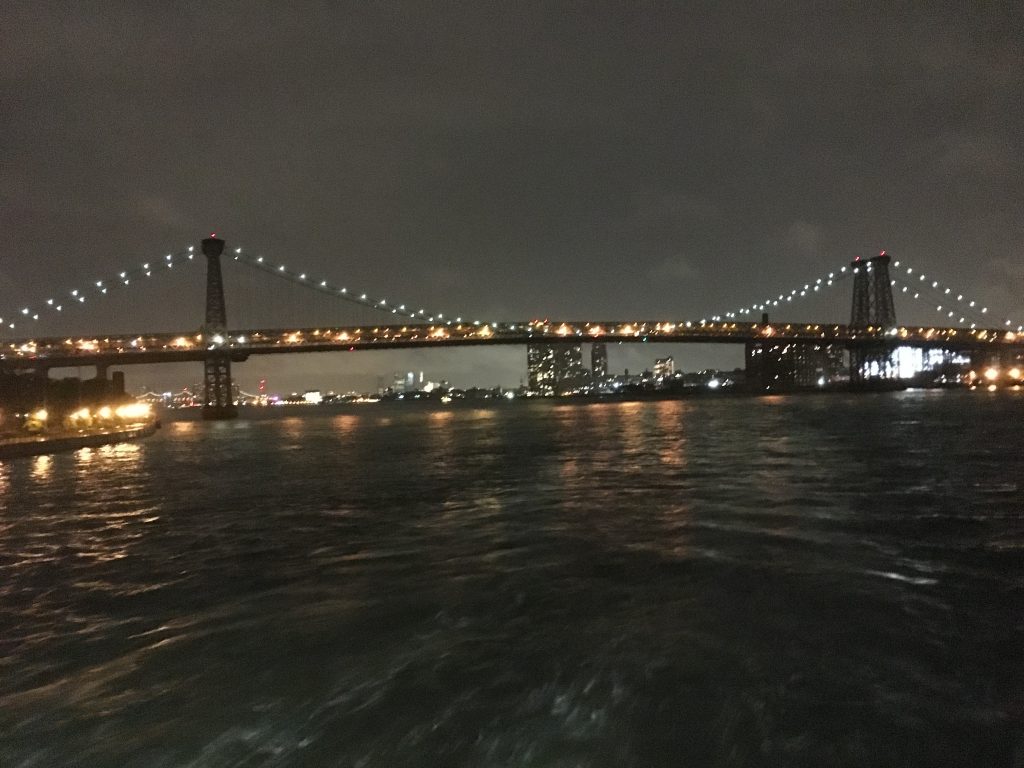 Anyway, back to the music. By the time Sander took the stage, the crowd was more than ready, chanting "Sander! Sander! Sander!" His set began around midnight and he had two hours to perform before the boat returned to the dock. He wasted no time; playing his popular tracks like "Not Alone", "White Rabbit", and my personal favorite: "Gold Skies", a collaboration with Martin Garrix that was debuted at Ultra several years before.
The crowd was a little bit much at times. There was a lot of chanting "Hey! Hey! Hey Hey Hey!" over the music, and the infamous and irritating Seven Nation Army "Oh, oh oh oh oh oh, oh!" chant reared its ugly head more than once, but this didn't stop me from enjoying Sander's set with his great tracks and progressive house/tech trance transitions. This was my first time seeing an artist on a boat and I definitely want to again. I highly recommend Bounce Boat to New Yorkers who are looking to enjoy some music and want to experience something different from a typical nightclub experience! Longer boat excursions like Holy Ship! and Groove Cruise are definitely bucket list items for me now.
This is not the only Bounce Boat event that will be taking place before Electric Zoo either! The next Bounce Boat is happening on August 19th and Dannic will be performing at this one; all tier GA and VIP tickets are available here.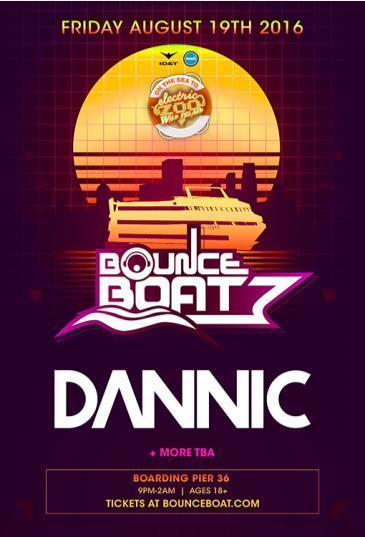 ---
Connect with Bounce Boat on Social Media:
Website | Facebook | Twitter | Instagram
Connect with Sander van Doorn on Social Media:
Website | Facebook | Twitter | Instagram | SoundCloud | Mixcloud