The techno gods were certainly on our side this Canada Day long weekend. Despite the weather forecast calling for an afternoon full of violent thunderstorms, a quick shower in the early afternoon was nothing but a mild inconvenience to an otherwise perfect day on the Island. Each long weekend of the summer season, Toronto's Hanlan's Point plays host to the Electric Island summer concert series. Comprised of 5 events over 4 weekends, Electric Island 2016 is a must-attend event for every techno lover in the city. 
Arriving at the island shortly after the rain stopped at 3pm was a smooth process. Ferry lines were (thankfully) short, as we'd been warned we could be in for a long wait. For anyone who attended Bestival in 2015, Electric Island is hosted on the same site and is accessible via the same ferry.
My group took the afternoon to catch up on some much-needed relaxation. Music was kept to a moderate volume during the day and conversations were easy to hear. Many people took the opportunity to dance, but plenty of people spent the daylight hours kicked back on blankets napping and enjoying food from one of the island's many vendors. We brought our inflatable pouches – the ones that have spammed every festival fan's news feed for the last half a year. They proved to be a perfect hangout spot on the damn grass. This month has been a whirlwind of festivals for my group and me, so I was more than happy for an excuse to spend a couple of hours off my feet, taking it easy. Daytime DJs respected the nature of the event and the music stayed upbeat and happy throughout the afternoon.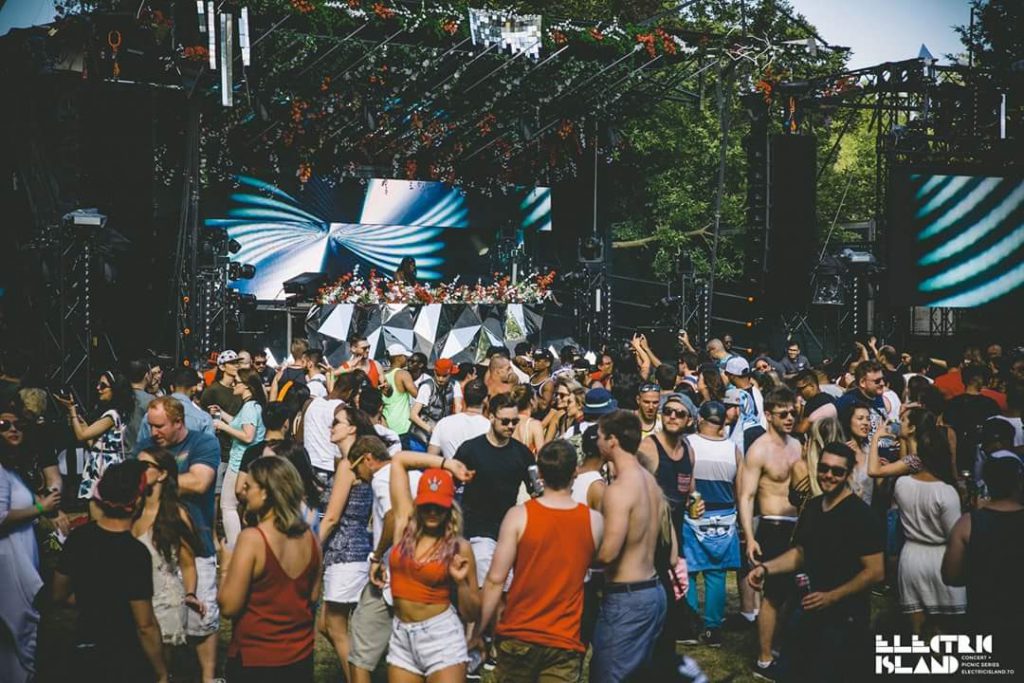 It's easy to get distracted at events and forget to eat, even when you're dancing away an 8 hour day or more. This time, the food was impossible to ignore. Electric Island brings some of the city's best food trucks and festival vendors. I was on a hunt for whatever delicious grilled meat I could smell within an hour of arriving. EI's selection of vendors served up a range of dishes including hot dogs and sausages, pulled pork, wood oven pizza, gourmet popsicles, burritos, tacos, quesadillas, burgers, and more. I settled on pulled pork with beans and rice and couldn't have been happier as I chowed down while grooving to the sweet afternoon sounds of tech-house.
Bars were plentiful, though the lines did get long during the hottest part of the day. As the air-cooled off, grabbing a drink became much easier. Free water was also available and was easily accessible. You can't bring your own food or drinks, but we had no issue bringing our own empty bottles inside to be refilled.
A general store offered quick snacks and other supplies at reasonable prices, such as candy, chocolate, chips, lip balm, sunscreen, earplugs, and pepto. VIP is offered for an additional $20, and includes expedited entry, separate washrooms, viewing area, and bar.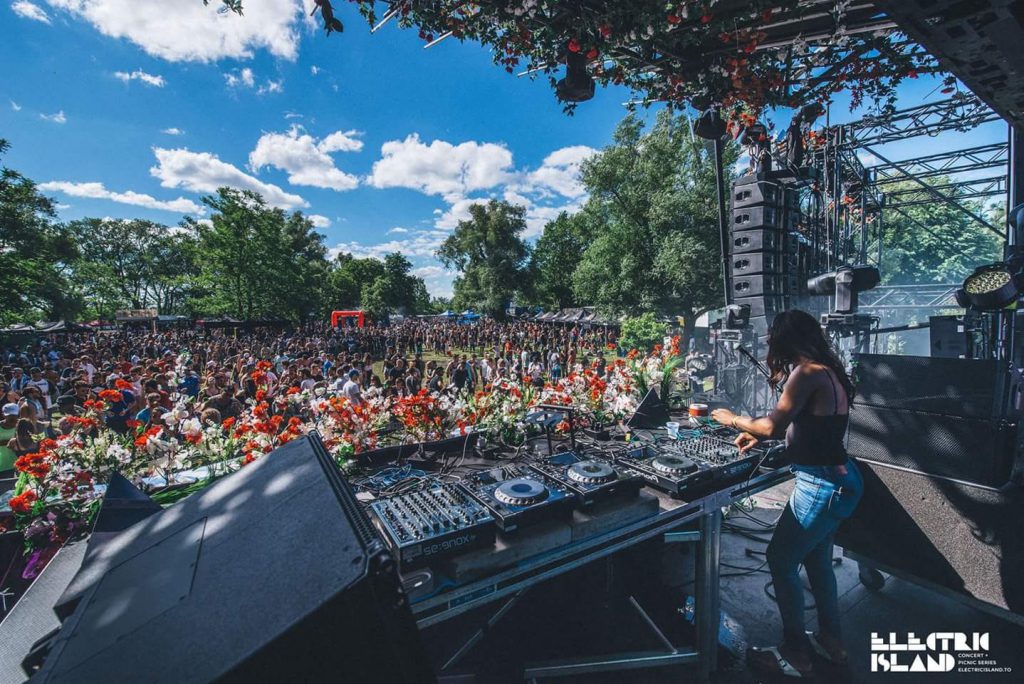 As day turned to night, the volume was increased to a point that any casual conversationalist would need to move away and make room for those dedicated to the music. Most people folded up their blankets and committed themselves to dancing the rest of the night away. Tale of Us was given the sunset slot and transitioned us perfectly from an upbeat and sunny summer afternoon to a hot and dark summer night. Ben Klock B2B Marcel Dettmann took the final slot and delivered filthy beats that kept people on their feet even after a long, hot day.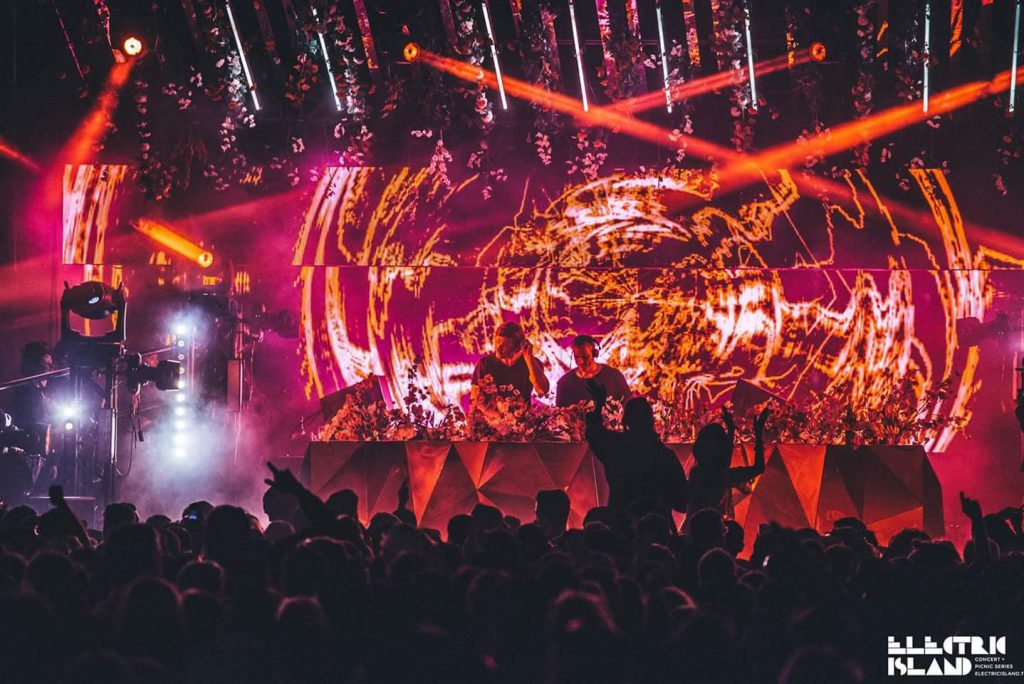 Leaving the island at the end of the night wasn't too difficult, though we made sure to leave a few minutes before the last set ended. Flashbacks to Bestival's 3 hour ferry line certainly reminded me why events on the island need to be approached with caution. Electric Island's attendance isn't nearly as large as Bestival's and wait time for the ferry generally don't approach Bestival's, but this is something to consider if you're attending an Island on a holiday Monday or are counting on being at an after party in a reasonable time. If you don't want to wait – leave a bit early. Prepare to wait 60 to 90 minutes if you stay until the music ends.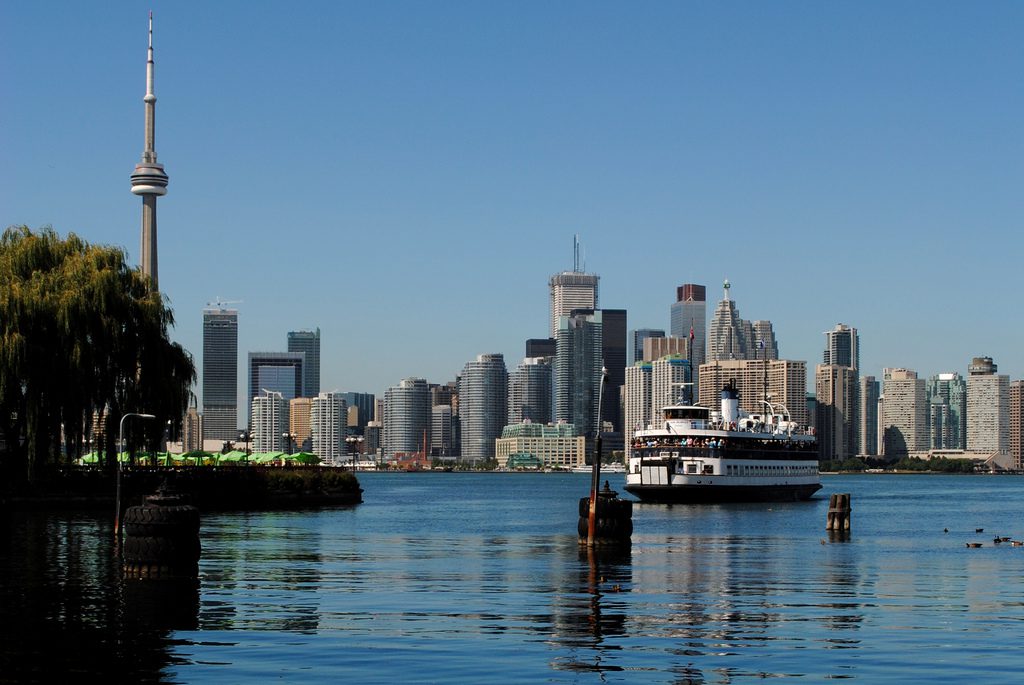 I myself am a wanderer. I live for the opportunity to get lost and find something new. It's rare I stay at a stage for more than an hour without finding some excuse to run some "errand" so I can wander around and see what else is out there. I thrive at clubs that offer multiple rooms and multiple sounds. I never worry about set conflicts, because the more options I have, the better. In that regard – Electric Island probably wasn't the best event for me. I love techno and house, as well as the journey a long set can bring you on – but 10 hours at a single stage made me a little stir crazy. For some people, it's a dream. This isn't a classic festival experience – but if you're dedicated to the music and are the kind of person to stick to one stage all day – you'll love Electric Island. This is an event for the dedicated techno fan who wants an afternoon to catch up with the community, and a night of  filthy beats and bassline.
The next Electric Island event is scheduled for Monday August 1st, Canada's Civic Holiday. Tickets are available here. To learn more about attending the event, check out our Event Preview. 
---
Connect with Electric Island 2016 on Social Media: