Life Is Beautiful Music and Art Festival will return to Downtown Las Vegas for its fourth year during the weekend of September 23-25. The festival has become a premier destination for music lovers as it has consistently provided stunning and diverse lineups over the years. This year's stages will be host to huge acts like Mumford & Sons, Flume, J. Cole, G-Eazy, and Major Lazer, but the music isn't the only thing attracting people to Downtown Las Vegas. The art and installations created play a huge role in the Life is Beautiful experience.
Check out Zach's experience from last year's festival by clicking HERE!
Check out the Life Is Beautiful 2016 Lineup: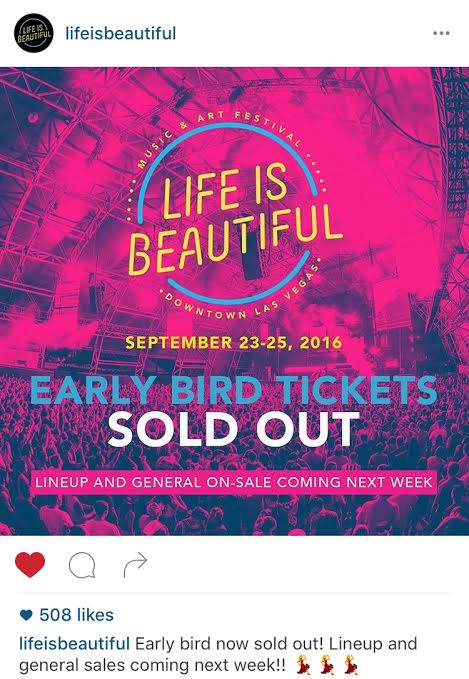 Charlotte Dutoit of JUSTKIDS has created a dream team of artists from around the world that will unleash their artistic abilities on the streets of Downtown Las Vegas for a fourth consecutive year. Attendees can look forward to newly-curated murals and installations that will be added to the already existing ones from past years. The larger than life art pieces provide a memorable, interactive and inspiring experience for festival goers.
"The Life is Beautiful Music & Art Festival has provided Downtown Las Vegas with a fantastic  open air museum for art enthusiasts," said Charlotte Dutoit, owner of JUSTKIDS. "We are thrilled to bring to the city and festival grounds the greatest, most prominent global street artists of our time."
Among the artists selected will be the "Obey Giant" himself Shepard Fairey (US). Another featured artists will be Bezt from Etam Cru (POL). Bezt is a globally recognized street artist known for his massive murals and is also part of the most notable duo in the genre. Felipe Pantone is an Argentinian urban contemporary artist who uses perception to trick one's mind. Tristan Eaton is a Los Angeles native known as one of the driving forces in 'Art Toys' world and is part of the permanent collection in MOMA. Fafi is a multi-talented French urban artist extraordinaire who works with global fashion brands, design and videography. Martin Whatson is a Norwegian stencil artist with pieces that blend graffiti and decay. Lastly, Dulk is a Spanish artist and illustrator who's well-known for his modern fairytale style, filling murals with bizarre little wonders and cartoonish characters.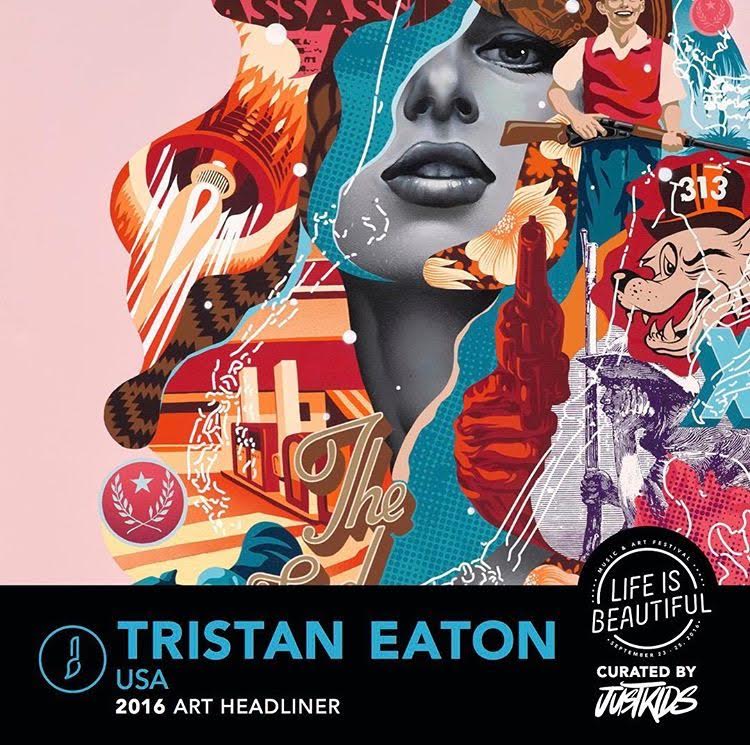 In addition to the murals, this year's art installations will become defining pillars of the festival. The Life is Beautiful art program has curated the most compelling work and large-scale pieces the festival has ever had. Attendees will be surrounded by some of the world's most highly desired art pieces like the Big Rig Jig created by Mike Ross. This gargantuan sculpture was most recently displayed in the United Kingdom for Bansky's Dismaland.
Additional must-see installations include the Silent Room by Dutch London-based artist Simon Heijdens. This will be only the second time the Silent Room has been displayed for fans. This one-of-a-kind anechoic chamber will provide attendees with an overwhelming, sensory experience. Also making their debuts at the festival are Poetic Kinetics, Amanda Parer, Crystal Wagner and Laura Kimpton.
Poetic Kinetics is known for their large-scale installations (often at Coachella; i.e Astronaut and Caterpillar) and will be introducing a never-before-seen aerial and ground installation entitled "Proximate Sky." First year Life is Beautiful artist Amanda Parer's installation will be a display of giant, illuminated rabbits. Originating in Australia and traveling across the globe, the rabbits will light up the festival with their magical glow. Crystal Wagner, an interdisciplinary artist whose gigantic multi-dimensional installations are exhibited in the U.S. and abroad, will be beautifying the entire facade of one of Vegas' historic vintage motels. Furthermore, known for her revolutionary and celebrated conceptual designs, Laura Kimpton lends one word from her "Monumental Word Series," best known for its display at Burning Man.
You can purchase tickets for Life is Beautiful Music and Art Festival here!
---
Connect with Life is Beautiful 2016 on Social Media:
Website | Facebook | Twitter | Instagram | YouTube
Connect with JUSTKIDS on Social Media: