Now in its third year, Pemberton Music Festival 2016 is a momentous 4-day event that takes place in Pemberton, British Columbia just north of popular ski resort Whistler. Sitting at the foot of majestic Mount Currie, this festival is self-proclaimed as the "Best Place on Earth". Pemby Fest offers nothing less than "a world class experience" confidently assuring its attendees the best weekend of their lives. Anyone viewing this year's lineup and catching some of the atmosphere from last year's recap, wouldn't easily disagree with such bold assertions.
Check out the Pemberton Music Festival 2016 Lineup Announcement Video:
Pemberton Music Festival began in 2014, replacing its predecessor Pemberton Festival, originally produced by Live Nation in 2008. Its new organizers Huka Entertainment have brought fresh vibes and extraordinary talent to a picturesque mountain setting creating the perfect blend of first-rate, modern entertainment and scenic, outdoor intrigue. Its first year was projected to accommodate over 40,000 vibrant attendees. Since then the festival has continued to improve after each year and amass international notoriety. It now houses guests from all over the country, extending to prospective US and even broader global attendees. 
This festival stands out from most others in the diversity of music and entertainment it presents. This year's impressive music lineup offers the world's biggest names in genres ranging from rock, pop, indie, hip hop and electronic, in addition to over a dozen renowned comedy acts, all on five dynamic stages. In addition to Pemby Fest's amazing live acts, guests also have their choice of other fun activities such as the Perrier Greenhouse, an exhilarating zip line, and even Zorb Soccer! With such striking talent, scenery, entertainment and unparalleled collective vibes, one would be hard-pressed to find a more captivating and engaging festival experience.
Pemberton Music Festival 2016 Lineup: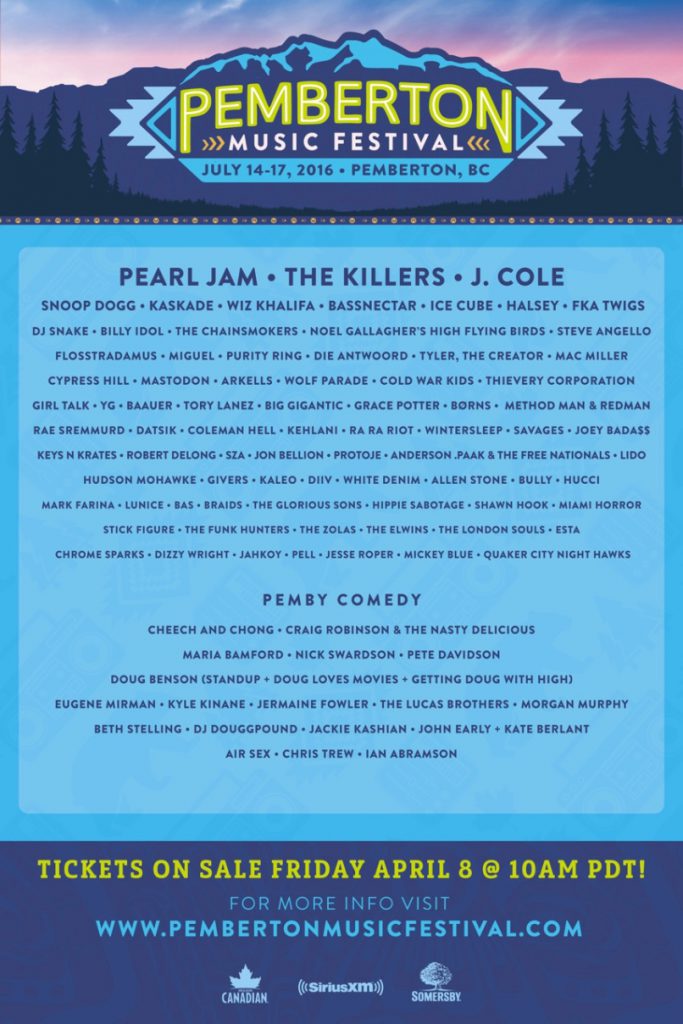 When: Thursday July 14 – Sunday July 17
Where: Near Mount Currie, Pemberton, British Columbia, Canada
How much:
GA – Early Bird $270 (sold out), Advance $295 (sold out), Regular $315
VIP – Early Bird $699 (sold out), Advance $799 (sold out), Regular $899

Super VIP $1499 (sold out), Advance 1599 (sold out), Regular $1799

Single Day – GA $169, VIP $344
Check out the Pemberton Music Festival 2015 Highlights:
---
Follow Pemberton Music Festival 2016 on Social Media: