The #IDSpotlight on Alli & Matt Salcedo is part of our #EDC20 Series in the lead up to the 20th Anniversary of Insomniac Event's Electric Daisy Carnival!
You may know them as the "old kandi" couple from Insomniac's Electric Daisy Carnival documentary, Under The Electric Sky. You just may have seen them around because they're an awesome raver couple dancing beautiful nights away at EDC every year. In any case, Alli and Matt Salcedo are definitely people you should know more about.
Alli and Matt were the original kandi kids promoting peace, love, and the pursuit of music back at the inception of the EDM world when it was more of a misunderstood underground venture. Fifteen years after their first couple shuffle, the two officially declared their love for each other under a canopy of booming fireworks and incredible electronic beats. They've been raving for nearly 20 years and are setting the example for a lifetime of PLUR to boot.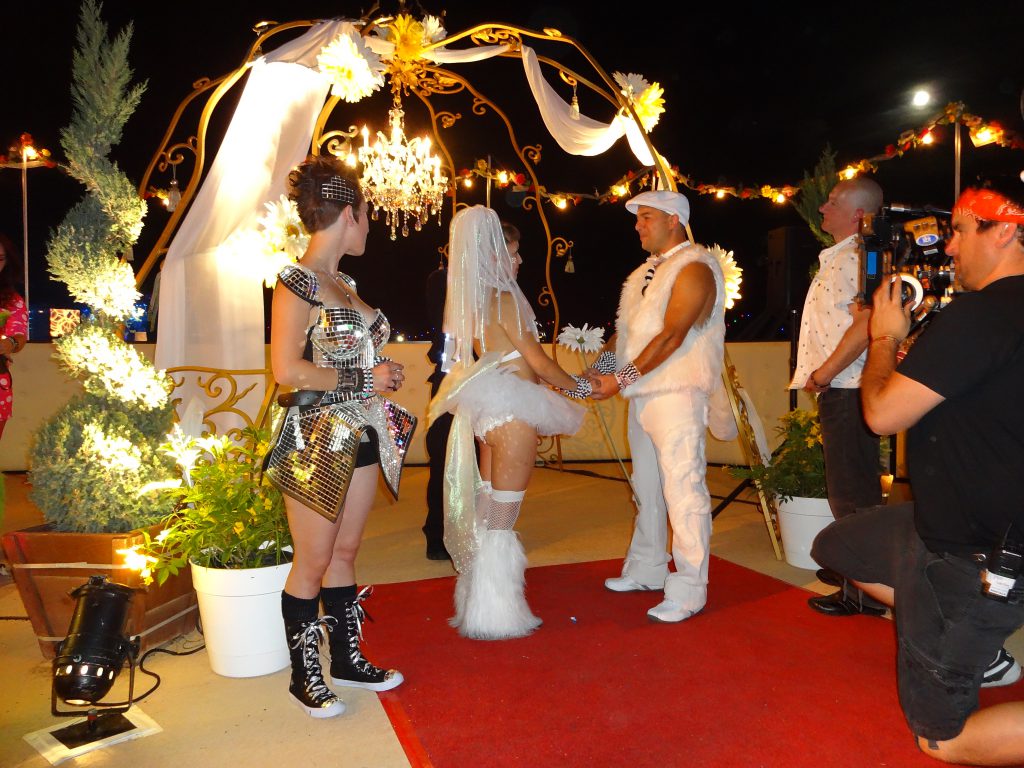 Alli and Matt completely inspired me. I kept falling in love with their story over and over again, each time I watched Under The Electric Sky. They represented the strength, love, joy, and ultimate fun that I could ever hope for in a relationship of my own. They're best friends, partners in life, and real-world examples of how "couple who rave together, stay together."
You could only imagine the undeniable pleasure then, that a hopeless romantic like myself experienced when this lovely couple agreed to an interview.
Please enjoy the following wise and beautiful insights of Insomniac's coolest Old Kandi couple!
---
Do you both still rave? Do you still consider yourselves ravers?
Alli & Matt Salcedo: Of course! We don't go to every festival or event but we make time and save money for EDC every year. Being a raver (to us) doesn't mean you have to be at all the events. It is the love of the culture and music that's in your heart and mind.
What got you both into the rave world to begin with? What kept you in it?
Alli: A good friend of mine took me to EDC back in 1998 and then I took Matthew in 1999. We had such a great time and connected so strongly through the whole experience together that we felt it was our stronghold, our something to remind each other who we are and that we were meant to be together.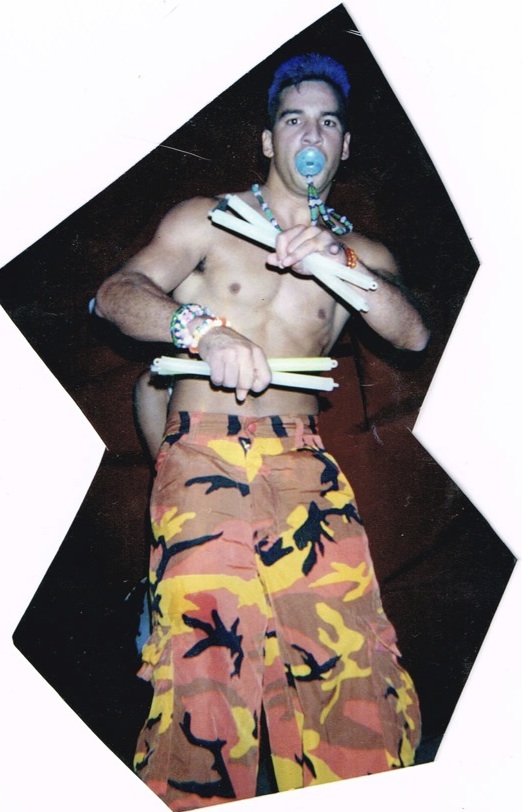 What do you love about EDM?
Alli & Matt: The music builds you up and takes your senses to that place you want to be at that moment. Happy, sad, raging… It just takes you away for the moment.
How have you seen the EDM world change over the years?
SOCIAL MEDIA…Something that was intended to bring us all together and stay connected has actually torn us all apart. Since it started we are all so disembodied to the real world and have forgotten how to be human beings. While the technology is great, it's use by some has turned into a wormhole of hate and disrespect. I mean, would you post that meme on your grandma's wall?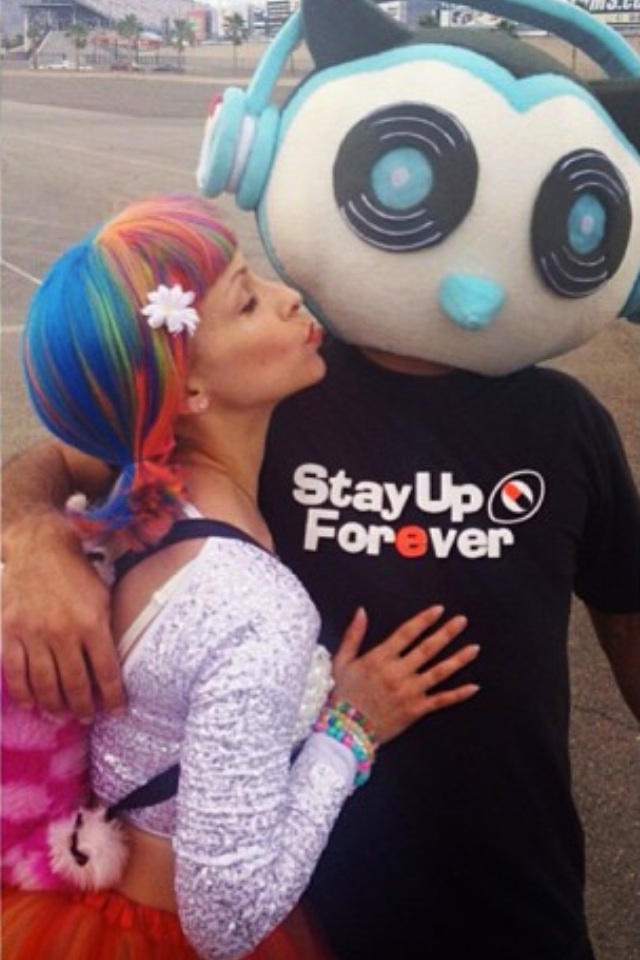 How do you incorporate the PLUR lifestyle into your every day life? What does it mean for your life at home and for your kids?
Growing up we were taught the Golden Rule, "Do unto others, as you would have done unto you." Or, "Treat people the way you would want to be treated." It's basically the same as PLUR and it will forever be our way of life. With our children, it is something we talk about but we also try to lead by example. Because of that, our kids posses a lot of empathy and truly enjoy helping others.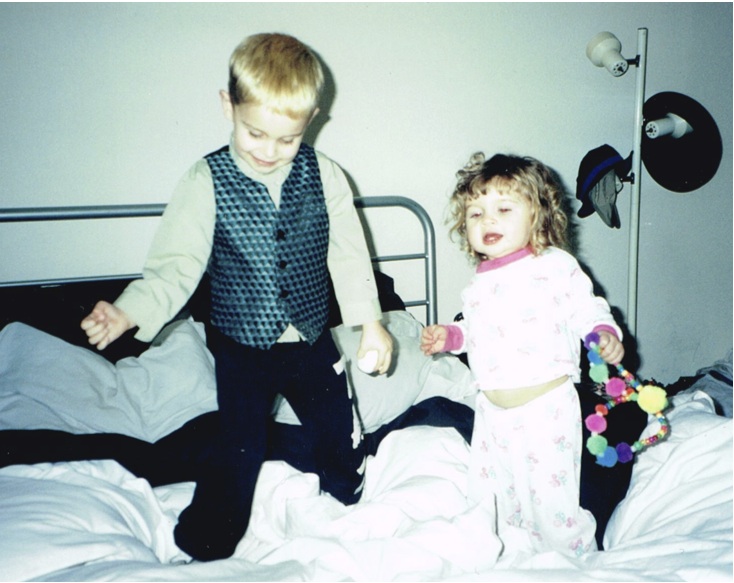 Do you believe that "couples who rave together, stay together?" You two seem to be living examples of it! How has raving together influenced your relationship?
That is a good motto for us but it's not for everyone. You can connect through the music and the culture but that doesn't mean it's what will keep you together. We met each other before we started going to festivals. So, we started building our relationship on other things as well. Raving is something that helped us realize that we were meant to be.
Are your kids just as interested in EDM as you both are?
Yes, very much so. Our son Seth, has just turned 18 and we already purchased his first ticket to EDC 2016! Our daughter Kendra, has been making amazing Kandi cuffs for all our friends. Their EDM music playlists are possibly better than ours. They are usually the ones to introduce us to what's new. When our kids were little, we used to play EDM for them and they would go crazy jumping around on the bed and swing our kandi around. Seth would get dressed in his best clothes and dance. It was so fun to watch them enjoy the music.
What are your favorite genres of EDM?
We like all genres of EDM. The more it moves us or connects us to whatever is happening in that moment or our lives, the better. Thats why we encourage young/new ravers to let themselves enjoy all kinds of music. You can actually find mixes of everything out there now. We found some 1940's mix's by DJ ADAMS & also BINGO PLAYERS that are really fun. Those mixes put us in a 40's swing era for awhile. Now, with the 20 year anniversary coming up for EDC, we are reflecting back on some of our old favs like Alice Deejay, DJ Irene, Digweed, BT, & Oakenfold. (Excuse me while I go find my over-alls and fuzzy tops from raver storage.)
What is your favorite EDM festival/show moment?
EDC 2012….. The wind shut down night!  Before the actual shut down, we were huddled by one of the closed food places by the Discovery Stage. We were unable to move at the moment due to the dust getting in our eyes and not sure which way to go. (We had already passed some of the stages that were swaying.) So we stayed by a sturdy structure. Suddenly, we could hear music starting up and at first we thought it was just being played through the speakers from an album until the DJs could resume their sets. But, it was Shermanology and they performed "Can't Stop Me.' They still went on even though it was dangerous! They performed only that song and then that was when the Speedway announced that the festival was being shut down. We carefully left the speedway amidst many people that were visibly upset and not very understanding of the fact that Insomniac and the Speedway crew were doing it for everyone's safety. For us, we knew it was still early so we went home and carried on the party. We still found a way to have fun and make the best out of a bad situation. That last set was our anthem for the night…. "If this was the last dance of the night, Would you join me 'til the morning light?" Thanks Shermanology!!
Any advice for young ravers or people just getting into the scene?
Don't get stuck to just one genre. Expand your EDM horizons. Your first time hearing EDM may have been trance or dubstep but that doesn't mean that's all you are allowed to listen to. You never know…you might like trap or hardstyle. The best place to figure this out is at a festival. Wander around and let your auditory senses explore all the different stages and see what REALLY moves you. It could even be possible that you like everything and that's completely okay. Enjoy, without boundaries.
Anything else that you'd like to add?
See everyone at EDC Las Vegas 2016! Remember to have fun, be safe and take care of each other!