Sunset Music Festival is less than 48 hours away so to help prepare yourself I've compiled essential information to make your weekend as successful as possible. Be sure to download the mobile app! This is a MUST have if you're attending. You can download it on Android/iOS by searching "Sunset Music Festival" in the app store.
Tickets are still available. 2-Day pricing for GA is $204.39 after fees, and VIP tickets are sold out. Single Day tickets are still available. Click here to purchase tickets.
---
FAQ:
Festival Location is at Raymond James Stadium, 4201 North Dale Mabry Hwy, Tampa, Florida 33607
Festival hours are Saturday, May 28 and Sunday May 29 2:00PM – 12:00AM.
Will Call Hours:

5/28: 12:00PM – 12:00AM
5/29: 12:30PM – 12:00AM

Bring your ticket/wristband and a government-issued ID that contains your picture and birthday.
Re-entry is not allowed. No ins-and-outs.
ATMs, 21+ bars, food, beverage, and a general store will be on festival grounds (see map below).
Festival is 18+.
ACCEPTABLE FORMS OF ID
Any US government-issued driver's license or ID card containing a photograph and date of birth
US or foreign government-issued passport contain a photograph and date of birth
Native American Tribal Photo ID
DHS-Designated Enhanced Driver's License
Transportation Worker Identification Credential (TWIC)
DHS "Trusted Traveler" Card (Global Entry, NEXUS, SENTRI, FAST)
Mexican Consulate ID (Only Permitted with a secondary form of ID — EX: School ID)
Permanent Resident Card Border Crossing Card
UNACCEPTABLE FORMS OF ID
NO Expired ID
NO School ID
NO License/ID card issued in countries other than the U.S. or Canada
NO Birth certificate
NO Social Security Card
NO Federal immigration card
NO Voter registration card
NO copies of any acceptable forms of identification
---
Sunset Music Festival 2016 Set Times:
The set times have finally been released, so it's time to plan our evenings and make peace with conflicting set times. The Sunset Music Festival app for Apple and Android devices is available free and can help you schedule your evening. It has a map as well.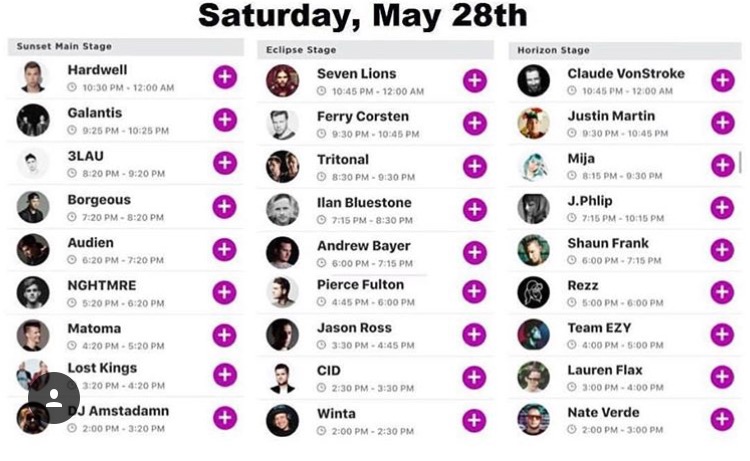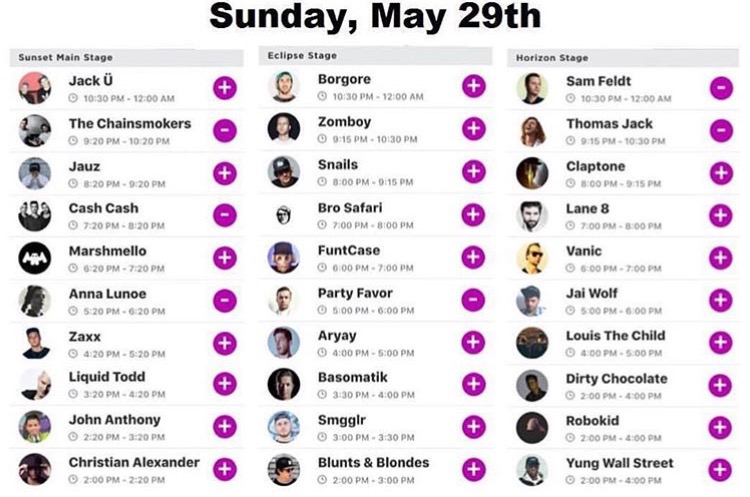 ---
Sunset Music Festival 2016 Festival Map: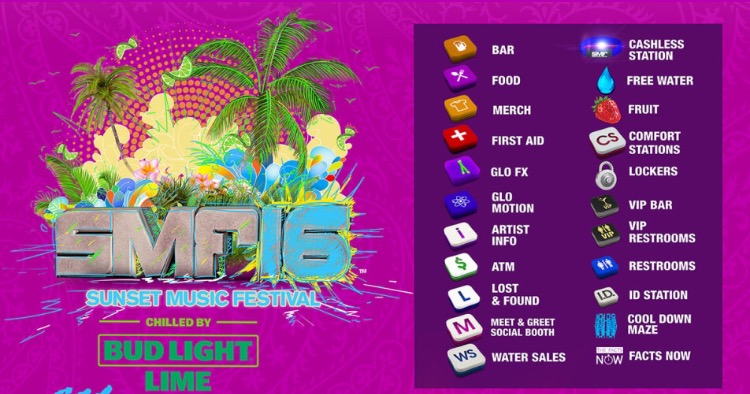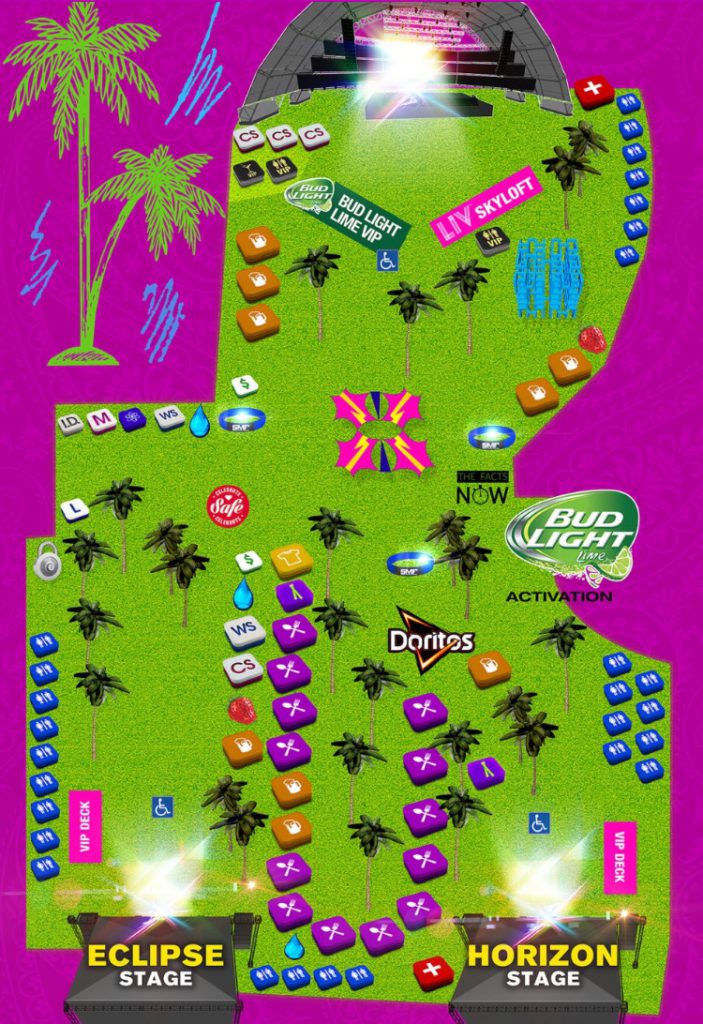 ---
Parking
Parking will be available at Raymond James Stadium. General parking is $20 and express parking is $30 (cash only). Parking lots will open at 12:00PM on Saturday and 12:30PM on Sunday. Uber/Lyft and taxis will be available as well. Keep in mind that taxis will cost a little bit more than an Uber; however, be careful when taking either because you never know what can happen. Also some hotels close to the venue that have hotel packages with the venue are also providing transportation. Please be responsible and don't drink and drive.
---
Lockers
Lockers are a safe and secure way to store your belongings during the festival.
The lockers are about 8″ x 11″ x 17″.
Each locker includes a charging unit for iPhone/Android.
Two day locker rental is $30.90. Rent one here.
---
Be Prepared For The Weather!
There is a 20 percent chance of showers in the afternoon on day one (Saturday, May 28th) and a 30 percent chance of thunderstorms on day two (Sunday, May 29th). Make sure to watch the weather throughout the afternoon, and dress accordingly. SMF was actually put on hold completely in 2015 due to rain, but resumed after a few hours.
It's May, so it will be humid, but you should prepare to get wet and deal with the rain. Also don't forget to put on sunscreen! After all, it is Florida.
---
Do's and Don'ts
ACCEPTABLE ITEMS
YES Small bags, single compartment backpacks, & purses (maximum 21″ x 10″ x 14")
YES Official DDP, Sunset Events, or SMF water bottles —must be empty upon entry
YES CamelBaks and Bota Bags(non multi-pocket) —must be empty upon entry
YES Cell phones
YES Fanny packs
YES Sunglasses & hats
YES Lighters and sealed packs of cigarettes
YES Single-use/disposable E-cigs or vapes that do not have refillable liquid chambers
YES Physician-prescribed medication that is not expired (must show physician's prescription and consult with a safety officer upon entry)
YES Earplugs
YES Sealed lip balm & gloss
YES Powder makeup and sealed tampons
YES Glowsticks & glowing/illuminated costumes or jewelry
YES Sealed packs of gum
YES Hula hoops (including LED hoops)
YES Eye drops
YES Flags/banners or handmade signs (no corporate/company branded and no hard flagpoles)
YES Festival totems or decorated pool noodles (see Totem Guidelines below)
YES Non-professional flash/still cameras, handheld video devices under 6" (Sony Action Cam, GoPro, etc.), and GoPro extendable poles
PROHIBITED ITEMS
NO Illegal substances
NO Drugs or drug paraphernalia
NO Animals (except service animals)
NO Massagers
NO Laser pointers and air horns
NO LED gloves or LED microlights used for light shows
NO Pacifiers, dust masks or gas masks
NO Stuffed Animals or Dolls
NO Over-the-counter medication (available inside festival at general store or from a first aid station)
NO Liquid makeup or unsealed tampons (upon entry)
NO Glass, cans, cups or coolers
NO Markers, pens or spray paint
NO Large chains or spiked jewelry
NO Stickers, flyers
NO Balls or Frisbees
NO Tents, large umbrellas, or chairs
NO Drones or Unmanned Aerial Vehicles (UAVs)
NO Large purses, bags or backpack (over 12″×12″)
NO Stuffed animals or dolls
NO Open packs of cigarettes (upon entry)
NO Outside food or beverages (including alcohol and candy)
NO Weapons of any kind (includes pocket knives, pepper spray, fireworks, etc.)
NO Professional photo, video, or audio recording equipment (no detachable lenses, tripods, big zooms or commercial-use rigs)
TOTEM GUIDELINES
Maximum height is 10'.
Totems must be made from a lightweight material (e.g., foam, PVC / no solid metal).
Must NOT contain metal pieces, sharpened elements, or are capable of being pounded into the ground or hurting others.
PVC, light wood, aluminum poles must be no thicker than 1" in diameter.
Decorated pool noodles work great for easy entrance through security.
Any item deemed dangerous will not be allowed.
---
Official Sunset Music Festival 2016 After Parties: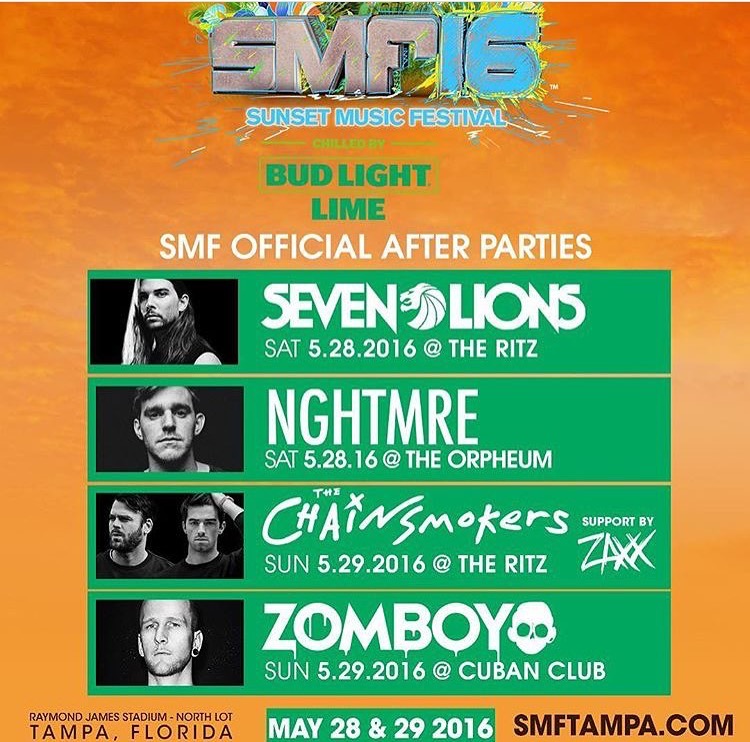 Not ready to call it a night after the festival ends? There will be four official after parties going on once those gates close. On Saturday 5/28, Seven Lions will be hosting one at the Ritz, and NGHTMRE will be hosting another at the Orpheum. On Sunday 5/29, The Chainsmokers will be taking over the Ritz and Zomboy will be at the Cuban Club.
You can purchase after party tickets by clicking here.
With this being my second time attending SMF, I'm always extremely excited to see what each year brings, to see if a festival takes what it's learned from previous years to make things better this year. Can't wait to see everyone soon!
---
Connect with Sunset Music Festival on Social Media: