#EDC20 isn't just about the people attending the events, but also those who have been lucky for the chance to play.
For today's segment we are looking back at Discovery Project Alumnus, EVIL TWIN, who won the contest for EDC Las Vegas 2014!
---
EVIL TWIN has been performing for crowds around the world for over a decade, taking him from highly touted clubs in Ibiza and London, to destination venues in Asia and Australia. He decided to relocate to Los Angeles to further develop his sound as an artist, and has made an immediate impact on the scene. Winning the Discovery Project contest for EDC Las Vegas 2014 launched EVIL TWIN into a whirlwind of shows throughout North America.
Not only has EVIL TWIN headlined his own shows around the globe but has also supported world-class talent ranging from Alesso, A-Trak, and Morgan Page, to Paul Oakenfold, Mark Knight, and Amtrac. Constantly releasing new tracks and mixes for fans near and far, you should definitely not sleep on his sound.
Check out EVIL TWIN's upcoming show dates in June:
June 8-10 – Grand Cayman Islands Festival
June 18

th

 – Release Pool Party (Scottsdale, AZ)
July 2

nd

– Belasco Theatre (LA)
Stream EVIL TWIN's set from EDC Las Vegas 2014 on SoundCloud:
https://soundcloud.com/eviltwinofficial/evil-twin-live-electric-daisy-carnival-2014-las-vegas-free-download
I had a chance to chat with EVIL TWIN to discuss his experience with the Discovery Project, what he has been up to since winning the contest, and where he is heading as an artist!
---
Had you attended EDC Las Vegas or other Insomniac Events prior to entering the contest?
I had been to Exchange LA for a few events but I hadn't been to any festivals in the US at all before performing at EDC Las Vegas 2014.  I remember getting there and thinking that US raves are a hell of a lot bigger than the ones in the UK!
Have you attended EDC Las Vegas since winning the contest?
Yes, I performed again at EDC Las Vegas in 2015, as well as Beyond Wonderland SoCal and Nocturnal Wonderland.
If you had to pick one stage at EDC Las Vegas, from any year, which stage would be your favorite and why?
The Main Stage. I love a big crowd! I'm a house-head through and through so I'd be happy in the Neon Garden too.
https://soundcloud.com/eviltwinofficial/evil-twin-live-edc-las-vegas-2015
Choosing a track that will impress for the competition is a must, what went into the decision process on the track that you selected?
I wanted to choose a track that didn't conform to what was popular in the mainstream, I didn't think the judges wanted to hear another EDM track, so I submitted a deep house track with a great vocal.
What was your reaction when finding out that you had won the contest?
I was in Gelsons in the fruit and veg isle in West Hollywood so I had to contain my excitement… obviously it was an amazing feeling and it took a while to sink in that I'd be playing at the biggest dance music festival in North America.  Having moved from the UK to America to further my career it was the break I needed in the US.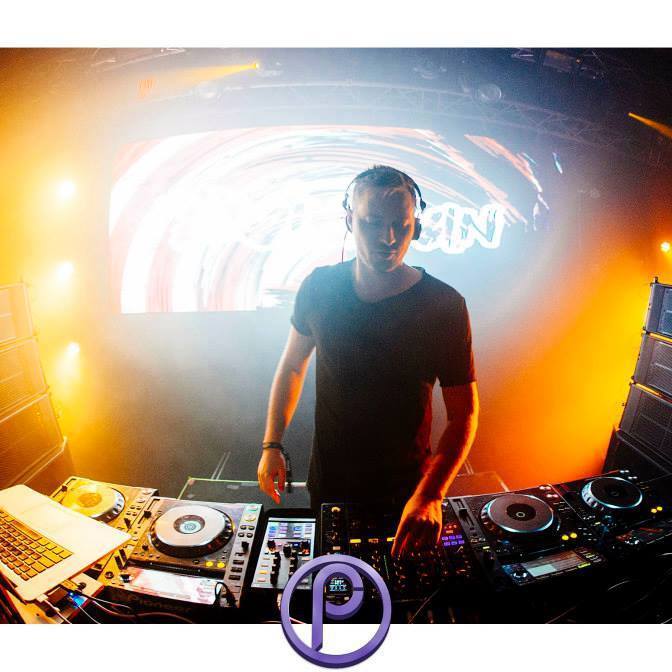 What was it like to play at EDC Las Vegas and how did winning the EDCLV Discovery Project help further your career in the Electronic Music Scene?
I'd played some big clubs and rooms before but nothing really prepares you for EDC.  The atmosphere, energy and production are second to none. It's also an honor to be on the lineup with 200 of the World's best DJs. I remember feeling very proud but also determined to play a stand-out set on that stage and get myself noticed.  It worked! After my set I was approached by TenInOne Talent and soon after signed to their roster alongside Morgan Page, BT, Gabriel & Dresden, and Maor Levi.
Since winning the contest, has your sound evolved in any way?
My sound is constantly evolving but my influences are anchored in the underground.  I have been performing in Europe and other parts of the World for the past 15 years so I have long love-affair with all types of House Music. I don't like to be pigeon-holed into sub-genres either, I play House Music and that's it.
Have you been working on any new projects or have any new releases that you'd like to tell our readers about?
I have a new track called "Sit-Down" that I play in my DJ Sets to instigate dance-floor sit-downs… it works. Perhaps I'll share it with your audience so they can instigate sit-downs too?! I have also just remixed Morgan Page's single "Running Wild" as well as Stonebridge's latest single "If You Like It" ft. Elsa Li Jones, which went to #1 on the Billboard Dance Chart… which was nice!
Are there any tips you can give aspiring artists or potential discovery project contestants to help them take the next step in their careers?
Dare to be different … no-one is looking for a replica of an existing superstar, they are looking for exciting new artists that innovate and drive the scene forward. I also think those that succeed in the industry devote their lives to the music and their career… it's a way of life.
---
Follow Evil Twin on Social Media:
Facebook | Twitter | Instagram | SoundCloud | Mixcloud | Beatport