Today, Insomniac Events announced the full programming schedule for EDMbiz 2016. The 5th year is set to be one for the books with keynotes from the likes of Armin van Buuren, Moby, Bob Lefsetz, and of course Pasquale Rotella. EDMbiz has three cornerstone concepts that it shows to its attendees: Experience, Technology, and Aspiration that it intends to help teach attendees.
REGISTRATION FOR EDMBIZ 2016 IS OPEN. CLICK HERE TO PURCHASE PASSES!
Audiences will have the chance to participate in discussions on the most pressing issues in the EDM industry. Each morning, attendees have access to a yoga session by The Divine Movement and can close out with a conference wide Networking Happy Hour. The first-ever EDC Hackathon, the return of the EDMbiz A&R contest, and a one-of-a-kind mentoring program for young hopefuls are just a few of the other programs that will be offered to attendees.
Badge holders will also be able to check out some EDC Week Events for free! Click HERE for event listing and more!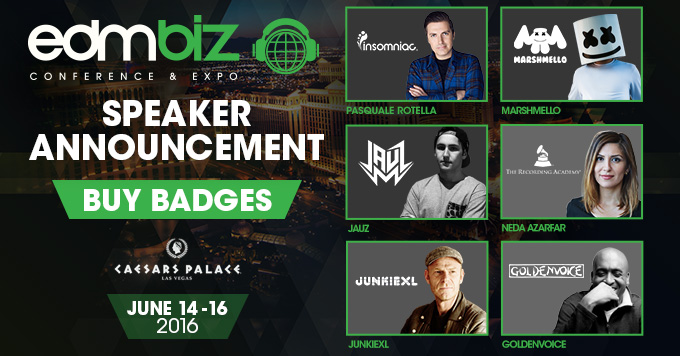 ---
EDMbiz 2016 Programming
The following keynote sessions and panels with noted speakers will take place at EDMbiz. Newly added speakers are italicized.*
Keynote: Armin van Buuren
Moderator: to be announced
Keynote: Bob Lefsetz, Author, The Lefsetz Letter
Moderator: John Boyle, Chief Growth Officer & Interim CFO, Insomniac
Keynote: Moby
Moderator: Jason Bentley, Music Director, KCRW
Keynote: Pasquale Rotella
Moderator: John Amato, Co-President, The Hollywood Reporter-Billboard Media Group
A&R Competition – Best Dance Track
Danny Howard, BBC Radio 1
Joe Wiseman, Label Manager/A&R, Insomniac
Laidback Luke, Artist
Pedro Guzmán, Executive Vice President / Head of A&R, Aftercluv Dancelab
More to be announced
Ads, Fads, And The Future Of Radio
Moderator: Ted Cohen, Managing Partner, TAG Strategic
Austin Kramer, Head of Programming-Dance & Electronic, Spotify
Ben Gill, Head of Programming, Dance & Electronic Music, Pandora
Danny Howard, BBC Radio 1
George Hess, CEO, Zero2Fifty Group
Geronimo, Senior Director of Programming, SiriusXM
After The Drop: The State Of Dance Music
Moderator: Matt Medved, Senior Editor, Dance/Electronic, Billboard
Andrew Goldstone, Manager – Tiesto and Don Diablo, GM of Musical Freedom Records
Ed Shapiro, Partner, Reed Smith, LLP.
James Algate, Vice President of Music, Hakkasan Group
John Boyle, Chief Growth Officer & Intertim CFO
Sebastian Solano, CEO, ID&T
Anticipation, Audience, And Not Being Australian
Chad Moses, Music & Events, To Write Love on Her Arms
Beyond The Boys' Club: What's Next For Women In Dance Music
Moderator: Katie Bain, Contributing Writer at Beatport, Insomniac, LA Weekly, The Huffington Post
Liz Garard, President & Founder, Nap Girls
MacKenzie Reynolds, Publicity Manager, Capitol Music Group
Matthew Adell, Founder, MetaPop
Neda Azarfar, Vice President, Marketing Communications, The Recording Academy
Nicole Moudaber, Artist
Sarah Polonsky, US Editor, DJ Magazine
Billboard Dance Power Players 2016 Presentation
Matt Medved, Senior Editor, Dance/Electronic, Billboard
Breakout With Paul Oakenfold
Building The Next Big DJ
Moderator: Gerry Gerrard, Wired Artist Management
Jauz, Artist
Marshmello, Artist
Matt Rodriguez, VP, West Coast, AM Only
Moe Shalizi, Artist Manager, Red Light Management
Ookay, Artist
Steve Gordon, Owner, Circle Talent Agency
Drugs In Dance Music: It's Time For The Industry To Act
Moderator: Mark Lawrence, Chief Executive, AFEM
Dede Goldsmith, Youth Advocate & President, Protect Our Youth, Inc.
Kevin Kerslake, Filmmaker/Photographer, Director – "As I AM"
Kennedy Jones, Artist
Maren Steiner, Director of Health & Safety, Insomniac
Patt Ochoa, Cofounder & Program Director, Sustain Recovery
Stefanie Jones, Director of Audience Development, Drug Policy Alliance
EDM Is Dead, Long Live EDM! (EDM's Value To Life And Live Events), Nielsen Presentation
Matt Yazge, Director of Brand Partnerships, Nielsen Music
Little Empire And Skylight: Promoting The Future Through Mentorship
Alexandra Greenberg, Senior VP, MSO PR
Christian Karlsson, DJ/Producer Mentor, Bloodshy/Galantis/Miike Snow
Ed Shapiro, Partner, Reed Smith, LLP.
Geronimo, Senior Director of Programming, SiriusXM
Randy Sosin, Senior Vice President, Film & Video Production, Insomniac
Stephanie LaFera, Founder & CEO, Little Empire Music & Co-Founder, SkyLight
Meet The Agency: CAA
Moderator: John Boyle, Chief Growth Officer & Interim CFO, Insomniac
Darryl Eaton, Co-Head of Contemporary Music, North America, CAA
Hunter Williams, Agent, CAA
Jazz Spinder, Agent, CAA
Mac Clark, Agent, CAA
Maria May, Agent, CAA
Rob Light, Managing Partner and Head of Worldwide Music, CAA
Raymond Leon Roker, URB Founder, Opens The URB Archives For The First Time
Resurgence Of Trance
Moderator: Dave Ralph, Head of Talent, Insomniac
Dimitri De Wit, Owner, Twenty4Seven Management
Jeff Ryan, Managing Director of Dreamstate, Insomniac
Markus Schulz, Artist
Paul Oakenfold, Artist
Tim Smeets, David Lewis Productions
Show/Business: Entrepreneurs In Dance Music
Moderator: Justin Spagg, Senior Director of Operations, Insomniac
Ali Shakeri, Cofounder, ToneDen
Amy Pham, DJ, Host, Actress
Brian Lim, CEO/Founder, EmazingLights / iHeartRaves / IntoTheAM
Nick Kneuper, CEO, Electric Styles
Nick Ward, CFO, YourEDM
Success On The Big Screen: EDM Pioneer Junkie XL Makes Hollywood A-List
Moderator: Jason Bentley, Music Director, KCRW
Junkie XL, Artist & Film Composer
What's In A Name?
Rich Thomas, Vice President, Content, Insomniac
Tommie Sunshine, Artist/Activist
More to be announced
5th Annual EDMbiz Artist Panel
* Additional speakers to be announced. All panels and speakers are subject to change.
---
Connect with EDMbiz 2016 on Social Media: