Since 2012, Life in Color quickly established itself as a well-known and fun-filled festival brands under the SFX umbrella. Considered to be one of SFX's most successful event tours, Life in Color has become a global event that attracts people from all walks of life. Everyone is brought together for one common purpose: Unity. Recently, Life in Color's paint cannons focused their cross-hairs on to "The Slaughterhouse" in Tucson, Arizona completely transforming it into this years' "Kingdom" theme.
The Scottish/American EDM duo Focus Fire was the first set of the night, and arguably the most captivating. While tastefully mixing a diverse song selection including many of their own originals, they drew the crowd from the back of the venue and rapidly jam-packed them in a front row dancing frenzy. With their music invoking such a strong feeling of movement, there was not a single person to be found on the dance floor who was standing still. I assumed the crowd would undoubtedly slow down after their original track "Control Freak" ended, but this was not the case. People seemed to continue to dance harder and harder throughout their whole 45 minute set.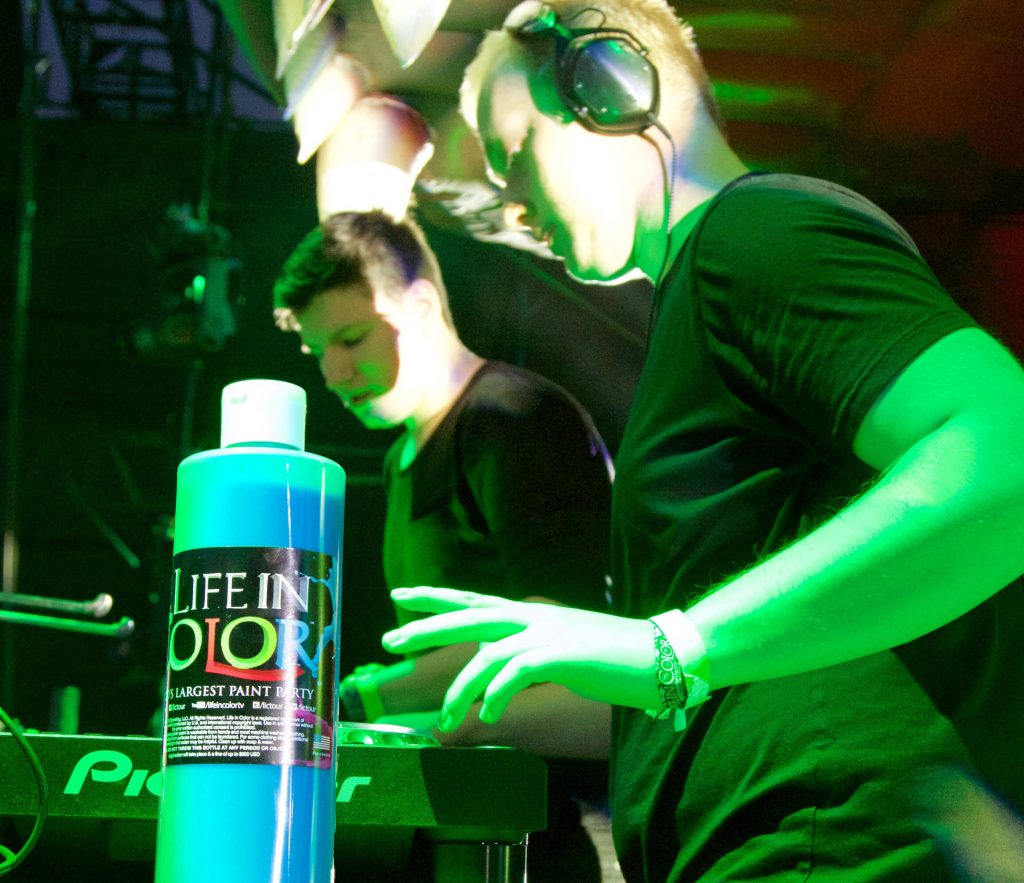 Following the duo, DJ Alexander resumed the show by throwing down a set that touched on different forms of house such as bass, deep, and electro. Next up was a New York based artist, Logan Bohbot. His music started off mellow and shortly began to take on a progressively harder feel, getting the crowd going with some trap and dubstep tracks. Finally the hoses opened up on the crowd and drenched the masses during the "Kingdom Paintblast," while Denver-based duo Basscrooks took the decks.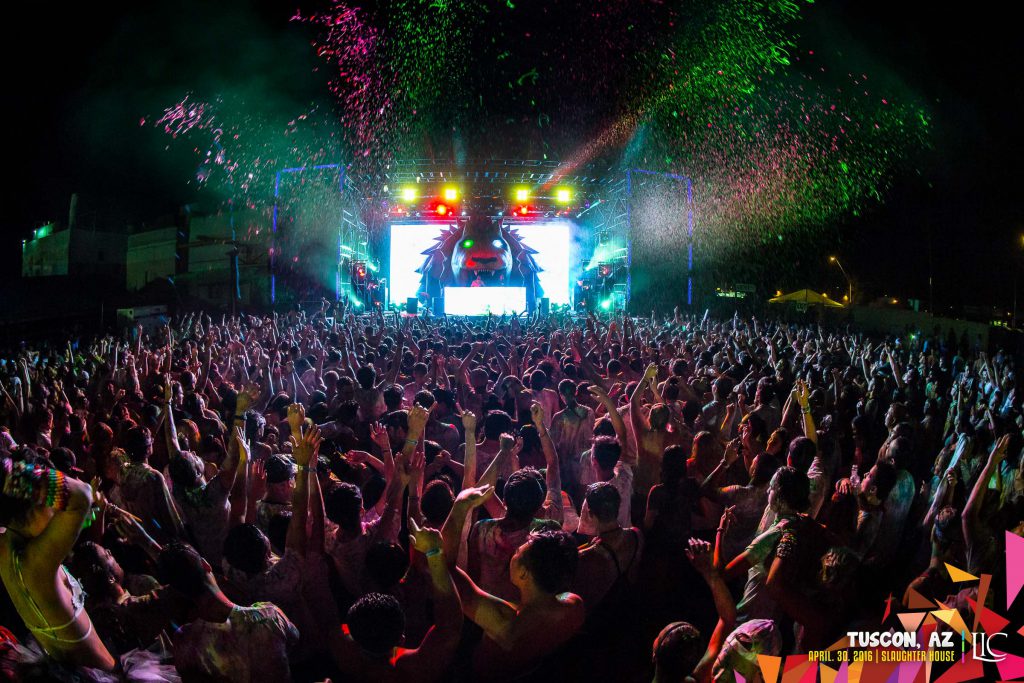 At this point in time, I noticed that house vibe began to diminish as the evening changed to on filled with more bass. Dubstep and trap became the go to genres, providing the crowd with a new source of grime, other than the paint of course. After a set full of what many would consider as "bangers," the long-awaited Lil' Dicky finally emerged from backstage. Having received over a million YouTube views in a mere 24 hour period on his music video for "Ex-Boyfriend," Lil' Dicky acquired a large fan base that exponentially grew overnight. His explosion onto the scene, and unique vibe, caused him to be well-known in both the industry and with fans alike. Obviously excited by his presence, you could hear fans screaming throughout his whole set as people attempted to sing along with his lyrics. After Lil' D "rapped" up, the Life in Color host for the evening appeared on stage to take the "Family Photo," which was essentially a selfie with him and the entire crowd.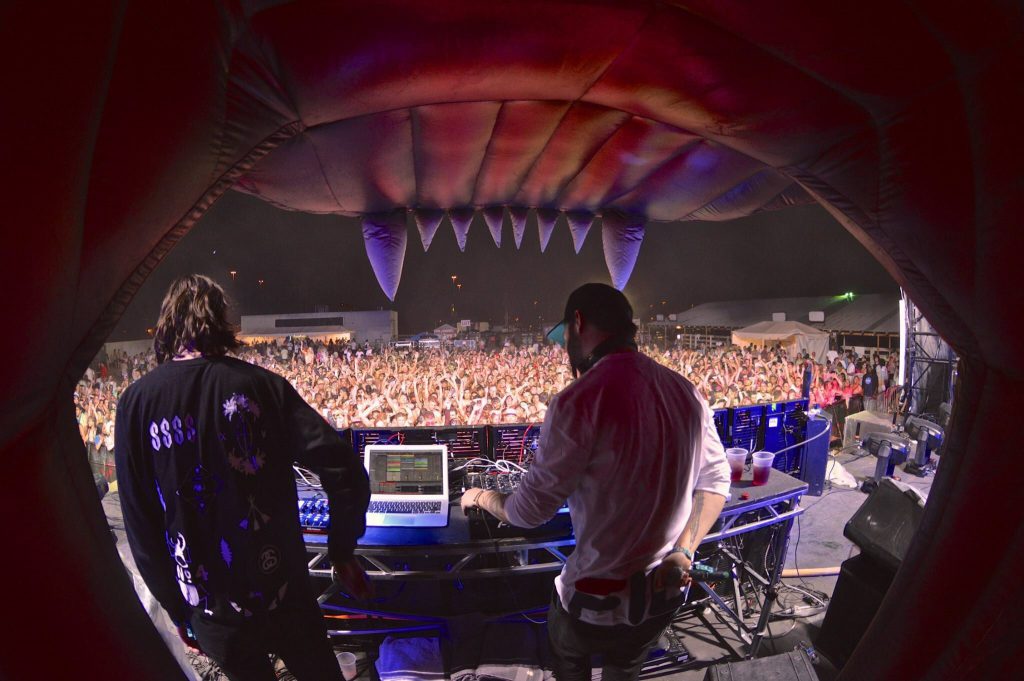 Anticipation was finally put to an end as the Canadian duo, Zeds Dead, began their wonderfully customized closing set. The energy of the crowd became electrified as everyone vibed to the sounds of both their old school classics and new school hits. The music they played brought a feeling of closeness to the crowd at times, but also invoked chaotic head-banging too. I was blown away by the complexity of their set, and it reminded me of my first time seeing them years back. Sadly, the show had to come to an end after their amazing performance. Going with the extravagant theme, Life in Color left fans with a positive closing ceremony. I could tell that this really struck home to some people in crowd. You could see the emotion in their smiles and giant grins as people began to head for the exits. Many attendees left the event with a profound feeling of Unity, many of whom turned strangers into friends over the course of the evening.
I hope that Life in Color will continue to be a prominent festival for many years to come. It brings a unique and carefree vibe while promoting a positive message, and it is definitely not something to miss out on.
---
Follow Life In Color on Social Media:
Website | Facebook | Twitter | Instagram | SoundCloud
Photo Credits: Nikki Fontana/Beachmonkey Photography | Berenator Media