DJ/remixer/producer Dee Jay Silver, is getting ready to perform his unique sound at the ACM Concert For A Cause Festival on April 2 and 3. Throughout the week, aptly named The Week Vegas Goes Country, Silver will also perform at Foxtails on March 31 and Foundry on April 3.  He is also getting ready to re-launch his residency at the Rehab Pool at the Hard Rock Hotel & Casino on April 22, residency at LAX Nightclub beginning Memorial Day weekend and monthly appearances at the Foundation Room.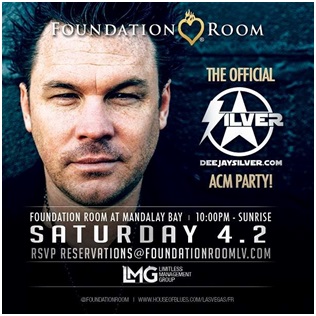 "It's pretty hard nowadays to pioneer a whole new path in any genre of today's music scene. However, Dee Jay Silver is one clever guy…[He has created] a whole new style of mash-ups involving country, pop, rock, and dance hits. Silver's infectious grooves have catapulted him into success beyond most traditional EDM DJs' dreams." –Wendy Geller,  RAMCOUNTRY.YAHOO.COM, 5/4/15
The Nashville-based producer will also be on tour with country superstar, Jason Aldean,  on the We Were Here Tour 2016. 
---
Follow Dee Jay Silver on Social Media: