Our dreams have been full of what is in store at the Coachella Valley Music + Arts Festival this upcoming April. Last year, we brought you a guide with what we considered to be essential camping equipment. We did some research and have some new additions for you in 2016!
The Essential Coachella Camping List 2016 Edition!
---
The Main Essentials:
1)  A tent that will comfortably fit you and your campmates!
People always seem to think that the stated size will fit everyone. From my personal experience, its best to double the occupancy for better space and breathing room. That means if you're going solo, a 1 or 2 person tent is fine (HERE). For 2 people, I'd suggest a 4 person tent (HERE). A 6 person tent (HERE) will fit 3-4 campers, and probably will be maxing out the rest of your camping space at the same time. If you have multiple campsites you can probably grab bigger tents but remember that each spot is only 10'x30′!
Also, make sure your tent bag contains extra Plastic Stakes (HERE) and a Rubber Mallet (HERE) to hold your tent down in windy conditions. The support lines of your tent should be drawn taught and away from the tent at a 45 degree angle, and the pegs are pounded in the opposite 45 degree angle. This reduces the chance of getting them pulled out of the ground during wind gusts.
2) 10×10 straight leg canopy
This will take up a third of your single campsite, the other thirds would be your tent and the car. Straight leg canopies are my personal favorite, but if you can only grab a 12×12 slant leg version, make sure to ask your neighbors if it's cool to invade their camp space a bit. Most people don't care, but it's always polite to ask!
I personally swear by this 10×10, lighted canopy from Coleman (HERE), or a non-lighted version (HERE). If you want to take a cheaper route you can check out this one (HERE).
Here are the rules for canopies that you should all abide by:
STAKE DOWN YOUR CANOPY! – New campers who have never experienced the weather conditions in Indio tend to forget this the most. Every canopy I've ever purchased has a hole at the feet for reinforcing. PLEASE STAKE THEM DOWN. The plastic pegs are sturdy, and will do a great job of keeping that canopy grounded during wind gusts.
TAKE OFF THE CANOPY TOP OR LOWER YOUR CANOPY WHEN YOU LEAVE! – Make sure that whoever is the last to leave the campsite before everyone enters the festival is responsible for taking off or lowering the canopy down. The wind can't catch the canopy if there's nothing there to catch it, right? In the very least its best to lower it so that your chance of it being picked up by the wind is reduced.
If you have the choice of choosing the color of the canopy top, pick black or the darkest color possible. Lighter colors tend to let a fair amount of light through, enough to not really be considered shade sometimes.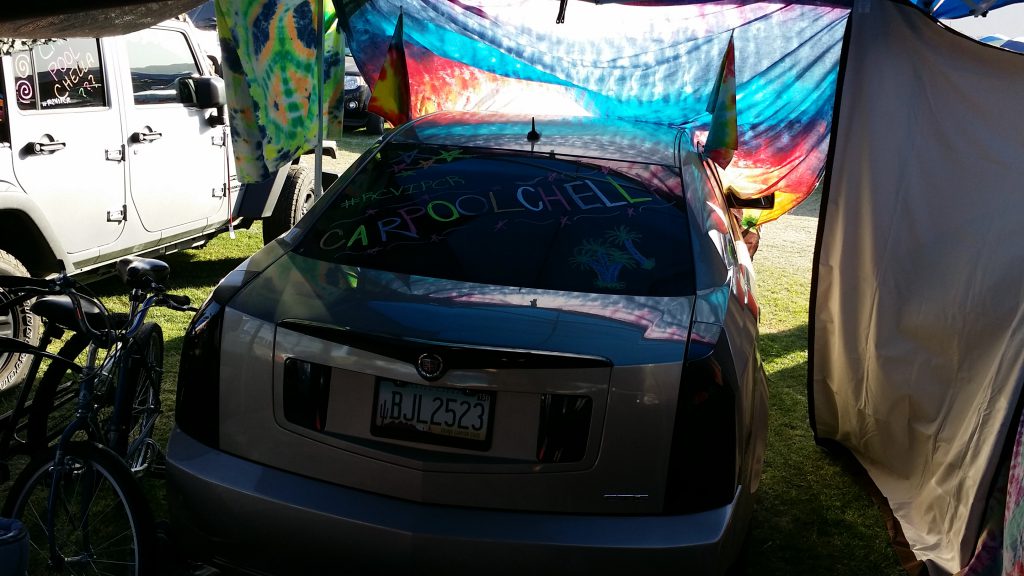 3) An Electric Power Source
Personally, part of the festival for me is about getting lost in the music. While I don't necessarily need to charge my phone or GoPro all the time, its good to bring an external power source just in case you do. Obviously many cars are outfitted with plugs and you can grab AC adapters if you need more juice (HERE). I don't think that your car should take all the brunt of the work though, and there is nothing worse than having to wait around for AAA to come by and jump your car because you forgot to let the motor run for a bit. Speaking of which, JUMPER CABLES (HERE) are highly important!
If you plan on attending many camping festivals, I would highly suggest the Duracell Powerpack Pro 300 (HERE). It can charge via solar panels and will be able to keep your devices running without power. If you don't want to spring for a cheaper power source and just need to charge your cellphone, I'd suggest grabbing the EC Technology 22,400mAH External Battery (HERE) or if you have a newer device grab the Anker Astro E7 (HERE)!
4) Portable Folding Table
You really don't know what you're missing out on if you don't have a table at camp. Whether you're keeping things off the ground, placing your cooler underneath to keep it in the shade, or playing some games, this is one of the most forgotten about essentials at Coachella. You more than likely have a folding table at home to some degree or another, and I would definitely recommend grabbing on if you haven't already. I personally use a card table, but this Stansport Folding Camp Table (HERE) is perfect for Coachella. You can also grab a smaller one (HERE) which is great as well!
5) 5 to 7 Day Cooler
There is nothing worse than a warm beer or soda while its already hot outside. Honestly, cold drinks can become a hot commodity at Coachella so a cooler is a must. Sure, you can grab a Day Cooler if you feel that will work best for you, but why not keep that ice as frozen as possible? That's why I would suggest springing for a cooler rated at a minimum of 5 days. You can check out a top rated wheeled version (HERE) or one without wheels (HERE)!
6) Sleeping Bag (AND PILLOW)!
You want to be as comfortable while sleeping at Coachella as possible. Sure, you sleep in the grass or on the floor of your tent with no padding, but why do that when you could have a better experience? I suggest grabbing a sleeping bag that fits you comfortably, many list the proper height range for each bag so make sure to check the details before you purchase! Here is the sleeping bag that I currently am using for camping festivals (HERE). I also notoriously forget to bring pillows with me, so I'd like to remind you all to bring that too! I bring mine from home when I don't forget, but if you're looking for something more compressed you can grab this one (HERE)
Up your game by springing for an Air Mattress. You can go electric free (HERE) or one that is rechargeable (HERE)!
7) A Towel (or two)
Towels are legitimately the most important thing in my book. You can use it as a blanket, to dry yourself off after a shower, or even use it as shade if need be. I'd suggest picking up at least one or two decent beach towels to use during Coachella (HERE).
8) Folding Chairs
Sitting on the ground sucks, really it does. Get off the ground and get your booty in a seat okay? They take up next to no room and will definitely help your back during the weekend. HERE is a decent one for you that even has a built in cooler!
---
The Non-Essentials (but nice to have):
1) LED Lighting
First and foremost, it can become impossible to find your camp at night so placing these Solar Garden Lights (HERE) towards the street side of your camp will help you find your way. I also like to decorate my camp with some colorful lights at night, you can usually find some pretty cheap ones at dollar stores, but these LED Christmas Lights (HERE) have done me well over the past couple of years. You can also grab some white lights (HERE)!
2) Air Mattress
If you're using a 6 person or smaller tent, you can fit one queen size mattress, or 8+ person, 2 or more queen size mattresses. No one really enjoys sleeping on the ground, and so those who want more support should choose to grab an air mattress or sleeping pad. You can go electric free (HERE) or one that is rechargeable (HERE)!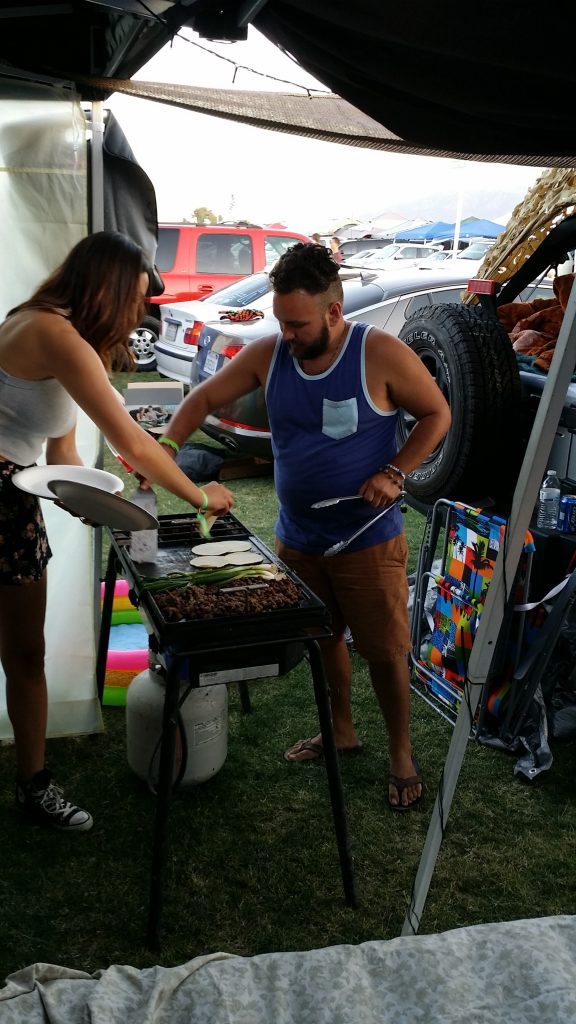 3) Portable Butane Stove
If you want to cook your own food at Coachella and save some money, you're going to need to bring a stove with you! Here is a good, portable butane stove (HERE). It is compact, and the butane cans (HERE) are pretty inexpensive. Make sure to put the stove and butane cans away in the coolest possible place while you're gone, if you need to leave it in your car leave it in the trunk!
4) Extendable Flag Pole (and Stand)
This has been one of the best purchases I've made in a long time. At 14′ you can see the flagpole (HERE) well from the ground, if you feel you need more height you can always spring for a 20′ version. I have found that the 14′ works well enough though. You'll need to attach the flagpole to something, so if you have a strong enough canopy, that can work. I personally prefer to have my flagpole out of my campground for increased visibility so I use this "Under Da Tire" Flagpole Base (HERE). Definitely put a piece of foam or fabric between the car and flagpole so you don't scratch the paint. Looking for a custom flag?
Head over to University Customs to get your favorite unique design printed. Use code "EDMID" for a discount on your purchase!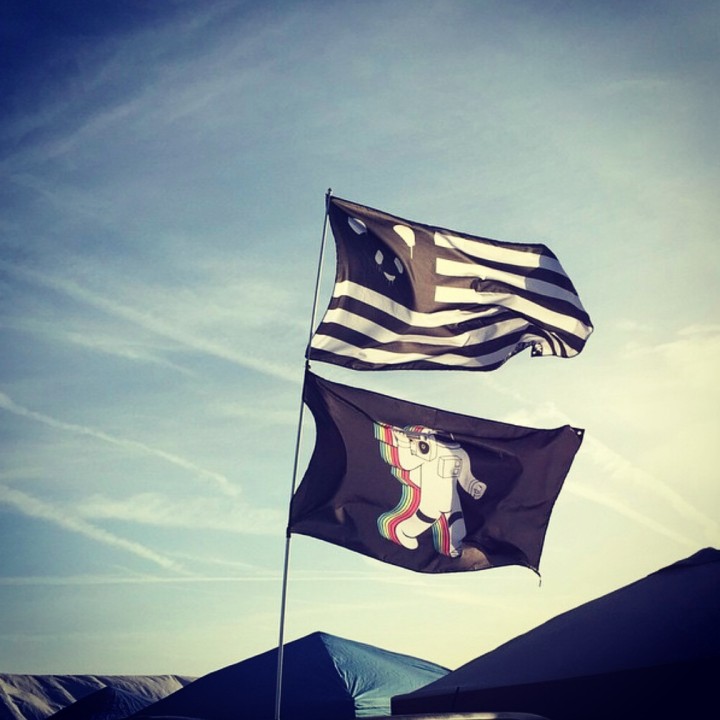 5) Headlamp (or Lantern)
Have you ever attempted to use a porta-potty at night? They can get seriously disgusting and you definitely don't want to be getting any "misses" on your clothes or body. I would highly suggest grabbing a decent headlamp (HERE) or lantern (HERE) so that you don't jump into any gross porta-potties.
6) Tarps, Sheets, or Tapestries
I tend to put a basic tarp (HERE) down underneath my tent, but you can also use them as sides to your canopy to keep the sun out. The added bonus is extra privacy. If you do plan on going the shade route, I'd almost suggest buying a cheap regular sheet to use or get a tapestry with a cool pattern (HERE). Also, make sure to grab some zip-ties (HERE) so that you can hang them properly from your canopy!
7) Inflatable Couch
One of the coolest things I saw last year at Coachella was this inflatable couch from Intex (HERE). It flips out into a queen-sized air mattress so you can use it as both a sitting area and a bed to sleep under the stars! Definitely not an essential but its worth looking into if you like to have some comfort at camp.
---
Looking for our comprehensive Amazon list of essential items? Click HERE!