Ever since OMNIA San Diego has opened its doors, there has been a massive influx of high-profile talent coming through San Diego. Where San Diego once lacked great talent, OMNIA San Diego opened their doors to huge names like Calvin Harris, Tiesto, and many, many more. They also managed to change the way San Diego handles such big names. Most clubbers expect to see their favorite artists perform on Friday and Saturday night slots, but those are usually the most crowded nights, sometimes resulting in a less-than-great experience. When clubs throw major DJs on those nights you end up with an influx of people who have no idea who is even spinning, it can create a negative experience for those who are real fans of an artist.
This is one thing that sets OMNIA San Diego apart from the rest. Every Thursday, OMNIA San Diego opens its doors and brings in some serious talent that you would not be expecting on a Thursday night. Ranging from artists such as Markus Schulz, Above & Beyond, Audien and Slander, to tour stops for labels like Anjunabeats, Thursday nights are definitely the night to be out at OMNIA San Diego, now more than ever. Kicking off the much-anticipated weekend a little bit earlier, Thursday's offer a breath of fresh air for people ready to party while avoiding the Friday and Saturday nightclub goers. The non-weekend night also offers a sense of "Industry Night", displaying outstanding hospitality to the restaurants, bars, hotels, nightclubs, promoters, and all the hard-working people that make this city great.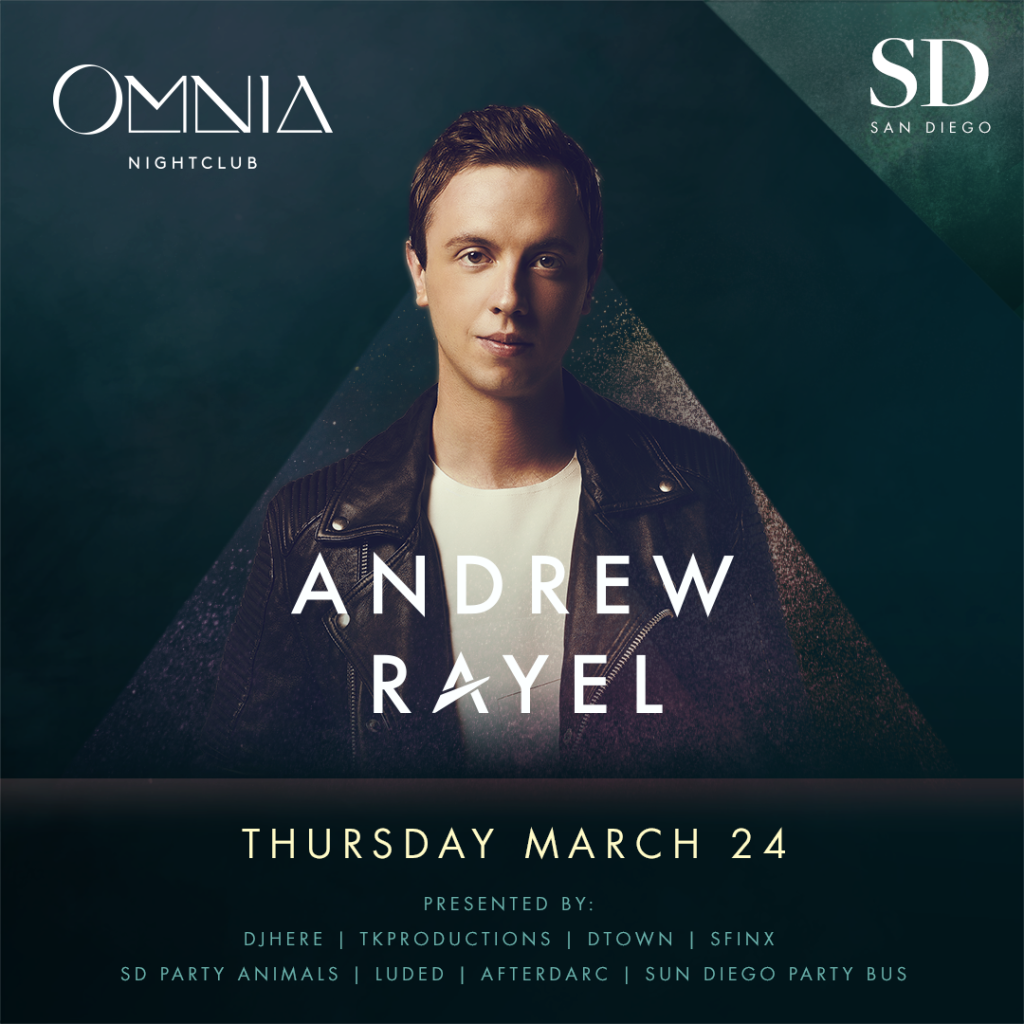 OMNIA San Diego Thursday Night March Lineup:
March 17 – Borgeous
March 24 – Andrew Rayel
March 31 – Cash Cash
Thursdays at OMNIA San Diego are hosted by their team in partnership with other local San Diego marketing and promotional groups. These groups include Five Group, DJhere, TK Productions, Sfinx, Dtown, Luded, SD Party Animals, Afterdarc, and Sun Diego Party Bus. Together, these companies have partnered to bring electronic music lovers not just an amazing time at the club itself, but also transportation to and from the event.
Win 2 Tickets To Andrew Rayel @ OMNIA San Diego
Massive amounts of talent have come through the doors of OMNIA San Diego already, and there is something special occurring on March 24th! Andrew Rayel will be performing that night but there will also be something special for EDM Identity Fans that you do not want to miss. In celebration of our Editor-in-Chief's Birthday at the end of the month, EDM Identity has been providing a guest list for the evening if you plan on being able to make it to the venue before 10:30pm.
You can get put on the EDM Identity Guest List by RSVP'ing on Facebook and following the instructions.
Can't make it before the Guest List cut-off? Click HERE to purchase a ticket!
---
About Five Group:
Five Group is the brainchild of five successful, San Diego based entrepreneurs who share a unique vision and passion for the nightlife and entertainment industry. After working as both collaborators and competitors for more than a decade, DJhere Productions, DTown Productions, SFiNX Productions, and TK Productions, began talks of consolidating resources and streamlining backend efforts resulting in each brand to be managed by their newly created parent company "Five Marketing & Management, Inc." also known as Five Group. With their combined resources and knowledge of the industry, Five Group brings renewed focus, innovation, versatility and efficiency of service to our clients.
About Luded Inc:
Luded has thrived since entering their Thursday night partnership with Five Group and Omnia San Diego. Since entering the San Diego nightlife scene 3 years ago, Luded has quickly built a solid reputation for themselves; having held weekly partnerships are nearly all of the top nightclubs in the Gaslamp. The thing that sets Luded apart from others is their clear-cut focus on the North County San Diego demographic. Their goal from the beginning has been to provide California State University, San Marcos college students an opportunity to get "IncLuded" with downtown San Diego's nightlife – and they have succeeded. 2016 brought the launch of www.ludedinc.com, which offers bus transportation packages and detailed information on all their events.