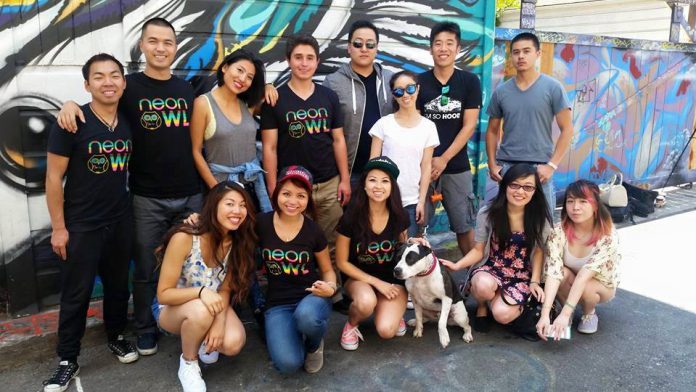 Lately there has been a plethora of negativity surrounding the EDM community – gossip, accidental overdoses, scammers, theft, etc. It's not often that you see a company or person exuding as much positivity as SF Bay Area based Neon Owl and its creator Elaine Huang.
Founded in 2015, Neon Owl is a community that connects people through music, passion, and giving back. They emphasize living a life with both compassion and boldness, while also following your dreams. No matter what background you're from, Neon Owl wholeheartedly believes that music is the universal language that connects us all. This is the commonality that allows people of our community to come together to have an amazing time and relate on a deeper level.
The reason why I wanted highlight Neon Owl is because they're making an honest effort to make a difference. This is apparent by the charisma of its founder Elaine Huang, whose events and line of clothes benefit charitable causes. Each item she creates is meant to make a positive impact, which is why its my pleasure to pick the mind of Neon Owl's creator Elaine Huang.
---
What sparked the idea to create Neon Owl?
I had been heavily attending festivals for a few years already, and loved meeting new people all the time. I was working a successful job as VP and making more money each year, but not feeling more satisfaction along with it. In fact, I was starting to question whether being in sales had taken away from my creative side, and whether that accomplished career was bringing me closer or further from my version of success and happiness. I realized that I wanted to create more, challenge myself more, and do something that wasn't just financially rewarding, but emotionally rewarding. Since I had been going to so many festivals, I was constantly looking for cool gear purchase for raves, but not exactly the tutus and furry sock things. So my brother and I also started designing and printing our own shirts for our whole crew to wear, which gained popularity from random ravers who would ask to buy them. One of the designs we created was for Andrew Rayel, and that one gained the most attention. People from Malaysia, Canada, and all over the U.S. would want them or ask for our permission to print them. We would just give them away for free, but it made me realize that I could create something so much more out of it. The dance music culture was all about PLUR and good vibes. I wanted to be able to bring that beyond the festivals and into every day life. I started thinking of ways I could impact the world in a positive way through the universal language of music. It started off as an idea for a clothing line, but evolved into a media company and lifestyle brand.
What is the meaning behind the name Neon Owl?
Haha. A lot of people ask me that, and I actually tell them that it doesn't go as deep as I do (lol). I've always loved owls, and happen to be a night owl myself. Owls are nocturnal, and so is the music scene. I'm super drawn to bright flamboyant colors, because it really makes things come to life. It reminds me of the festival scene, and makes a screaming statement as well. Neon Owl is about being lively, non-stop, free-spirited, adventurous, loving, and fun. There's no crazy formula to it but me putting those two words together. 🙂
Who or what inspired you to leave your day job as a VP and pursue your passion full-time?
I was moving up in the company and creating a name for myself in my last industry, but something didn't feel right. I was a 27-year-old VP about to make partner as my next step. It was a great opportunity when I took it on 4 years back, but I felt that staying any longer would mean that I wasn't being truly honest with myself. I asked myself what I would gain if I stayed, and it would be prestige, money, and probably bragging rights for my parents. I then asked myself if I would be satisfied with my life and achievements if I were to die 2 years from now. It may sound like a dark thought, but it came from a place of complete honesty and self-reflection, which I feel most people neglect themselves of nowadays. We get so caught up with the comfortable, the bills, and our lifestyles that we aren't honest about our deepest desires and our wildest dreams. I realized that if I were to die 2 years from now, I would want to have impacted the world in a positive way, created something of my own that was close to my heart, or die trying. I knew that I didn't want to have regrets about not chasing my dreams or experiencing the world freely. I did freak out about the money part for a second, but money will always be an excuse to not take the chance. The more money we make, the more financial burdens we take on, so I decided that I wasn't going to let that be a deciding factor for me anymore. Making money is easy, as anyone could do it. It is having the guts to create something out of our dreams that takes much more courage, and that's what pushed me to dive into the deep end.
What was your first and your favorite EDM event you've attended?
My first EDM event was EDC 2013. I had been listening to some electronic music before then, but that was my first ever festival. I was completely mind blown to step into what appeared to be another universe. I couldn't believe the production, the art, the culture, the outfits, and the way that people treated one another. It was absolutely indescribable, and it was also the moment I fell in complete love with the music and the culture. I have attended hundreds of events since, but EDC will always hold a special place in my heart. Another event that I really enjoy is Coachella because the vibe is a lot more laid back and the music is more diverse. We got to meet a ton of people camping all weekend, and KYGO's set during that event was the best live set I have ever experienced.
What's the most insane moment you've experienced at an event?
The most euphoric set I have ever experienced was when KYGO closed out Coachella weekend 1 2015. I was completely sober but his music, the atmosphere, and the moment made me feel like I was high on cloud 9. Another insane moment (marking myself as the insane one) was when I jumped myself onto stage after Andrew Rayel's set at Pure Lounge back in November 2014. Everyone looked at me like "who the hell is this crazy bitch," but it was the first time I handed him a Rayel Family shirt. Fast forward 15 months later, we're working on a special project together. 🙂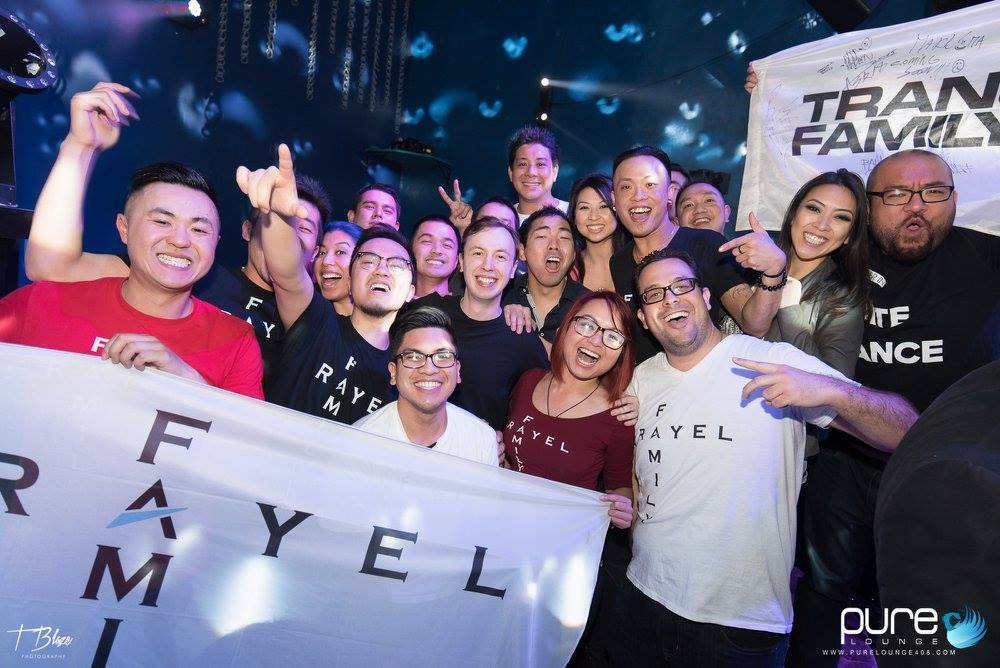 What is it about the EDM community that keeps you coming back for more? And what have you learned?
The dance music community is like no other. It's one that is very accepting. It doesn't matter who you are, what your occupation is, where you're from, or how much you make. When you enter the rave community, you get to be the boldest and freest version of yourself. People are accepting, loving, non-judgemental, bold and free. I've learned that a lot of people consider these festivals to be their homes and their rave families to be their actual families. That is great, but I've also learned that it can be brought to life into our everyday lives. That's why I created Neon Owl and that's why I keep coming back. I want to inspire others to live their everyday lives as if they were at a music festival.
What motivated you to create your own clothing line for Neon Owl?
As mentioned earlier, I wanted to create something that I would rock at festivals, events, and in my day-to-day. EDM as an industry has become so commercialized with ton of money being made. Yet I feel that there is such a big opportunity to give back, but not too many companies out there doing it (props to Electric Family). I created the clothing line because I want people to represent what we stand for, which is to dance, give, and inspire.
What do you think sets Neon Owl apart from other companies?
From day one, I knew that I wanted to bring more positivity to not only the dance music industry, but into the world as well. I vouched to myself that I would never generate content in exchange for a following if it was going to be surrounding negativity, drama, and gossip. Neon Owl focuses on positivity, inspiration, passion, and giving back. We may tell the stories of struggles, but only to inspire. As much as gossip and brainless entertainment may generate a ton of hits, you won't find any of that here. Our mission is to support the stars of tomorrow, inspire others to follow their dreams, and give back to charities around the world.
What are a few organizations and charities you are passionate about and why?
Pencils of Promise (education for kids in third world countries)
Generosity (building wells for clean water in third world countries)
Fender Music Foundation (saving music programs in schools for kids and teens)
Doctors Without Borders (emergency health care in times of crisis)
We have worked with 3 of the above charities so far, but constantly looking for more that we can impact. We are passionate about providing basic human needs and resources for the less fortunate, helping youth at risks, veterans, animals, among other causes. If anyone has a charity that is close to their heart and feel like we can impact, feel free to reach out to us!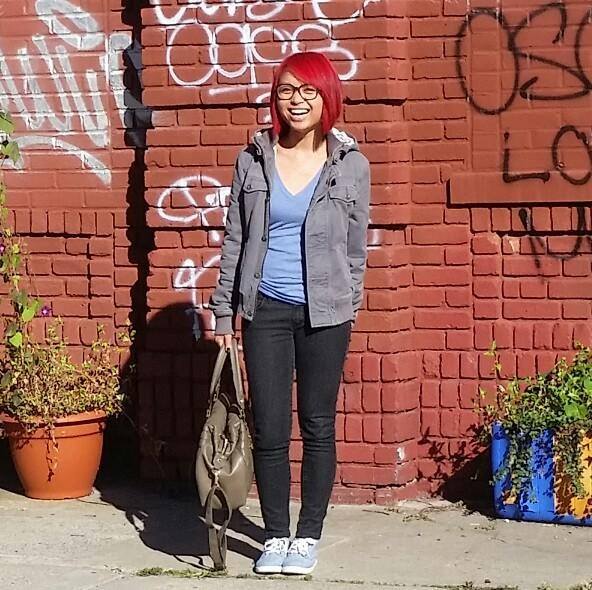 What can we expect from Neon Owl in the future?
Everyone can expect for us to continue spreading good vibes, creating original content, promoting dope artists, and growing the Neon Owl family. We're super excited to launch our 100% charity line supporting generosity.org this spring, and we are working on a pretty big show and expo for the fall. Prepare to see more collaborations, projects, and of course world domination. Just kidding, but not really. I'd love to create a platform where I can bridge the gap with some much-needed tools for aspiring musicians and entrepreneurs within the industry. My dream is to host huge festivals for good causes and even start our own charity. Lastly, I want to continue to inspire the evolution of more purpose driven projects and people.
And lastly, how can people get involved with Neon Owl?
We have been so blessed that many of you guys have reached out letting us know that you love what we're about, wanting to get involved. We would love your help in spreading the word on Neon Owl, sharing our content, representing our brand, rocking our merch, and of course supporting the artists that we support. We are always looking for great artists, charities and companies to partner up with. We're open to collaborating on cool projects together that will add more value into the industry and the world. Don't be a stranger, because we love meeting new people, and you ever know what the future may hold! HOOT HOOT!
---
Follow Elaine Huang & Neon Owl on Social Media:
Facebook | Twitter | Instagram | Website | Snapchat: neonowlco