Well we definitely can say the writing was on the wall for this breaking news. It's official as of this morning that TomorrowWorld will not be returning this year. After SFX's recent filing for bankruptcy and the disaster of 2015, this comes as no surprise. The news comes after the announcement that Beatport will be put up for auction. Earlier this year, ID&T also announced that Tomorrowland would be returning to Boom, Belgium, but that the state of the US festival was uncertain.
The official announcement video and statement can be found below.
Official Statement from TomorrowWorld
Dear Friends,

It's with a heavy heart that we inform you, TomorrowWorld will not take place in 2016. Unfortunately in the current environment, it is not possible to give you the best and unique experience you deserve.
We will miss seeing each other in September and experiencing the magic of TomorrowWorld as one. You, the People of Tomorrow, the foundation of TomorrowWorld, are our inspiration.

Let's lock and cherish all the magnificent memories in our hearts, this is not farewell…

TomorrowWorld
Official Cancellation Notice On Facebook: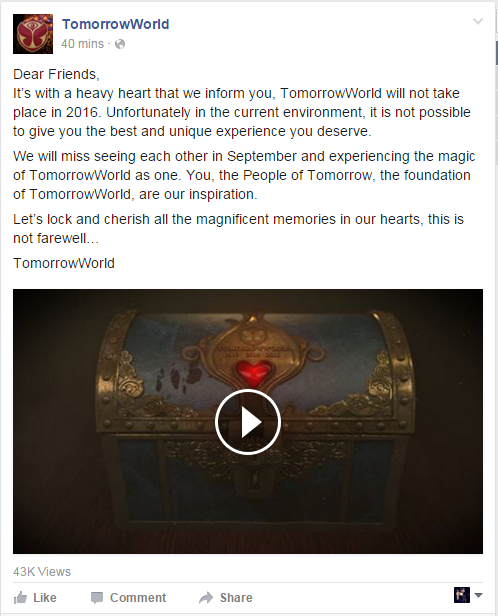 What is your reaction to the news of TW? Let us know in the comments!