With Okeechobee Music and Arts Festival less than a week away, I've compiled essential information to make your weekend as successful as possible. I believe that the mobile app is a MUST HAVE if you're attending. You can download it on Android or iOS! Search for "Okeechobee" in your app store.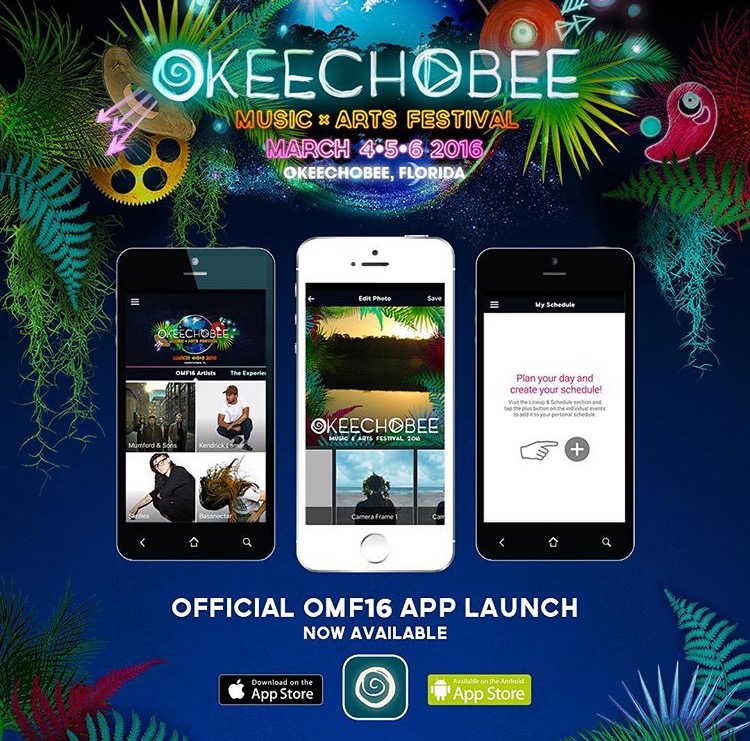 Tickets are still available. Single day tickets will NOT be available for purchase. Click here to purchase tickets.
---
F.A.Q.
Festival Location: Okeechobee's Sunshine Grove, 12517 NE 91st Avenue Okeechobee, FL 34972
Festival Hours:

The Grove – Friday – Sunday: 12:00pm – 3:00am except Sunday at 12:30am
Jungle 51 – Thursday, Friday & Saturday: 9:00pm – 9:00am, Sunday 2:00pm – 2:00am
Aquachobee – Thursday 5:00pm – 9:00pm, Friday – Sunday: 9:00am – 9:00pm
ChobeeWobee Village – Friday – Sunday: 9:00 am – 6:00 pm

Bring your wristband and a government-issued ID that contains your picture and birthday.

Re-entry is allowed. In and Outs allowed.

ATMs, 21+ bars, food, beverage, merchandise, a general store, among other shops will be on festival grounds (see map below).

Festival is all ages, as long as minors are with a responsible adult.
---
Weather
Weather forecast for Thursday, March 3 through Sunday, March 6 will be ranging with highs in the mid to upper 70's with lows ranging in the mid to upper 50s. Partly cloudy, no rain insight. So be sure to dress accordingly.  Now keep in mind that this is Florida (especially south Florida) and the weather can change any minute.
---
Official Maps

---
Parking
Parking is included in all 4-Day & 3-day passes.
Accessible parking / camping is available with Government Issued License Plate, Hang-tag or Placard.
If you are camping, you may park your vehicle next to your tent.
For commuters and non campers, there is a "Day Parking Lot" available for your car, which is included in the ticket price. You may enter and exit the festival daily as needed.
Only Cars, Trucks, SUVs & Vans will be allowed to park in the campsite. Any other vehicles will be required to purchase either a "GA RV Parking Pass", "VIP RV Parking Pass", or "GA RV + Companion Pass".
Once you are parked in your camping ground, we recommend you to stay there till you are to leave at the end of the festival. While we will do our best to provide everything you might need or dream of at Okeechobee we do understand that sometimes you need to leave with your car and come back. In those rare occurrences you will be allowed to leave and return with your car, but do realize that this causes traffic and makes everyone's experience more challenging.
---
Lockers
It is not mentioned on the official Okeechobee website if lockers will be available or not.
---
Acceptable Items for Okeechobee Music and Arts Festival:
Your own Tent and Camping Gear
Blanket / Sleeping Bag
Towel
Toiletries (Soap, Shampoo, Toothpaste, biodegradable if possible 😉 )
Water or Refillable Water Container
Cash for Food vendors
Non Alcoholic Beverages (not in glass containers)
Alcoholic Beverages, if you are +21 (not in glass containers)
Cell Phone / Cell Phone Charger/ Extra battery packs
Sunscreen
Yoga Mat
Camera / GoPro
Ear plugs
Wet Wipes (Trust us on this one)
Towel(s)
Sunglasses
Hammock
Cooler / Ice
Prohibited Items for Okeechobee Music and Arts Festival:
Drones / Aircraft
CHARCOAL GRILLS
Drugs / & Drug Paraphernalia
Kegs & more than: 2 cases of beer (no glass), 2 Boxes of wine, and 1.75 Liters of hard alcohol (per car)
Fireworks / Explosives / Road Flares
Glass Bottles / Cans / Jars
Guns (Toy or Real) / Knifes / Weapons of any kind
Pets / Animals
Scooters / Skateboards
Professional Zoom Camera Lenses
Professional Video Equipment
We prefer you do not bring disposable plastic water bottles, but please DO bring reusable ones!
---
Set Times
Okeechobee set times are also listed online or through the OMF16 App.
Thursday, March 3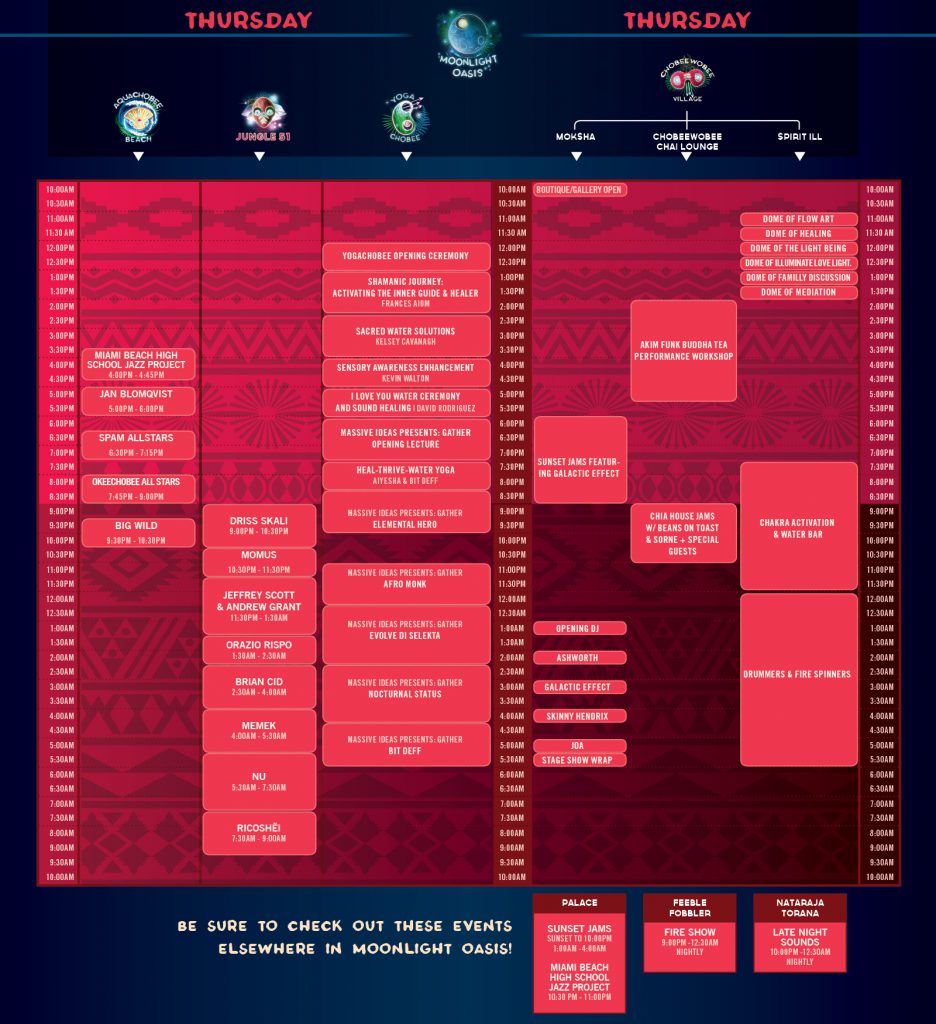 Friday, March 4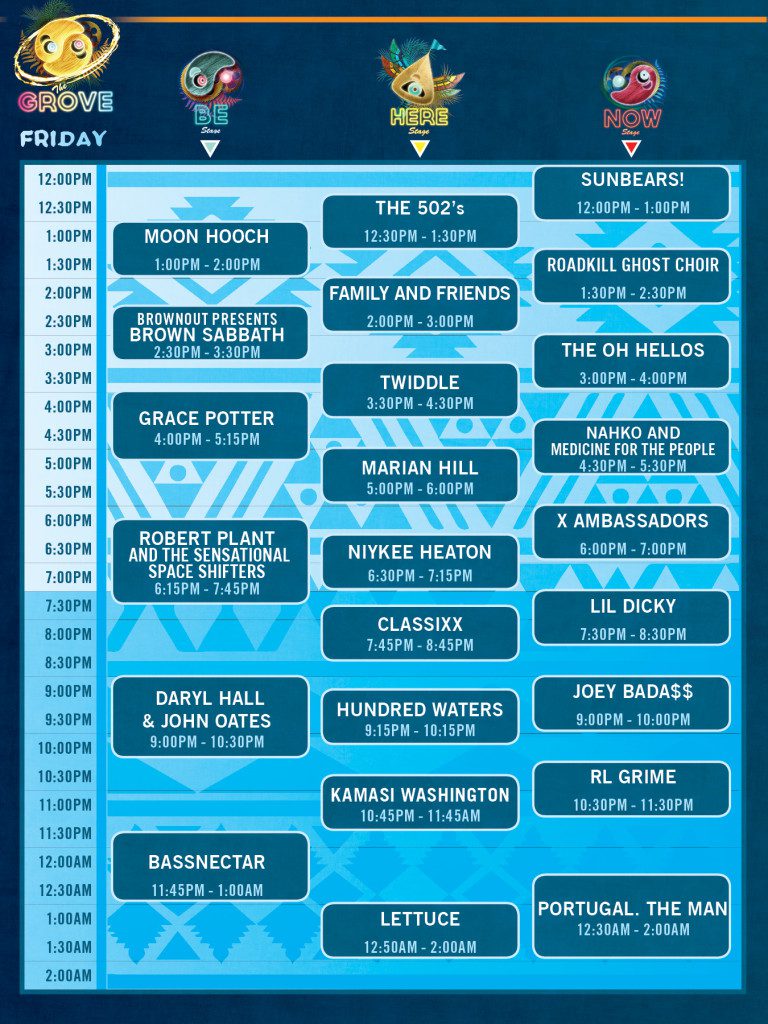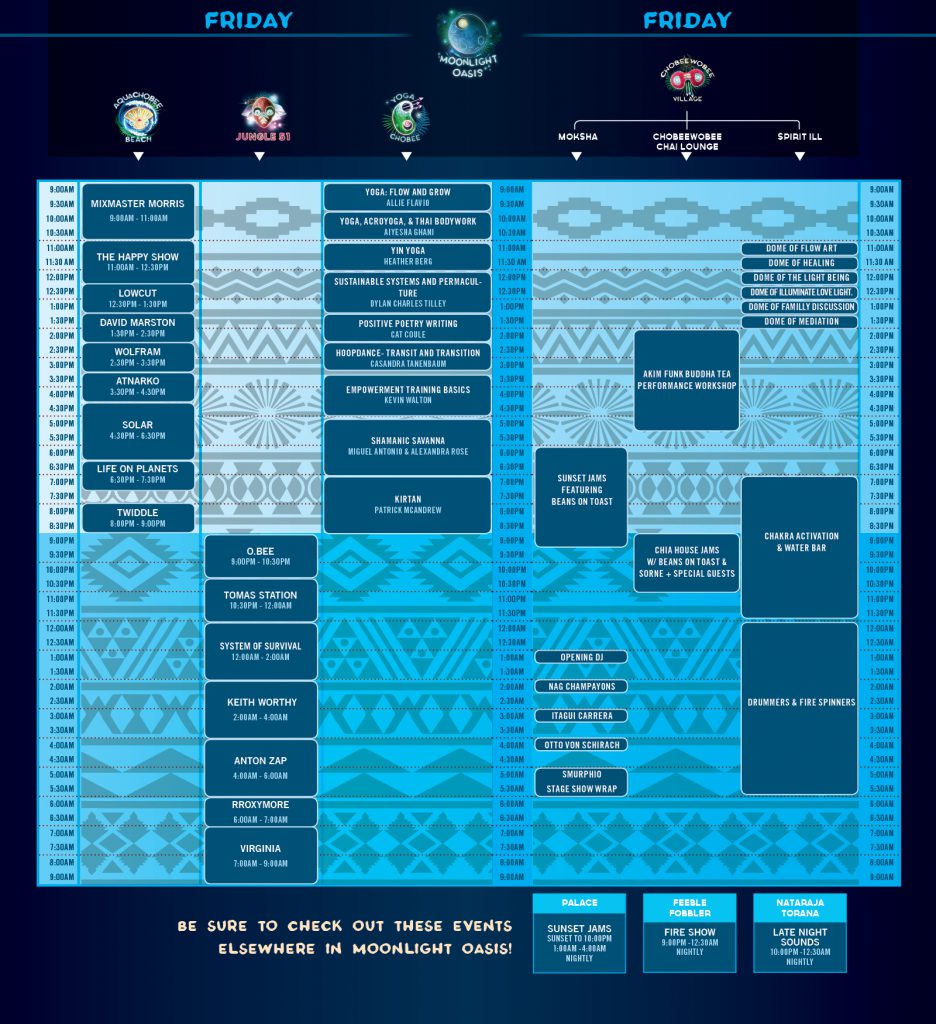 Saturday, March 5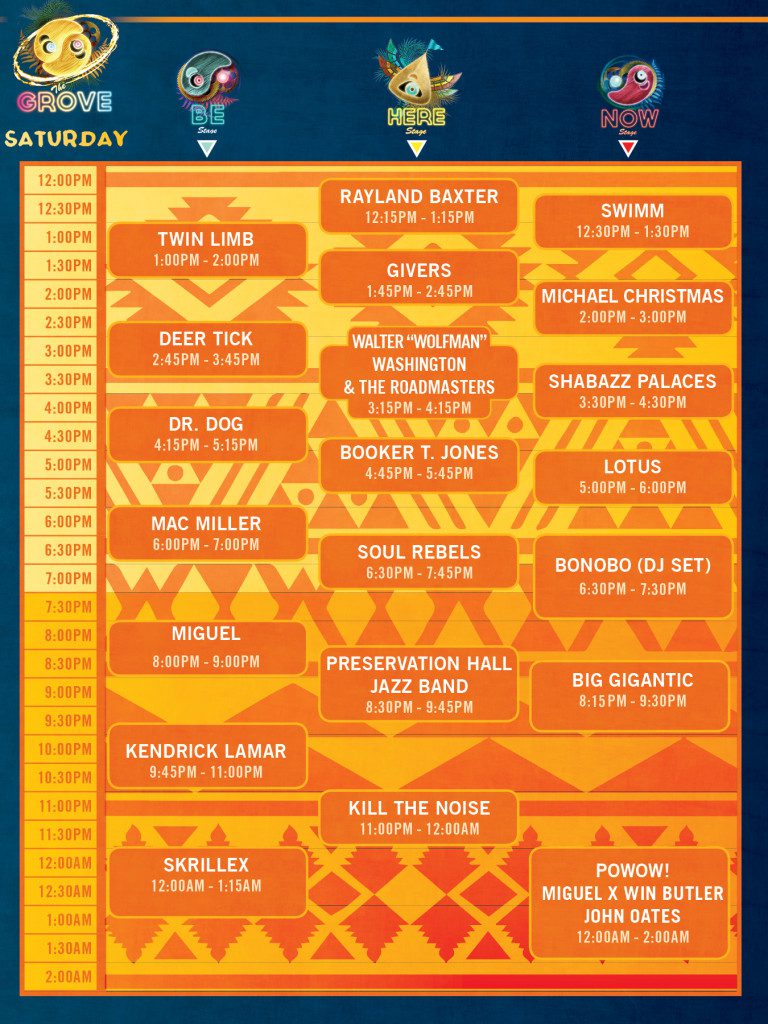 Sunday, March 6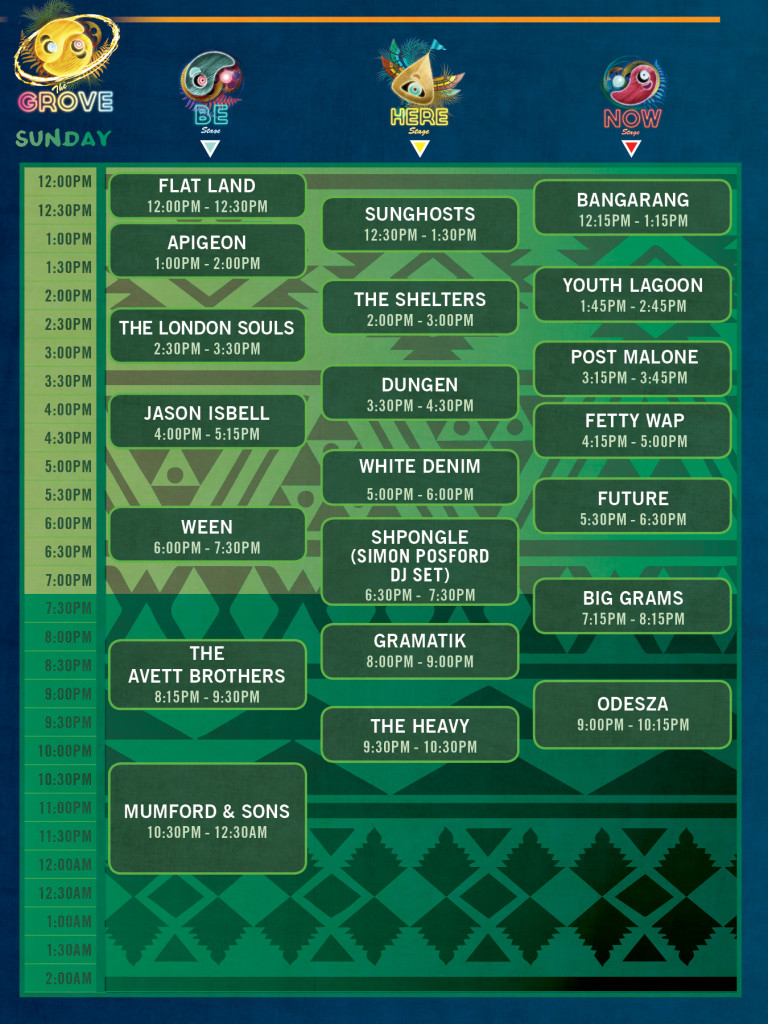 ---
Totems
There are really no guidelines for totems.  However, seeing that this will not be your normal festival, I wouldn't suggest bringing them. They might allow them in camping but no guarantees on inside the festival.
---
I'm extremely excited to see what Okeechobee brings to the table since this is the first year they are doing this festival. Based off of what they have released already, it's going to be one not to miss. There will even be something for everyone.  An old-fashioned swimming hole, with a stage nearby.  Aliens in Jungle 51. The experience will definitely be one to remember. Stepping out of my comfort zone, and going to a really relaxed festival. Can't wait!!! We are so close to #entertheportal!!!