EDC New York's impressive lineup is sure to draw NYC locals, east coasters, and plenty of out of town headliners for two nights under the electric sky at Citi Field.
NYC is a densely populated area that may seem confusing to navigate and getting in and out of the city as well as getting around it can seem overwhelming, but transportation in NYC is actually quite easy.
There are three airports in the NYC Area: LaGuardia (A), JKF (B), Newark (C). Although it is not as convenient, many people fly into Newark Airport since there are more flights to there than the others, tickets tend to be cheaper and there are plenty of hotels of all price ranges nearby. However, if you are staying near Newark Airport, you will need to take a PATH train to Manhattan from Newark in order to get to Citi Field, and it's a pretty long trip. Hotels near JFK or LGA will be much closer to the trains to access Citi field, LGA being the closest.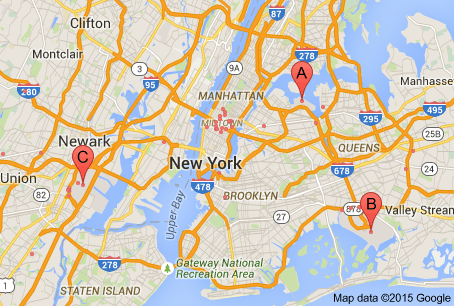 If you are staying in Manhattan, from EWR (Newark) you can take NJ Transit to both Grand Central and Penn Stations. Taxis or Ubers from these airports to Manhattan are generally about 40-60 dollars.
Because of easy access to trains, sights to see, places to eat and shop and hotels from reasonably priced to luxury, many tourists from out of town stay in Midtown Manhattan or Times Square, near Grand Central, Penn Stations and PATH (Port Authority Trans-Hudson). This area would be a good choice for you if you wanted to do other sightseeing besides EDC NY, and it's also very easy to get to Citi Field from here.
In order to get around NYC by using the MTA Subway, you will first need a Metro Card. These can be purchased at airports, train stations, and even many convenience stores. You have an option to add a dollar amount value or unlimited time for a day or week. A single ride is $1.50 and 3 day / weekly / monthly. The app iTrans NYC is very useful and can help you plan your trips step by step.
Midtown is a popular tourist destination and is near the 7 train which will take you to Citi Field. If you are not staying in Midtown or Times Square, there are plenty of affordable hotels near Citi Field and nearby airports as well.
Wherever you choose to rest your head, New York City is a fun place to stay!
For updates and announcements on EDC New York 2016, please visit HERE and follow EDC NY on Facebook, Twitter, and Instagram!