deadmau5's independent label, mau5trap, has announced the 'mau5hax Bus Tour'! Starting on Thursday, February 25 in Toronto and finishing up in Miami, this tour is sure to be a one of a kind and a great way to gear up for Miami Music Week! Headliners for this tour are: ATTLAS, Matt Lange, REZZ, Steve Duda and a special guest to be announced soon.
Tickets Available: HERE
The mau5trap bus has a revolutionary feature that no other tour bus has ever had! The artists will be able to make music on the road between sets, thanks to the Solid State Logic-endorsed mobile recording area on the bus!! The tour will also visit the mau5trap mastermind himself, deadmau5, for in-person collaborations. Thanks to the mobile recording studio, these guys get to work on more and more tracks while they are traveling to their next city! There definitely won't be the same show twice on this tour!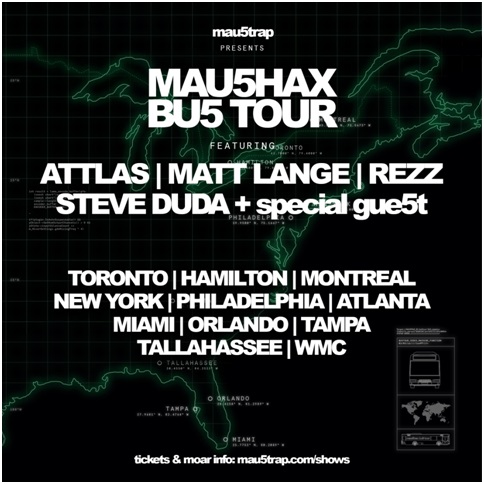 Get to know the Lineup!
The mau5hax tour is bringing some really talented mau5trap artists along for this experience!
The mysterious ATTLAS is notorious for his dark, atmospheric productions, best experienced with his two latest EPs for mau5trap: Sin and Scene.
DJ Matt Lange is a Los Angeles based producer dedicated to creative and immaculate musicianship. This progressive/ dark techno artist consistently exceeds expectations; as evidenced by his first album – 'Emphemera'.
REZZ (who recently had an exclusive Q&A with us recently) has been making waves over the past few months, sharing the stage with so many great artists and playing at amazing events all over! The pony-tailed princess of Dark Techno is a heavily sought after act and she does not disappoint! Our favorite track from her from her 'The Silence is Deafening' EP has to be "Methodology"
Steve Duda is a veteran in the scene, with almost 30 years worth of performances under his belt. He also collabs with the mau5 himself as well as part of the duo BSOD. One of the most talented performers in the scene, he focuses on sequencing his own tracks in real time, live performances via custom technology and providing unique experiences at each and every show!
Catch the mau5hax Bus Tour in the following cities:
| | | | |
| --- | --- | --- | --- |
| Date | | City | Venue |
| Thu | 2/25 | Toronto, ON | Uniun |
| Fri | 2/26 | Hamilton, ON | Club 77 |
| Sat | 2/27 | Montreal, QC | Theatre Berri |
| Mon | 2/29 | New York, NY | Output |
| Tue | 3/1 | Philadelphia, PA | Rumor |
| Tue | 3/8 | Atlanta, GA | Opera |
| Thu | 3/10 | Miami, FL | LIV |
| Fri | 3/11 | Orlando, FL | Gilt Nightclub |
| Sun | 3/13 | Tampa, FL | Amphitheater |
| Mon | 3/14 | Tallahassee, FL | Tabu |
| Sun | 3/20 | Miami, FL | mau5trap after-party @ Treehouse |
Tickets for mau5hax Bus Tour are available: HERE