Straight from Los Angeles, CA, DIM MAK's Greatest Hits 2015: Remixes album presents a selection of the best remixed tracks to come off the label from last year. This collection includes everything from progressive and electro to trap and dancehall. You'll find featured artists like Keys N Krates, The Bloody Beetroots, Chris Lorenzo, Nom De Strip, Yellow Claw, Autoerotique, Lil Jon and many more! Dim Mak's 'Greatest Hits 2015: Remixes' showcases what the label can successfully do – put  fresh spins on proven releases. Alongside these tracks are several previously unreleased tracks like the JiKay remix of Keys N Krates' breakthrough banger 'Dum Dee Dum' and amazing productions from Panic City, Max Styler, and Steve Aoki.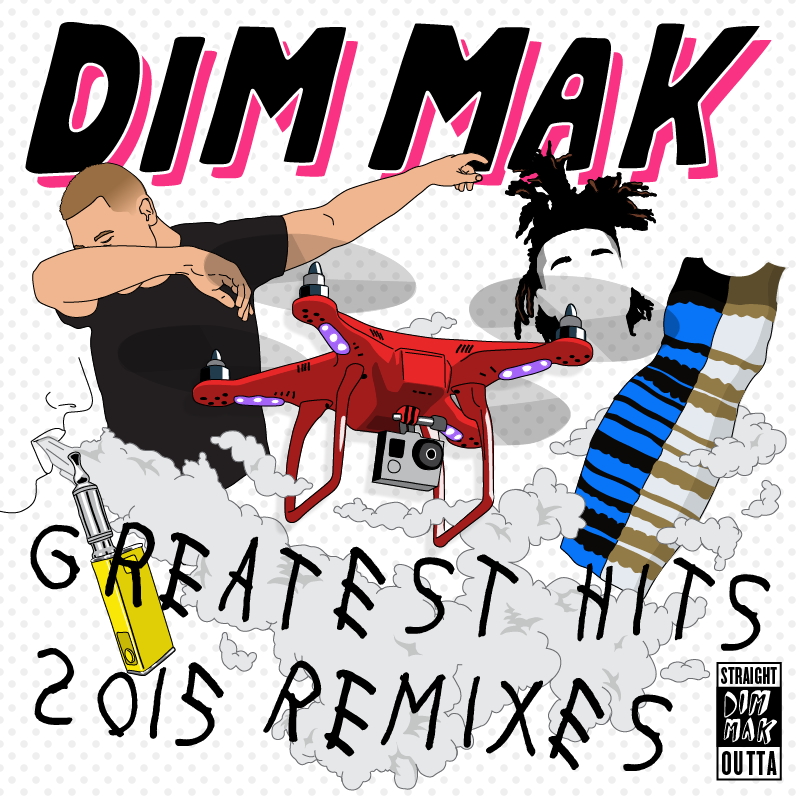 Stream DIM MAK – 2015 Greatest Hits Remixes via Spotify:
Track list:
Autoerotique & Max Styler – Badman (Torro Torro Remix)
Keys N Krates – Dum Dee Dum (JiKay Remix)
Yellow Claw & Cesqeaux – Legends (feat. Kalibwoy) [Sudden Beatz Remix
Max Styler & Charlie Darker – D2B (Steve Aoki Remix)
Crookers – I Just Can't (feat. Jeremih) [Chris Lorenzo Remix]
Little Boots – No Pressure (Vicetone Remix)
Botnek – Tremors (feat. Go Comet!) [Kill FM Remix]
Lil Jon – Get Loose (Garmiani Remix)
Blasterjaxx – Forever (feat. Courtney Janaé) [Caked Up Remix]
Dirtyphonics & UZ – Hustle Hard (feat. Trinidad Jame$) [Habstrakt Remix]
Keys N Krates – Save Me (feat. Katy B) [Naderi Remix]
Shift K3Y & Born Dirty – Misbehave (Panic City Remix)
Florian Picasso – The Shape (Steve Aoki Edit)
Chocolate Puma – Rubberband Lazer (feat. Maikal X) [Skitzofrenix Remix]
Garmiani – Zaza (WRECKVGE Remix)
SBCR – SPIDER (Ricky Mears Remix)
Nom De Strip – Bad Things (Max Styler Remix)
New World Sound & Reece Low – Bounce That (Trifo & Tyron Hapi Remix)
BOTH – Straight Outta Line (PeaceTreaty Remix)
FIGHT CLVB – #SUS (feat. Carly Burns) [Retrohandz Remix]
Uberjak'd & Reece Low – BLTR (Wongo Remix)
Swanky Tunes – Skin & Bones (feat. Christian Burns) [Zeskullz Remix]
Giraffage & Viceroy – Impression of You (feat. Patrick Baker) [Electric Mantis Remix]
---
To learn more about Dim Mak:
Facebook | Twitter | SoundCloud.