It's official – for the second year running Envision Festival is sold out! With almost 3 weeks left before the gates open, GA tickets are no longer available for international travelers for Envision 2016.
However, if you're still dying for a mid-winter festival escape, there may be hope for you! Limited tickets are still up for grabs for Envision 2016 with the purchase of a VIP package, or if included with the Post-Envision tour package. If you're a resident of Costa Rica, then you've got nothing to worry about; tickets are still available for purchase (and at reduced cost – lucky you!).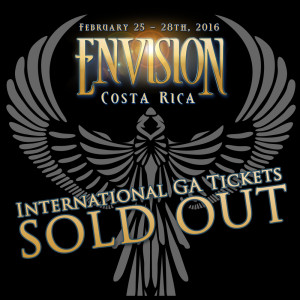 Envision Festival runs from February 25th-28th in the beautiful coastal town of Uvita, Costa Rica. Nestled in the rain forest, but just steps away from breathtaking beaches and sunsets, Envision is a perfect destination for a mid-winter retreat. In addition to music from the likes of Shpongle, Beats Antique, and M.A.N.D.Y, a wide range of workshops and yoga seminars are offered throughout the venue. Envision is sure to be the transformational event of a lifetime.
VIP Packages and Envision Tours are still available at this time on the Envision website.
For more information about Envision 2016:
Click HERE!