When most event attendees see the Bixel Boys on the lineup, they resort to phrases such as openers, short set times, etc. Well that may be and for good reason. They are underdogs and underrated. Why sell out to the mainstream when you can keep it simple, make money, and stick to your roots? Ian McPherson and Robert May are the golden boys of SoCal. Known to play old school tracks from the 80's and drop recent dirty hip hop samples into their mixes. Along with the great sets, the also have been generous enough to market a clothing line with charitable ties under the moniker #FREELIFE in collaboration with Youth Machine. There are #FREELIFE jerseys everywhere. Worn by concert goers and celebrities alike. Whether you're a fan or not, attending a Bixel Boys set can be mind blowing and take you back to what veteran music enthusiasts call the good 'ol days.
Freelife Takeover of Avalon Hollywood Lineup: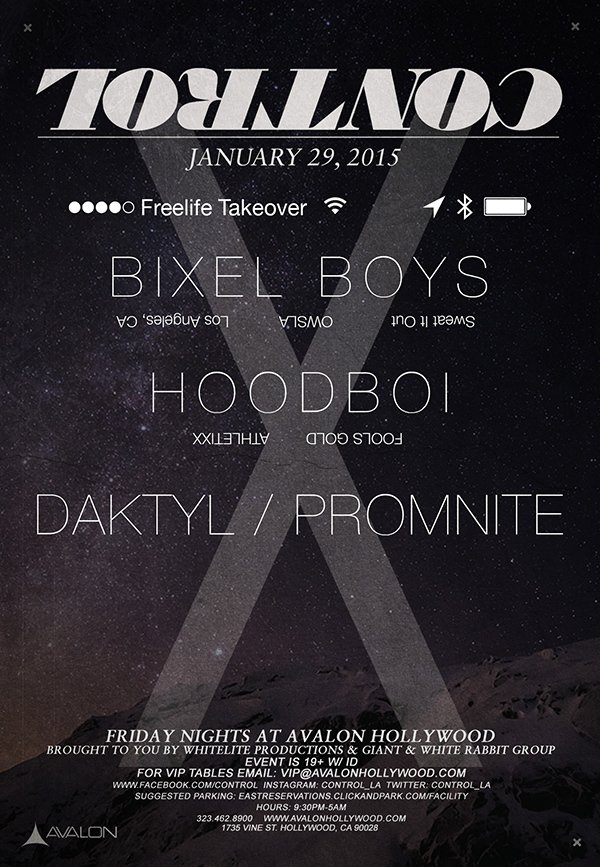 Keeping that local 90's sound alive is Hoodboi, an LA based DJ/producer has been knocking out sets left and right for the last two years. Roger started Athletixx, which is a collaboration with another fellow DJ on this event roster. Promite, who brings that East Coast Jungle Vibe to the table. Daktyl, is a one diverse musician. A DJ with UK roots and the ability to use his multi instrumental talents to add to his magical remixes. Last but not least, Sam Hiller, the Control resident DJ with Open to Close duties. It's going to be a long but gracious journey.
Tickets are still available by clicking HERE!