With Life in Color Miami 2016 fast approaching, I've compiled essential information to make your weekend as successful as possible.
The mobile app is a MUST have if you're attending. You can download it on Android or iOS!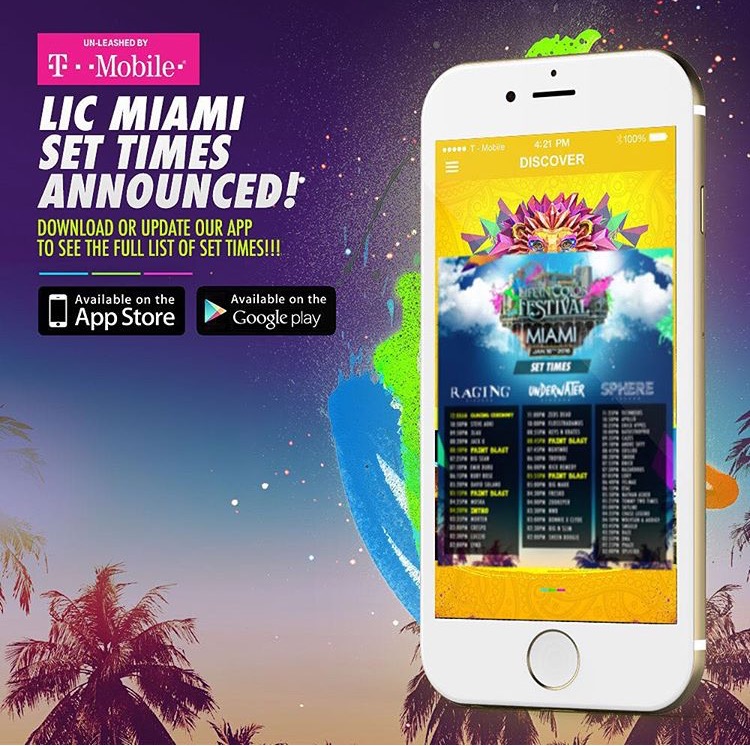 Tickets are still available. Click here to purchase tickets.
F.A.Q.
Festival Location: Sunlife Stadium, 347 Don Shula Drive, Miami Gardens, FL 33056
Festival hours: are Saturday, January 16, 2016
Bring your ticket and a government-issued ID that contains your picture and birthday.
Re-entry is not allowed. No ins-and-outs.
ATMs, 21+ bars, food, beverage, and a general store will be on festival grounds (see map below).
Festival is 16+
Weather
Weather forecast for Saturday, January 16 will be sunny during the day, highs in the upper 70s.  Night will be mostly cloudy with a small percent chance of rain, with lows in the mid 60s.
Official Map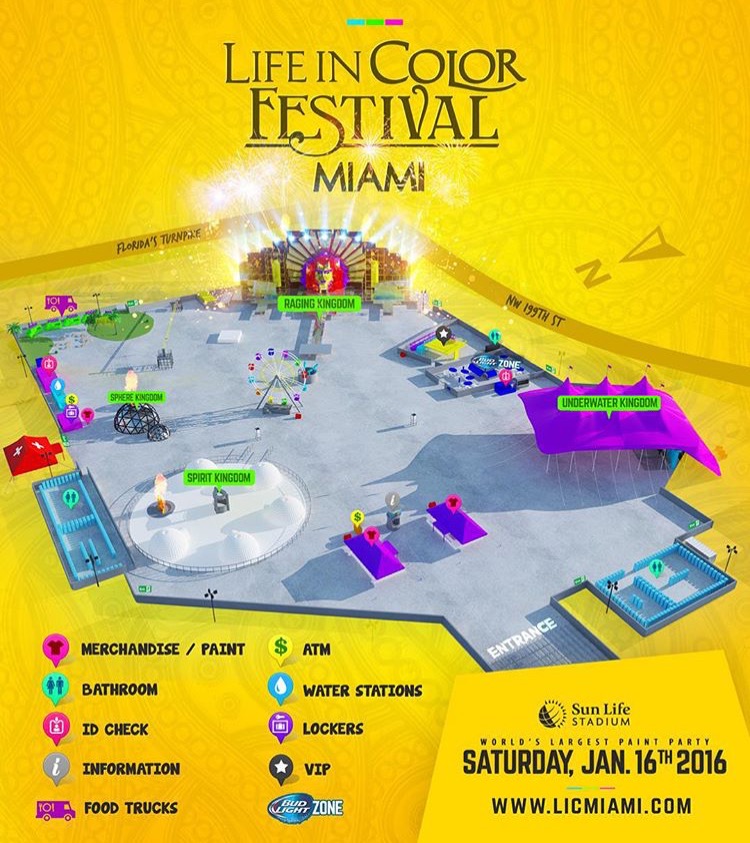 Parking
We suggest carpooling or taking an Uber/Lyft. LIC has not released prices for parking on-site. It will probably be around $15-20 at least.
Lockers
Lockers are a safe and secure way to secure your belongings during the festival. The lockers are about 12″ x 12″ x 18″. Each locker includes a charging unit for iPhone/Android. One day locker rental is $18. Rent one here.
Acceptable Items for Life In Color Miami 2016

| | |
| --- | --- |
| · Small bags, single compartment backpacks, plush backpacks, & purses (maximum 12″×12″) | · Glowsticks & glowing/illuminated costumes or jewelry |
| · Official LIC water bottles—must be empty upon entry | · Sealed packs of gum |
| · CamelBaks with no more than two main compartments and one smaller compartment—must be empty upon entry | · Prescription medication (must show physician's prescription and consult with a safety officer upon entry) |
| · Cell phones | · Hula hoops (including led hoops), LED Gloves/Poi |
| · Fanny packs | · Inflatables (as long as they are deflated upon entry) |
| · Sunglasses & hats | · Banners or handmade signs (no corporate/company branded and no hard flag poles) |
| · Lighters and sealed packs of cigarettes | · Festival totems or decorated pool noodles (see TOTEM GUIDELINES below) |
| · Earplugs | · Non-professional flash/still cameras, handheld video devices under 6" (sony action cam, GoPro, etc.), and GoPro extendable poles |
| · Sealed lip balm & gloss | ·  Single-use/disposable E-cigs or vapes that do not have refillable liquid chambers |
| · Powder makeup and sealed tampons | |
Prohibited Items for LIC 2016

| | |
| --- | --- |
| · Pets (except service animals with current rabies certification) | · Fireworks, Flammable productos or materials and sprays, Fire making materials other than matches and lighters, Projectile or explosives in solid, liquid or gaseous forms |
| · Grills, tanks (propane, nitrous and the like) | · Dust masks |
| · Food and drink purchased from outside the event | · Chinese lanterns, Lawn chairs |
| · Glass in any form | · Unsealed tampons, opened cigarettes, marker pens, laser pointers, |
| · Illegal drugs, paraphernalia, prescription drugs without a valid prescription with the holder's name clearly listed or that are being shared with others and other products that are being used or may be used for an unitended purpose | · Musical instruments |
| · Vitamins, prescriptions or eye drops in unsealed containers | · Professional and non-personal radios and walkie-talkies |
| · Deodorant or perfume in big bottles or sprays (cosmetics which are a normal shape and size are allowed – max size 3oz/90mL) | · Stuffed animals or dolls, pacifiers, water guns and misters, spray paint |
| · Any apparatus (umbrella, sunshade, tripod for cameras, walking canes) considered dangerous by the security services to other festival goers may be refused (this may include selfie sticks/go pro extensions); Any item that can be used as a means to disturb the peace, endanger the safety of the crowd and/or inflict damage to people and goods in the sole discretion of security personnel. | · Any weapons or dangerous, knives, sharp objects or bruising object which could be used as a weapon (sticks, chains, stabbing or thrust weapons and the like) |
| · Motorcycles, ATVs or golf carts | · Professional cameras (those with detachable lens), drones, recording equipment |
| · Any materials that could be used for vending or solicitation, stickers, flyers and posters | · Large backpacks or coolers |
Set Times
Life In Color Miami set times are also listed online or through the LIC Miami App.
Totem Guidelines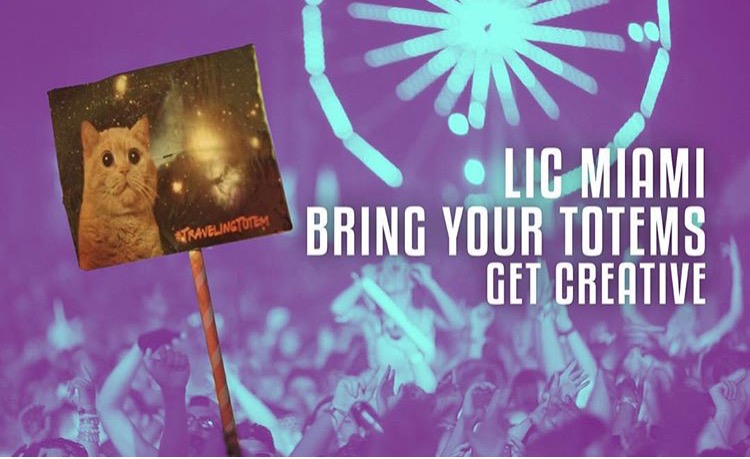 Totems will be allowed this year at LIC Miami, so be sure to read the rules below and showcase your totems.
| | |
| --- | --- |
| · Maximum height of 6 feet tall | · Totems must be made from a lightweight material (Foam/PVC. NO SOLID METAL) |
| · Decorated Pool Noodles work great for easy entrance through security | · Inflatables attached to totems must by deflated upon entry |
| · Collapsible/Telescoping camera extenders are NOT allowed | · Security is permitted to deny any item they don't deem fit |
I'm extremely excited to see what Life in Color brings to the table with Kingdom.  Based off of what they have released already, its going to be different than past years.  There will even be some new additions this year such as a Kandi making area sponsored by Kandi Addiction, a tribal glow body paint area, among other things.  Can't wait!!! We are so close!! After all our kingdom awaits!!!