Life in Color Festival Guide
For those who have never been to Life in Color Miami, I have created a guide of what to expect when attending this unique festival.
What to Bring
Identification:
It is important that you bring a Government Issued photo ID.  Acceptable forms include: State Issued Driver's License or Identification Card, Passport, or Military Issued ID.  Unacceptable forms include, but are not limited to: School ID, Birth Certificate, any photo copied government IDs, Social Security Card, and Voter Registration.  If you have the correct acceptable form of ID, it will save you a huge headache trying to retrieve the correct form.
Ticket:
Be sure not to forget a print out of your ticket.  It is always worth it to print out a hard copy of your ticket since they may not accept a digital form on your phone.  If you haven't bought your tickets already, visit here to purchase them.
Hydration:
I can't stress this enough.  Invest in a hydration pack such as a Camelbak or water bottle at the festival.  Most, if not all, music festivals provide free water sources.  All you have to do is bring in an empty bottle or Camelbak.  I bring a Camelbak to any music festival and also use it partially as a bag too. A single compartment hydration pack usually runs for around $25-35.  It is well worth it!
Money/Cards:
I try to keep this at a minimum because usually the farther you go into the crowd, the more likely you are get pit pocketed. Lets face it, no one wants to get robbed, but it is a common occurrence unfortunately.  This is why I usually keep my valuables close to me in something such as a fanny pack. I usually don't bring my entire wallet – only what I need.
Phone:
Keep in mind this is a huge paint party. There is a possibility you may get drenched in paint.  LIC encourages attendees to take pictures to showcase your experience, however, even in their bylaws they do not take responsibility if any of your electronics get ruined by the paint and they will not replace them.
Ziplock Bags:
This is a lifesaver.  I usually bring two or three ziplock sandwich bags.  One for my phone, one for my ID/Cards/Money, and a few extras.  This will help protect your valuables from the paint or getting wet.
What to Wear:
I enjoy this festival because they recommend that you wear all white.  After all, you are considered as the canvas.  I highly recommend that you go simplistic.  Don't wear anything you won't mind getting ruined by the paint.  Be sure to leave any elaborate costumes such as Deadmau5 heads or anything of that nature at home.  You don't want your investment to get ruined by the paint. Your fellow ravers do wear kandi to this event, however, please keep in mind there will be paint and you may get drenched in it.
 What to Expect:
For those that have never been, Life in Color is always an interesting experience.  Paint is available for sale inside the venue, and usually the first timers are the ones that purchase this and go crazy with plastering their friends with paint and unexpecting strangers.  Don't get mad or angry, after all you're at a paint party – expect it. Lockers are also available at the event at an extra cost if you don't want anything to get covered in paint or if you wish to charge your phone (if you didn't bring a portable charger).  If you don't want to go hard in the paint, you can always stay towards the back. However, be cautious of where you stand in the back as well because they will have back cannons.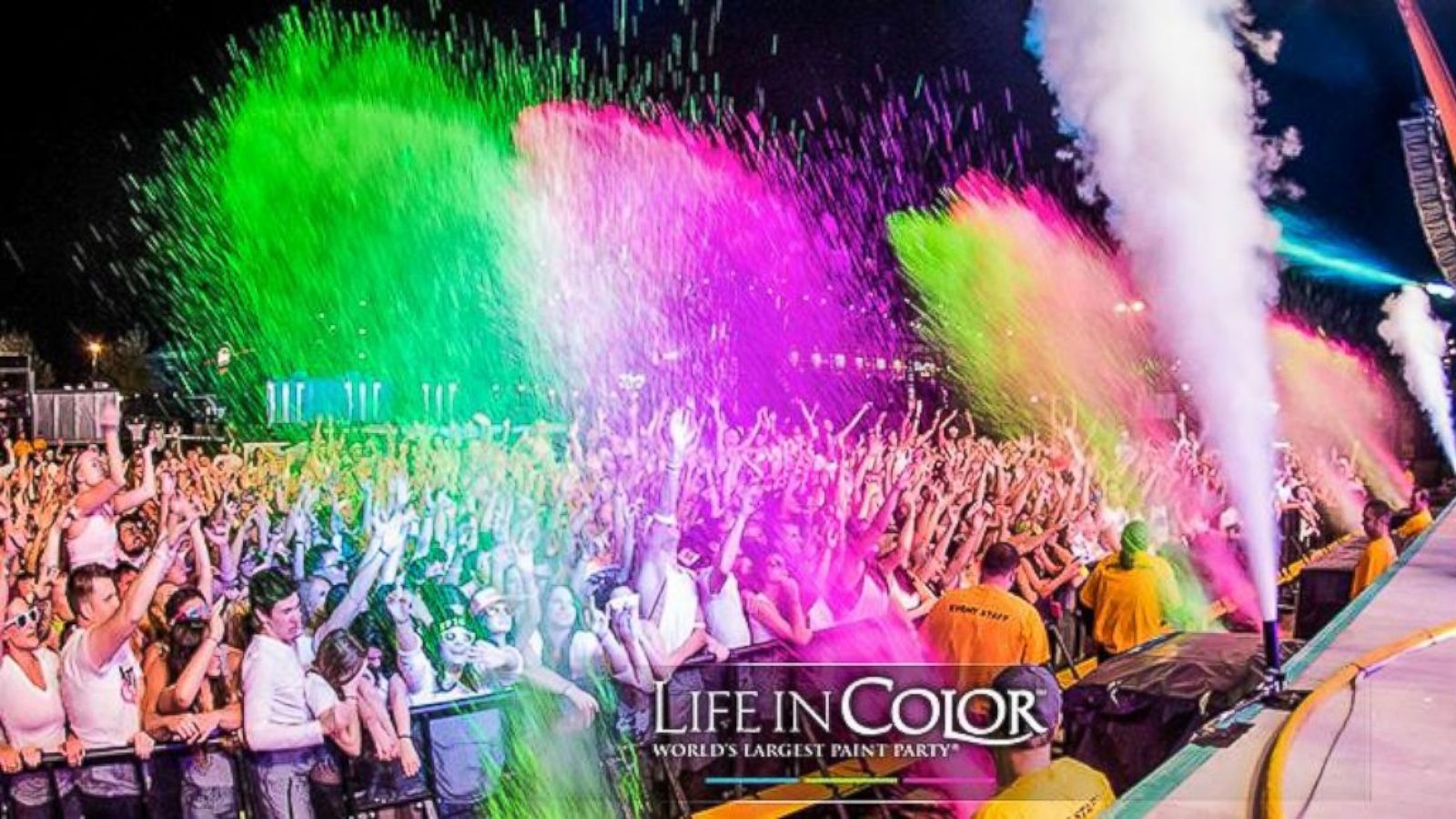 For this event, it is 16+, so please be aware of your surroundings.  Both young and old – respect each other. Everyone is there for one thing – the music.
As we get closer to the event, I will be posting another article about the essentials, which will have much more information regarding the event.  See you soon!