Dillon Francis is hosting his 4th annual Weekend of IDGAFOS with 3 days at the Shrine Expo Hall in Los Angeles starting December 17th. Anyone who's seen his live sets or follows him on Snapchat and instagram knows that he brings a constant stream of ridiculousness everywhere he goes. If you haven't been blessed with his presence, here's a quick rundown: Dillon Francis plays moombathon, loves making pho (the Vietnamese soup dish), and pushes the boundaries of  everything in life.
Check out his video for Bruk Bruk (I Need Your Lovin):
His Weekend of IDGAFOS event will bring out some interesting names this year as well. Between the 3 days, there is an array of artists including: T-Pain, ilovemakonnen, Branchez, Party Favor, Ape Drums, Valentino Khan, Anna Lunoe, Stooki Sound, Nadastrom and Neo Fresco. (DJ Hanzel has not been confirmed or denied at this time, he seems more preoccupied with interviewing other DJ's than making music lately)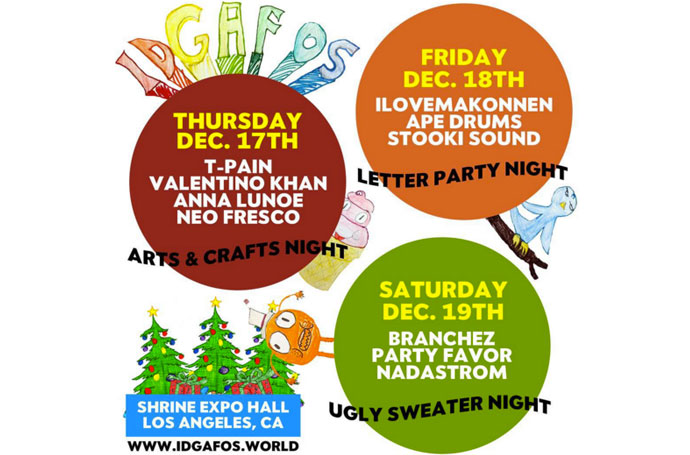 This event is also bringing themes this year, with very little details given at this point as to what exactly will be entailed with the themes. Night one will feature arts and crafts. Night two will have a letter party. Night three you are expected to bring your ugliest of sweaters. If you are in need of an ugly sweater, may I recommend?
Need a ticket for IDGAFOS?
Tickets are available HERE
To enjoy more and more mind-blowing videos, click HERE
EDMID will be present at this event, so if you go, be sure to say hello and share your experiences with us!