Magic In The Making's Winter Raverday is happening in just a few days, and we are super excited to be attending this two-day spectacular at the happiest place on earth.
If you are not a Cast Member or Annual Passholder for the Disney Parks, single day tickets are available for $99.00(or $140 for parkhopper) through Disney's website (Southern California people get a discount). This is a two day event so you will either need to buy a 2-day ticket or an annual pass. I would highly suggest purchasing a Deluxe Pass if you are a Disney Fan and plan on going more than four times in a year. Click here to purchase tickets/passes.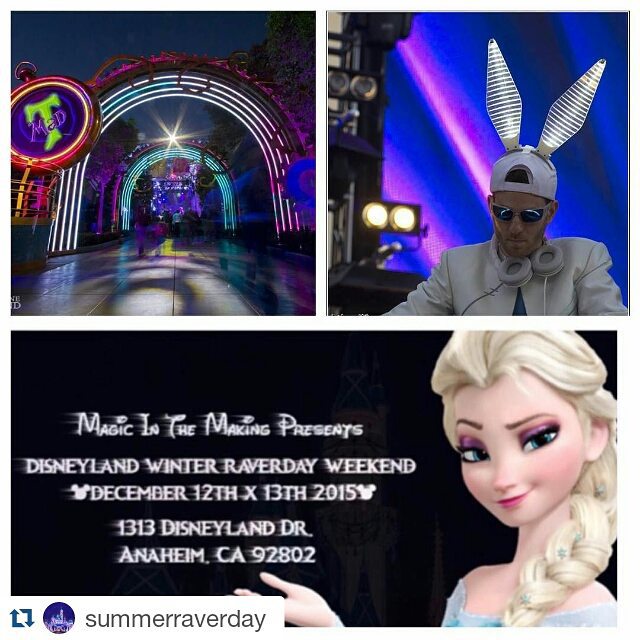 F.A.Q.
Disneyland Winter Raver Day will be taking place at both Disneyland and California Adventure.
Park Hours are 8:00a.m. – 12:00a.m.
Bring your ticket.
Re-entry is allowed.
ATMs, various merchandise locations located throughout the park (there is not any specific raver day merch available).
Event is open to all ages.
NO DRUGS!!!
PLEASE dress accordingly. Children and families will be present. Rave attire is encouraged but keep it clean ladies and gentlemen.
Parking
Parking for Disneyland/California Adventure is handled mostly by the Mickey & Friends Parking Garage, but also expands to other lots when the park is busy. Parking costs about $20 if you are not a Premium Passholder. Parking is free for Premium Annual Passholders and Cast Members.
Prohibited Items
Selfie Sticks (Hand-held extension poles for cameras and mobile devices)
Any illegal substances.
Masks (unless they are for medical purposes)
Recreation devices with wheels, such as skateboards, scooters, inline skates or shoes with built-in wheels.
Weapons of any kind, or objects that appear to be weapons.
Folding Chairs
Large tripods
Glass containers (excluding small containers such as baby food jars)
Pets or other animals, except approved service animals (e.g., dogs).  Service animals must be under the control of the  owner at all times and should remain on a leash or in a harness.  Due to the nature of some attractions, service animals may not be permitted to ride certain attractions.
Other items that Disney determines as harmful or disruptive
Meetup Times and Locations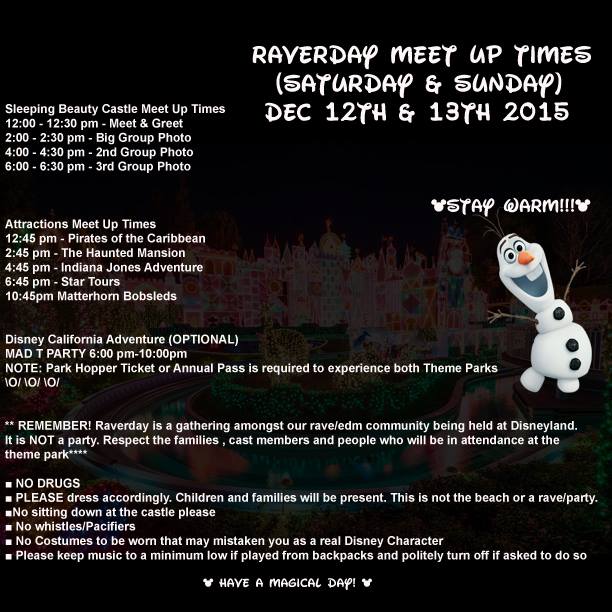 We encourage you to bring kandi to trade with fellow ravers and with other guests. Above all, have fun!! This is a chance for our community to show what PLUR and the raver community is about. This is a way for us to continually break through the negative stereotypes cast upon us by media and show case what everything is about, which is love and acceptance.
Check out our coverage of the Winter Raverday at Disneyland in 2014 HERE!
We also sat down and had a chat with Vince, you can find out about the behind the scenes of Raverday HERE!