After Insomniac announced a mysterious 'trance destination' that we only knew then as a leaked event flyer, trance lovers anxiously waited for the lineup to uncover throughout the weeks. The buzz on the internet consisted of varied opinions and critical examination – will Insomniac meet our delicate trance needs? Will they produce an ordinary big room festival that America is all too familiar with? And the most important one of them all – will they book Andrew Rayel or W&W?
The short answer to all of this is that Insomniac delivered a show of a lifetime. It's the trending topic that Dreamstate goers are raving about on social media, the weekend I anticipated for months on end, and the first ever all trance event in the country. Not only are attendees more than satisfied, but we're left wanting more.
Dreamstate has now come to a close. Tuesday is here and piecing the weekend together seems like an unparalleled fantasy. Dreamstate 2015. The best event I've ever attended in my entire life, and I can say that with full confidence.
One of the best aspects of Dreamstate was the variety of performances – Uplifting, Psychedelic, Tech, Progressive, Vocal, and more. Trance as a whole was celebrated with a vast appreciation across all subgenres. Some discovered and fell in love with new DJs, and some reminisced on the memories that were already made with their favorites. Every performance brought a unique and exceptional assortment of their own. There is no possible way I could choose just one as my favorite, but here are a few moments that really stood out to me…
Ben Nicky grabbed our hearts immediately hitting the decks with a soothing classical acoustic of "On A Good Day" transitioned into "A Thing Called Love". The crowd sang in sync together with not a single word missed. Once all the warm and fuzzies were out of the way, he dropped us into a hard hitting tech track. The crowd went WILD.
Ace Ventura finally hit the U.S. with a full progressive psychedelic performance coming all the way from Israel. It was a complete transition for the entire night and exposing a whole different face of trance music. He debut the Vini Vici remix of Hilight Tribe's "Free Tibet" which was played multiple times throughout the weekend. This remix has yet to be released, but the original is here.
Paul Oakenfold, defined as one of the best DJs in the world, delivered a PROPER set and showed the crowd what three decades of experience brings to the decks. He built the performance up beautifully, starting us out with gentle progressive psy that finished into a harder and trippier goa sound. It was truly a journey and entirely unique from the rest.
When Astrix dropped the "Free Tibet" remix following Ace Ventura's performance, the venue turned into what seemed a tribal ritual. Everyone danced as if we were summoning some sort of Psychedelic Trance God. This track literally hypnotized the crowd.
Rank 1 played an electro-trance set and many have mixed opinions on it. Regardless, they brought in another genre of trance music by dropping remixes of their classic hits that any trance fanatic can't deny – "Airwave" and "LED There Be Light."
Not only was Jordan Suckley's performance debatably my favorite of Saturday, but he surprised us by showing off his award winning scratching skills. It definitely added a genuine vibe and proved that he is one of the most gifted DJs in the business. Scratching is not typically used with this genre, but Suckley managed to beautifully incorporate it into his performance and shock the entire crowd. See a clip here of the boss in work.
John O'Callaghan changed things up a bit and mixed in Underworld's "Cowgirl". Of course, what would the set be without "Big Sky" as an added bonus to complete the performance.
Bryan Kearney wanted to send us all a message with his new track. The lyrics went a little something like this; "Put down your phones. We repeat. Put down your phones and listen to this."
Despite all of the amazing acts, there were a few things that disappointed me. Promptly arriving to the venue didn't secure you a spot for the opening act. I was shortly lagging behind the front of the line and still managed to be about 25 minutes late to Sunny Lax. It would have been better if the venue let us in before Sunny Lax actually took the stage. Instead, the entire place was mostly empty for the first portion of his set.
Initially walking into the venue, the environment was considerably bare compared to the typical Insomniac setup. There were no super structures, artwork, or performers. The first few sets packed low-key, slow moving lasers to decorate the stage. Ultimately, everyone came for the music, so none of that mattered anyway. However, the lasers eventually became wildly captivating as the night progressed. Insomniac saved the best light shows for the last part of each night. By time Saturday night hit, the last few sets had some of the most intense and energetic lasers I have ever seen in my life.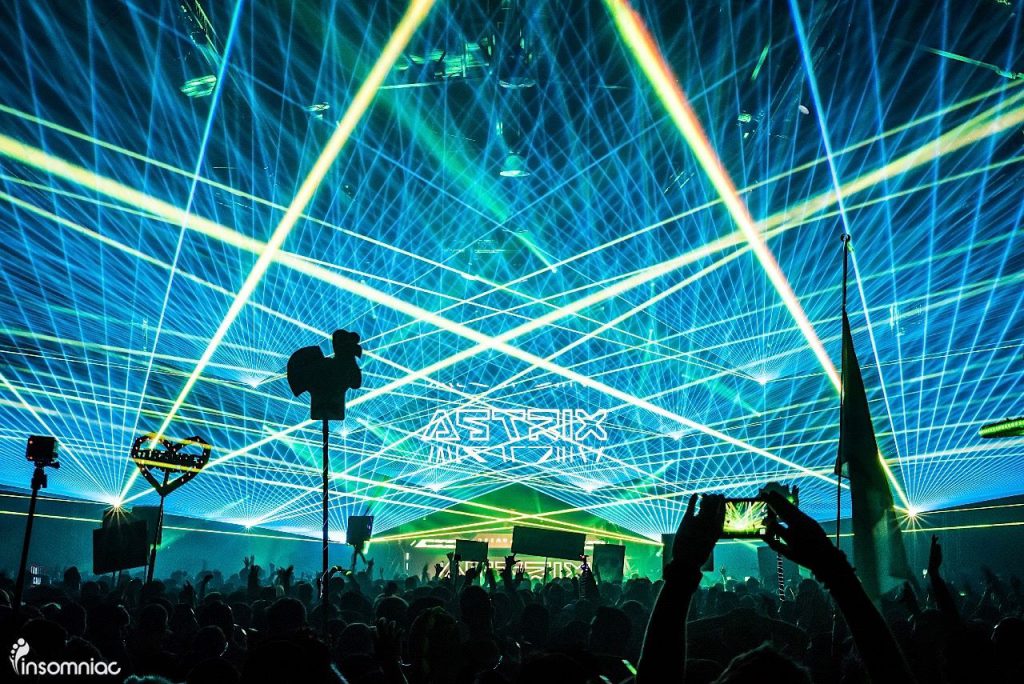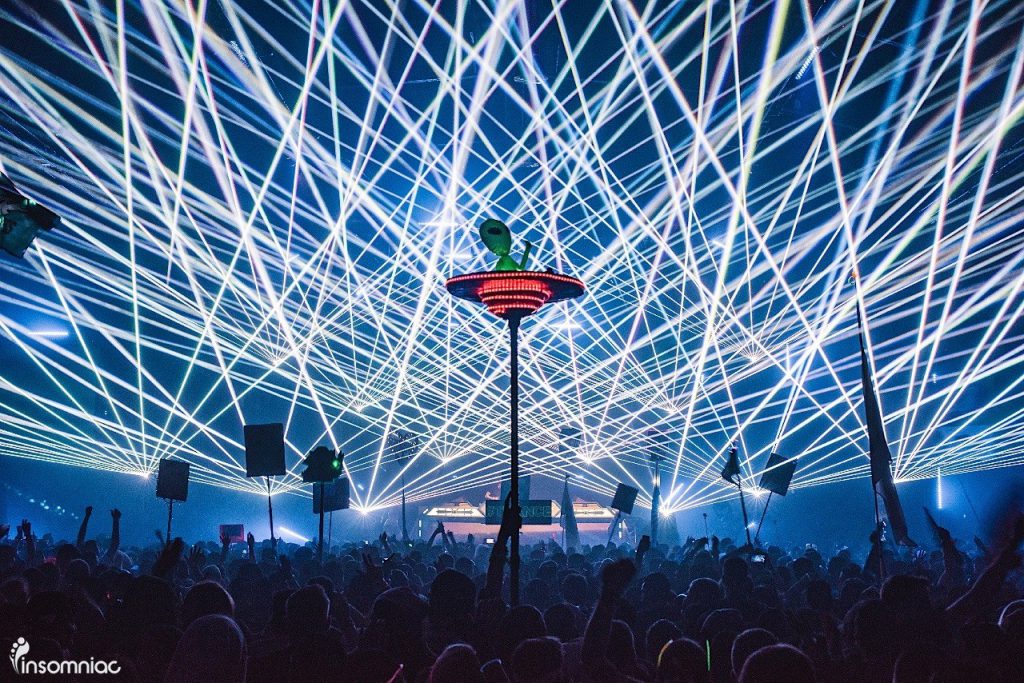 The Damus warehouse held the crowd perfectly and designated exit and enter doors provided proper flow through the building. It was surprisingly chilly inside and almost unbearable outside. Most attendees were not prepared for the nightime weather, but thankfully Insomniac provided heating lamps outside near the patio tables; just not nearly enough of them. Crowds of people were huddled around each lamp to finish their food or rest their legs for a minute. The gas tanks were not properly refilled, so that left some of the lamps out of commission. The line for alcoholic drinks was pretty lengthy as well, but thankfully the food was quick and tasty. The taco truck was a favorite of the weekend.
Insomniac also added a few additional bonuses. Professional media and photographers captured pictures of various trance families from different locations of the world – some even all the way from Japan. They displayed t-shirts, custom flags and totems to represent their trance family hometown. There were several meetups for group photos which was an amazing opportunity to connect and meet new friends. Witnessing everyone gather as a family was a reminder of the loyalty and commitment trance fans have towards their beloved musical tastes.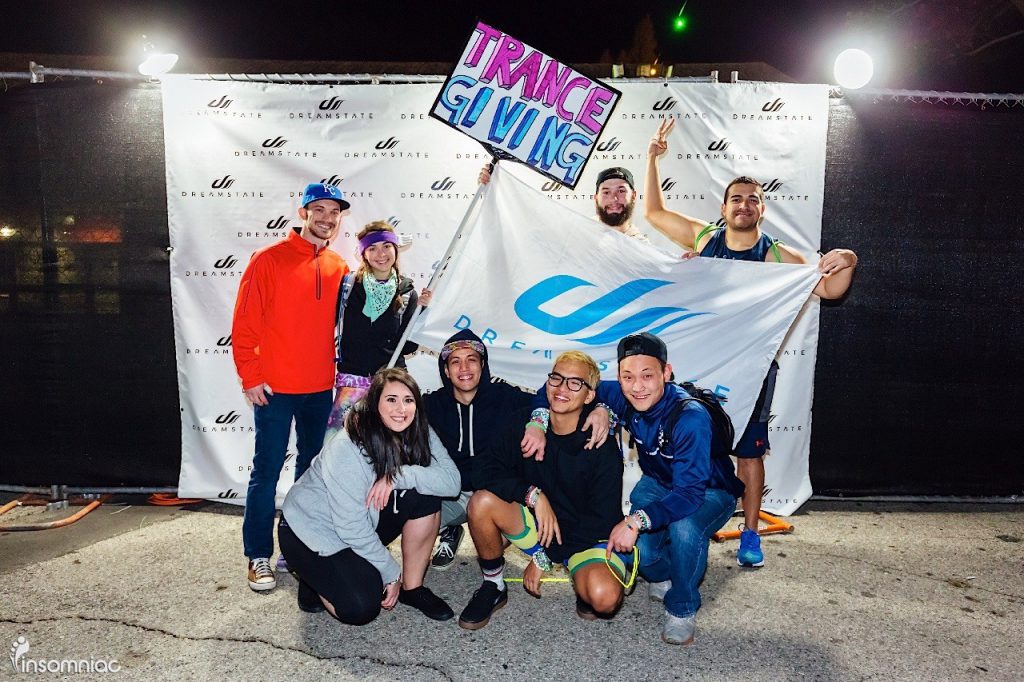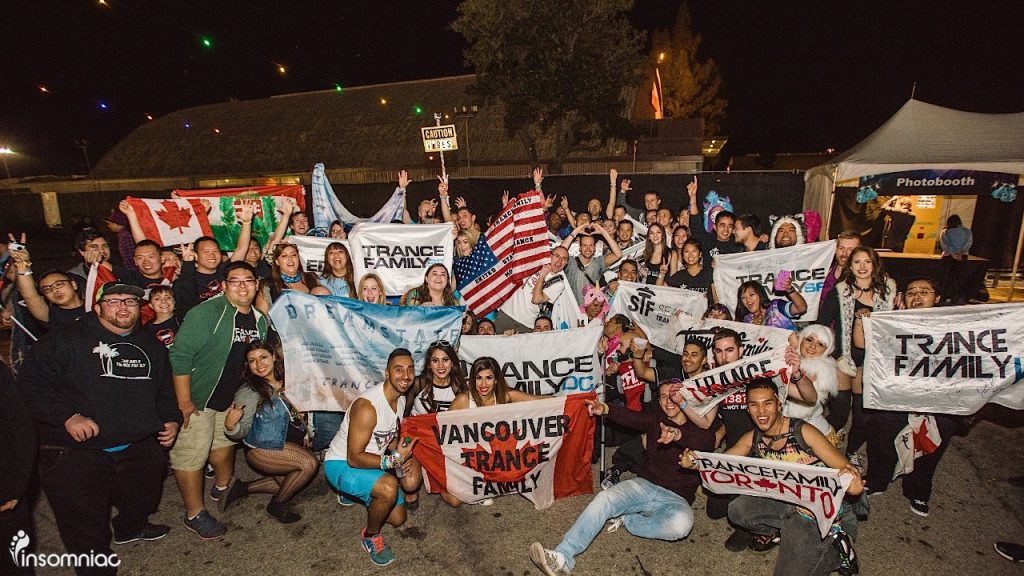 Conclusively, Dreamstate was an experience of a lifetime and if you haven't booked your ticket to San Francisco for the next show, I highly recommend it. This event was proof that Trance is far from dead.