If you're looking for an alternative to watching the ball drop in an over-crowded Times Square on New Years' eve in the Big Apple, maybe a warehouse party with Justice in Brooklyn is more up your alley.
Those performing alongside these iconic French legends include Canadian electronic duo Bob Moses, currently touring all over the world to support the release of their new album Days Gone By which dropped in September of this year. With You. will be in the building as well, a recent new house music act who has yet to reveal very much of themselves as of now.
Presented by music subscription service Jukely and event promoters Area Event, this is all taking place in a secret warehouse location in Brooklyn that is not yet announced. Justice has not performed in New York since the Ed Banger 10th Anniversary party in 2013, and as if an epic DJ set from the duo along with a diverse supporting lineup isn't enough on it's own, Gesaffelstein will be playing a set as well, a surprise guest that was only recently announced. This is a perfect choice for an act to go along with Justice, completing a very solid lineup of this awesome east coast NYE party that will be raging until 4 in the morning.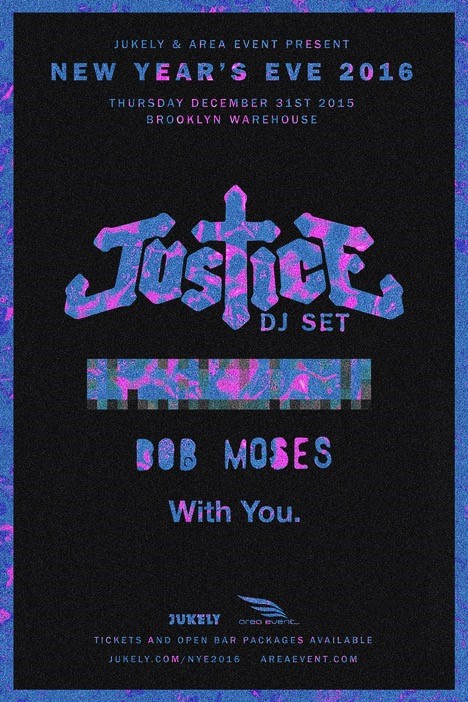 Tickets have been on sale for about a week now – and various price tiers for different perks apply. $89 early bird GA tickets are sold out, but there are still some available at the next price tier of $115. There is also an open bar package (valid until 4 AM!) available for $169.50. The cheaper tier for open bar has also sold out.
If this event piques your interest it's probably a good idea to grab 'em before the rest of the tiers go. It's a warehouse and it's new years so it's likely to be packed, but on the other hand, it means that it's likely to be a high capacity venue and plenty of tickets are hopefully still available at the moment.
Where could this unique and mysterious party possibly be taking place? Will Justice or Gesaffelstein be the ones to ring in the new year on stage? And where will YOU be ringing in the New Year? Let us know in the comments.
Tickets on sale HERE!