SnowGlobe 2015 is quickly approaching and I could not be any more excited! In fact, there is only about a month left until day one of the snowy magical 3 day experience, but, who's counting? In the months leading up to SnowGlobe promoters have been keeping attendees informed with event updates and have everyone successfully on the edge of their seat and amped up with event teasers via their social media platforms (see below to connect with SnowGlobe!). It is safe to say that everyone cannot wait for December to fly by so that Snerglerb families can be reunited in the beautiful city of South Lake Tahoe.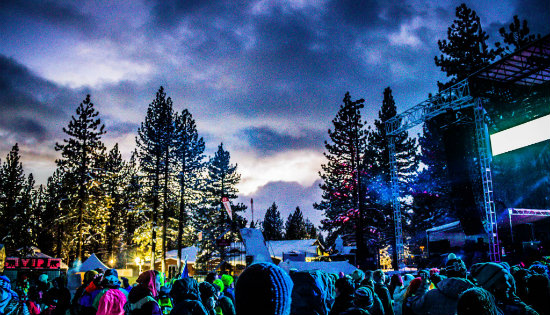 Back on October 7th, SnowGlobe released the lineup for this year's festival. If there was any doubt that the lineup would not be amazing SnowGlobe squashed it. Each year the festival continues to bring in world renowned talent with a variety of different DJs and artists that cover all genres. This year was no different. With headliners such as Jack Ü, Dillon Francis, and Chet Faker I was already convinced that this was where I would be spending my New Year, again. Shortly after the release of the initial lineup SnowGlobe announced that Kaskade would be added as an additional headliner. Earlier this year Kaskade brought two of the largest crowds Coachella has ever had to the main stage. Not only for one weekend, but for both! If you have not seen the drone footage of it, you can see it here! A sea of people is an understatement so be prepared to have your mind completely blown. With SnowGlobe being a much smaller festival than the desert festival just imagine how much more intimate a set like this will be.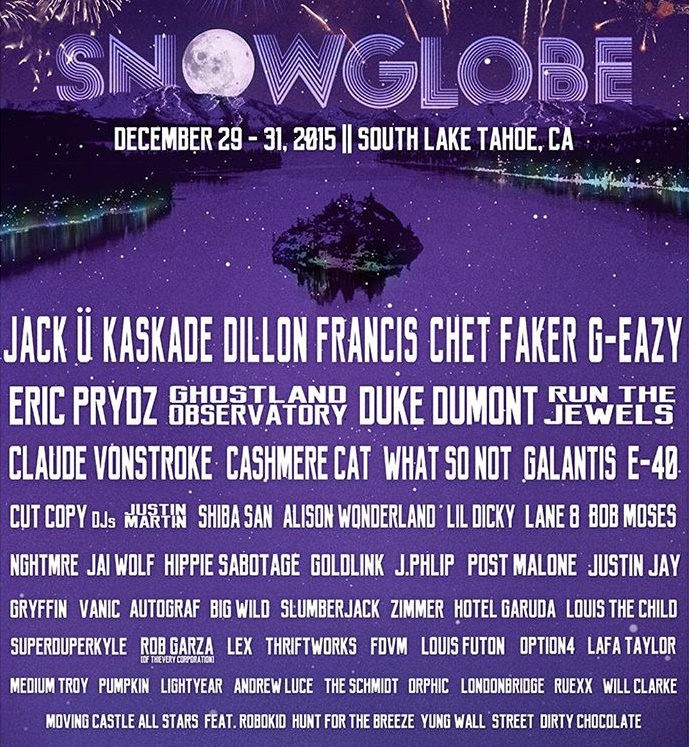 As if the lineup could not get any better promoters teased attendees via social media that even more artists would be added. In mid-November Run The Jewels, G-Eazy, Bob Moses, Louis The Child, Rob Garza, Louis Futon, Lafa Taylor, and DJ Will Clarke were announced to complete the full SnowGlobe 2015 lineup. I'll be surprised if there is any snow left on the festival grounds with a weekend full of fire artists such as all the above listed. Seriously, wow. Check out my Spotify playlist, shuffle it, and find some new artists you like so that you do not miss them at this year's event! Also, the full lineup is above and lineup announcement trailer is below!
The New Year is a very special time. It brings people and families together, and it is an opportunity to begin anew with a clean slate and the ability to achieve whatever you set your mind to. If you want your New Year to be filled with amazing music, beautiful scenery, and amazing vibes do not miss out on an event like this. It truly is a once in a lifetime experience. Unless you decide to attend each year which is becoming a trend for me, my older brother, and the SnowGlobe family I met last year. This is my second year going and I recommend it to everyone I know that loves music. If you want any details on how the event was last year check out my SnowGlobe 2014 review! And, if you are convinced you want to go this year you can get your tickets here! There are 3-day passes and single day passes still available. Daily line ups are announced tomorrow, November 24, and set times will be released shortly after. I am telling you, you won't be disappointed. Hope to see you in Tahoe!
Facebook // www.facebook.com/snowglobemusicfestival
Instagram // @itssnowglobe
Twitter // @ItsSnowGlobe